Dallas-Ft. Worth Real Estate
The Best Fort Worth Suburbs for Schools
Summer is a common time for families to move, and schools are usually a top consideration when choosing a new home. While many might center their search on the Dallas area, the Fort Worth side of the Metroplex shouldn't be overlooked—especially if you enjoy a slower pace of life. The suburbs of Fort Worth offer all the conveniences you need, and they're also great places for kids to grow up.
Many parts of Fort Worth and the surrounding suburbs have good schools and a great quality of life. If you want to choose where to live based on the ratings of the overall school district, here are some of the best suburbs of Fort Worth.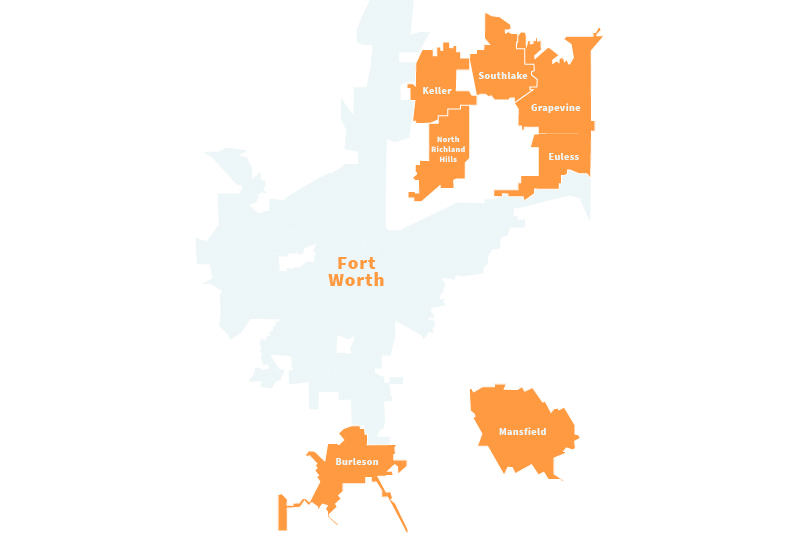 Keller was once a fairly remote outpost along US 377 in northeast Fort Worth, but the area has seen astronomical growth over the past 20 years, with the population more than doubling since the year 2000. Keller now has many restaurants and shops as well as easy access to hospitals in the nearby Alliance business park and residential community. In addition to this, the suburb offers easy commuting access from I-35 West and Loop 820.
The quality of the schools is another attractive factor about Keller. Located within the Keller ISD, the schools here offer a high degree of parent involvement, academically challenging programs, and stellar athletics opportunities. A standout school is Keller High School, which earned a high rating from GreatSchools.org.
Homes here represent a large swath of prices. Current Neighborhoods.com listings range from $200,000 for modest ranch houses with at least three bedrooms to almost $4 million for a sprawling estate.
Euless is another popular suburb located just west of the Dallas County line and the Dallas-Fort Worth International Airport. Many new shopping centers and housing developments have been built recently in Euless, including the Glade Parks mixed-use development. One of the most appealing aspects of Euless is its close proximity to state highways 121 and 183, which provide an easy commute into either Dallas or Fort Worth.
Combined with the nearby suburbs of Hurst and Bedford, the area is collectively referred to the "HEB" area and the school district for Euless is part of the HEB ISD. One standout school in Euless is Euless Jr. High School, which is known for offering a wide variety of advanced classes and preparing students for high school achievement.
Homes in this suburb can go for as low as the mid $100s and as high as the low $700s. The suburb is filled with classic family homes offering plenty of space.
Grapevine is a well-developed suburb in northeast Tarrant County, not far from the Dallas County line. With easy access to state highways 121, 114, and 635, as well as the DFW Airport, this location is a commuter's dream. Grapevine also has a lot of amenities to make life as fun as it is convenient.
The school district is combined with nearby Colleyville, a nearby affluent suburb. The schools in Grapevine are highly regarded, including Heritage Elementary School which earned a perfect score from GreatSchools. This school is recognized for having above-average test scores.
Like many other Metroplex suburbs, Grapevine's homes run the gamut of affordabilily. You can find a two-bedroom home for less than $250,000, but there are also Texas-sized mansions going for millions.
Southlake is one of the most affluent suburbs in the entire Dallas-Fort Worth area, with tree-lined streets, large homes and large lot sizes, and upscale shopping and restaurants. It's also a quick commute to either Dallas or Fort Worth, being about an equal distance from each.
Southlake is part of the Carroll Independent School District, which is known for producing academically and athletically advanced students. Most of the schools in Carroll ISD earn a 10 out of 10 rating, including Carroll Senior High School.
This can be a pricey suburb; mansions have price tags well over $2 million dollars, but you can also find small homes and condo units in the high $200s here.
Mansfield is a fast-growing suburb south of Arlington. Located near Joe Pool Lake and just south of the growing shopping corridor along I-20, Mansfield is both quiet and convenient. It provides easy access to Fort Worth via State Highway 287 and to Dallas and the northern suburbs by way of State Highway 360.
The Mansfield Independent School District is highly rated and provides an additional pull to this suburb. Mansfield Frontier High School serves 11th and 12th graders and achieves a perfect 10 out of 10 score, according to GreatSchools.
Median home prices in Mansfield neighborhoods range from the low $100s to nearly $1.8 million, providing a lot of options for buyers.
North Richland Hills is a large suburb in northeast Tarrant County. This city is actually the third-largest city in Tarrant County by population, behind Fort Worth and Arlington. It's centrally located near shopping, restaurants, and parks. There's a large range of housing types, from duplexes to single-family homes on large lots. Loop 820 connects to major highways like I-35 West to go to Fort Worth or State Highway 183 to head toward Dallas.
North Richland Hills is served by the Birdville Independent School District. One of the standout schools in the Birdville ISD is Smithfield Middle School, which scored a perfect 9 out of 10 due to its parent involvement and advanced course offerings.
North Richland Hills offers a lot of mid-range options for buyers, with home prices here topping out in the mid $700s.
Burleson appeals to those who want to live in a suburb that has a country feel but still offers many conveniences like shopping and restaurants. Located in both Tarrant County and Johnson County, Burleson is only 16 miles away from Fort Worth but feels much more remote. The abundance of trees and grasslands will make it easier to forget that you're so near to a big city, but you'll have easy access to Fort Worth via I-35.
The Burleson Independent School District is a growing district that added a second high school in recent years. The Academy at Nola Dunn is a public elementary school that earned a 9 out of 10 on GreatSchools.
Burleson contains a variety of neighborhoods with a range of home prices. Median home prices range from the low $100s to nearly $1.7 million.