Las Vegas Real Estate
Best Neighborhoods in Las Vegas For Buying Your First Home
When you're a first-time homebuyer in the hottest housing market in the country, it stands to reason that you have to narrow down your options to the neighborhoods that will best fit your lifestyle and budget. As Las Vegas' median sale price nears $300,000, finding neighborhoods below this price point is not impossible.
House hunting is no picnic, but once you get the paperwork squared away, it's much easier to enjoy your new home in a neighborhood you spent months scouting out. Las Vegas may have million-dollar listings, but you don't have to spend anywhere near that to get a quality home you'll love.
Here are the best neighborhoods in Las Vegas for buying your first home.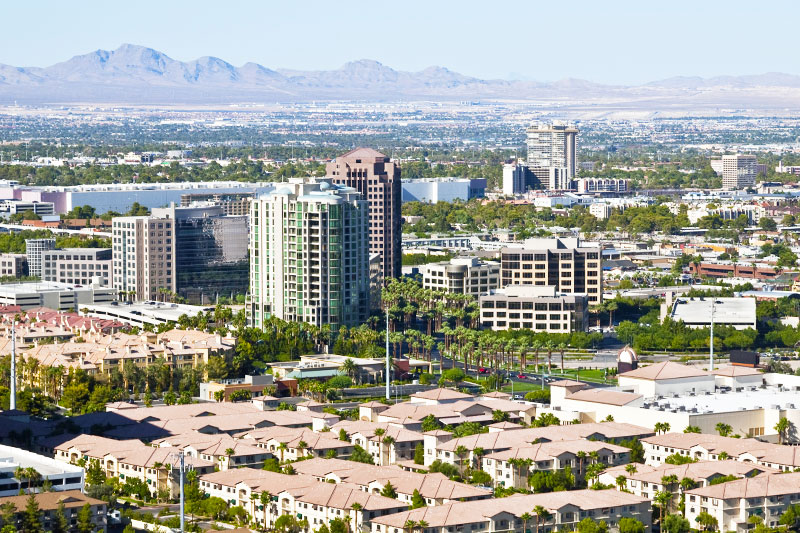 Located in the southeast valley with a median sale price in the low $200s, Whitney is among the best Las Vegas neighborhoods offering newly constructed affordable homes. Not only is the neighborhood below the median sale price in the Valley, it's also a public transit-friendly community where most residents commute by car via the I-515, which branches into the I-215 and the I-95.
The neighborhood mostly consists of single-family homes, although you'll find an occasional townhome or condo development. While the oldest home in the area was built in 1940, most homes were recently built over the last few years, which is when most of the new construction in Las Vegas really took off.
Families with children will appreciate the quality schools in the area such as Southeast Career Technical Academy, a specialized high school ranked highly on GreatSchools.org. Although not technically in Whitney, nearby Green Valley High School, where many high schoolers are zoned, is also ranked highly.
Whitney also provides residents with plenty of amenities including the Clark County Wetlands Park, which is among the most memorable nature spots you can access from a Las Vegas neighborhood. Other parks in the neighborhood include the Whitney Mesa Park Recreation Area, where residents can explore the trails surrounding the mesa. Grocery stores are also easily accessible, and Galleria Mall is just a short drive away.
Although Mountain's Edge, located in the southwest, is a great neighborhood to buy and invest in real estate, it's also a great under-the-radar place to live. With a median sale price in the high $200s, the 3,000-acre neighborhood is right on target in terms of value in proportion to other homes in the Valley. The master-planned community has a significant number of single-family homes, but with new developments like Watermarke by Lennar, homebuyers will also find high-end condos starting in the mid $200s.
Although the community is not directly alongside a major Las Vegas freeway, it borders the 160 that feeds right into the I-15. Plus, Mountain's Edge has a community feel, evident in its social events like the Family, Fur, and Fun Festival and regular 5K walks for good causes. The Mountain's Edge Regional Park also brings together the whole community with sizable greenspaces and playing fields. Exploration Park is also an exciting addition to the community, as its southwest theme in the form of an 80-acre park is among the coolest play areas in the entire valley.
Nearby schools include William V. Wright Elementary School, which ranks highly on GreatSchools.org for its test scores and academic progress, as well as Carolyn S. Reedom Elementary School. Homes in the area are also fairly new, so you won't find any homes over 15 years old.
Located in the northwest corner of Las Vegas, Centennial Hills is nearby both Summerlin and North Las Vegas. With a median sale price in the mid $200s, it's among the best neighborhoods to get a good deal on a home because it's possible to find a home priced below $250,000 in the area.
Although the oldest home in the area was built in 1940, most homes were built within the last ten years. The neighborhood is dominated by single-family homes, but that doesn't mean you can't find a great condo or townhome in the area.
The neighborhood is also located near Summerlin Parkway and the I-95, making it convenient for residents to commute via car. Although it's also bike- and transportation-friendly, residents will find it's easier to get to the city center with a car.
Centennial Hills is also home to several excellent schools, including Imagine Schools at Mountain View and William and Mary Scherkenbach Elementary. Outdoor recreation in the area includes Centennial Hills Park and Franklin Park at Providence, but among the most unique parks to visit is Floyd Lamb Park, which offers fishing, picnic areas, playgrounds, basketball and tennis courts, and trails.