What It's Like Living in Hollyhock
What It's Like Living in Hollyhock
Frisco is one of the most sought-after suburbs in both the Dallas-Fort Worth area as well as the country as a whole. In the past, it's been ranked as one of the best places to live in the U.S., and it's easy to see why: top-rated schools, innovative technology, and plenty of entertainment.
If you decide to settle down in Frisco, Hollyhock is a master-planned community that provides some of the best of Frisco living. Built by the veteran planners at Newland Communities, Hollyhock offers all the comforts of a small town while being surrounded by urban amenities.
What's special about Hollyhock?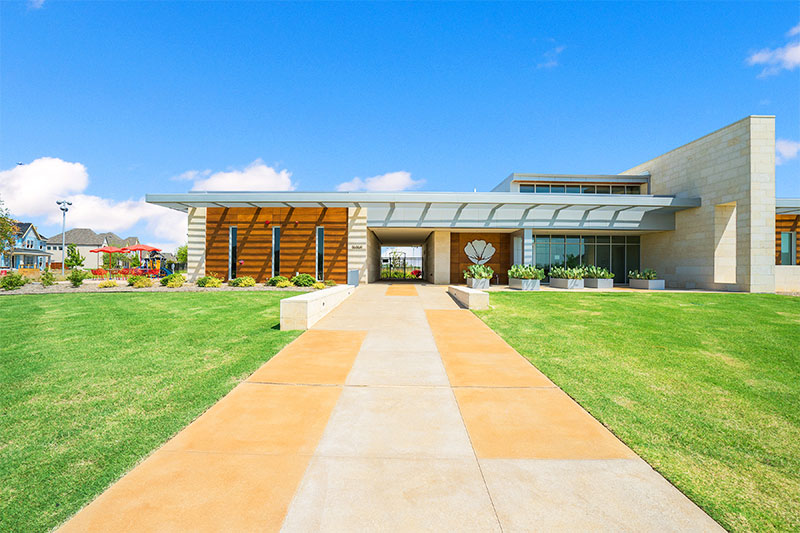 Hollyhock provides the features you expect from a master-planned community, such as regular social events and shared amenities like a community pool, but some unique features also set this community apart. In Hollyhock, many home design plans include a variety of home office options. To appeal to the large number of Dallas residents who work from home, the community's builders decided to incorporate home offices into the floor plans.
Hollyhock is also distinctive compared to other master-planned communities because of its intentionally limited size. With room for about 600 families, Hollyhock is much smaller than many other MPCs in the Dallas-Fort Worth area.
Newland Communities has been in the community-planning game for over 45 years, and a commitment to the environment is one of their major hallmarks. You'll see that in Hollyhock with their choice of building materials. Newland used natural Hadrian limestone sourced from Oklahoma. It's incorporated both in the community's homes as well as its amenities, including the community pool and the recreational Fields House. The landscaping surrounding the Fields House also uses low-water native plants.
What It's Like to Live Here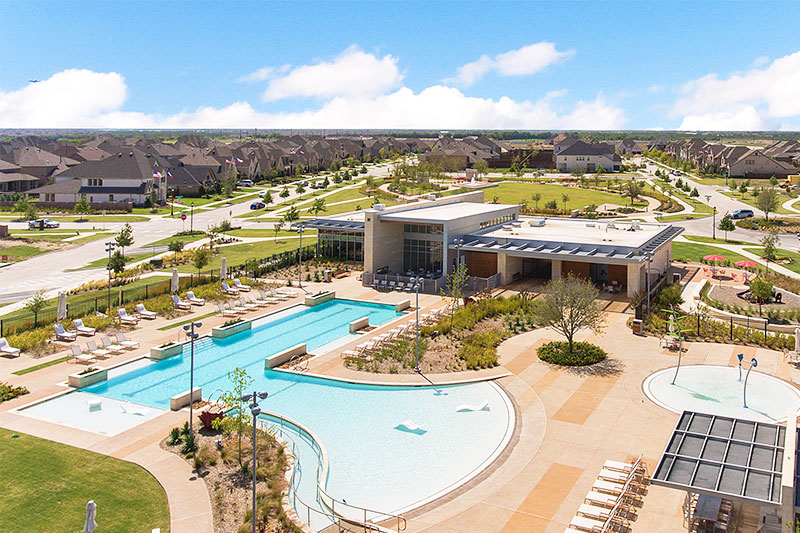 For its residents, Hollyhock offers a variety of events all year long, starting with monthly movie nights. From Breakfast with Santa to summer pool parties at the community center, there's always something going on right in the community.
The location is one of Hollyhock's most appealing features since it's situated just 3.5 miles west of the Dallas North Tollway near the center of new mixed-use and corporate developments. If you work in Downtown Dallas, it may take nearly an hour to commute in rush hour, but at least it's a pretty straight shot down the Dallas North Tollway.
The median home sale price is in the low $600s. However, current homes for sale start in the high $700s and go up to the high $800s. Homes have a traditional look with brick facades, high ceilings, and large backyards. They range from 3,562 to 4,634 square feet.
This is a good community for buyers looking for new builds since Hollyhock opened in 2017. However, keeping in mind the intentionally small capacity of the community, inventory is relatively limited (there are about 30 homes listed on neighborhoods.com as of this writing). Homebuilders for the community include Britton, Coventry, David Weekley, Drees, Highland Homes, and Perry Homes.
A Hub for Sports and Corporate Growth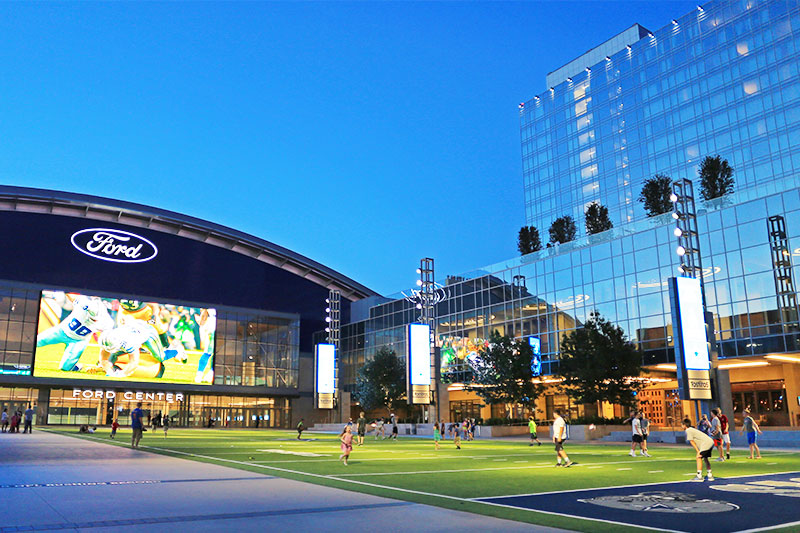 As mentioned earlier, Frisco is considered one of the best places to live in the U.S., not just Texas. Besides the amenities it offers, Frisco is fast becoming a hub for pro sports and corporate growth.
A public-private partnership brought the headquarters and training facilities for the Dallas Cowboys—The Star in Frisco—to the suburb, bolstering its status as the sports center of the Metroplex (watch out, Arlington). Besides the Ford Center at The Star, Frisco is also home to the Toyota Stadium, Riders Field, and Kuykendall Stadium, which host the FC Dallas soccer team and the Dallas Stars NHL team.
Frisco is also part of the fast-growing corporate corridor in Collin County, which is home to many new headquarters of major multinational companies such as Toyota and Liberty Mutual. Hollyhock residents can still be close to some of the best jobs in DFW without having to deal with long commutes. Also, Frisco is also home of the Frisco Independent School District, which has a 9 rating on GreatSchools.
Property values are increasing in Frisco because of the ongoing appeal of the area. Once just a far-flung exurb best known for having an IKEA store, today Frisco is a thriving area with jobs, shopping, sports, and entertainment. And living in Frisco community like Hollyhock is one way for homeowners to get in on that growth.