Dallas vs. Fort Worth: Where to Live
Dallas vs. Fort Worth: Where to Live
There's been a rivalry between Dallas and Fort Worth for more than a century. On the surface, the rivalry is pretty good-natured, but the truth is most Metroplex residents have a pretty strong preference for one city over the other.
There's no question that Dallas is the real big city when it comes to the two. Dallas is home to 1.3 million people, making it the ninth-largest city in the U.S. when it comes to population.
But Fort Worth isn't exactly a backwater town, either: The population of nearly 875,000 people makes it the 13th-largest city in the nation. (Note that none of those figures include the suburbs, which add a combined 5 million additional people to the metro area.)
Are you on Team Dallas or Team Fort Worth? You may think you already know the answer, but the results may surprise you. If you're curious or you're new in town, this handy guide can tell you which city suits you best.
General Vibe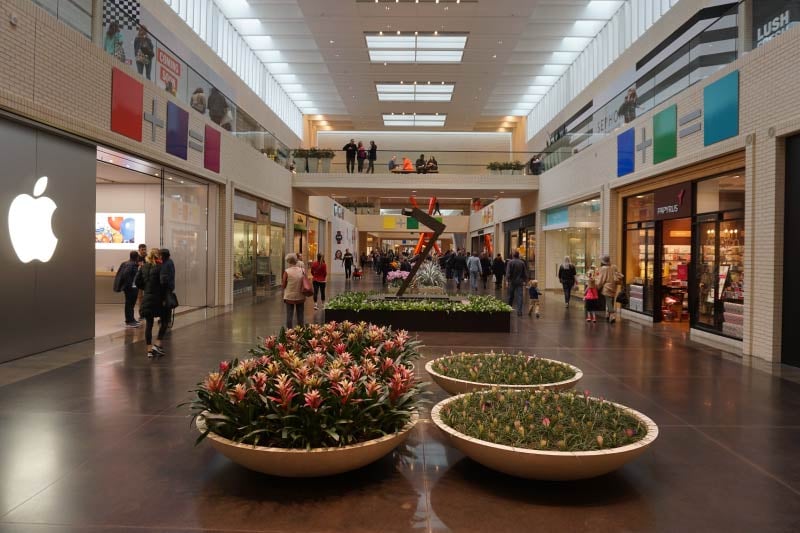 Speaking in stereotypes, Dallas is yuppie and Fort Worth is hipster. This is a gross generalization, of course, but Dallas is much more business-oriented while Fort Worth retains a lot of its laid-back, cowboy history.
Dallas is fast-paced and full of high-rise buildings. It has all the features you expect from a major city: a great skyline, world-class shopping, and residents hailing from all over the world. You'll find some of the most upscale shopping at NorthPark Center in University Park, with stores like Versace and Louis Vuitton.
From the open-minded and welcoming Casa View neighborhood to the internationally diverse Vickery Meadow neighborhood, Dallas has a place for everyone. Dallas also has a greater population density, with an average of 3,645 people per square mile.
By contrast, Fort Worth is like a small town on steroids. There's a lot of greenspace, a handful of high-rise and mid-rise buildings, and clusters of interesting shopping and events scattered throughout the town. The population density is only 2,166 people per square mile, a little over half what it is in Dallas. In Fort Worth, you have more room to spread out, but that also takes away from that distinctive "big city" energy. For the friendly, cowboy vibe of old Fort Worth, explore neighborhoods like Westcliff, with the large lot sizes, or suburban areas like the new Walsh development.
Winner: That depends on what you're looking for. If you want a big-city vibe and amenities, choose Dallas. If you want a more laid-back cowboy vibe and more room to spread out, Fort Worth is for you.
Dallas is much more business-oriented while Fort Worth retains a lot of its laid-back, cowboy history.
Downtown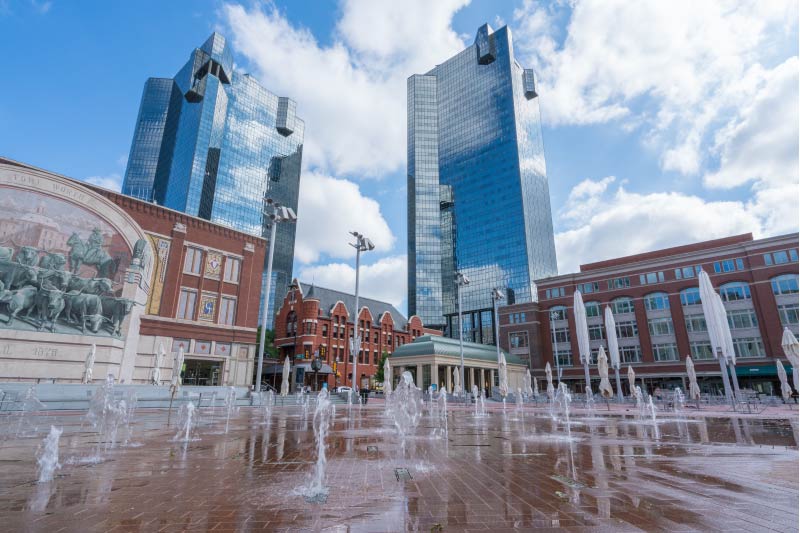 Downtown Fort Worth is walkable and has a lot of entertaining places to hang out, including Sundance Square, 35 blocks of renovated historic buildings and red brick streets populated with shops, restaurants, and bars. You can tour Sundance Square on a trolley or on foot—whichever you prefer.
Dallas is working hard to revive their downtown area, so it's only a matter of time until it catches up. For now, Downtown Dallas has a few attractions, especially in the Arts District, but most of the area's action takes place during the business day. Thousands of people commute into Downtown Dallas during the day, but the vast majority leave for other places after work.
Winner: Believe it or not, Fort Worth has the more vibrant downtown.
Traffic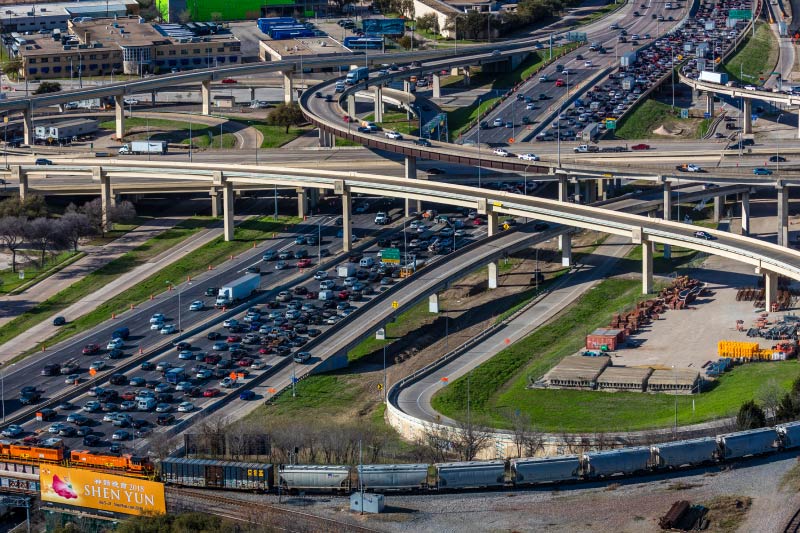 You might not feel like Fort Worth has light traffic if you're making your way from downtown to Keller on I-35 during rush hour. But there's no question that Dallas has the heavier traffic by far. You already know that if you're making a daily commute anywhere in Dallas County.
Traffic is nothing short of intense on Dallas' major highways, from I-635 to the Dallas North Tollway. It's not atypical for a 20-mile drive to take two hours in rush hour. If you're looking at moving to enjoy the lower population density of far north exurbs like Melissa, know that it comes with a lengthy commute.
However, Dallas has one major advantage over Fort Worth when it comes to traffic: There are public transit alternatives. The DART system includes light rail and bus services throughout Dallas County and beyond. The DART light rail now extends from Downtown Dallas north to Plano and as far east as Rowlett.
Winner: Fort Worth has less traffic, but it doesn't have the public transit alternatives Dallas does.
Walkable Neighborhoods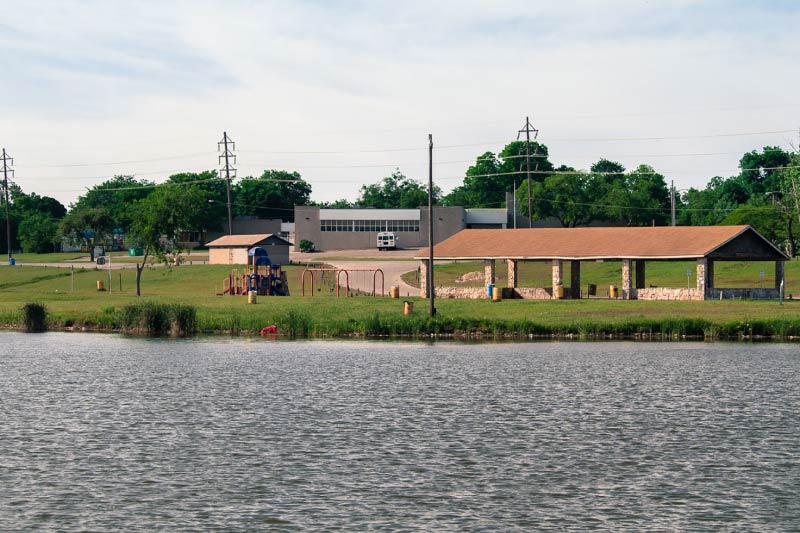 Both Dallas and Fort Worth—with Walk Scores of 46 and 35, respectively—are car-dependent cities. However, both cities have walkable neighborhoods. The difference is that Fort Worth's walkable neighborhoods are primarily residential districts that are near a handful of businesses, such as Southside and the nearby Medical District.
Dallas has a greater number of walkable neighborhoods that are fun places to live, shop, eat, and play. The most walkable neighborhood, according to Walk Score, is Downtown Dallas. Other examples of popular walkable neighborhoods in Dallas include Lower Greenville, Uptown, and Oak Lawn.
Winner: Neither are great in terms of walkability, but Dallas does have a higher number of walkable neighborhoods.
Restaurants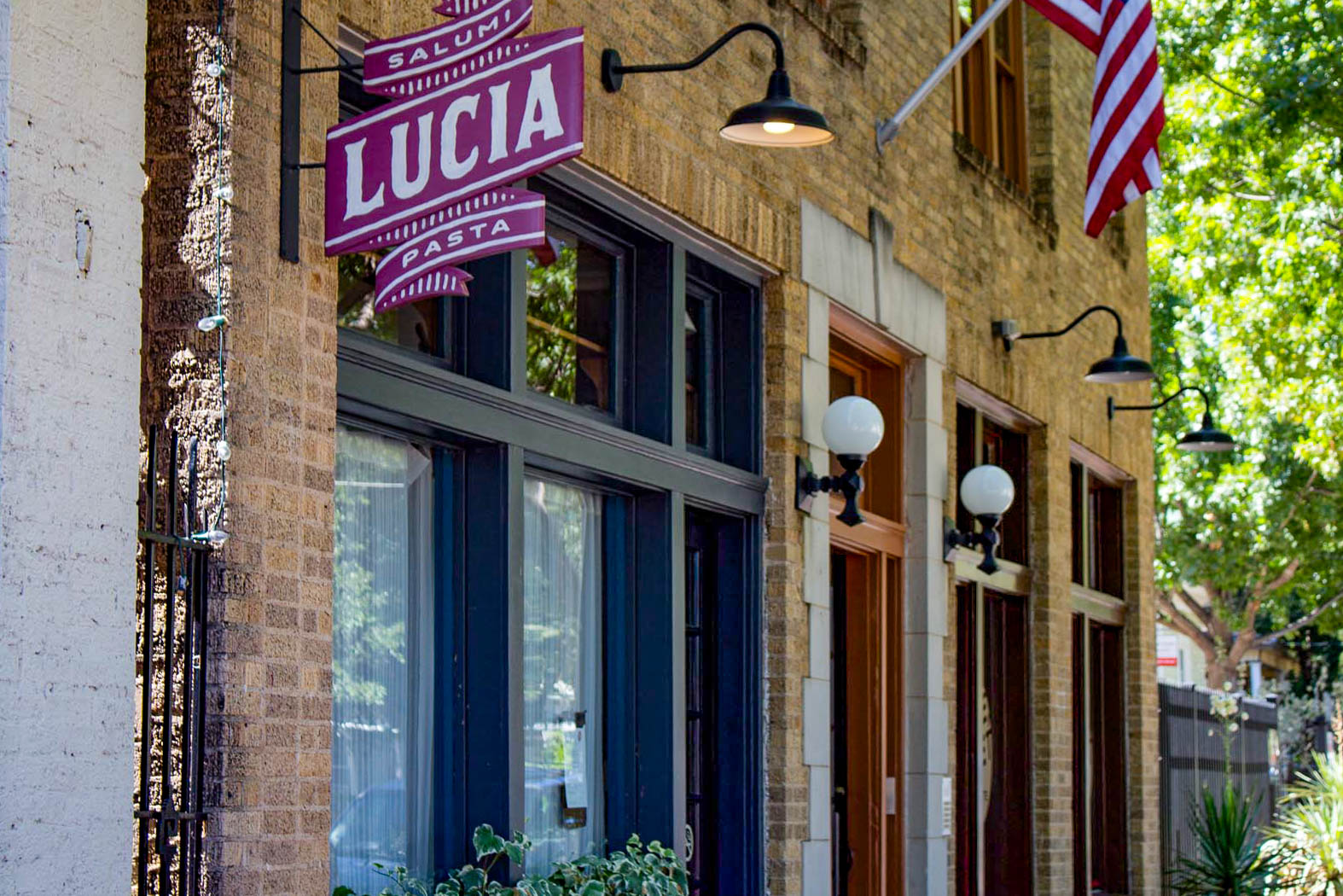 Gone are the days of Dallas being known as a city full of steakhouses. Today, renowned chefs such as Michelin-starred Bruno Davaillon are serving upscale French dishes at Bullion. Chef Stephan Pyles is presenting a more casual version of innovation at Flora Street Cafe.
While there's no such thing as a "restaurant row" in Dallas anymore—the former destination closed at least 20 years ago—today's new hot spot for restaurants may just be in the Bishop Arts District. The Italian restaurant Lucia serves handmade pasta and house-cured salami in a historic building. But with only 32 seats, it's one of the most coveted reservations in Dallas.
However, Fort Worth is a formidable challenger in its own right. The West 7th area of Arlington Heights is drawing crowds to places like Fireside Pies and the La Familia Mexican Restaurant. The trendy Southside/Magnolia neighborhood is also host to popular restaurants like Heim Barbecue and sushi at Shinjuku Station.
Winner: Dallas has more hot spots and acclaimed chefs, but don't count out Fort Worth's emerging food scene.
Gone are the days of Dallas being known as a city full of steakhouses. However, Fort Worth is a formidable challenger in its own right.
Nightlife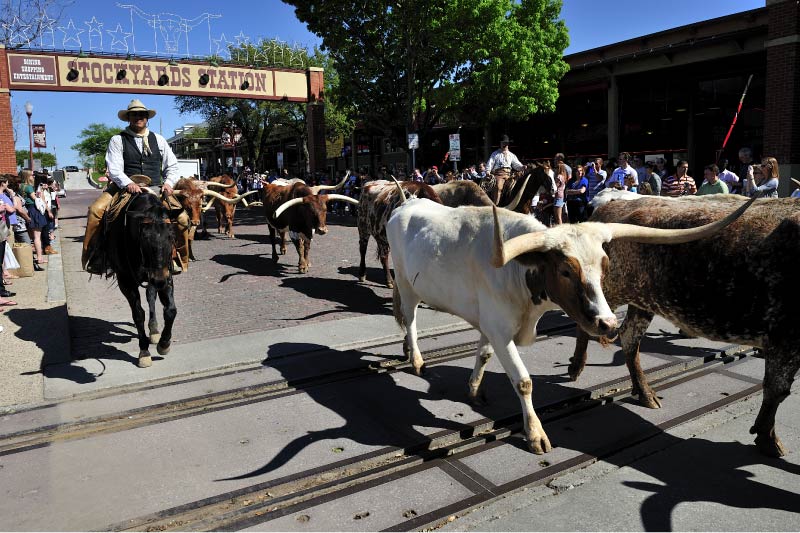 Dallas and Fort Worth also differ in terms of nightlife. Both cities offer their own unique spin on spending a night on the town. Dallas is more cosmopolitan, with upscale bars like The Mansion Bar on Turtle Creek and WaterProof in downtown.
Dallas is also a frequent stop for most touring musicians, which means you'll spend a lot of time at the American Airlines Center. In all but the most divey of dive bars, you'll want to dress to impress for a night out in Dallas.
Fort Worth nightlife is more laid-back, just like the town in general. Whether you're taking in a show at Casa Manana in the Cultural District or embracing your inner cowboy at the Stockyards, Fort Worth is a lot more about welcoming you just as you are. It's not fancy or pretentious, but it can be a lot of fun.
Winner: You'll see more touring musicians and fancier bars in Dallas, but if you want to embrace your inner cowboy at no-frills joints, Fort Worth wins.
The Bottom Line
Can't make up your mind about which team you want to be on, Team Dallas or Team Fort Worth? Chances are, that depends on how much you want the perks of a big city. Dallas is a big, busy, diverse, and sophisticated city. Fort Worth is more like the country's biggest small town.
Whichever one you prefer, y'all are welcome anywhere around here. In the end, we're all part of the same really big Metroplex.