Las Vegas Real Estate
Las Vegas Real Estate: The November Digest
Las Vegas real estate continues to boom even from a national perspective. While Las Vegas isn't among the largest metropolitan areas like Los Angeles or New York City, it's the hottest housing market in the country at this time. While home prices have grown by a shocking 13 percent, it's still possible to get a good deal when the Valley-wide median sale price is still at $290,000. Suffice to say, Las Vegas is by far cheaper than other housing markets like Seattle, San Francisco, and Denver.
Las Vegas may be known for its notorious Sin City reputation, but it's more suburban than newcomers might expect. It's also home to a growing number of businesses as the city diversifies its economy, even while it remains a casino gaming mecca.
Southwest Continues to Have the Most Homes for Sale... By Far
Located near Spring Valley and parts of Henderson, the aptly named Southwest has the most homes for sale currently on the market with nearly 400 residences and a median sale price in the high $300s, according to Neighborhoods.com data. Following Southwest, Centennial Hills has about 336 homes for sale and a median sale price in the mid $300s.
While the median sale prices in these two neighborhoods are roughly 30 percent higher than the Valley-wide average of $290,000, prospective buyers in Southwest can still find a variety of home styles from a $100,000 one-bedroom condo to a $4.6 million mansion on Las Vegas Boulevard.
Meanwhile, in Henderson, Anthem has about 74 homes for sale with a median sale price in the mid $500s. Still, this price isn't representative of the neighborhood; you're more likely to find luxury homes closer to $1 million than something near the Valley-wide median. It's the views of The Strip, the resort-style amenities, and a championship golf course that attract homebuyers to this Henderson neighborhood.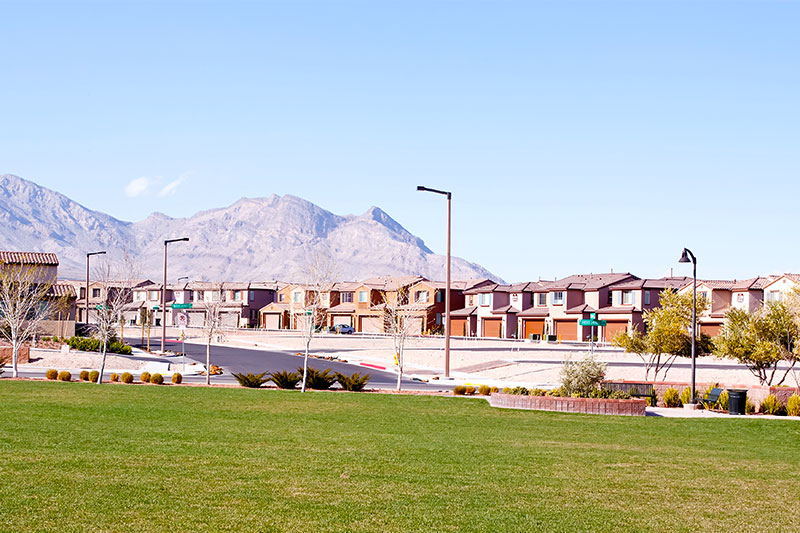 Summerlin Continues to Have the Highest Price Point
With a median sale price in the mid $600s, Summerlin is the most expensive Las Vegas neighborhood. It's certainly a shocking contrast to the housing prices many new residents expect to pay in Las Vegas, but no doubt Summerlin's wide array of on-site amenities such as shopping centers, walking trails, and clubhouses make it an obvious choice for homebuyers craving the active lifestyle and close-knit vibe of a master-planned community. This is why Summerlin continues to be a top-selling master-planned community with over 700 home sales—and that's just at the halfway mark for 2018.
However, Henderson's priciest neighborhood is MacDonald Highlands, the prestigious gated community located at the southernmost point of the Valley bordering the mountains. The median home price in this neighborhood is around $3.4 million, probably because of the sheer number of custom homes on this side of the Valley. Although the homes directly outside its boundaries are much closer to the median sale price of the Valley as a whole, you're unlikely to find a home much lower than $1 million within the neighborhood proper.
In August, Centennial Hills sold a total of 331 homes. On average, homes during this month were on the market for an average of 62 days, and the median sale price was $272,000. With its close proximity to Summerlin, convenient access to three major freeways, and thriving new developments in Skye Canyon, it's no surprise that businesses are coming to the area and the population is growing.
Where Our Users Are Searching
Over the last three months, Neighborhoods.com users were searching for Summerlin, the Village of Woodbury, Spring Valley, Paradise Palms, and The Lakes. Neighborhoods.com users were interested in these neighborhoods more than any others in the Valley.
While Summerlin is a bustling master-planned community, The Lakes is a counterpart of the neighborhood known for its waterways where residents can dock their own boats. Not to be confused with Lake Las Vegas, The Lakes has a median sale price in the mid $200s, but prices tend to be higher for homes located directly along the water.
Just north of Paradise, the similarly named Paradise Palms (median sale price in the high $200s)offers residents prices that are on-par with the Valley-wide average. Locals are fans of this neighborhood for its mid-century modern appeal and slew of former famous residents like Johnny Carson, Debbie Reynolds, and Dean Martin.
Spring Valley is also a solid choice for residents interested in living near the amenities of Summerlin with the added culture of neighboring Chinatown. The median sale price in this neighborhood hovers right around $250,000.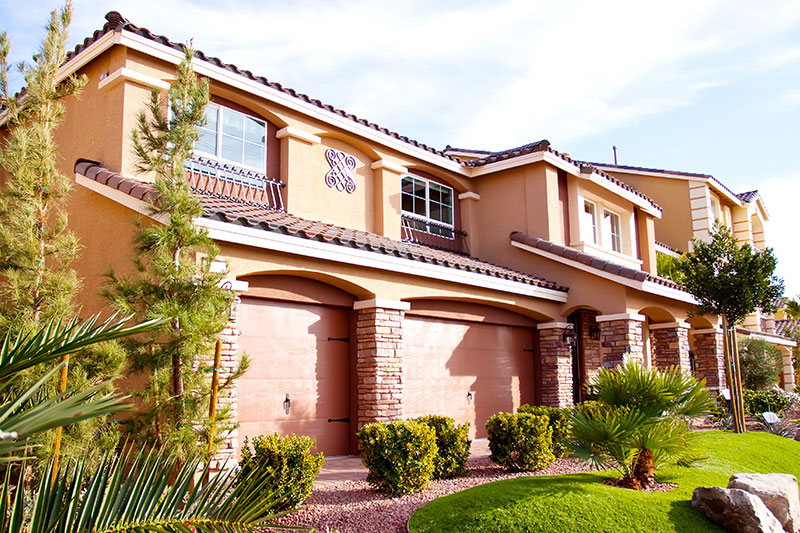 Affordable Neighborhoods in Las Vegas
While neighborhoods in Las Vegas can be pricey, buying an affordable home is still within reach for many Las Vegans. The quirky, upbeat, and highly popular Downtown is a hot neighborhood known for its nightlife, performance venues, local businesses, and street art. The homes in this part of town have a median sale price of just $210,000, which is way below the average price tag of the city as a whole. From condos to ranch-style single-family homes to modern townhomes, you'll find a variety of homes. You may pay more on average for space, but the price still works out for many homebuyers wanting to live in a more historical neighborhood that's close to plenty of attractions and entertainment options.
Spring Valley, located between Paradise and Summerlin, is also an affordable option for prospective homebuyers looking for a single-family home. With a median sale price of $250,000, homes on this side of town can stay on the market as long as two or three months, giving potential homebuyers a chance to buy a property they really love.
Neighborhoods with Lots of New Construction
With median sale prices ranging from the low $100s to high $300s, North Las Vegas is a booming neighborhood for new construction. Express Homes' Altair Pointe may not be completed yet, but pre-selling just got started. With homes in the high $200s, Altair Pointe offers buyers homes that are right at the median sale price of the Las Vegas Valley. Homes range from 1,365 to 1,965 square feet and include a choice of four floorplans.
Homebuyers can also find homes that are now selling at Summit Ridge Estates. Summit Ridge Estates is a high-end subdivision offering five open-concept floorplans that include anywhere from 3,450 to 5,100 square feet.
Summerlin is also booming: Lennar's Westcott opened its model homes in late October in the Stonebridge village with homes ranging from 1,834 to 2,099 square feet, and priced in the high $300s to low $400s. In the Cliffs village, Jade Ridge by William Lyon Homes may still be in progress, but models open in early December. Homes are priced in the mid $300s with floorplans starting at 1,592 square feet.