Nashville Local Life
Living in Nashville vs. Knoxville: What You Need to Know
Every Tennessean knows that our beautiful state is divided into three regions; West, Middle, and East Tennessee. Memphis is the hub of the west, Nashville is the state capital right in the middle, and Knoxville holds down the fort in the east.
It should come as no surprise that the three cities enjoy a friendly rivalry, and Nashville and Knoxville, in particular, are often compared. As a Nashville native, I could make a case for the state's capital and cultural center all day long, but as my fair city expands and changes, Knoxville gains a competitive edge. For the purpose of fairness, I spoke to another Nashville native who has since switched her loyalty to Knoxville.
Kendra Bush studied at the University of Tennessee's flagship campus in Knoxville from 2010 to 2014. She later returned to Fountain City in 2017 with her husband Aaron and their young son Oliver. While Aaron's medical school residency has since taken them all over the region, Kendra doesn't hesitate when she says, "We would move back to Knoxville in a heartbeat!"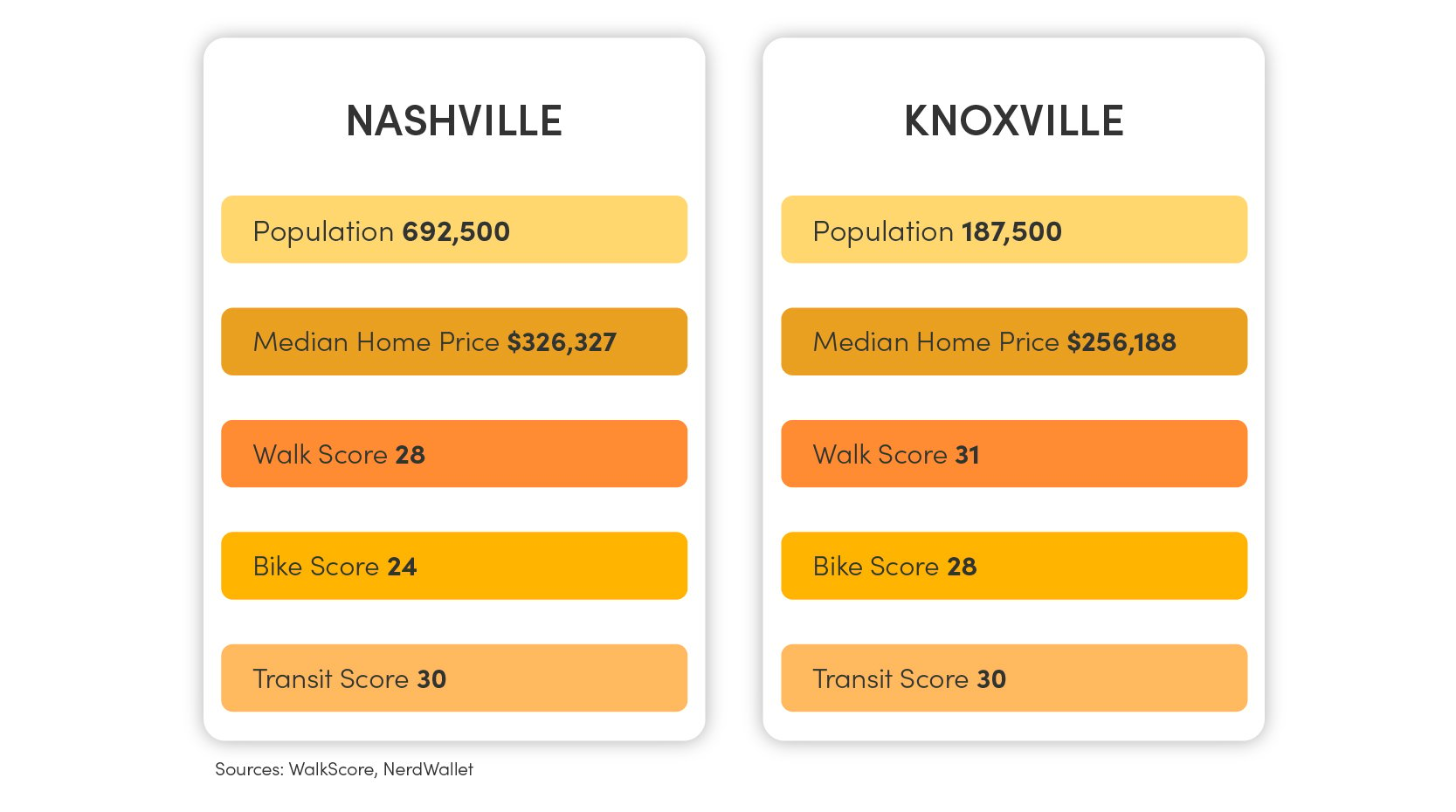 Real Estate
When considering two cities side by side, housing is perhaps the most important factor for any potential resident. For homebuyers, the decision is more than just dollars and cents. Aside from the sentimental elements of purchasing a home, one also must consider the financial potential of such an investment. When it comes to Knoxville and Nashville, there's no denying that the population increase and economic boom of Nashville has created a massive surge in the housing market that makes any comparison obviously lopsided.
Nashville is 38 percent more expensive than Knoxville, and neighborhood comparisons can paint a simple picture. Both cities have million-dollar neighborhoods like Green Hills, Belle Meade, The River Club, and Carolyn's Acres, but consider that the least expensive neighborhood with homes for sale in Knoxville is Pine View Park (current home prices below $100k), while the least expensive homes in Southeast Nashville begin at around $200k.
Winner: Knoxville has the edge in affordability.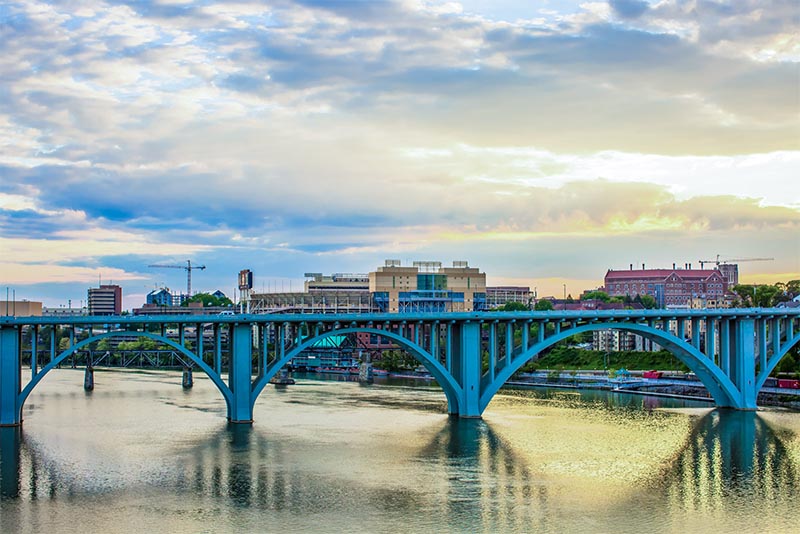 Education
While Nashville is considered the "Athens of the South" because of the numerous colleges and universities in the city, Knoxville is home to the University of Tennessee, which not only educates nearly 30,000 students annually but also accounts for $1 billion of impact on the state's economy.
When it comes to high schools, U.S. News & World Report ranked the top 10 high schools in the state. Nashville was represented twice on the list with Hume-Fogg Magnet School at No. 3 and Martin Luther King Jr. Magnet School at No. 4. Knoxville was represented at No. 9 with L&M STEM Academy.
Winner: While both cities are home to quality universities and high schools, Nashville has some of the top schools in the state.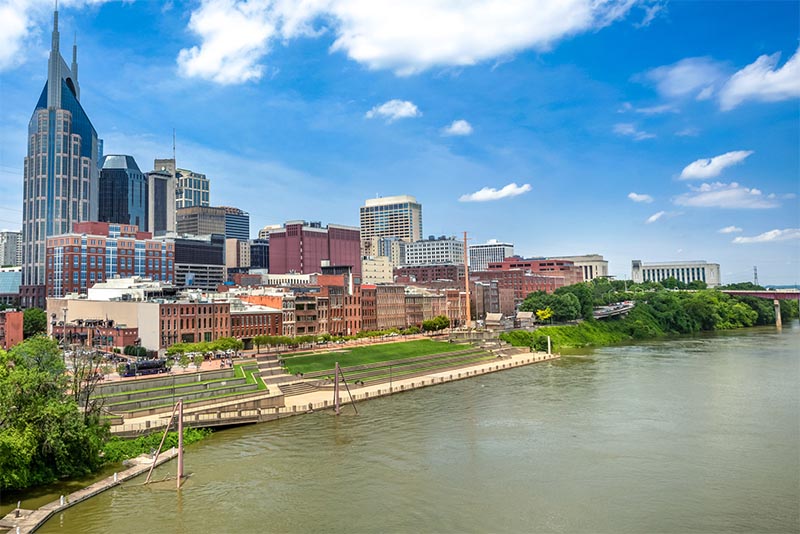 Transit
Getting around a new city is understandably one of the chief concerns for prospective homebuyers. Whether it's to and from work or a stroll to the local park, transit is an essential aspect of residential life, and both Knoxville and Nashville offer something different. Recent initiatives in Nashville have made the city more walkable and bike-friendly, but there's no way around the massive congestion during rush hour on its roadways.
Knoxville has a distinct edge due in large part to the population difference and the absence of massive tourism in the urban areas. TomTom estimates that the average Nashvillian could lose 128 hours or 5 whole days by commuting during rush hour annually, and they gave the city a 26 percent congestion score.
You could compare that to Knoxville's 12 percent rating or simply ask our friend Kendra Bush: "The ease of getting around places is so far above Nashville," she says. "You can get wherever you need to go easily." It's just that simple.
Winner: Knoxville—by a landslide
Culture
We have arrived at the comparison that cannot be illuminated by data points. The cultural landscape of any city is a subjective metric and every potential resident has their own set of priorities. The beauty of Nashville and Knoxville is that they truly offer their own unique spin on this ineffable quality of life.
While Nashville is clearly home to artists, writers, musicians, and makers, Knoxville brings the volunteer spirit to everything it touches.
"There is a common element that everyone shares this sort of home-town feel. If you go to a restaurant everyone is going to be there to watch the Vols game," Bush says, referring to the University of Tennessee's teams. There's a strong sense of solidarity among Knoxvillians that's unlike any other. "Vols help vols" is a common refrain among residents who feel united by the volunteer spirit that's embodied in the UT culture and the nickname of our state.
So philosophically the two cities have a different approach, but each brings some unique offerings to the table. Knoxville is situated in the scenic foothills of the Great Smoky Mountains with ample greenspace and outdoor adventure, and neighborhoods like Old City embody the industrial restoration and urban renewal that keeps a city thriving and relevant. Nashville is home to wonderful shopping districts like 12 South, Hillsboro Village, and Edgehill, and the food scene is easily the best in the state.
Winner: While Knoxville has a rich community spirit, Nashville's food, music, art, and shopping scenes are unparalleled.
The Bottom Line
At the end of the day, Nashville and Knoxville are both wonderful cities, and they're relatively similar in the big scheme of things. They both offer the picturesque Tennessee landscape that locals love, and they're both significant in the state's academic culture. In terms of overall cost of living, Knoxville is the clear victor, but the cultural significance and buzzing city life of Nashville cannot be forgotten.