Nashville Local Life
Nashville Coffee Shops That Anchor Their Neighborhood
Nashville's reputation as a creative city and academic center means many cafes dot the landscape. In this town, there are coffee shops for any occasion: deep work, morning meetings, and casual friend dates.
In 2014 The Tennessean declared that the third wave coffee movement had officially staked its claim in Music City, and with this new coffee culture, there came an elevated aesthetic and cafe experience. From classic establishments to cutting edge modern spaces, Nashville's diverse set of cafes and coffee roasters provide options for any mood.
These seven cafes represent the best that Nashville has to offer.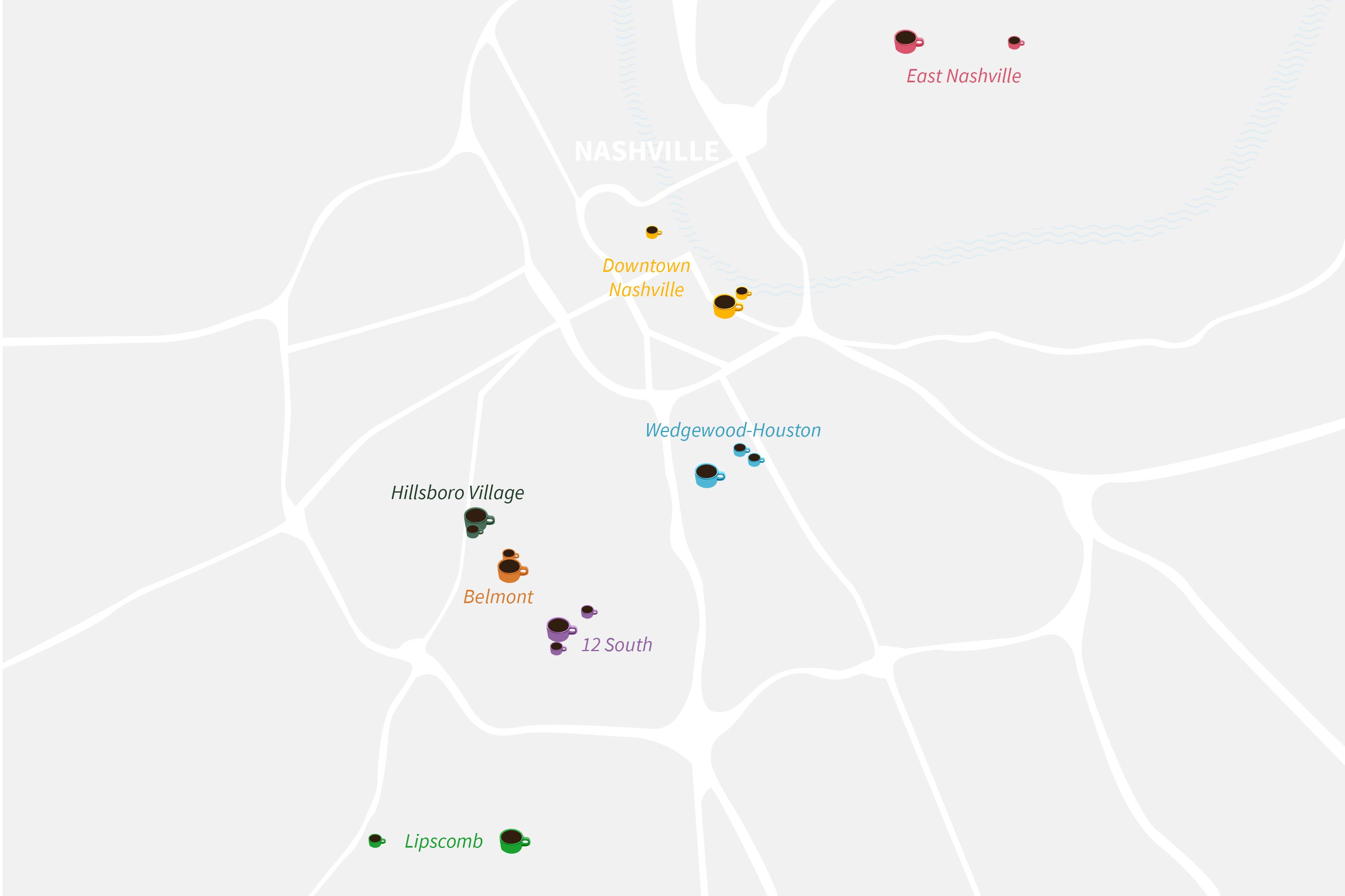 Belmont is a picturesque Nashville neighborhood—known for tree-lined streets, historic mansions, and charming local businesses—anchored by Belmont University, with Lipscomb and Vanderbilt universities nearby. It's college central, but there's plenty for grown-ups to appreciate too.
Bongo Java
The undisputed champion of Nashville coffee is Bongo Java—an empire and an icon for more than a quarter century. As Nashville's oldest coffee shop, this historic house on Belmont Boulevard has seen many renovations over the years, but its DIY spirit remains. It might not serve the best food in the world, but its hours and environment have made it a popular hub for area college students.
Also Check Out:
Hillsboro Village, adjacent to Belmont and also anchored by a university (Vanderbilt), is another historically rich neighborhood home to college students and also cardiologists who work at Vanderbilt University Medical Center. It's fitting that Belmont's sibling neighborhood is home to a favorite sibling in Bongo Java's royal family, Fido.
Fido
It's one of those coffee shops that has evolved just enough to stay relevant while also remaining familiar enough to garner respect and loyalty from native Nashvillians. Most importantly, it received a serious seal of approval in 2014 when Taylor Swift told Time Magazine, "[A] huge priority for me is having a good coffee place to go and hang out. Fido has such a great atmosphere, and you can wander around browsing the shops in Hillsboro Village once you're there." If this testimony isn't enough to persuade newcomers, what is?
Also Check Out:
The name 12 South refers to the resident neighborhood and the main commercial corridor, 12th Avenue South, that's the hub of action in the neighborhood. The thoroughfare has become jam-packed with eateries, vintage stores, high-end boutiques, and—as a result—lots of tourists clamoring to pose with the "I Believe in Nashville" mural for Instagram.
Frothy Monkey
In a neighborhood better known for bachelorette parties these days, Frothy Monkey has remained true to its identity as a local favorite. Offering a rich food menu that's substantial enough to fuel hours of computer work or study, Frothy stands out from the crowd of minimal coffee shops that turn off the wifi and offer mere "bites" in place of a full menu.
Also Check Out:
Downtown Nashville is known for both being a hub for honky-tonks and home to beloved local institutions like the Ryman Auditorium. It's often underestimated as a residential neighborhood, but that's changing.
Crema
Since its opening in 2007, Crema has been known as one of the best cafes in Nashville; a place for serious coffee drinkers and purveyors of good taste in every respect. Crema gained notoriety after offering classes to educate their customers on the ins and outs of coffee harvesting, roasting, and preparation.
Also Check Out:
Wedgewood-Houston, aka WeHo, has grown from an industrial area into a destination known for its dynamic arts scene. It's also known for its culinary and bar pedigree, and new housing is being added to the rising neighborhood.
Dozen Bakery
A relative newcomer to Nashville's coffee culture, Dozen Bakery has quickly become an irreplaceable destination for lovers of baked goods and fine coffee. It's beloved by locals for its friendly staff and known as a place where regulars pay a daily visit. Originally conceived of as a temporary pop-up in 2009, Dozen is here to stay by popular demand. It's just that good.
Also Check Out:
East Nashville is a thriving neighborhood, both in terms of its current real estate renaissance and its dynamic community of small businesses and hip eateries which have earned it the status of Nashville's coolest neighborhood.
Barista Parlour
No collection of Nashville cafes could ever be complete without mentioning Barista parlour—a coffee shop equally as cool as its environs. In many respects this Nashville institution was the first to surf the third wave and put Nashville on the map as a city where coffee lovers could find a community. One of the original "Instagrammable" Nashville spots, Barista Parlour has lived up to the hype, serving exceptional coffee since 2011.
Also Check Out:
Lipscomb is a sleepy little corridor between Green Hills and 12 South. Its main feature is Lipscomb University, a private, Christian college with a sister academy that spans pre-K through high school. Residents love the winding streets and cozy 1960s cottages that make up the neighborhood's character.
The Well
Nashville has a heart for philanthropic initiatives, and many years ago, The Well leaned into their community with an innovative approach to the traditional coffee shop model. Their slogan is "where coffee changes lives" and their social enterprise model is dedicated to alleviating the burden of poverty for people in the developing world.
Also Check Out: