New York vs. Chicago: Where to Live
New York vs. Chicago: Where to Live
New York and Chicago seem to share a friendly rivalry—and we're not just talking about the pizza. New York and Chicago occupy the No. 1 and No. 3 spots on the list of most populous U.S. cities. They both act as American cultural hubs, offering some of the country's most well-known museums, restaurants, and landmarks. Visitors will love both cities for the bustling urban vibes and the endless list of things to do. But residents know that the cities have some key differences beneath the surface that tourists see.
New Yorkers and Chicagoans are both intensely proud of where they live. These urban dwellers are happy to trade the peace and quiet of the suburbs to live in the heart of the city. But for lots of residents, the grass is greener on the other side. Many New Yorkers leave the Big Apple to enjoy a calmer, more affordable life in Chicago. Similarly, Chicago residents often move to New York, where they are happy to trade their larger apartments to enjoy better shopping and nightlife.
So which city is best for you? Read on to discover the differences between New York and Chicago homes, schools, transit systems, and yes—pizza styles.
Real Estate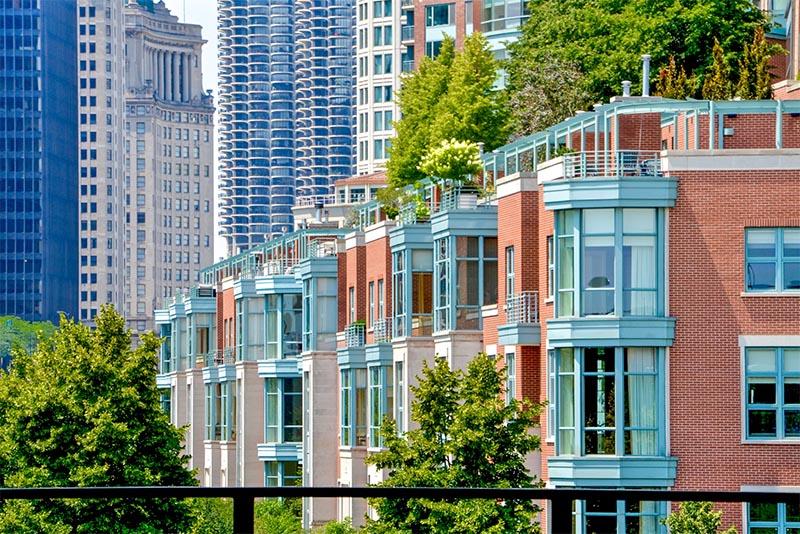 New York and Chicago are two of the largest cities in the country, which means buyers shouldn't have a problem finding a place in either city. However, when it comes to affordability, Chicago is the obvious choice. Chicago homes are 66% less expensive than their New York counterparts. New York is also known for its notoriously quick real estate market. Newcomers need to be willing to bid on properties fast; it's not uncommon for a great home to disappear in a few hours. Some homebuyers may feel overwhelmed with a real estate market that moves in a New York minute.
The New York neighborhood with the highest number of homes for sale is the Upper East Side, where the average home price is in the low $700s. The high price point comes with some remarkable neighborhood fixtures. The neighborhood sits between New York's iconic Central Park and the East River. Also, 5th Avenue runs through the Upper East Side. This street transforms from a luxury shopping destination to a cultural hub known as "Museum Mile" in just a matter of blocks. The Upper East Side also contains plenty of apartment buildings, schools, and playgrounds for families to enjoy.
Read more:
The Chicago neighborhood with the highest number of homes for sale is Lakeview, where the median home price is in the mid $400s. This neighborhood is located on the shores of Lake Michigan, which means residents have easy access to the famous Chicago waterfront. That's where you'll find the Lakeview enclave Boystown, which was the first officially-recognized gay neighborhood in the U.S. Another popular Lakeview enclave is Wrigleyville, located right outside of Wrigley Stadium, which has seen a boom in development since the Cubs won the World Series in 2016.
Read more:
Winner: Chicago is the clear winner, offering urbanites plenty of affordable options in exciting neighborhoods.
Education
New York and Chicago offer some fantastic school choices. The cities both have large public K-12 school systems, with countless private options available as well. There are dozens of top-rated schools in both New York and Chicago. And with over 1,000 public schools to choose from in each city, parents will have no problem finding a great fit for their kids. However, because home prices are so much higher in New York, it might be challenging for parents to move into a neighborhood near their school of choice.
New York has plenty of college options, ranging from small liberal arts schools to large public universities. The city is home to both New York University and the Ivy League Columbia University. New York also has CCNY, or the City College of New York, which is the largest urban university system in America with over 200,000 students attending classes on dozens of campuses. CCNY makes it easy for New Yorkers to get a great college education.
Chicago also has some fantastic college options, including The University of Chicago, DePaul University, and Loyola University Chicago. Northwestern University in the suburb Evanston is just a short drive away, and the University of Notre Dame is about a two-hour drive away in Indiana. The city also offers great community colleges and public universities. However, they don't have the large public university system that New York does.
Winner: While the college choices in New York give the city a slight edge, both New York and Chicago offer great public schools and dozens of university options.
Transit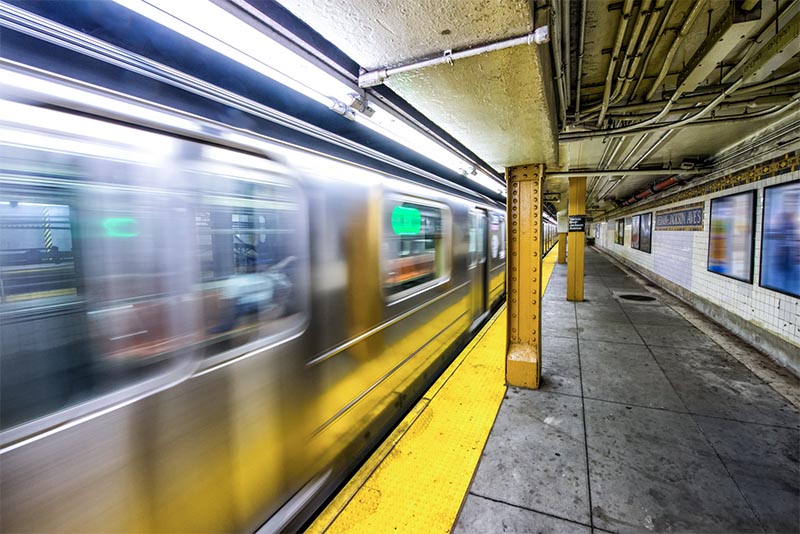 New York and Chicago both have large, well-funded public transport options to move people between neighborhoods. Residents of both cities depend on trains and buses to get around because driving in these high-traffic areas can be a challenge.
New York's Metropolitan Transportation Authority (MTA) operates the famous NYC subway. The subway is one of the largest transit systems in the world, moving over 1.7 billion riders annually. It's also one of the only train systems in the world to offer its complete service 24 hours a day, 7 days a week. This means that New Yorkers always have a cheap and easy way to move around the city. The MTA subway fare is currently $2.75 per ride.
The Chicago Transit Authority (CTA) operates the Windy City's train system, which is known as "The L" to locals. It's the third-busiest rapid transit system in the U.S. (after the NYC Subway and the Washington, DC Metro). Two of the L's train lines operate 24 hours a day, making it one of the only cities in America to offer all-night travel. While the L isn't as well-connected as the Subway (which joins to the New Jersey Transit, Staten Island Railway, and other systems), it's still one of the best public transport options in the U.S. CTA fare is $2.50 per ride.
Winner: New York City is the winner, but they have a transit system that's hard to beat. It's one of the largest and most well-developed subway systems in the world.
Food and Culture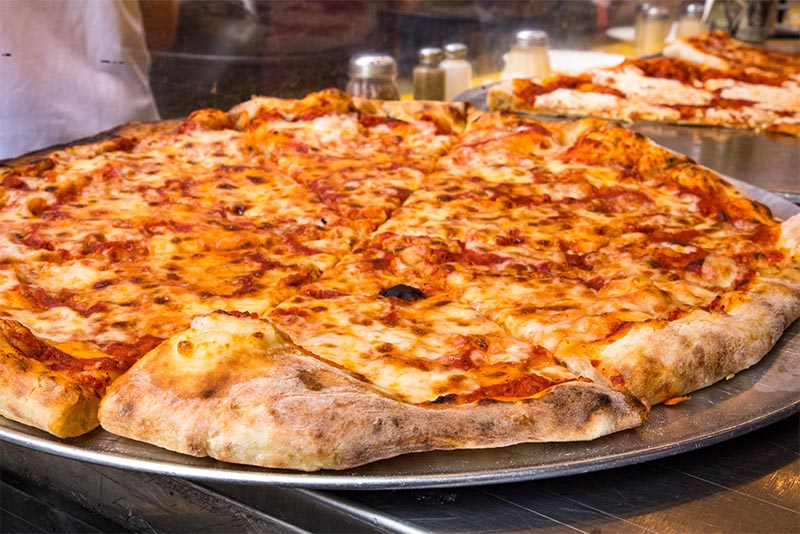 New York is home to numerous famous landmarks, including the Statue of Liberty and Times Square. From Broadway theaters to world-renowned museums to the famous yellow taxis, there's never a shortage of quintessentially "New York" things to see. Chicago also offers plenty of renowned attractions, including the famous Navy Pier and Millennium Park. For a breathtaking view of the city, visitors can check out the Willis Tower Skydeck, which is tall enough to offer views of four states.
When it comes to food, both New York and Chicago offer numerous luxury dining options. However, there's one iconic food item that people come to both cities to get their hands on. While they might both call their famous dish "pizza," the similarities end there. New York and Chicago style pizzas are so different, they are really impossible to compare. Which one is better? Check out Joe's Pizza in New York and Lou Malnati's Pizzeria in Chicago to decide for yourself.
Read more:
Winner: It's a toss-up!
The Bottom Line
New York and Chicago are both home to famous cultural landmarks, fantastic schools, and massive public transport systems. New York offers more opportunities as America's largest city, but Chicago offers many of the same things for a much lower cost of living.