Newport Beach Neighborhood Guide
Newport Beach Neighborhood Guide
Newport Beach is a quintessential California beach town nestled along the Orange County coastline between Los Angeles and San Diego. The city is best known for its sprawling beaches and boat-filled harbor. Beyond the beach, this city offers residents ample opportunities to enjoy the outdoors with several expansive parks, hiking and biking trails, and of course, that year-round temperate weather.
The city is an appealing blend of residential and commercial, meaning that most residents live and work in the city and have access to all the shopping, dining, and entertainment they could ask for. While Newport isn't a particularly walkable city, you'll find plenty of people biking to the beach, and the waterfront neighborhoods certainly see their share of walkers and joggers hitting the boardwalk.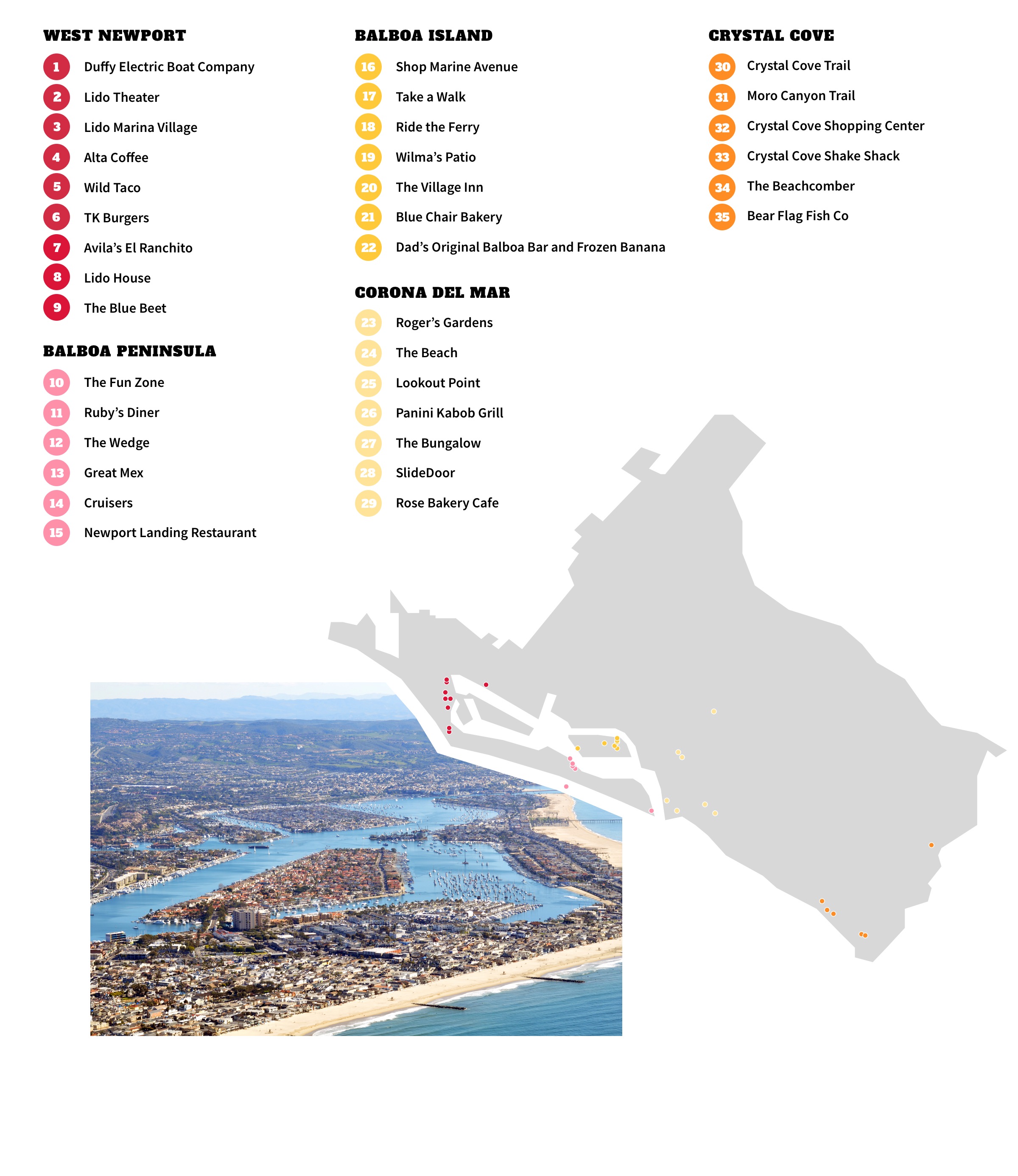 Newport Beach at a Glance
Here are a few helpful tips about this beautiful coastal city.
Public Transportation: This isn't really a thing here. In true Southern California fashion, our public transportation system leaves something to be desired. While there are a handful of bus routes that traverse the city, you're going to feel the most mobile if you have a car at your disposal.
The Back Bay: Technically named "Upper Newport Bay," the Back Bay begins at the mouth of Newport Bay and winds its way through the city, eventually turning into a creek as it crosses the border from Newport Beach into Irvine. The bay is almost entirely surrounded by trails, which are open to walkers, joggers, bikers, horseback riders, and dogs (as long as they stay on their leash). The bay is also open to swimmers, rowers, kayakers, stand-up paddleboarders, and motorboats in designated areas.
PCH: Pacific Coast Highway, often known as PCH, is one of the main thoroughfares connecting Newport Beach neighborhoods. The PCH also boasts some of the best views because it runs right along the Pacific coastline. While the road can get a little congested at times, the surrounding natural scenery will help keep your mind at ease.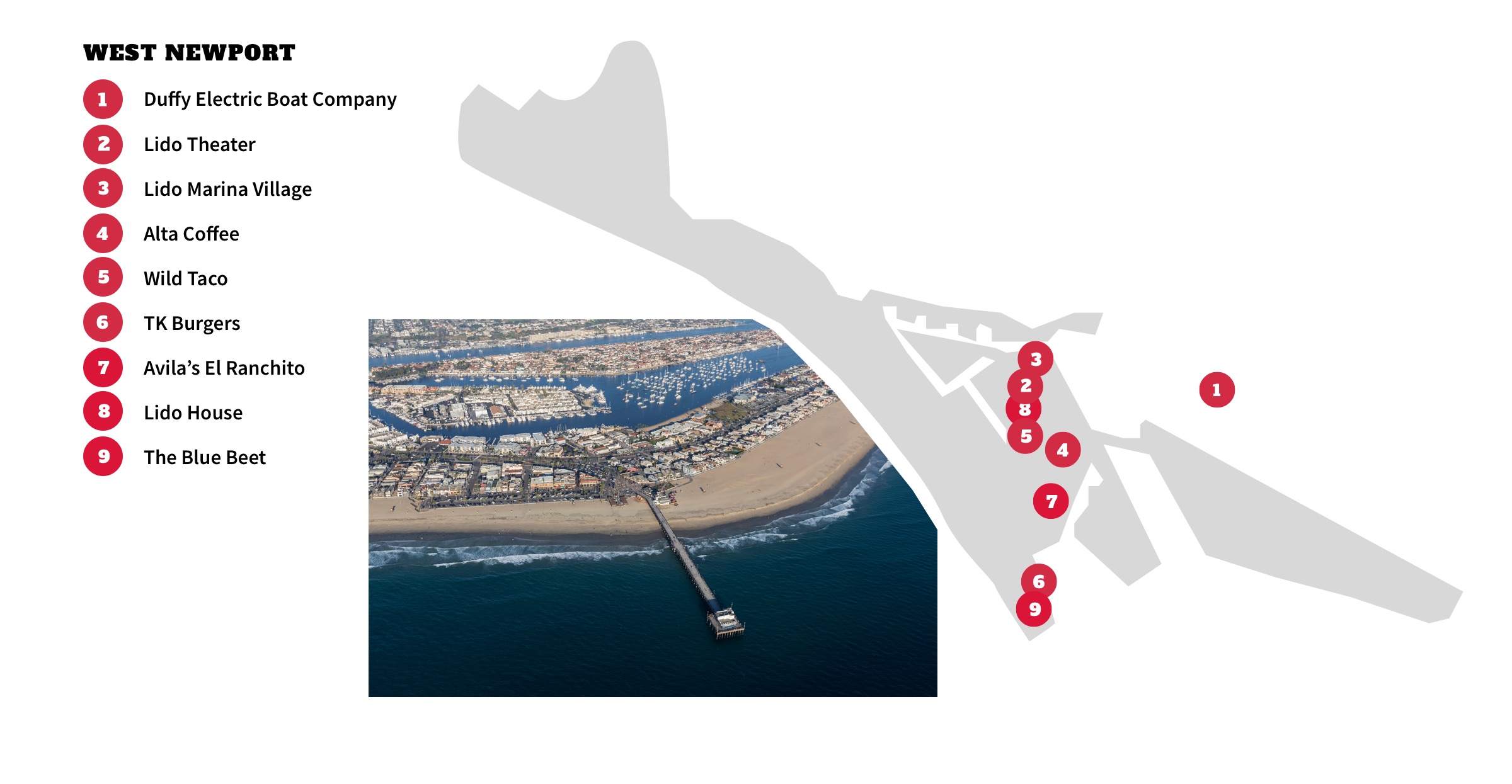 West Newport is one of the city's ideal beach neighborhoods, and my personal favorite. The area stretches from the Santa Ana River to the Newport Pier and encompasses some of the city's best beaches along with a vibrant restaurant and bar scene. The neighborhood is equal parts residential and commercial, with beautiful homes lining the waterfront as well as restaurants, bars, shops, and entertainment venues throughout the area. The neighborhood is also a hot tourist destination, so the summer months see an influx in traffic and a significant decrease in available parking. While the neighborhood isn't particularly walkable, you'll see plenty of people pedaling on beach cruisers along the boardwalk that stretches for miles down the Balboa Peninsula.
What to Do
Only in California will you hear residents use the term "Duffy" as a verb. Duffy boats were invented here by Marshall Duffield (hence the name) in the 1970s and have since become one of the most popular ways to navigate Newport Bay. These small electric boats, which seat up to 12 adults comfortably, are perfect for cruising the harbor during sunset, and they're easy to dock at any of the public piers.
A neighborhood icon, the Lido Theater first opened in 1938 and still boasts many of its original features, imbuing the theater with a certain sense of nostalgia. The original box office, red velvet curtains, and old-school marquee all reflect the theater's history and contribute to its distinction as a local treasure. The theater typically shows only one film at a time but featured movies include blockbusters, independent films, Newport Beach Film Festival productions, and seasonal cinematic classics.
This is a fairly recent addition to the West Newport waterfront, but it's a welcome one. Though the area was originally developed in the 1970s, many of the waterfront properties had been vacant since the 1990s until the recent revitalization. Now, the charming area boasts luxury boutiques, acclaimed restaurants, and insta-worthy walkways and outdoor seating.
Where to Eat and Drink
This quaint coffee shop and eatery is a long-standing favorite among Newport Beach locals. It's the perfect place to grab breakfast with a friend or get coffee and scones to-go before taking a walk on the beach. The shop also spotlights local artists, with a rotating display of artwork and photography gracing the walls and regular open mic nights.
Come for the margarita, stay for the grilled corn. This trendy taco shop was once the location of the original Bear Flag Fish Co. (see Crystal Cove), but now the same owners have transformed the location into Newport's latest hotspot for fresh, tasty tacos, with a Mexican flair. It's quick and casual, but can definitely get crowded on the weekends.
When you think of iconic California burgers, you might be tempted to think In-N-Out, but when you're in Orange County, the local favorite is TK Burgers. With a cool-grunge, surf vibe and a limited yet perfect menu, TK just makes sense after a day at the beach. And I can't tell you why this burger is so dreamy—I just know that it is. So do yourself a favor, head to TK, order a cheeseburger and fries (don't forget the fry salt), enjoy the crushed ice in the soda machine, and feel free to @ me.
A local staple since 1975, El Ranchito is the place for Mexican food in Newport Beach. This family-owned and -operated restaurant is warm and inviting, the food is delicious, and the portions are generous.
This chic, beach cottage-inspired hotel recently opened to much-deserved fanfare. Book a room for a night to embrace the full experience, pop in for dinner at Mayor's Table, or sip on a drink at the rooftop bar, Topside. Pro tip: If you're traveling with a crew, Topside serves up some serious punch bowls—the "Not Your Sailors Sangria" is a personal favorite.
This is one of my favorite spots in Newport for live music. While it's located in the heart of the West Newport bar scene, The Blue Beet maintains its own unique vibe. Hit the dance floor if you're feeling the music, head up to the patio to watch the sunset, or chat with friends over cocktails.
Why Locals Live Here
Locals flock to West Newport for true beachside living. Along Pacific Coast Highway and West Balboa Boulevard, you'll find a mix of older beach "cottages" alongside more recently renovated single-family homes. West Newport is also home to Lido Isle, a small, exclusively residential island that juts into the bay. West Newport residents have the benefit of living on, or a block or two down, from the beach without having to deal with the traffic that haunts the Balboa Peninsula.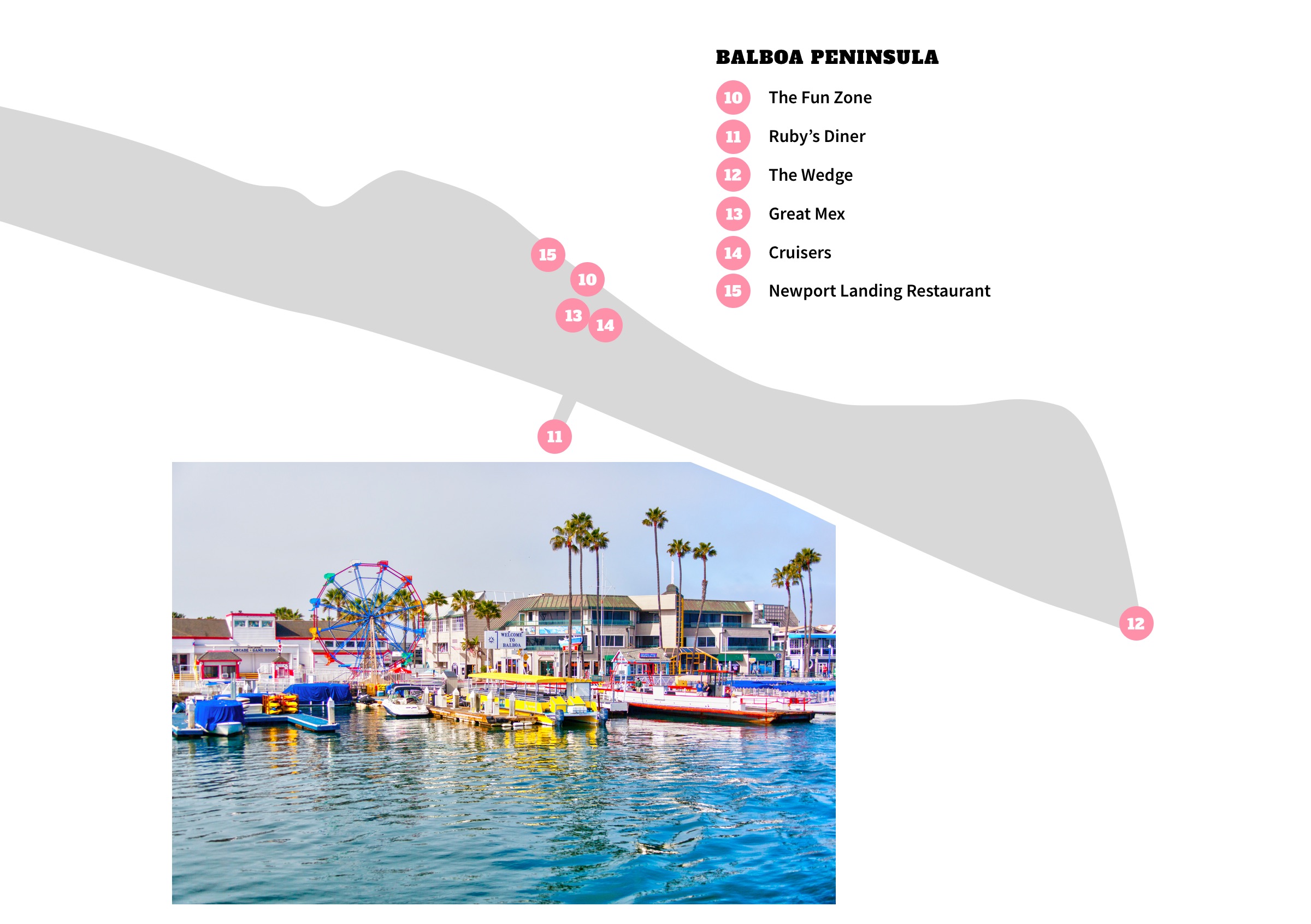 If you're "going to the beach" in Newport, then there's a good chance you're headed to Balboa Peninsula. This neighborhood stretches from the Newport Pier down past the Balboa Pier, to The Wedge at the tip of the peninsula. The peninsula has a fun dual-identity as a hotspot for tourists as well as a residential reprieve for locals. Most of the tourism and activity in the area centers around the Balboa Peninsula, where beachside fire pits, casual restaurants, kitschy gift shops, a bevy of bars, and, of course, The Fun Zone, attract both out-of-towners and locals looking for a good time. As you make your way down the peninsula, the excitement and activity give way to quiet, residential streets and beautiful homes.
What to Do
Whether you have kids or you're just a kid at heart, The Fun Zone is a can't-miss attraction. This nostalgia-inducing stretch of the peninsula features carnival rides, an arcade, and plenty of places to pop in and eat (especially if you're looking for items of the pizza and soft serve variety).
Though it's now a national chain, the original Ruby's Diner is located at the end of the Balboa Pier. Stop into this 1940s-inspired diner for lunch or grab a delicious shake to go as you stroll along the pier.
The wedge is an iconic surf spot that attracts the most talented surfers, bodyboarders, and bodysurfers. The waves are what's known as "shore-break," which is exactly what it sounds like—large, powerful waves that break in shallow water, directly on the shore. Unless you know what you're doing (and I mean really know what you're doing) it isn't advisable to jump in the surf here. However, this is an excellent spot to revel in the power of the ocean and watch experienced sportsmen navigate the waves.
Where to Eat and Drink
My friends and I first started flocking to Great Mex during our lunch break in high school, and we haven't stopped coming ever since. With four Orange County locations, Great Mex is a fan-favorite serving up fresh Mexican food in a casual setting. Fact: Great Mex tastes even better after a long day at the beach.
This casual sports bar is a favorite both for its food and drinks, and for all of their weekly deals and events. Think: an awesome happy hour, taco Tuesdays, trivia nights, and the like. This is the perfect place to get the party started, or order late-night snacks as the evening winds down.
If you're looking for fresh seafood and an amazing view, this is the spot. The upstairs oyster bar boasts an incredibly generous happy hour, and it's one of my favorite spots to grab a cocktail and enjoy views of the harbor.
Why Locals Live Here
There are two fairly distinct "living on the peninsula" experiences: The first is as a crazy 20-something renting a slightly older house with five of your closest friends, and then the second is as a far more established adult who can afford a multimillion-dollar waterfront property. The farther down the peninsula you go, the less you find of the first and the more you find of the latter. Locals love living on the peninsula because, once you make it past the mayhem at the pier, the area is actually incredibly residential. It's quiet, secluded, and very neighborly. Houses on the peninsula are packed closely together, so you get to know your neighbors quickly, and it's the kind of neighborhood where your dog might become best friends with other dogs as you take your morning stroll on the beach. The only drawback to this tranquil, beachside living? Trying to make your way off the peninsula during the height of summer can be as much fun as sitting in bumper-to-bumper traffic on the 405.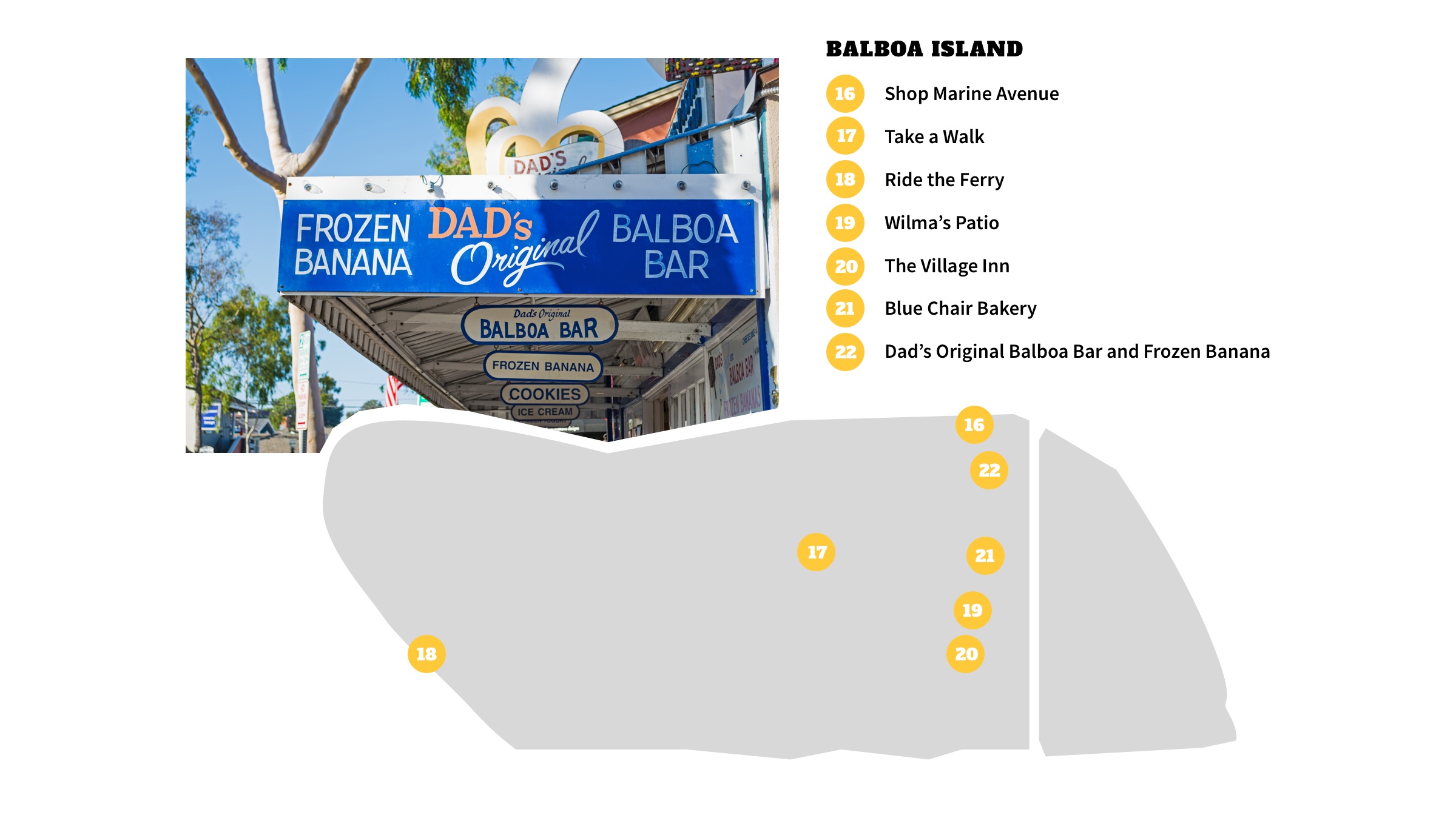 Balboa Island is an iconic Newport Beach destination, for both locals and tourists alike. This man-made island may be small, but it packs a mighty punch. You can shop along Marine Avenue, play in the sand, set off on a multitude of water-based adventures, or go fishing off the public docks, just for starters. And while this neighborhood may seem like it's built for visitors to pop in and enjoy a slice of quintessential California before returning to the real world, the island actually boasts a close-knit community. This neighborhood is unmatched when it comes to showing a little holiday spirit and neighbors here tend to be on a first-name basis.
What to Do
Marine Avenue is the main street on Balboa Island and the only thoroughfare that takes you from the mainland onto the island. This is where almost all of the island's commercial businesses are located, which makes it the perfect place to do a little window shopping. The avenue is home to several chic clothing boutiques, home decor shops, art galleries, gift shops, and other specialty stores.
17. Take a Walk
Newport Beach residents love nothing more than a good walk around Balboa Island. The perimeter of the island is just over two-and-a-half miles, so a brisk walk can suffice as your exercise for the day. (Even if you're eating a cinnamon roll at the same time.) While on your morning stroll, be sure to take in the picturesque bay and the equally beautiful bayfront homes surrounding you.
The Ferry has been a local establishment since 1919 and represents a perfect convergence of practicality and delight. While there's only one bridge to carry you on and off the island, the Ferry carries cars, pedestrians, and cyclists across the bay to the Balboa Peninsula. Not only can this considerably reduce your commute time hopping from one neighborhood to the next, it's also a ton of fun.
Where to Eat and Drink
This easy-going eatery has been a neighborhood staple since 1997, and for good reason. The food is comforting, the portions are hearty, and the environment is cozy, casual, and always welcoming. While Wilma's is open for breakfast, lunch, and dinner, I'm particularly partial to their breakfast. The Garden Benedict (and coffee, of course) after a walk around the island is my version of a perfect Saturday morning.
The Village Inn, affectionately known to patrons as "the VI," is another long-standing island favorite. The VI boasts an awesome happy hour on weekdays, bingo on Mondays, trivia on Tuesdays, and, my personal favorite, live music every Wednesday through Sunday. If you walk into the VI on a Saturday night, you'll likely see an elderly couple taping their toes right alongside a group of rowdier twenty-somethings.
Yet another local establishment with a lengthy Island tenure (are you seeing a theme here?), Blue Chair Bakery offers delicious, homemade pastries and sweets. The cinnamon rolls are iconic, and I'm a big fan of the molasses sugar cookies.
Okay, so this is important. If there's one thing you do on the island, you need to visit Dad's. If you want to stick to the classics, order the namesake balboa bar (vanilla ice cream dipped in chocolate and smothered in a topping of your choice) or a frozen banana (same thing, just sub the ice cream for a banana). You'll also find a selection of ice cream, donuts, and cookies, including the famed hippo cookie.
Why Locals Live Here
This may be a reason to live on the island or it may be a reason to avoid it, depending on who you ask, but residents living here are very accustomed to strangers peering into their windows. Since the island is such a popular destination for walkers, joggers, and the like, there isn't always a ton of privacy for bayfront homes. However, for most residents that's a small price to pay when all Balboa Island has to offer is right at their front door. This neighborhood features desirable single-family homes, though you'll be hard-pressed to find a house for sale for under a million dollars. And while Balboa Island itself is arguably the most walkable neighborhood in Newport, residents typically drive to adjacent areas.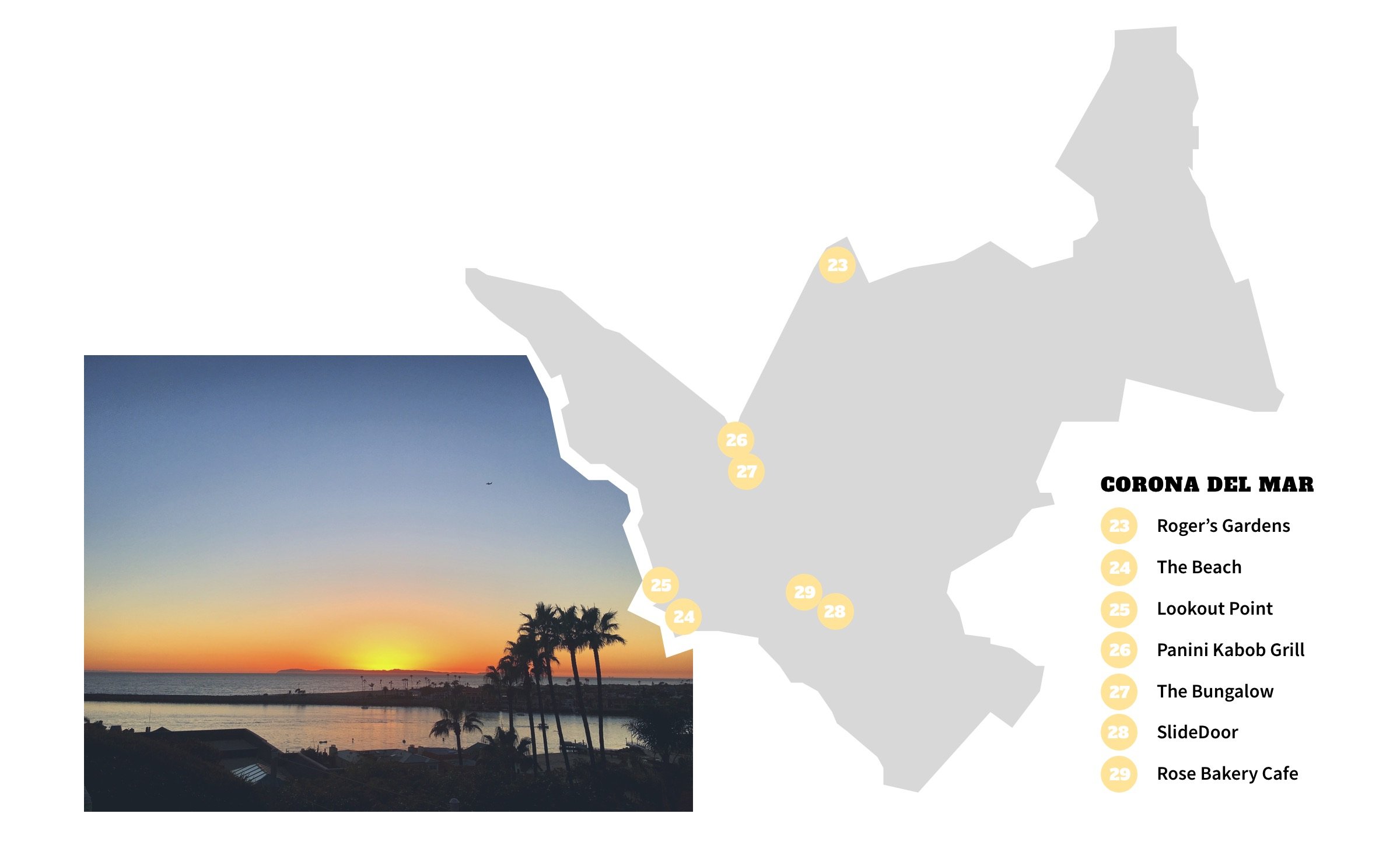 Corona Del Mar, or CDM as it's affectionately called, is one of Newport Beach's most distinct neighborhoods. The area is an ideal mix of commercial and residential with shops and restaurants branching out from PCH and beautiful homes both tucked up in the hills and lining the water. This idyllic neighborhood makes you want to drive down PCH in a convertible with your hair blowing in the wind—or maybe that's just me.
What to Do
Part garden, part showroom, and part restaurant, Roger's Gardens is a longtime neighborhood staple with a rich history of bringing the community together. If you're looking for a little peace and tranquility with a lot of greenery, this is the perfect place to spend the afternoon. You can wander through the on-site gardens, sign up for seminars and workshops, shop home decor, or lunch at Farmhouse.
This may feel like a less-than-inspired suggestion, but Corona Del Mar has some of the best beaches Newport Beach has to offer. There are two main sections of accessible beach—Big Corona and Little Corona. Featuring a wide bay perfect for playing in the surf, Big Corona is packed with beach volleyball courts and fire rings. Little Corona is on the south side of the neighborhood, and it's known for its tidepools and snorkeling.
Overlooking Big Corona and the Balboa Peninsula, Lookout Point is the perfect place for a picnic and a sunset. This grassy park is one of the city's most popular places for ocean gazin' and sunset chasin', and for good reason. Benches are a bit hard to come by, so I recommend bringing a blanket if you plan on staying a while.
Where to Eat and Drink
This casual Mediterranean eatery has quickly become one of my favorite places in CDM. The menu is expansive and affordable, and the portions are huge, in a good way. I tend to keep it simple with the chicken kabob with basmati rice and a greek salad, but you really can't go wrong here. Pro tip: the "Family Kabob Combo" is great for feeding a large crew when you don't want to cook yourself.
Just a few doors down from Panini lies The Bungalow, a decidedly fancier CDM mainstay. This steak and seafood restaurant is ideal for special occasions or if you just feel like it's time to treat yourself. While the inside of the restaurant has a cool "dark wood and leather booth" vibe, I prefer to eat on the outdoor patio and make the most of the year-round temperate weather.
Nestled into the side of the iconic Five Crowns (which is worth its own visit), SideDoor is a quaint gastropub offering seasonal comfort food and delicious drinks. The atmosphere is cozy and inviting with burning fireplaces and oversized chairs, and the food is appropriately indulgent. While the menu has plenty of options to choose from, there are few things I love more than a good charcuterie board, and this neighborhood spot never disappoints.
This neighborhood spot has been family-owned and -operated since 1998 and continues to serve up wholesome breakfast and lunch options. It's a great spot for a pre-work coffee or a quick lunch break. On the weekend, you'll see cyclists rolling up to the cafe to get a hearty breakfast after a long ride down the coastline. The baked goods are always tempting, but I tend to opt for coffee and the California burrito.
Why Locals Live Here
CDM is primarily comprised of luxurious single-family homes, though you can find a handful of attached homes sprinkled throughout the neighborhood. As you get closer to the water, homes tend to be tightly packed together on narrow streets, while living farther inland provides residents with a little more space. Residents love living in an idyllic enclave with quick access to some of Newport's best amenities, and those with families appreciate the area's top-rated schools. Fun fact: The streets here have whimsical names like Marigold Avenue and Sandcastle Drive.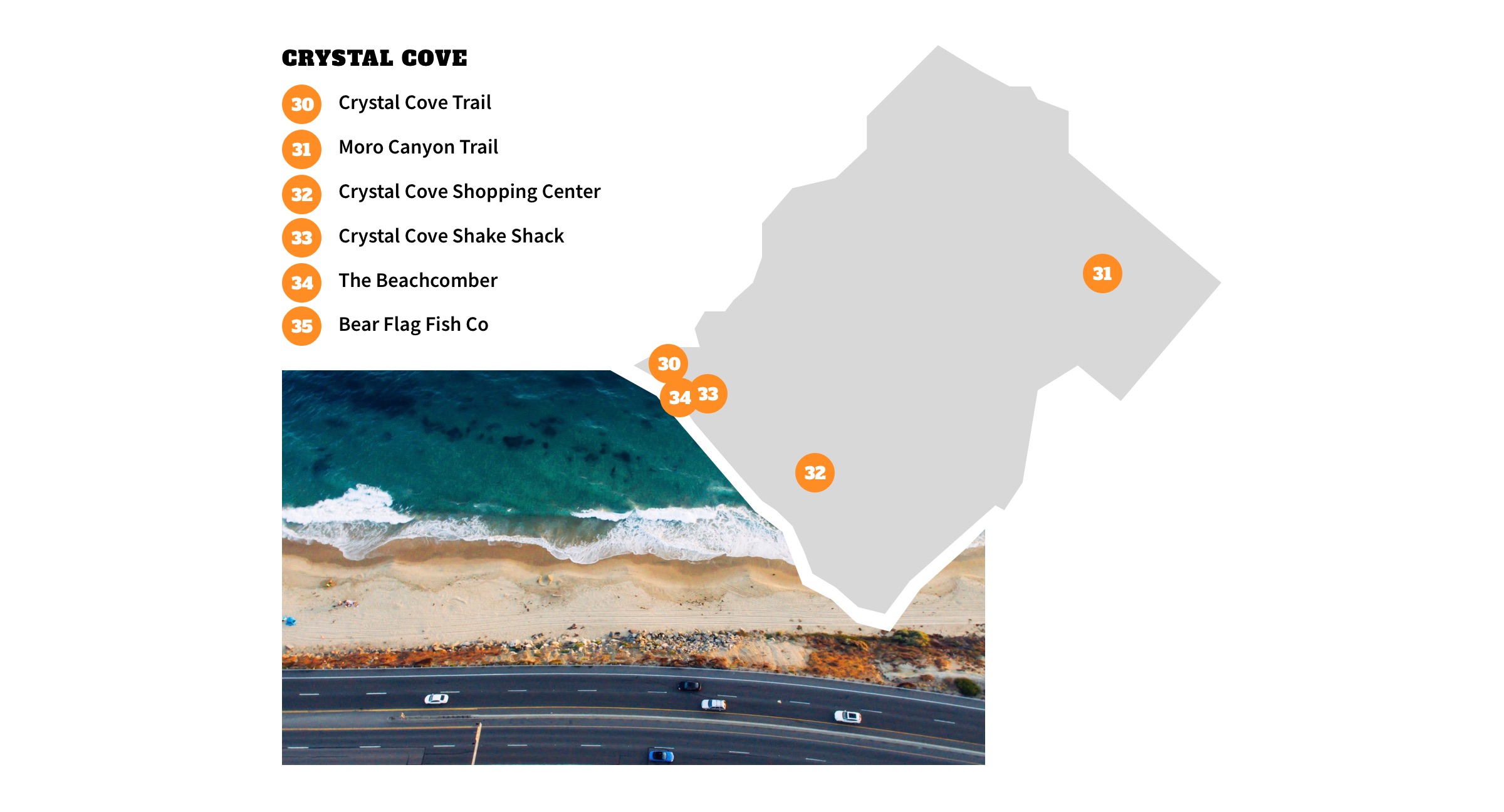 Crystal Cove is an affluent neighborhood in the enviable Newport Coast community. While Newport Coast is technically a part of Newport Beach, it very much maintains its own distinction as a particularly luxurious subset of the city. Crystal Cove specifically is known for its sprawling ocean views, access to outdoor activities, and relaxed shopping and dining options. The neighborhood is nestled in between Crystal Cove State Beach and Crystal Cove State Park, which guarantees residents and visitors alike ample opportunities to hike, swim, and camp under the California sun.
What to Do
For a leisurely stroll with sprawling ocean views, head to Crystal Cove Trail. The walking path sits atop the cliffs on the ocean side of PCH, and it's easily accessible with public parking, bathrooms, and a picnic area. The trail is perfect for those looking for a little activity without committing to a full-blown hike.
If, however, full-blown hikes are more your pace, then pop back over PCH and head to Moro Canyon. Part of Crystal Cove State Park, Moro Canyon features a series of trails, each requiring varied levels of exertion. Regardless of which path you pick, you're guaranteed to get your heart rate up.
This shopping center feels partially like an outdoor mall and partially like an oceanfront resort. Boasting both boutique shopping and local eateries (and a Trader Joe's, because, of course), this is the perfect place to grab a quick lunch and do some window shopping.
Where to Eat and Drink
This is a blink-and-you'll-miss-it spot that you definitely don't want to miss. Perched atop a seaside cliff just off of PCH, this quaint little shack serves up classic diner food (think burgers, chicken fingers, and the like) and, of course, indulgent shakes. You order at a walk-up window and dine on the patio overlooking the ocean. If you're thinking that this might be the perfect place to grab dinner and watch the sunset, you're correct.
The Beachcomber is about as quintessential California as it gets. This beachside cottage is open for breakfast, lunch, and dinner and offers an expansive menu featuring plenty of fresh seafood options and refreshing cocktails. To access the restaurant, you have to park across the highway in the Los Trancos parking lot (The Beachcomber will validate your parking) and hop on a shuttle or take a 10-minute walk down to the beach. The Beachcomber only accepts a limited number of reservations, so you can typically expect at least a half-hour wait, but that's just part of the experience. Play catch in the sand or dip your toes in the water while you wait—time will fly by.
Bear Flag is a Newport Beach staple. With two locations in the city and a third in neighboring Huntington Beach, Bear Flag is the place to go for fresh, simple, and delicious seafood. Each restaurant also serves as a fish market so whether you're dining in (in which case I suggest the Bear Flag Burrito) or taking fish to-go (in which case I recommend the ahi tuna), you're guaranteed to like what you find.
Why Locals Live Here
While anyone can access Crystal Cove's amenities, most homes are tucked away within a gated community, offering residents a private reprieve from what can become a popular tourist destination, particularly during the height of summer. The neighborhood is largely residential and boasts expansive, luxury homes. Residents pay a premium for a house situated up the hill with unobstructed views of the ocean. There are several exceptionally well-rated schools that serve this neighborhood, further adding to its attractive appeal.