Las Vegas Real Estate
Suburban Spotlight: Enterprise
Enterprise itself may not be a master-planned community, but it's home to both Southern Highlands and Mountain's Edge. Situated on the southwest side of the valley, Enterprise remained an unincorporated area so the community can maintain a rural lifestyle. But development took over, making Enterprise a community that bridges the gap between suburban and metropolitan.
Although it borders Henderson, this suburb is also close to Paradise and Rhodes Ranch, all of which have different vibes and price points. Also, Enterprise is just minutes away from Downtown Las Vegas. Here's what you need to know about Enterprise.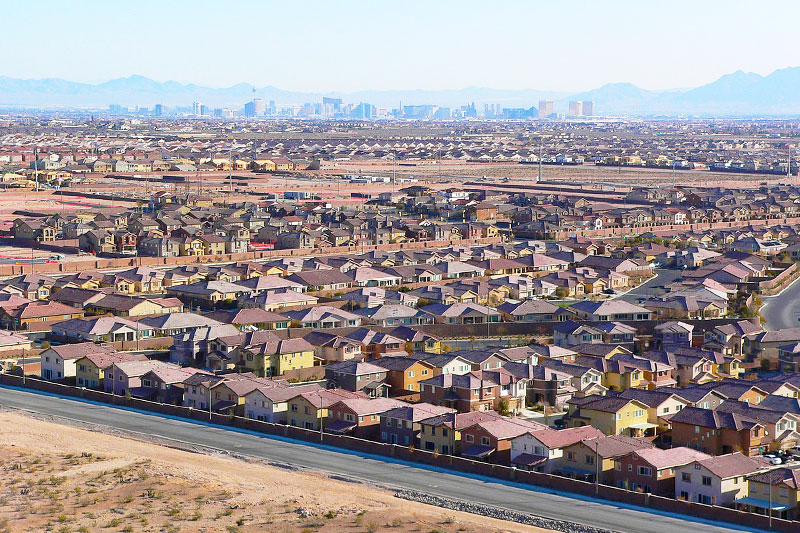 Home Styles and Prices
In Enterprise, homebuyers will find a wide selection of home styles ranging from attached homes and condos to single-family homes and custom estates. Price points also vary with homes priced between the low $100s and $8.7 million.
What also makes Enterprise so interesting to homebuyers is the number of neighborhoods that fall under its umbrella, including Southern Highlands and Mountain's Edge (master-planned communities with numerous housing options). According to Nerdwallet, Enterprise was also named one of the best places for homeownership in Nevada because of its high growth rate and close access to amenities.
This suburb is also a solid location for homebuyers who want to live near growing business centers.
New Developments
Homebuyers looking for new construction will find plenty of options to choose from in Enterprise, which is home to a significant number of newly constructed homes that hit the market this year.
D. R. Horton's Blue Nile Trails is a community full of two-story homes ranging from 1,735 to 2,035 square feet. The spacious floorplans bridge the gap between traditional and modern designs, and prices start in the low $300s.
In Southern Highlands, luxury communities are quickly rising. Lennar recently opened Olympia Ridge which offers single-family homes ranging in size from 4,111 to 6,234 square feet with prices bewteen $1.1 and nearly $1.5 million.
The more affordable community of Tuscan Cliffs by Lyon Homes offers homebuyers Mediterranean-inspired single-family home designs that complement the community's natural landscape. Homes range in size from 3,298 to 4,660 square feet and feature spacious floorplans with up to six bedrooms, six-and-a-half bathrooms, gourmet kitchens, great rooms, lower-level master suites, and garages for up to five cars.
Schools
Enterprise has above average public school rankings, which is a competitive achievement within the Valley. According to BestPlaces.net, there is an average of 21 students per teacher, and because the community has a suburban feel, there's no shortage of schools for all grade levels.
A popular high school option in the area is Southwest Career and Technical Academy, a specialized high school ranked 13th in the state, per US News and World Report.
Some of the top performing elementary schools in the area also include Charles and Phyllis Frias Elementary School and Aldeane Comito Ries Elementary, while Lois and Jerry Tarkanian Middle School also ranks high with a solid student-to-teacher ratio.
Amenities
Enterprise is home to many local businesses as well as numerous parks and trails. Some of the parks in the area include Exploration Park, an 80-acre western-themed park, and Mountain's Edge Regional Park, a 220-acre park that includes a fitness area, bike riding area with miniature stop signs and crosswalks, a meditation garden, walking trails, and picnic facilities. The community is also home to several dog parks, making it easy for you and your pet to stay active outdoors.
In Enterprise, you'll also find everything from food trucks to shaved ice along with great local coffee spots, including Bad Owl Coffee—the beloved Harry Potter-themed local roaster. Although you can order lattes and cappuccinos, the coffee shop also features wine and beer alongside waffles and sandwiches.
This suburb is also home to an innovative library, known as the Windmill Library. Unlike traditional libraries, Windmill features an energy-efficient design along with high ceilings and vast open spaces. In addition to a catalog of more than 130,000 books, the Windmill Library also has an art gallery, a 300-seat auditorium, a children's story room, an adult computer lab, and multiple study rooms.
Family-Friendly Events
Not only does the area have a robust library system, but Enterprise also hosts numerous community events, including 5K runs, family fun festivals, garage sales, and country music in the park.