Austin Market Trends
The 10 Top-Selling Neighborhoods in Austin
With a quickly growing population and a steady rise in property values, Austin boasts one of the most vibrant real estate markets in the nation—and one of the most competitive. Homebuyers flock to the Texan capital for its world-class culinary scene, vibrant live-music venues, beautiful public greenspaces, and unique neighborhoods, each with its own individual identity.
According to Neighborhoods.com data, here are the 10 top-selling neighborhoods in Austin, Texas.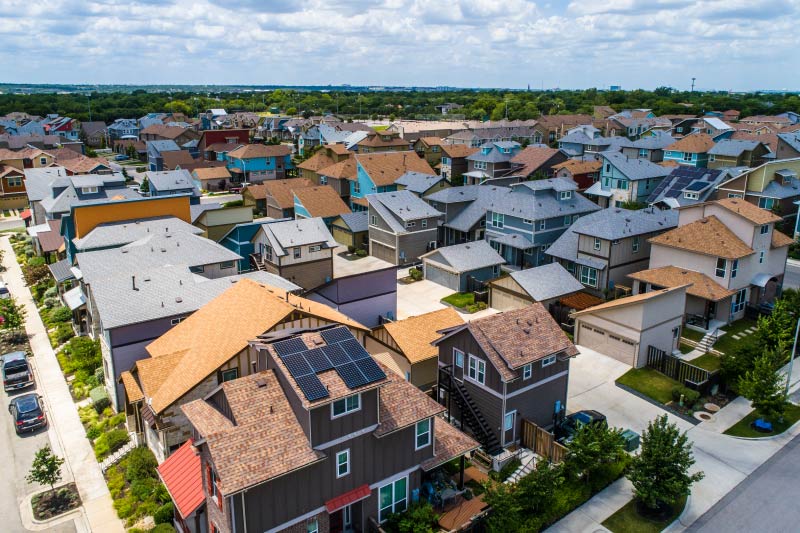 While not technically a master-planned community, the large residential section of northwest Austin known as Anderson Mill borrows plenty of perks from the traditional MPC model. For instance, residents have access to recreational facilities like community pools, a fitness center, parks with tennis and basketball courts, and playgrounds.
Also, Anderson Mills' location grants easy access of two of Austin's largest shopping centers, Lakeline Mall and The Domain. Commuters value Anderson Mill's close proximity to Routes 45 and 1, which carry them downtown in about 20-30 minutes.
Anderson Mill counts among the more affordable neighborhoods on this list; attached homes and single-family homes are in the majority here, and the median sale price is currently in the high $200s.
One of the many master-planned communities occupying territory directly north of Austin, Milwood receives particular attention for its family-friendly atmosphere and its appealing community features like pools, well-maintained tennis courts, and scenic neighborhood parks. Milwood also has a place within the Austin Independent School District, a highly rated public school system with 130 campuses throughout the city and a high school graduation rate of over 90 percent. The MoPac Expressway easily connects Milwood to Downtown Austin, bringing commuters to the business district in just 20-30 minutes.
Milwood doesn't have much new construction, and the housing inventory here consists of single-family homes built during the community's early days in the mid 1980s. However, the classic appeal and accessibility speaks for itself. Homebuyers can find properties in Milwood ranging from 751 square feet to 1,884 square feet, with a median sale price in the low $300s.
Austinites who love both the outdoors and the ability to connect with their neighbors find plenty to appreciate about Belterra, a residential community in the Hill Country. This master-planned community employs a dedicated lifestyle director whose job entails planning fun activities like book clubs, intramural sports leagues, yoga groups, and outdoor film societies. Belterra residents can take advantage of the complex's impressive array of hiking and biking paths, its wide lawn designed for picnicking and outdoor reveling, and its numerous community pools.
The trip from Belterra to Downtown Austin is a straight shot down I-290, allowing commuters to arrive at the office in 25-30 minutes. Belterra's Hill Country locale places it firmly within the Dripping Springs Independent School District, which boasts an "A" rating from the Texas Education Agency.
Belterra offers single-family residences in a variety of designs and sizes. Homes here can include up to five bedrooms and five bathrooms, with many of the homes built between 2003 and 2019. The median sale price is currently in the mid $400s.
Austin is home to the University of Texas, which is a great source of pride to the city. Students, faculty, and Longhorns fans all vie for housing within University Campus, and UT's highly central location adds to its convenience factor, even for Austinites with no formal ties to the university.
In addition to UT buildings and athletic fields, University Campus contains major historic and cultural institutions well worth a visit, like the Texas Memorial Museum, the LBJ Presidential Library, and the Blanton Museum of Art. If you're in search of some excellent live music, beloved bars like Hole in The Wall regularly host local artists.
While budget eateries catering to the student population exist in full force, those in search of a proper sit-down meal can also find that in this neighborhood, thanks to spots like the trendy Thai and sushi restaurant Thai, How Are You? and upscale American fine-dining destination The Carillon.
Because attached homes, townhomes, and condos dominate University Campus' housing inventory, the market mainly consists of living quarters with smaller square footage than you'll find in other parts of town. However, on a positive note, that can also correlate with lower pricing. The current median sale price in University Campus is in the high $200s, but if you're set on buying a single-family home, there are a select few that are priced well over $450,000.
The northwest Austin neighborhood of Windsor Park provides a slightly lower-cost alternative to nearby areas like Mueller and Hyde Park, but with similar commute times, abundant greenspace, and a rapidly evolving food and drink scene. Commuters can expect a 15-minute drive (or a 50-minute bus ride) to Downtown Austin and a 10-15 minute drive (or 30-35 minute bus ride) to the UT campus. Also, the neighborhood's close proximity to I-35 and Highway 290 make it a pleasantly accessible area of town.
Windsor Park's location directly beside the vibrant North Loop neighborhood offers residents access to top-notch restaurants and bars. Just across Windsor Park's western border along I-35, residents will find the popular seasonal American eatery Foreign & Domestic, local cafe and artists' hangout Flightpath Coffee, acclaimed sushi spot Komé, and cult-favorite taqueria Tyson's Tacos.
Homebuyers in Windsor Park typically seek out single-family homes, but townhouses and condos are also available. A median sale price of in the high $300s makes Windsor Park more affordable than many other Central Austin areas, plus the convenient locale renders Windsor Park a solid choice for first-time Austin buyers.
Encompassing over 4,500 acres of prime Central Texas terrain directly adjacent to Lake Travis, Steiner Ranch appeals to homebuyers who enjoy boating, lakefront picnicking, and other outdoor recreational activities. The main attraction in Steiner Ranch is the community's activity center that features well-appointed amenities such as tennis courts, athletic fields, swimming pools, and a lounge patio overlooking the lake.
With an ideal location, commuters can drive to Downtown Austin or the UT campus in 30-40 minutes, or to Round Rock in 30 minutes. Families flock to this master-planned community thanks to its well-manicured facilities and its position within the Lake Travis Independent School District, a system with an "A" rating from the Texas Education Agency and a 95 percent high school graduation rate.
The attached and single-family homes in Steiner Ranch can range from modestly sized residences to custom estates encompassing over 13,000 square feet. All residents can access community amenities, and the median sale price is in the low $500s, with the largest and newest homes in the community nudging that number higher than the Austin-area average.
A serene master-planned community in the northern Hill Country, Avery Ranch is conveniently located for Austin commuters and those who travel to the tech hub in neighboring Round Rock. Driving from Avery Ranch to Downtown Austin takes about 25 minutes, and the trip to Round Rock only takes 15-20 minutes.
Avery Ranch residents can make use of the community's many amenities, like nature trails, recreational centers, basketball and volleyball courts, tennis and golf courses, and multiple community pools. The community feels largely self-contained, with retail shops located in and around Avery Ranch's entry points, but those in need of more substantial shopping venues can run errands at the nearby Lakeline Mall.
Kids living in Avery Ranch can attend public schools within the Round Rock Independent School District, which consistently earns "Met Standards" ratings from the Texas Education Agency and claims a four-year graduation rate exceeding 90 percent.
Buyers interested in Avery Ranch can choose between single-family homes and attached townhouses, and all homeowners have access to the same suite of community amenities. Homes vary in sizes and styles, and the community currently has a median sale price in the mid $300s.
Austin's downtown business district defines the city in terms of activity, urban amenities, and commerce. As a result, Downtown Austin regularly tops lists of the Lone Star Capital's most desirable neighborhoods from a real estate perspective. The city's population boom continues to affect Downtown Austin in major ways, resulting in the construction of numerous super-sized skyscrapers like The Austonian, The Independent, and the forthcoming 6th and Guadalupe, all of which offer luxury condos aimed at affluent buyers.
A large percentage of Downtown Austinites also work in the neighborhood, which allows for very brief commutes on foot, bike, scooter, or the CapMetro bus. The CapMetro also connects Downtown Austin to the rest of the city, and motorists can easily reach farther-flung neighborhoods using highways like I-35 and the MoPac Expressway.
Downtown contains many of the city's most popular public attractions like the Texas Capitol, the Austin Convention Center, and the Bullock Texas State History Museum. Outdoor enthusiasts love the 10-mile Ann & Roy Butler Hike & Bike Trail, which borders the southern stretch of downtown along the Colorado River.
As for dining and nightlife spots, downtown features plenty of acclaimed restaurants, like punk rock-inspired "diner" Holy Roller, upscale barbecue joint Lamberts, German-style beer-and-bratwurst garden Easy Tiger, and Austin's first-ever food hall Fareground. While the popular "Dirty Sixth Street" stretch of bars exists within the boundaries of Downtown Austin, drinkers who prefer to avoid rowdy sports pubs and college watering holes instead gravitate to more grown-up bars or head to Rainey Street, a district in downtown's eastern section that's home to cocktail boites and laid-back patio bars like Lustre Pearl and Parlor Room.
Condos, townhouses, apartments, and lofts constitute the bulk of Downtown Austin's available housing, although if you venture to the neighborhood's far west side, you'll find a greater number of single-family homes still within the neighborhood boundaries. The modern glass high-rises found throughout downtown elevate the median sale price in the area, which is currently in the mid $400s.
One of Central Texas' top-selling MPCs is Circle C Ranch, an expansive development in Southwest Austin. This large community features a variety of single-family homes, family-friendly amenities, and outdoor recreational facilities (like tennis courts, pools, and playgrounds) which attract many homebuyers.
Circle C Ranch offers residents easy access to both the scenic countryside of the Texas Hill Country and the urban energy of Austin's city center. Commuters can reach Downtown Austin in 15-20 minutes by car, and popular Hill Country towns like Driftwood and Buda require only a 15-25 minute trip. Homebuyers with young children will be pleased to know that Circle C Ranch is located within the Austin Independent School District.
In addition to multiple pools and a community park with dog runs, athletic fields, and basketball courts, Circle C Ranch also contains a clubhouse that's the central gathering place for all residents to enjoy. The clubhouse features a full catering kitchen and hosts events and special interest groups like book clubs and holiday parties. Hikers and bikers can make use of the nearby Slaughter Creek Trail, and the Grey Rock Golf Club is a perfect place for Circle C residents to tee off.
All of the residences in the community are single-family homes predominantly designed as one-floor dwellings. Home styles and sizes vary (with larger houses garnering higher prices), and the current median sale price is in the high $400s.
Located directly adjacent to Austin's downtown business center, East Austin has a venerable history as a residential neighborhood, and streets like East Cesar Chavez still feature many single-family homes purchased decades ago by long-time residents. In recent years, however, this area has developed a reputation as Austin's epicenter of cool, attracting artists, restaurateurs, and small business owners with its creative, laid-back energy.
One of the city's larger neighborhoods, East Austin draws its borders along the Colorado River Airport Boulevard, Interstate 35, and Martin Luther King Jr. Boulevard. This section of town also includes smaller sub-neighborhoods within its southern quadrant, like the energetic East Cesar Chavez and the quaint and serene Holly. Commuters cherish East Austin's close proximity to both Downtown Austin and the University of Texas campus; motorists can reach Downtown Austin and the UT campus in about 10 minutes, while those relying on public transit can plan for a 30-35 minute CapMetro bus ride to UT or a 10-20 minute ride downtown.
The bar and restaurant scene in East Austin is a major selling point in this neighborhood for homebuyers; you'll find everything from cutting-edge fine dining spots to impeccable street tacos to iconic barbecue joints. Some of the popular spots include breakfast-taco legend Veracruz All-Natural, smokehouse BBQ expert Franklin Barbecue, inventive New American bistro Pitchfork Pretty, local-favorite cocktail lounge Whisler's, and beloved country music venue and dance hall The White Horse.
Single-family homes and attached homes dominate the real estate market in East Austin; the latter comes as a result of a massive wave of new construction occurring over the last decade. Homebuyers can often find affordable options on the outskirts of the neighborhood, but prices continue to rise in the sections of East Austin closest to the downtown area. The current median sale price in this neighborhood stands in the low $400s.