Houston Local Life
What It's Like Living in The Woodlands
Founded in 1974, The Woodlands started as a small community north of Houston offering a nature-centric lifestyle just a short commute from the city. Today, The Woodlands isn't just a suburb, but rather a destination of its own with a thriving dining, shopping, and entertainment scene all nestled in its namesake dense, woodsy scenery. With top-ranked schools and Fortune 500 companies calling the area home, it's no surprise The Woodlands regularly tops lists of best places to live, work, and play.
Real Estate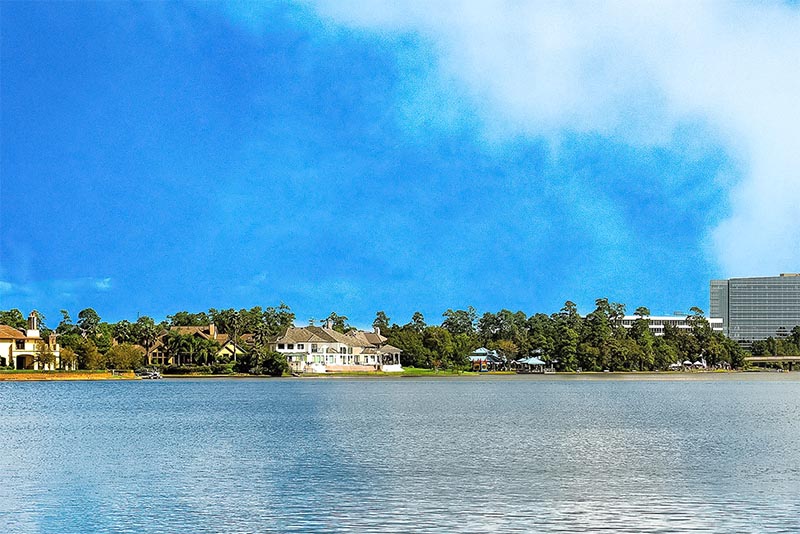 Within The Woodlands expansive 28,000 acres, nine designated villages and three mixed-use developments provide potential residents a full range of housing options from modest condos to multi-million dollar mansions with lake-front views. Each village has its own unique character and community bolstered by active neighborhood associations.
Grogan's Mill was the first master-planned community established in The Woodlands. Older subdivisions feature traditional single-family brick homes, while new developments add modern, sleek designs to the village's housing mix. With a median sale price of in the high $300s and multiple access points to I-45, the area is attractive to homebuyers wanting an easy commute.
One of the newer villages, Sterling Ridge, is known for its deluxe amenities and premier gated communities such as Carlton Woods, which is home to two championship golf courses, making it one of the best golfing communities in the Houston area. Tuscan-inspired architecture is a popular choice among the area's builders; however, many subdivisions offer a variety of styles and layouts. Buyers will want to research homeowner association fees, which can range from $100 to $4,300.
Situated on the west shore of Lake Woodlands, Panther Creek includes some of the most highly desired real estate in The Woodlands due to its convenient location near the area's major shopping and entertainment destinations, waterfront scenery, and lush parks. While the high-end of the housing market is in the millions, other areas provide affordable options for first-time homebuyers with the village's median sale price in the high $200s.
Family-Friendly Features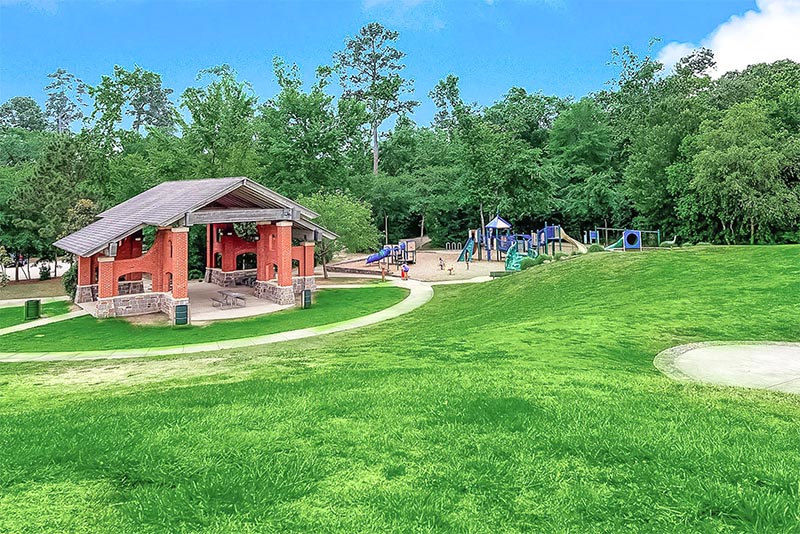 With over 30 daycares and pre-schools plus several of the highest-ranked schools in the Houston area, The Woodlands' families are spoiled for choice when it comes to education. But when school's out, there's no shortage of fun activities for the whole family to enjoy.
True to its name, the neighborhood is filled with lush greenspace; in fact, 8,000 of the area's original 28,000 acres is dedicated to over 200 miles of trails, 148 parks, and nature preserves. George Mitchell Nature Preserve is a local favorite, where you can spot migrating birds hanging out in the towering trees along the two-mile hiking loop. Nearby is the Rob Fleming Recreation Center, which features treehouses, teepees, and an archery range on their campus. Young ones love cooling off on a hot summer day at the accompanying aquatic center's waterslides, lazy river, and splash pads.
While Town Green Park is busy most weekends with local festivals and gatherings, it's the perfect quiet picnic spot mid-week, when the kids can wander through the park's literary maze with life-sized Aesop Fables. Stroll The Woodlands Waterway, where cute swan pedal boats are available to rent at the Riva Row House.
Where to Eat and Drink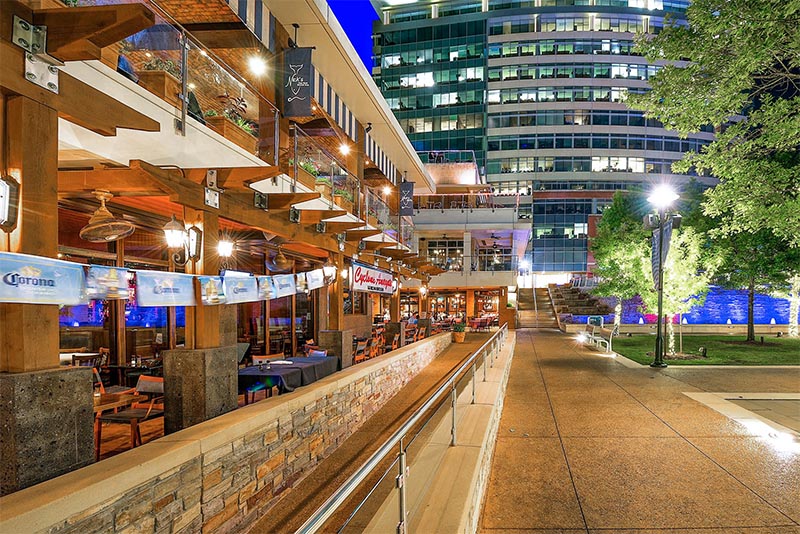 Suburban cuisine, often synonymous with chain restaurants, is far from generic in The Woodlands. A variety of locally operated establishments even lure Houston's inner loopers for a meal. Most notably, the chef-driven menu at Tris, located in scenic Waterway Square, earned the No. 17 spot on the Houston Chronicle's top 100 restaurants of 2019. Pearland pitmaster, Ronnie Killen, opened his second namesake steakhouse in the Shenandoah enclave, with plans to open an outpost for his line-inducing barbeque too. Anya's Kitchen, started by a Woodlands high school entrepreneur, offers baked goods and granola for pickup. Lovebeans Coffeehouse, founded by a longstanding Woodlands resident, often holds charity events to give back to the community.
Dosey Doe is a dining destination for music lovers set in a former tobacco barn turned acoustic listening room. A lineup of Texas musicians, including hometown favorite Hayes Carll, regularly play this eclectic venue whose owners also run a coffee shop offering breakfast and lunch.
Homeowners in Grogan's Mill have easy access to the Saturday Woodlands Farmers Market just off the Mill Bend Trail. East Shore residents are within walking distance to Hughes Landing and its restaurant row with patios overlooking Lake Woodlands and live music during the summer and fall with the Rock the Row concert series.
Getting Around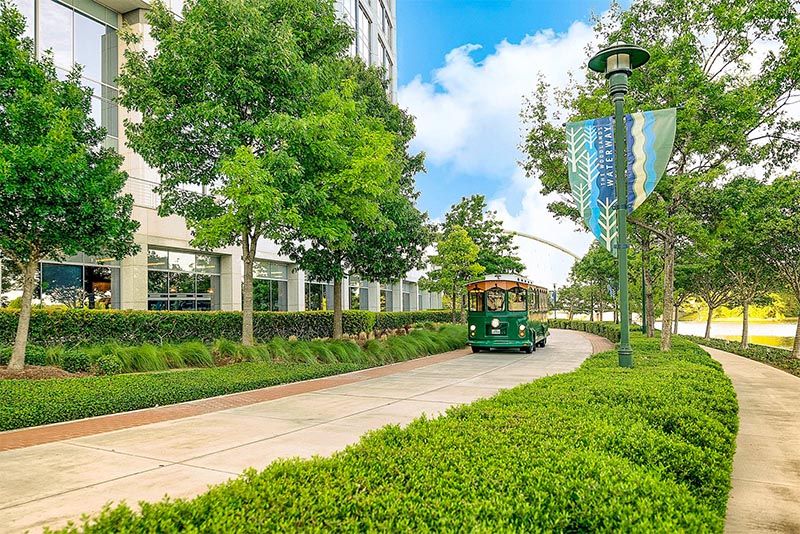 As home to major players in the energy and healthcare sector, many residents enjoy short drives to their office. Ongoing improvements to alleviate congestion include widening major roadways like Lake Woodlands Drive and I-45 frontage road access at Woodlands Parkway and Robinson Road. For those working in Downtown Houston, Greenway Plaza, and the Medical Center, the commute via I-45 or the Hardy Toll Road can be traffic-ridden. However, The Woodlands Express Park and Ride Service allows users to relax during the approximately 30-minute ride.
Within the Woodlands, the Town Center Trolleys provide a complimentary service with stops at The Woodlands Mall, The Woodlands Waterway, Market Street, and Hughes Landing. The township also touts its bike-friendly status with 220 miles of pathways throughout the community and programs designed to promote safe bicycling practices. The nearby suburbs of Conroe and Spring are a 15-minute drive away with trips to Bush Intercontinental Airport taking about 20 minutes.