National Local Life
Where to Find the Best Coffee Shops in Orlando
Whether you're grabbing a cup to go, having coffee with a friend, or setting up shop with a good book on a lazy afternoon, the coffee shop is a quintessential part of American culture. While corporate coffee chains can be found throughout Orlando, the best coffee shops in Orlando are the local ones.
Here are the best places to get a cup of coffee in Orlando—and the neighborhoods to find them in.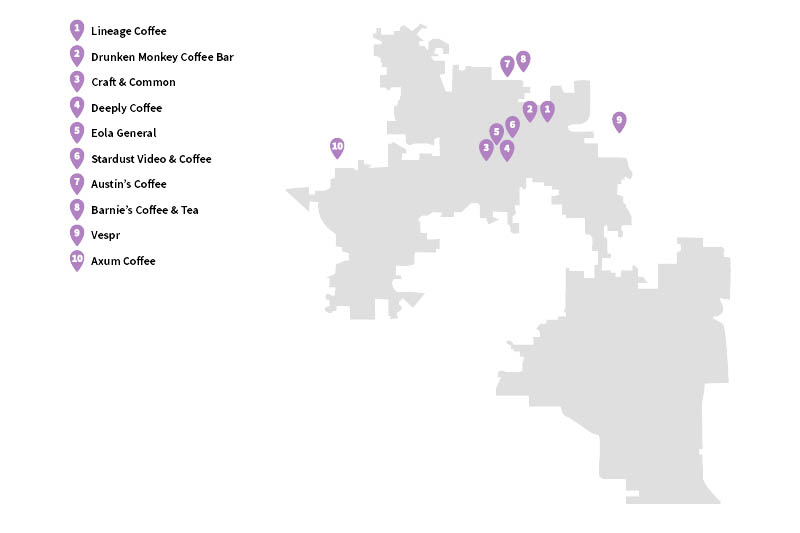 Lineage Coffee
With two locations in the Milk District, Lineage Coffee prides itself on telling the story behind each coffee bean they source, roast, and serve. Lineage Coffee keeps their menu simple, offering filtered coffee, espresso, mochas, and a house-made chai. In addition to single cups of coffee, Lineage Coffee also offers coffee subscriptions.
Drunken Monkey
Drunken Monkey calls itself a college-town coffeehouse. Offering both a place to sit and a convenient drive-thru, Drunken Monkey is open every day of the year as well as late into the evenings, and their menu is tasty enough to keep you there all day. Along with their coffee, espresso, and tea options, Drunken Monkey offers homemade soups, baked goods, all-day breakfast, and kombucha. Pair a turmeric latte with a sausage, egg, and cheese biscuit, or keep it simple with a cold brew and a bagel. Also, Drunken Monkey is vegan-friendly, with dairy and meat alternatives.
Craft & Common
When looking to grab a cup of coffee in Downtown Orlando, most people will be quick to recommend Craft & Common. Known for their Instagram-worthy drinks, Craft & Common offers coffee, craft beer, wine, and food. The menu is full of classic brews, but it's their seasonal drinks that truly set their menu apart. With each season, Craft & Common launches a new drink menu that incorporates the flavors of fall, winter, spring, or summer.
Deeply Coffee
Deeply Coffee, located just a block away from Lake Eola in Downtown Orlando, offers roasts from King State as well as tea, baked goods, and waffles. In the evenings, Deeply Coffee transforms and offers beer and wine choices for those looking for a nightcap. With a friendly and knowledgeable staff, everyone from coffee newbies to connoisseurs will feel welcome in the calm and relaxing environment.
Eola General
Eola General has quickly become a staple of Orlando culture since opening in 2019. Serving beer, wine, bagels, and more, Eola General is one of the few places where you can grab a cup of Wavelength Coffee, an Orlando-based coffee company that uses the best local ingredients.
Stardust Video & Coffee
Found in the center of the neighborhood, Stardust Video & Coffee originally began as a video rental place that also happened to serve coffee. Since then, it has evolved into a jack-of-all-trades, including a coffee shop, a study spot, a market host, and a live music venue. As well as coffee, Stardust also serves inventive cocktails, exquisite scotches, and a full vegan-friendly menu.
Austin's Coffee
A go-to spot for Winter Park natives, Austin's Coffee uses raw, organic fair-trade coffee beans in their brews, and thanks to its own micro-roaster, your coffee will always be fresh. Austin's Coffee has also partnered with local farmers and suppliers for its menu offerings. Open 24 hours a day and seven days a week, Austin's Coffee is a great place to both start and end your day.
Barnie's Coffee & Tea
Nestled in downtown Winter Park is Barnie's Coffee & Tea. Opened in 1980, this coffee shop has been an Orlando staple for 40 years. With a full scratch kitchen, Barnie's Coffee & Tea offers twists on classic favorites. On a hot day, try a lemon-twisted cold brew or warm up after a rain shower with a honey lavender latte. This hotspot also has seasonal offerings as well as a year-round Christmas latte.
Vespr
Vespr was started with one goal in mind: to create drinks and experiences that engage both your senses and intellect. Located in Waterford Lakes, Vespr encourages its guests to experience coffee in new and unexpected ways. While they do offer classic drinks such as lattes, cappuccinos, and more, Vespr puts a twist on the classics. Try the cold brew cola (a mix of cane sugar cola syrup, cold brew, and bubbles) or a cafe old fashioned (a cocktail comprised of cold brew, bourbon-infused maple syrup, and aromatic bitters).
Axum Coffee
In 2009, the founders of Axum Coffee, Brooke and Renaut van der Riet, traveled to Axum, Ethiopia. Deeply impacted by their experiences, their trip led them to adopt four siblings whose parents were unable to care for them. Creating meaningful change is simply second nature for Brooke and Renaut, so when the time came to open their coffee shop in Winter Garden, they knew they wanted their coffee to make a difference: Each cup of coffee helps to support the work of farmers throughout the world, through both direct-trade purchases and their bulk bean supplier. Axum Coffee even advocates for change in their own neighborhood, partnering with numerous nonprofits, including Matthew's Hope.