National Local Life
Your Guide to Asheville Neighborhoods
The city of Asheville, located in the Blue Ridge Mountains of western North Carolina, attracts newcomers with its outdoor access and colorful culture. The Downtown scene is dominated by artists and young people, with pulsing music venues and more breweries per capita than almost any other city in the U.S. Just minutes from Downtown is the Blue Ridge Parkway, offering scenic views and a variety of hiking and mountain bike trails.
Because of its alluring location and energy, Asheville has gone through steady population growth and building restoration in the past few decades. If you're planning on moving to Asheville, here's what you need to know about the city's top neighborhoods.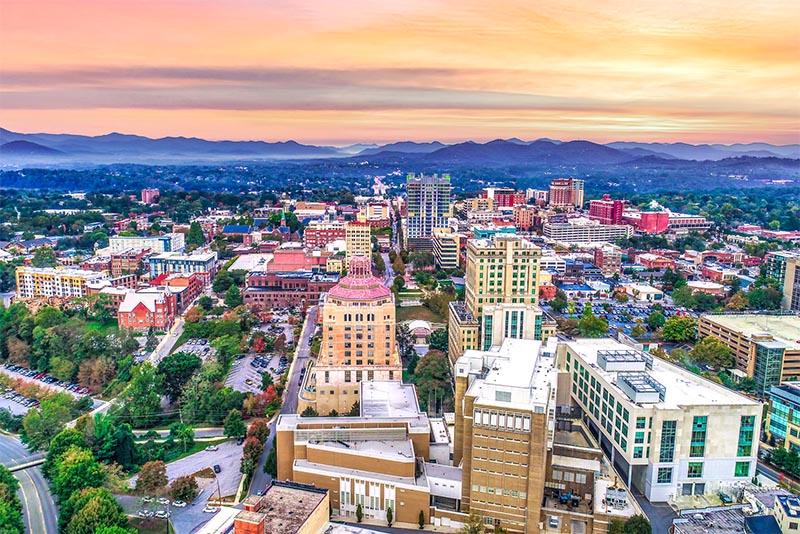 The Lay of the Land
You can roughly divide Asheville into 5 parts: Downtown, North, West, East, and South Asheville. Downtown Asheville and the neighborhoods to the west, including the River Arts District, are popular places for young people to live with many breweries, art galleries, and cafes. The neighborhoods north, east, and south of Downtown have a more suburban feel to them and consist primarily of detached, single-family homes. Most of the city's luxury homes and historic architecture can be found in North and South Asheville, particularly the Grove Park neighborhood and Biltmore Forest.
Asheville Neighborhoods to Know
Bursting with shops, bars, restaurants, and art galleries, Downtown Asheville is the heart of the city. It features a diverse range of architecture, including several famous Art Deco structures built in the 1920s during the city's heyday. Downtown Asheville offers a range of housing options for young professionals who don't mind the bustle of tourist foot traffic, from lofts to luxury condos and single-family homes.
Music-lovers must check out Downtown Asheville's Orange Peel, a live music venue with a stunning interior that attracts local and national talent across all music genres. Self-referred to as a "Social Aid and Pleasure Club," the Orange Peel is great for dancing and can hold over 1,000 occupants. This venue is located on the edge of the South Slope Brewing District, so it's within walking distance of eight-plus craft breweries.
Just west and within walking distance of Downtown Asheville, the River Arts District is an area that has blossomed in the past few decades as artists transformed its deserted warehouse buildings into studios and galleries. The artists and young professionals who live in the condos and bungalows of the River Arts District enjoy easy access to trails and greenways as well as urban attractions.
Riverview Station is a stretch of connected warehouse spaces containing artist studios, galleries, and shops. On the second Saturday of each month, people are invited to visit and watch artists in action in their studios. Visitors can also take classes in Riverview Station on a range of subjects, including drawing, jewelry-making, and even bookbinding.
Located north of Downtown, Grove Park is one of the luxury neighborhoods of Asheville. It's made up of single-family homes nestled among parks and trees on picturesque, winding streets. The homes, which were built during Asheville's pre-Depression era boom, showcase a range of architectural designs.
Made of native boulders, the Grove Park Inn is a stunning, castle-like luxury hotel on the side of Sunset Mountain, overlooking the city of Asheville. Spend a relaxing day at the resort's spa, with 18,000 square feet of amenities, and enjoy dinner, drinks, and spectacular views at one of its six eating establishments.
A community originally built in the 1920s and named a historic preservation district in 1990, Biltmore Forest is another of Asheville's luxury suburban neighborhoods. Its streets are quiet and residential, and its homes are some of the most expensive in the area, with a median sale price in the high $700s.
Anyone visiting western North Carolina must spend a day at the Biltmore Estate, America's largest home. The Biltmore mansion is an architectural masterpiece that emerged in the 1890s as a result of the collaboration between businessperson George Vanderbilt and architecture Richard Morris Hunt. Tour the house and gardens, explore the grounds and surrounding trails, and enjoy a wine tasting or fine dining experience.
The most up-and-coming part of the city, the neighborhoods of West Asheville have seen transformative growth over recent years. Artists and young people have spilled into this area from Downtown, causing a second, smaller downtown to emerge on parts of Haywood Road. The streets of West Asheville are filled with trees and charming, modest homes of diverse styles.
If you're visiting West Asheville, take a walk along Haywood Road, which features a two-mile stretch lined with eclectic shops and eateries. Some highlights include The Odditorium, a quirky bar and event space with unique arcade-style décor and stunning murals; ISIS Music Hall, which holds lawn concerts throughout the summer; and Fleetwoods, a combo bar, vintage shop, and wedding chapel.
Montford is a cute and trendy neighborhood filled with historic buildings. It was one of Asheville's premier neighborhoods in the early twentieth century, and most of its homes were built between 1890 and 1920. After decades of neglect following the Great Depression, the Montford neighborhood entered a restoration period and began to attract residents and small businesses, with many of its larger historic homes being converted into charming bed and breakfasts.
A highlight of Asheville's Montford district is the annual Shakespeare festival put on by the Montford Park Players, a non-profit theatre organization, during the summer months. The Players perform shows that are free to the public at the Hazel Robinson Amphitheatre in the Montford Community Center, delighting locals and visitors.