Buying a House in Florida: What You Need to Know
Maybe you're tired of suffering through long, cold winters, or maybe the pandemic has caused you to re-evaluate the way you're living. Whatever the reason, you may be considering moving to Florida. If so, you're not alone—sales in some parts of the state have more than doubled since the start of the pandemic.
So, if you're contemplating or planning to move to the Sunshine State, here are some factors to keep in mind when buying a house in Florida.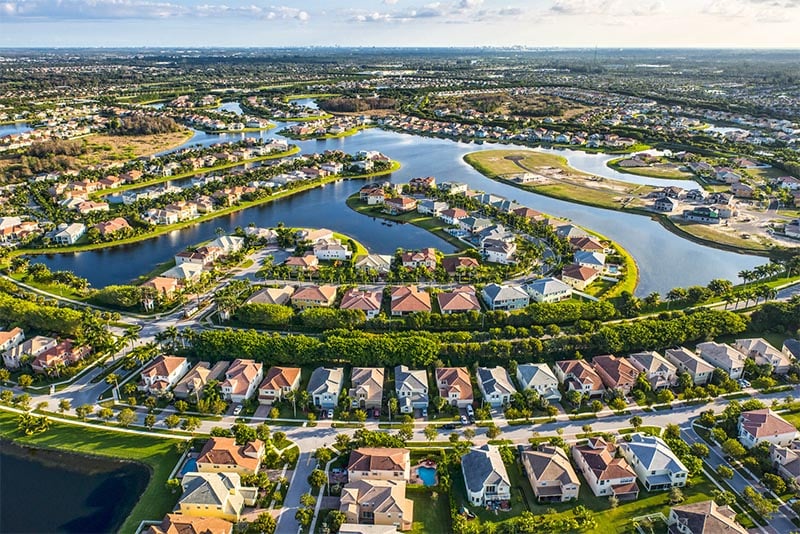 Finding the Right Location
Florida is a large state and has several regions that feature diverse offerings, although beautiful beaches are the norm and can be found throughout the state. South Florida, including the counties of Palm Beach, Broward, and Miami-Dade, are popular with people who hail from states in the Northeast along with people who hail from Cuba, Mexico, and South American countries.
Southwest Florida, particularly Naples, is also popular among people from northern states. Areas in North Florida, like Jacksonville and the Panhandle, offer cooler temperatures during the winter months. And for those who love all things Disney, Orlando is hard to beat.
Read more:
What it's Like Living in Naples, Florida
The Best Places to Live Near Disney World
Dealing With Hurricanes
Hurricane season lasts from June 1 through Nov. 30, so hurricane preparation is a way of life for most people as there are very few areas that have not been impacted in recent years. In addition to heavy rainfall, hurricanes can cause storm surges that can potentially flood coastal areas. Some neighborhoods are particularly prone to flooding, so you'll need to research the area where you're considering moving. Homeowners' insurance doesn't cover flooding, but separate flood insurance can be purchased to fill the gap.
Depending on the location of the home, you may also be eligible to participate in the Federal Emergency Management Agency's National Flood Insurance Program. You should also ask whether windows and doors in a house can be made hurricane-proof, and the cost of installing those items. Many homeowners also purchase generators to cope with the power outages storms often bring.
Read more:
Buying Oceanfront Property
Enjoying ocean views, basking on the beach, and having easy access to boating motivate some to buy an oceanfront property. If you're one of them, you need to make sure you have the right insurance—it's common for those properties to require wind and flood insurance, in addition to a general hazard policy. Also, many waterfront homes in Florida have seawalls, which control against coastal and water erosion. They must be well constructed and need to be maintained properly.
Read more:
Miami Neighborhoods With Affordable Condos Near the Ocean
Living in a Master-Planned Community
Some people want to live in master-planned communities due to the amenities they offer or the convenience of living in a self-contained community. These communities can be found throughout the state, but some of the most popular are The Villages, a large community geared for those 55 and up; Tradition in Port St. Lucie; and Lakewood Ranch in the Sarasota area. Most of these communities have diverse offerings at a variety of price levels, so you'll need to research them to determine which may be suitable for you.
Read more:
The Top 10 Master-Planned Communities in Florida in 2019
Master-Planned Communities vs. Suburbs
Understanding the Financial Aspects of Living in Florida
Florida is a homestead state, meaning it offers qualifying homeowners valuable legal protections under the homestead exemption law. Under the law, a creditor cannot force the sale of your home to satisfy a monetary judgment. To be eligible, the home must be your principal place of residence and sit on less than one-half acre within a municipality and up to 160 acres outside a municipality. Eligible homeowners can receive a homestead exemption of up to $50,000, which lowers your yearly tax bill.
Judges have upheld that the law doesn't just pertain to single-family homes; condominiums, manufactured homes, and mobile homes are also protected under the law. Also, Florida residents pay no state income tax, so they take home more in their paychecks.
Read more:
First-Time Homebuyer Programs: How to Afford Your Dream Home in Miami
Knowing That Attorneys Aren't Needed at Closings
Under Florida law, you aren't required to hire an attorney for the closing process on a home. Many real estate transactions are completed by negotiations between the buyer and seller via their two real estate brokers. However, hiring an attorney may help to expedite the process as well as protect your interests.
Read more:
Choosing Housing for Those 55 and Older
Florida is a haven for retirees and those approaching retirement age, so if you're age 55 or older, you may consider buying a home in a community geared specifically for people who fall into your age group. A wide range of housing is available throughout the state, including single-family homes, condominiums, and manufactured homes. In 55+ communities, residents often have access to amenities catering to active lifestyles, and many have resort-style pools and large clubhouses where activities and events are held.
If you're interested in buying a home in a 55+ community but you're under 55, you may still be able to do so. Under the Housing for Older Persons Act (HOPA), at least 80 percent of the units must be occupied by people 55 or older. But the remaining 20 percent may be available to those under 55, often referred to as the 80/20 rule.
Read more:
What is an active adult community?
Being on the Lookout for Sinkholes
Although sinkholes are found in other locations, they seem to be particularly prevalent in Florida due to its geological composition.
According to weather.com:
"Florida's peninsula is made up of porous carbonate rocks such as limestone that store and help move groundwater. When the dirt, clay, or sand gets too heavy for the limestone roof, it can collapse and form a sinkhole. Sinkholes are caused naturally but they can be triggered by outside events."
Sinkholes have been reported in recent times in areas such as Pasco and Hillsborough County. But, while they can have catastrophic consequences, they don't form quickly. So, it's best to conduct research prior to buying a home and, in some areas, you may want to buy sinkhole insurance to mitigate risk.