Dallas-Ft. Worth Local Life
Dallas Neighborhood Guide
Welcome to Dallas, y'all (also known as DFW or the Metroplex). Even though Fort Worth is part of the metro area, there's a good-natured beef between the two cities. You're Team Dallas now.
It's time to set aside your misconceptions because Dallas doesn't fit the stereotypes you might be expecting. As a city full of transplants, you won't see much that resembles what you imagine when you think of Texas.
You'll find the heart of the city beyond the skyscrapers and highways when you get off the main roads. Often, neighborhoods are divided only by a major street. Dallas doesn't have neighborhoods like New York City's Little Italy or San Francisco'sChinatown, but Dallas does have distinct neighborhoods, each with their own unique character.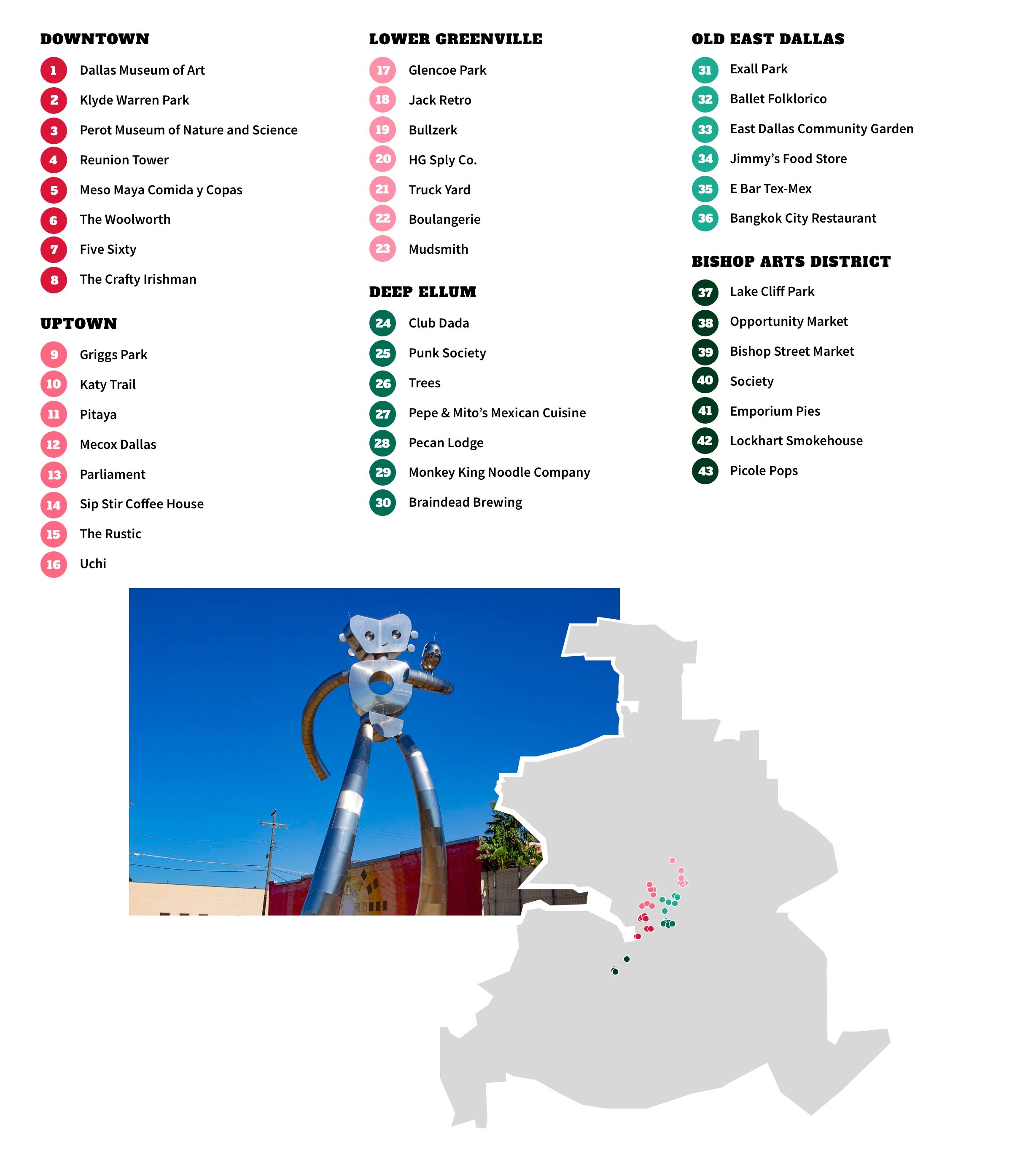 Dallas at a Glance
This city is known for being car-dependent, but officials are working on developing more public transit. We do have the DART (Dallas Area Rapid Transit) light rail and buses, but it's still a bit of a challenge to get by without a car. (There are some neighborhoods where it's easier to take advantage of DART.)
DART's light rail will take you to the Dallas-Fort Worth International Airport, north to Plano, or even to Fort Worth when you connect to the Trinity Railway Express (TRE).
Scooters, scooters everywhere. Scooters and bikes are available for rent in most of the city's neighborhoods. You can rent them using an app and ride them to your destination, then just drop them off anywhere.
The city is largely laid out on a grid. To help you navigate the city, major streets tend to run north-south.
Many main roads have more than one name. (This is true throughout the entire metro area if you venture out.) Woodall Rodgers Freeway is also Spur 366. US 75 is also called the North Central Expressway. Expect to spend a lot of time on these roads if you ever leave your neighborhood because it's true that everything's bigger in Texas—including our traffic jams.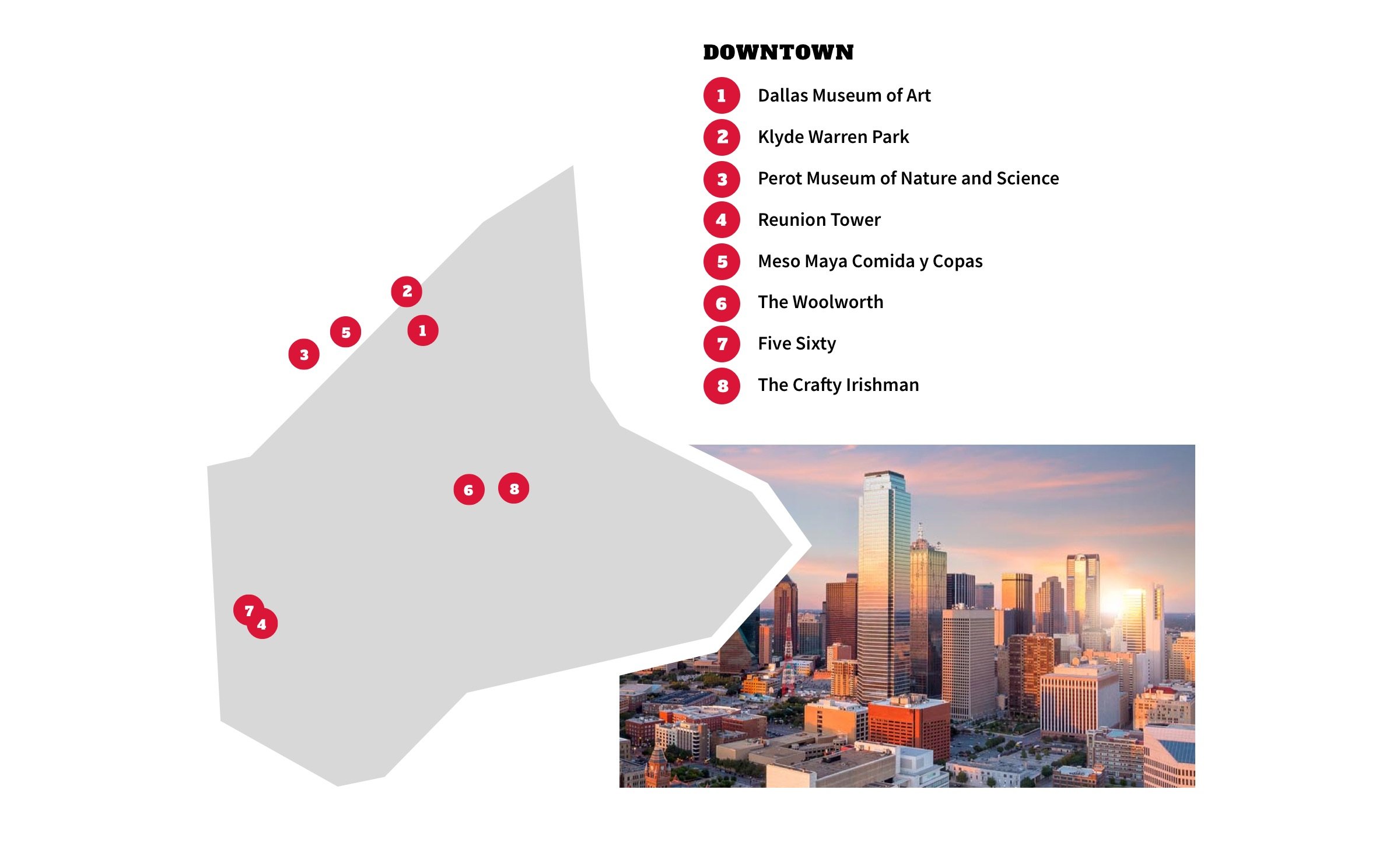 Downtown is ground zero for business in a metro area that's home to the headquarters of many major companies. During the day, the area is bustling with over 100,000 workers. At night, Downtown Dallas residents living in high-rise buildings enjoy upscale dining and cultural events. It doesn't get much more dazzling than Downtown, especially because the Arts District is practically in your backyard.
What to Do
The DMA is not only an amazing place to take in some culture, it's also free. There's a substantial number of free exhibits that include works by major painters, but there are also rotating paid exhibits as well. Located in Downtown's Arts District, this museum is an amazing place to spend an afternoon. Come back frequently because the exhibits change often.
This 5.2-acre park is an oasis of green in the middle of Downtown. It's ideal for people-watching, whether on your lunch hour or on the weekend. Enjoy free yoga classes in the park after work or pick up a bite to eat from the food trucks in the area. There's something awe-inspiring about sitting on a bench in the park with skyscrapers towering above you.
The Perot Museum is entertaining for kids and adults alike. One glance at the unique glass architecture outside lets you know that what's inside will be amazing too. You'll be fascinated by the 3-D exhibits, the onsite planetarium, and the tornado simulator. Kids will love exploring the mini replica of the Dallas Skyline. The Perot Museum is not only a cool place to visit, it also received a rare eco-friendly Green Globes designation.
The observation deck at Reunion Tower is one of those tourist attractions that residents should experience at least once. From the deck of the tower, you get a stellar view of all of Dallas. Equally stunning during the day or after sunset, this is both a beautiful and romantic spot. There's an excellent restaurant at the top of the tower too.
Where to Eat and Drink
Dallas is synonymous with Tex-Mex cuisine, and Meso Maya Comida y Copas is a sure bet for a great Tex-Mex meal. They have Happy Hour specials, which is the perfect opportunity to try their chips and salsa. (You have to start forming your opinion about which restaurant has the best chips and salsa, and the salsa here is uniquely smoky.) It's great for vegetarians too.
This is one of the more upscale bars in Downtown Dallas. With a classy atmosphere, a truly inspired tapas menu, and top-shelf bartenders, this is a place you won't want to miss. Make sure to make reservations in advance because this place gets busy. It's only a 10-minute walk from the American Airlines Center, so you can eat here before heading to a Mavs game.
This is the restaurant high atop Reunion Tower. The prices and the view are both above average, but the experience is unbeatable—be sure to wear your best special-occasion outfit. It's a Wolfgang Puck restaurant, so the creative presentation of the dishes will blow you away.
Not every good place to eat Downtown is upscale and expensive. The Crafty Irishman is a casual pub with great drinks and tasty Irish dishes like fish and chips. A real Irish pub is the place where you go to hang out with your friends, and The Crafty Irishman is that place in Downtown Dallas.
Why Locals Live Here
Downtown is the center of everything. You can live, work, and play all in this neighborhood. It's easy to get by without a car when you live downtown, and housing consists of townhomes and loft-style condos in high-rise buildings. If you want a real city-living experience, Downtown Dallas is where you should be.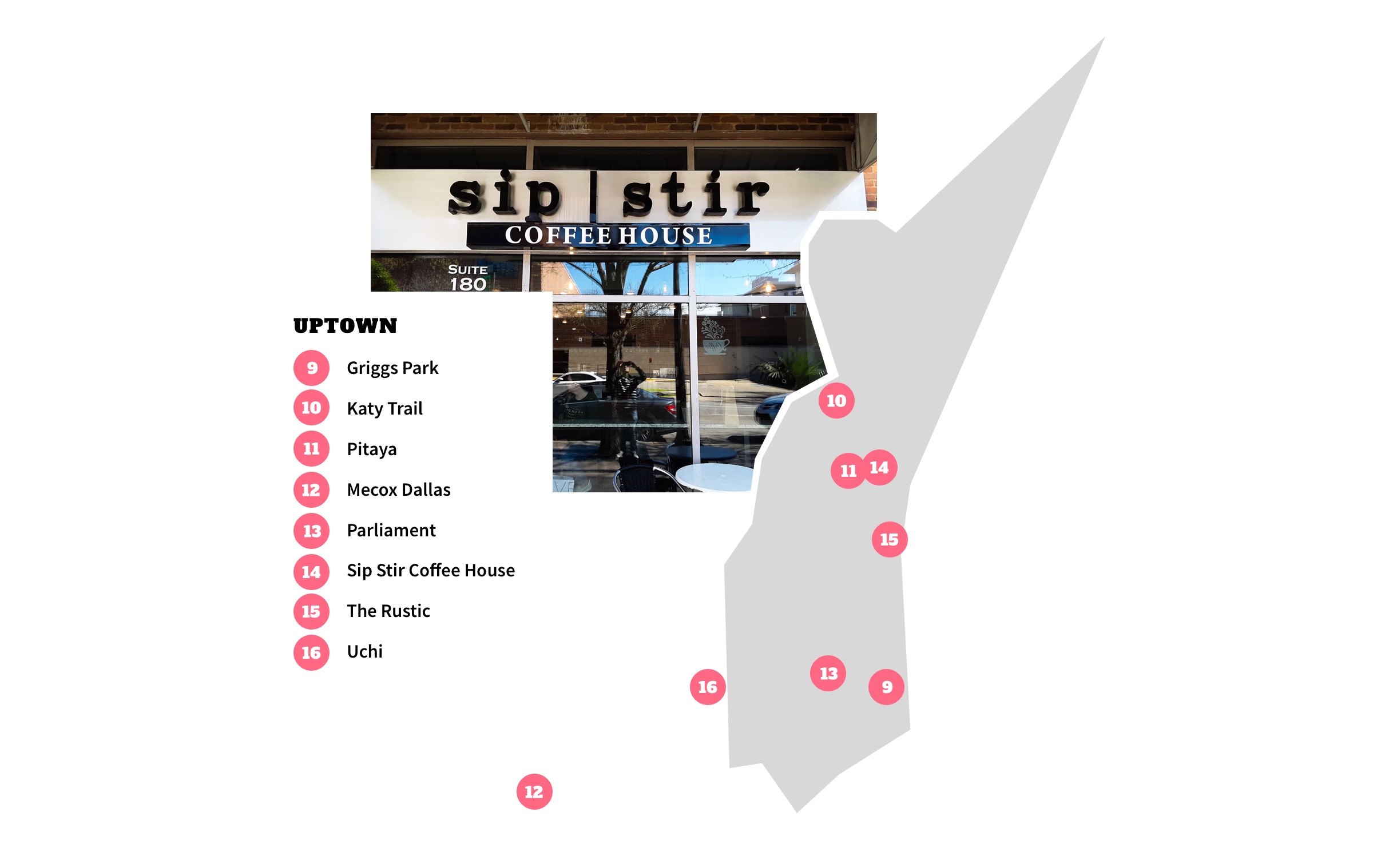 Uptown is a collection of eight smaller enclaves near Downtown. One of the most popular neighborhoods in the city, it's home to high-rise apartments, a buzzy nightlife scene that draws revelers from all over the Metroplex, and upscale bars and restaurants. It's not cheap, but if you're a successful professional who wants the finer things in life, it's where you want to be. If you decide to make it your home, you'll have an address to impress.
What to Do
Griggs Park is a rare greenspace in the middle of a busy city neighborhood. You'll see people playing with their dogs, chilling out on a bench, or playing with their kids. It's nice to take a breather and enjoy a bit of nature in the middle of the city.
The Katy Trail winds through 3.5 miles from the American Airlines Center all the way up to Southern Methodist University. It's heavily used by residents of Uptown in particular for jogging, biking, and walking dogs. It links to 12 exits and connects to many parks throughout the city.
This boutique has gorgeous, trendy women's clothes that are perfect for a night out. There's no need to go to the mall for mass-marketed clothes when you can get stylish fashions right in Uptown.
Head over to Mecox in the neighboring Design District when you want to give your home a sophisticated makeover. It's not bargain priced, but every item is high quality and totally unique.
Where to Eat and Drink
This is not your average cocktail bar. The Happy Hour is an affordable way to try their delicious drinks, especially their famed Moscow Mule. The great atmosphere and stellar service make this the kind of place where you want to stay a while.
Say goodbye to corporate coffee. Sip Stir Coffee House is a comfy spot to study or catch up with a friend. It's not so loud that you can't hear anything, but not so quiet that it's awkward. The drinks are one of a kind—try the s'mores latte.
This is an unpretentious spot in a neighborhood that can sometimes feel like you always need to be dressed to impress. Come here for a frozen rosé for a dollar or yummy shareable appetizers. There's also a live music stage, where bands from every genre play.
One of the best places in Uptown for upscale Asian fusion food. There's a lot to enjoy here, from unbelievably fresh sushi to creative Japanese dishes. Excellent service makes your dining experience even more memorable.
Why Locals Live Here
There are eight different villages within Uptown. Because of their easy access to Downtown and the walkable streets full of bistros and shops, the demand for housing in all of them is as high as the price tag. West Village is one of the largest, and it attracts families with young children. State Thomas has the largest concentration of Victorian homes left in Dallas. Also, local planners make sure there's always something to do in this vibrant neighborhood.
Lower Greenville is a fun, quirky neighborhood. Residents of other neighborhoods come here to enjoy the independent restaurants and eclectic boutiques, but those who live in Lower Greenville can avoid the parking hassles and party on patios until closing time. Any day of the week or time of the year, you'll find people milling about here. Weekends are the busiest time, of course, but this neighborhood is always full of life. It's also one of the most dog-friendly neighborhoods in the city, so bring your pooch and make some friends.
What to Do
Lower Greenville is a dog lover's paradise. Bring your buddy to this park and you'll see lots of other pet parents doing the same. There are also sports courts and a playground. The best part: There's a lot of shade, including over the playground—a rare treat in Texas.
One of the coolest shops for vintage finds anywhere in Dallas, Jack Retro is a neighborhood gem. However, it's not just a place to find vintage designer clothes; shopping here is an experience all its own, and the store hosts semi-regular parties.
This fun store carries a selection of surprises that'll give you a laugh, from "holy" candles with Drake's picture on them to a selection of T-shirts that make fun of Metroplex culture.
Where to Eat and Drink
The atmosphere here is laid-back and chill, especially on the rooftop bar. You can count on perfectly cooked steak and the most delicious Brussels sprouts you've ever tasted. The drinks flow freely, and the service is top-notch.
Walk into the Truck Yard and take your pick from the variety of food trucks lined up. The roster of food trucks changes from time to time, but the atmosphere is always laid-back, dog-friendly, and great for day drinking.
All the artisan breads and pastries at this European-style bakery make this a bread lover's dream. Come to Boulangerie for breakfast or to take home some scones or croissants. The selection is best early in the day, but they're open until 7 p.m. if you need an after-work carb fix.
Mudsmith isn't your average coffee shop. It's got a completely hipster vibe, and the drinks are delicious (if a little bit expensive). Enjoy standard drinks like lattes and cold brews or trendy concoctions like salted caramel lattes with rose.
Why Locals Live Here
Lower Greenville is always alive with activity. It's one of the best spots in the city to feel like you're in the middle of all the action, whether it's sitting on a rooftop bar sipping cocktails or walking with your dog to get an ice cream. There's tons of shopping, restaurants, and traffic along Lower Greenville Avenue, but the side streets are quiet and more residential. Housing ranges from new-construction lofts to mid-century modern single-family homes. It's really the ideal mix of fun and funky.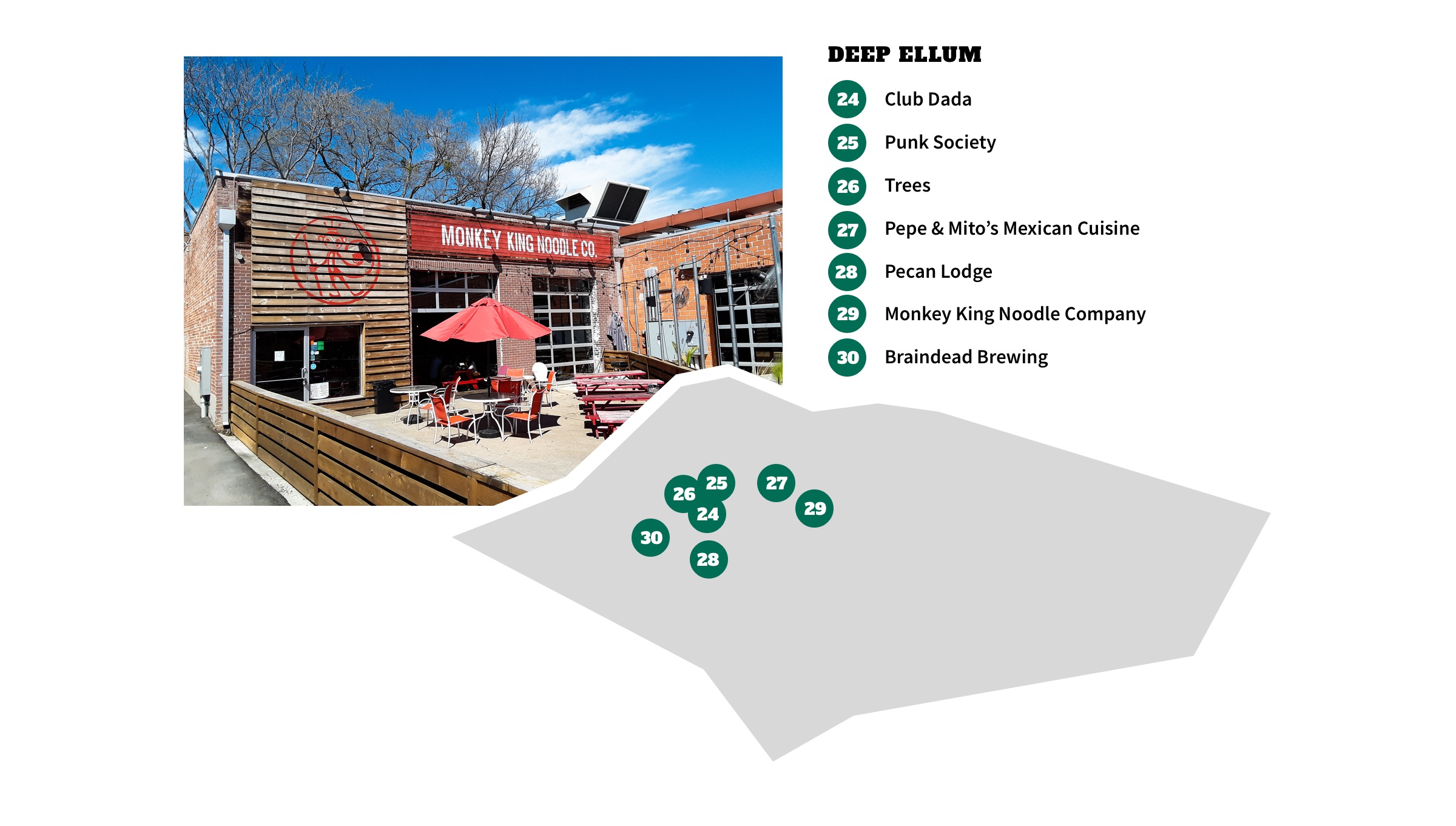 Deep Ellum is Dallas' entertainment district and a haven for artists and creative types. Bright, creative murals regularly change throughout the neighborhood. Whether you come here to eat or to catch your favorite indie band in one of the neighborhood's many music venues, it's not hard to love this neighborhood's energy.
The neighborhood's name comes from a mispronunciation of "Deep Elm," and the neighborhood is one of the oldest in Dallas. The housing here is almost all apartments, condos, and lofts. The neighborhood's past as an industrial area gives it a gritty edge, so Deep Ellum isn't pretty or sanitized, but it's a whole lot of fun.
What to Do
You can see your favorite up-and-coming indie bands at this standing-room-only club. It gets pretty packed, but you can't beat the close-up views you can get of some exciting musical acts, and the bartenders are friendly and attentive.
Even though Deep Ellum has a punk vibe, this club doesn't actually play punk music. You'll hear hip-hop on Friday and Saturdays, and the club occasionally brings in guest DJs.
Locals say that Deep Ellum has changed a lot since the 1990s, but Trees is one place that has remained the same ever since Nirvana played here. Today, you can still catch artists on the rise just like you could back then. It's a small venue, and it gets crowded, but the energy is unreal.
Where to Eat and Drink
Featured on "Diners, Drive-Ins and Dives", this is a solid choice for a delicious Tex-Mex meal. The tacos norteños are every bit as good as Guy Fieri says they are, but the rest of the menu is pretty amazing too. The salsa is flavorful, and the margaritas are refreshing.
The question of which place has the best barbecue in Dallas is a matter of hot debate. But Pecan Lodge is a name you'll hear over and over again in discussions about the best barbecue in Dallas. Expect to wait in line forever, but it's worth it.
This is Dallas' take on a Taiwanese noodle stand. Come here for Asian comfort food favorites like soup dumplings and Dan Dan noodles. Choose your own spice level based on how much heat you can handle.
This brewpub in the heart of Deep Ellum is a great place to enjoy a beer on the patio with some tasty appetizers. Vegetarians and vegans will love the large selection of accommodating apps. You can try a variety of beer in flights or take a growler home.
Why Locals Live Here
This neighborhood is never boring. The residents here love the constant activity nearly every night of the week. If you want to be in a neighborhood where there's always something to do and all the shops are independent, you belong in Deep Ellum.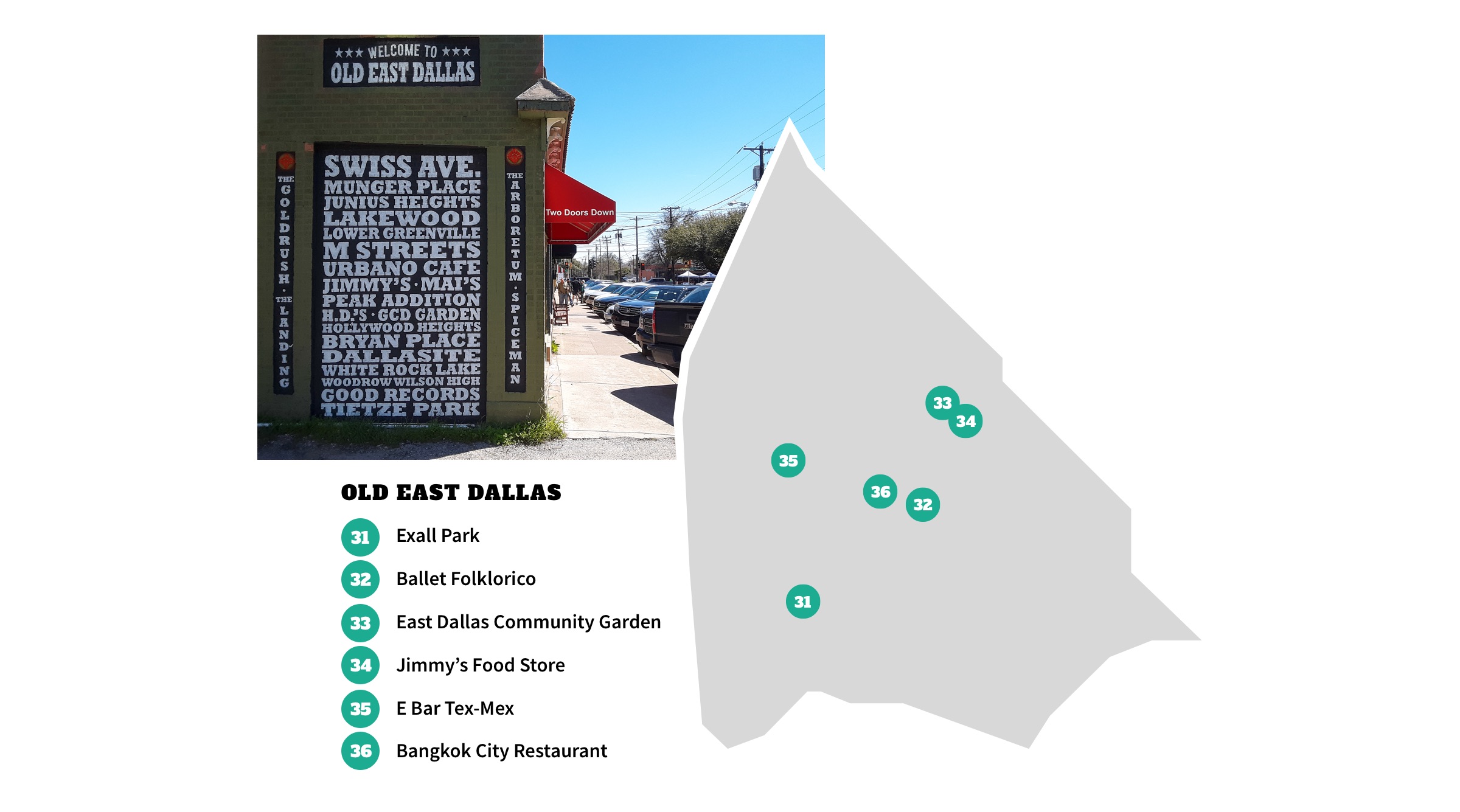 Old East Dallas is the up-and-coming neighborhood that's getting a lot of attention. With housing in Dallas urban areas at a premium, people are taking a second look at older neighborhoods and adding their own new touches. Old East Dallas is a mix of long-time businesses, older houses, and new construction.This is not a boring, isolated community where everyone stays indoors. Mingle with the neighbors and enjoy the street parade of kids and dogs playing in front of a backdrop of beautifully varied architecture.
What to Do
This well-maintained park provides much-needed greenspace in the middle of the city. You'll see people playing a game of basketball on the well-lit courts or enjoying group exercise in the large grassy area. Also, the trails around the park are perfect for walking or jogging.
Celebrate Hispanic heritage in ballet by watching one of the performances here or joining a troupe. One of the largest ballet folklorico groups in the Southwest, this group is serious about keeping this art form alive.
East Dallas Community Garden is an on-going project for an organized group of farmers with an initiative to grow more produce in the heart of the city. Although the community garden is not open to the pubilc, the organization does offer a farmers market on Saturdays that allow residents to come down to shop for fresh, local produce.
Where to Eat and Drink
Not just a store, it's an institution. Jimmy's Food Store is a small Italian bodega that offers imported Italian staples and a variety of delicious sandwiches. These aren't just any sandwiches, however: They're huge and packed full of yummy ingredients like fresh mozzarella.
The food here is so good that people will drive all the way from the suburbs to get their fill. The tortilla soup and the tacos (try the brisket ones) get rave reviews. It's a small restaurant, so be prepared to wait at busy times.
Real foodies know that sometimes the best food comes from restaurants that look unimpressive from the outside. That's true with Bangkok City Restaurant, where you'll find some of the most authentic Thai food in the metroplex.
Why Locals Live Here
Old East Dallas is a neighborhood that's undergoing an evolution but heavily tips its hat to history. Similar to Uptown, Old East Dallas encompasses several smaller neighborhoods, including Bryan Place, which is located closest to areas like Uptown. Junius Heights is a large historic district within Old East Dallas, with more than 800 homes. Munger Place is another historic district with the largest concentration of Prairie-Style homes in the U.S., most of which have been renovated.
It's still possible to find a good bargain on a house as the housing stock tends to be older. Far from being comprised of cookie-cutter tract homes, the houses here range from bungalows to mid-century modern. Residents love being just a couple DART stops away from hot areas like Uptown and Deep Ellum. But despite all the development, one thing that's not changing is the friendly community vibe. Get to know the neighbors, and you'll be in a neighborhood you'll never want to leave.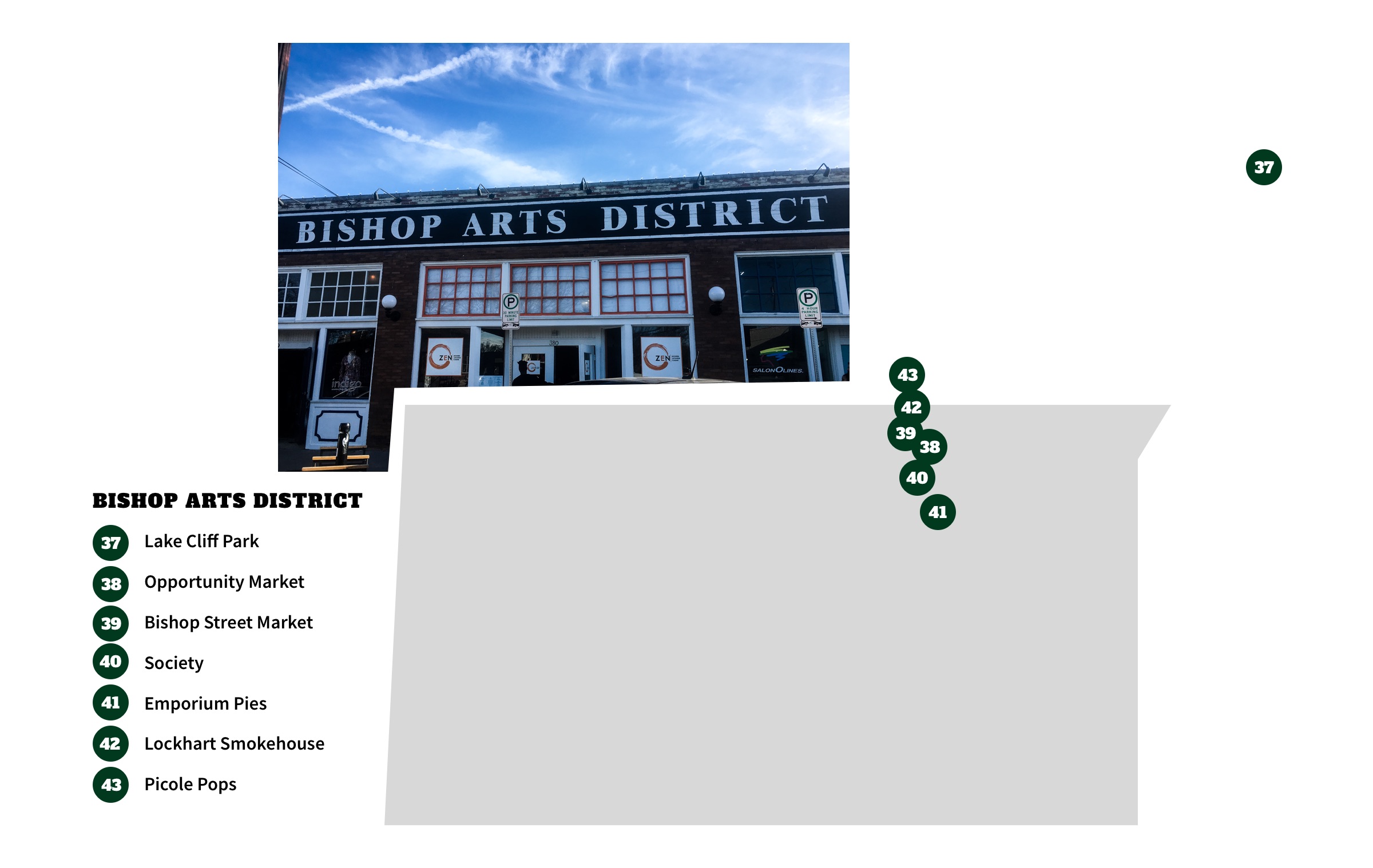 The Bishop Arts District is the epicenter of creative living in Dallas. Once one of the less desirable neighborhoods in Dallas, artisans and entrepreneurs moved in to shape the neighborhood with their visions. You can still see the historic beginnings of the neighborhood in its architecture. Bring your cameras to take pictures of all the Instagram-worthy murals and kitschy storefronts—you certainly won't be the only one. This hipster neighborhood feels like a small town in itself, where the community cares about each other and the independent spirit is thriving.
What to Do
This beautiful neighborhood park is on the outer boundaries of the Bishop Arts District in Kessler. The park has trails for jogging around the lake and three pavilions to shield you from the hot Texas sun. There are great views of the Dallas skyline, and the park is well lit, so this spot is gorgeous at any time of day.
This cute shop has unique treasures like bracelets from Ghana and soapstone figurines of animals. Many items in this veteran-owned shop are purchased via Fair Trade or support causes like animal rescue groups. Every item has a story.
Still looking for that unique piece for your mantel or a gift for someone hard to buy for? You'll probably find it at Bishop Street Market. This eclectic boutique has a little bit of everything, including one-of-a-kind greeting cards and funky jewelry, at a variety of price ranges. You'll have fun just wandering around the store and being surprised at the things you'll discover.
If you're tired of mall candle stores where everything is mass-produced, Society has you covered. It's a tiny little boutique with a vast selection of uniquely fragranced candles. If you love great smells, you'll be in fragrance heaven at Society.
Where to Eat and Drink
The word about this pie shop, set up in a converted house, has spread all across the metroplex. Lines can be long, service can be slow, and a slice of pie isn't cheap, but you'll have some of the best pie you've ever tasted.
Lockhart Smokehouse is another solid contender in the debate about the best local barbecue. Like most good barbecue places in Texas, expect to wait in line, but you'll be glad you did. Most people say the brisket and the mac and cheese are the best things on the menu.
This colorful little shop is also a great place to get a gourmet Brazilian-style stuffed popsicle. Many say it's better than its other main competitor in the Dallas area. You can choose your flavor, filling, and topping, like banana with Nutella and Bailey's Irish Cream.
Some of the most creative sushi dishes in the Dallas area are at Zen Sushi in Bishop Arts. Vegans enjoy the extensive meat-free menu here. The xalapa roll with lime and jalapenos is a can't-miss, and the Zen bruschetta is a perfect starter.
Why Locals Live Here
Bishop Arts is unquestionably the funkiest neighborhood in Dallas. But people who move here don't do so because it's trendy—they do it to put down roots. The tight-knit community here compares their neighborhood to living in a small town in the middle of a big city.
As part of the larger Oak Cliff neighborhood, there's a huge variance in price range here, especially if you don't mind a fixer-upper. Many of the houses are nearly a century old. Some are small A-frame houses with wood siding, while others are mid-century ramblers. There's also a growing number of new townhomes and condos under construction. In addition to housing, there are several good charter schools nearby, Bishop Arts only a couple miles from the nearest grocery store, and the commute into Downtown is as easy as it gets.