Houston Real Estate Development
Houston Real Estate: The Rise of EaDo
Houston's most popular neighborhoods remain The Greater Heights and Montrose, but underdog EaDo is not far behind.
The same things that have drawn residents to The Heights and Montrose in recent years—arts and culture, hip coffee shops, new bars and restaurants, and a vibrant nightlife—are springing up in EaDo. And the neighborhood has the additional advantage of being more affordable, steps from Downtown, along the Metrorail route, and a sports lover's paradise. With its a dynamic history, thriving present, and promising future, EaDo is on the rise.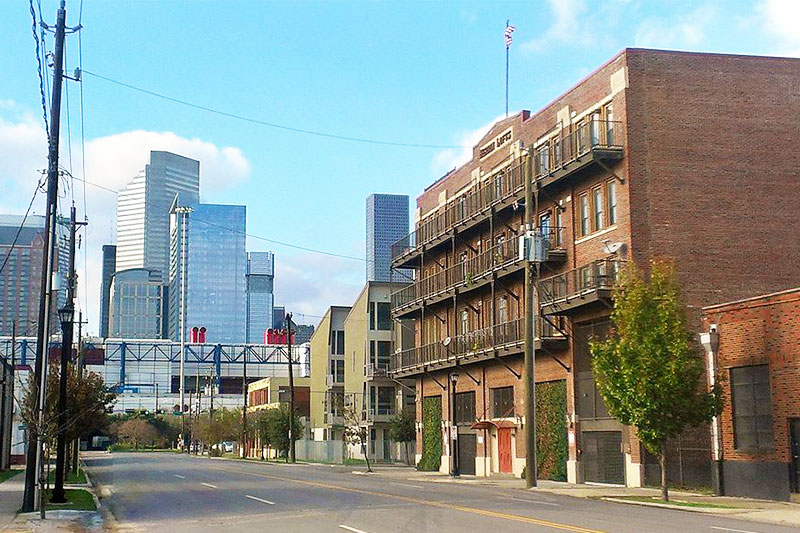 Humble Beginnings
EaDo has undergone many transformations over the years. In the 1930s, Cantonese immigrants settled in the distinctly triangular wedge near Downtown, opened shops and restaurants, and held community-wide Chinese New Year celebrations. The area was designated as Chinatown until the 1990s when merchants and families began moving out of the city center and into the more suburban parts of southwest Houston.
With "Chinatown" no longer apt, the district bordered by interstates and railroads and littered with abandoned warehouses lacked an identity. In 2002, John Lomax of the Houston Press characterized the area as "a silent, godforsaken stretch of no-man's-land that's not really the Warehouse District, nor the Third Ward, nor the East End."
In 2008, the neighborhood's management district named the area a trendy amalgamation of East Downtown, and the EaDo we know today was born. Over the last decade, EaDo's popularity skyrocketed. Residents eyeing affordable inner-city living and developers hoping to maximize the area's untapped potential are shaping what was once a wasteland into Houston's next "it" neighborhood.
Living in EaDo
EaDo is a thriving cultural district nicknamed the "art and soul of the city." With its shuttered manufacturing warehouses and brick buildings, EaDo captures the industrial chic aesthetic, an architectural style popularized by millenials in recent years.
Developers have taken note of this trend and opted to preserve the area's historic buildings by converting wayside commercial spaces into open lofts, art studios, music venues, and restaurants. Because of its dedication to preservation and repurposing, the East Downtown Management District was given the Civic Vision Award by the Houston chapter of the American Institute of Architects in 2018.
Residents living in EaDo include a mix of artists and urban professionals desiring close proximity to major job centers in Downtown, the Medical District, and the Houston Ship Channel, all of which are easily accessible via the Metrorail.
Though the area's rising desirability is contributing to rising home prices, EaDo remains more affordable than many nearby neighborhoods. The current sale prices listed on Neighborhoods.com range from the high $100s to the high $500s with a median sale price of in the mid $300s, whileMontrose (the last Houston neighborhood to undergo a renaissance) has a median sale price in the low $500s.
Housing options include mostly attached homes like high-rise condos, townhomes, and industrial style lofts in converted buildings. According to the Houston Chronicle, around 50 percent of homes in EaDo are new construction and more are currently underway including a subdivision off of Harrisburg Boulevard which will include 120 single-family homes.
Things to Do
Over the last few years, commercial and real estate developers have invested over $250 million in EaDo. BBVA Compass Stadium, home to two major league soccer teams, was erected in 2012 and has since paved the way for more construction projects.
Local hangouts 8th Wonder Brewery, Truck Yard, and Pitch 25 are citywide favorites for catching a game, chilling on a patio, and enjoying views of the skyline. All three venues welcome pets, and with the recently completed EaDog Park, EaDo is one of the best Houston neighborhoods for dog-lovers.
EaDo is also becoming a foodie destination. Tout Suite (an airy industrial cafe) and Leeland House (a cozy brunch cottage) serve up southern comfort grub and offer space for students and professionals to get work done. Agricole Hospitality, the group behind Houston hotspots like Night Heron and Coltivare, opened a massive three restaurant concept in EaDo this November featuring Vinny's, a casual pizza joint, the intimate Indianola, and Miss Carousel, a craft cocktail bar with Marfa inspired decor. And, Nancy's Hustle, which opened in late 2017, has gained national acclaim as one of Thrillist's best new restaurants of 2018.
As an artist's haven, EaDo has many art and music venues ranging from mainstream to underground, all ensconced in revamped warehouses. Warehouse Live hosts touring musicians and stand-up comics while The Secret Group and Super Happy Fun Land put on local shows.
The Future of EaDo
EaDo may have come a long way in the past 10 years, but the neighborhood is just getting started. Though BBVA Compass Stadium and 8th Wonder Brewery put down stakes in the early days of the neighborhood's rebranding, the majority of businesses and residences attracting potential homebuyers have sprung up only in the last two years with many more planned for the next few years.
As reported by the Houston Chronicle, a $150 million tower with 280 condos and 170 hotel rooms is set to break ground in summer 2020 and aims to be the "gateway" to the neighborhood.
Other upcoming projects include the renovation of an ex-coffee plant into a mixed-use commercial space. Originally constructed in 1917 and named a protected landmark by the city, the building will retain its historic structure with windows restored and graffiti removed from its brick facade.
Lovett Commercial will also make use of landmark buildings by converting the former Houston Post building, which spans an entire city block, into a Sprouts Farmers Market, the first major grocery store in the area. A separate Lovett venture, the repurposing of 99,000 square feet of commercial space into a shopping center with stores, restaurants, offices, and newly paved sidewalks, is also forthcoming.
Ancorian Developers are plotting a new co-working, retail, and restaurant concept dubbed "The Block" slated to for completion in 2019. Ancorian is the firm behind the New York inspired East Village redevelopment that currently houses Truck Yard, Rodeo Goat ice house, and Chapman and Kirby, a lounge and nightclub.
These projects and others intend to transform the neighborhood without sacrificing its character. Due to the neighborhood's proximity to the George R. Brown Convention Center, Downtown, and sports venues, EaDo's planned hotels will draw tourists, and the construction of more housing, a grocery store, modern dining, and shopping centers will attract new residents.
While Montrose tentatively clutches the title of Houston's coolest neighborhood, an identity it has struggled to live up to since its heyday in the 1960s, the future of EaDo is now.