Los Angeles Local Life
New York vs. Los Angeles: Where to Live
When it comes to comparing major American cities, there's perhaps no greater rivalry than that of Los Angeles vs. New York City. While at first glance the two largest metropolitan cities in the United States have a lot in common—including diversity of people and culture and an abundance of opportunities—Los Angeles and New York City also have some pretty major differences worth considering.
A bustling horizontal metropolis, Los Angeles has many of its towering buildings centered in the downtown neighborhoods of Bunker Hill and Financial District. Los Angeles is mostly level in infrastructure, with sprawling residential neighborhoods featuring lots of spacious homes. You'll also find soaring palm trees spread abundantly throughout the city and the weather is always warm and sunny.
New York City on the other hand is known for being a sky-scraping vertical concrete jungle. Leave Manhattan however and you'll find quaint historic brownstones in Brooklyn neighborhoods Park Slope, Brooklyn Heights, and Bedford Stuyvesant. As for weather, you'll get to experience the full spectrum of mother nature's four seasons in New York City.
If you're considering a move to either city, we've broken down the New York vs. Los Angeles rivalry so you can decide which city is for you.
Read more:
Real Estate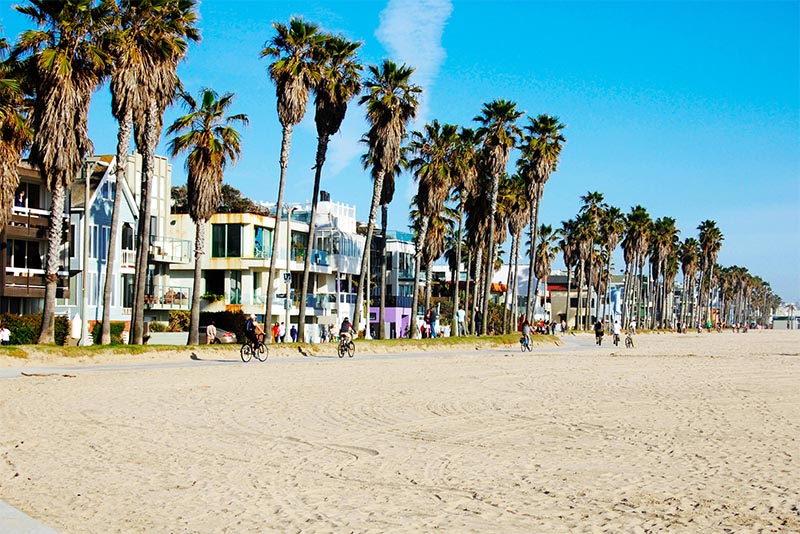 Much like the weather, the real estate offerings in Los Angeles are vastly different than those of New York City. Perhaps the biggest difference in real estate between the two cities is the amount of living space per resident on average. Los Angeles residents on average have much more living space than the average New Yorker. According to PropertyShark, between 2010 and 2016 the new-home median size in Los Angeles was 1,800 square feet as opposed to New York City's 1,230 square feet.
New York is one of the most expensive cities in the U.S. The average rent for an apartment in Los Angeles is $2,375, while the average rent for an apartment in Manhattan is $3,790, according to Rent Cafe. As for for-sale properties, New York's median home price is $680,500 compared to Los Angeles' $689,500; however, remember that in New York space is at a premium. In Upper East Side, the New York neighborhood with the most homes for sale, the price per square foot is $1,448.
Winner: Los Angeles is the clear winner here. Compared to New York City, you'll get more bang for your buck in Los Angeles whether you're considering buying or renting.
Getting Around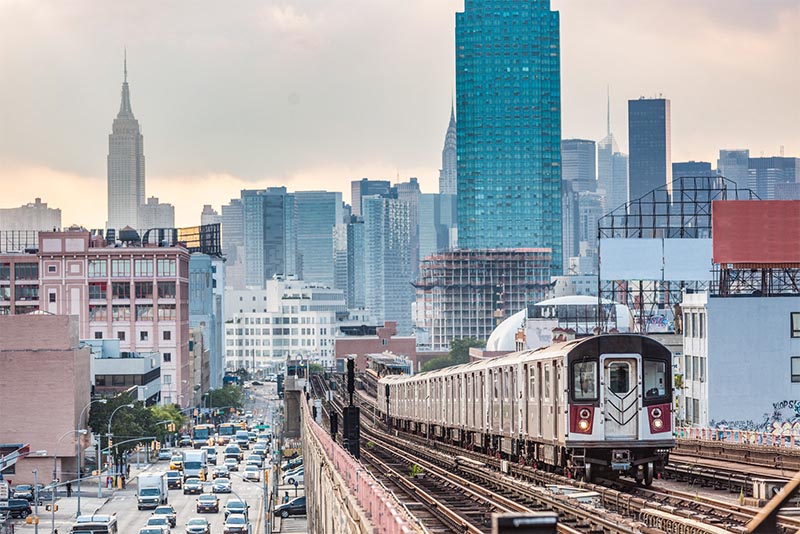 With lots of public transportation options, New York City is a very walkable city to visit and live in. In fact, New York City is the only city in the United States where the majority of households don't own a vehicle. According to the Bureau of Transportation Statistics, the percentage of people who don't own a car in Manhattan is even more staggering—looming around 75% as opposed to the 8% national average. Furthermore, 56% of New Yorkers use the city's public transportation system to get around.
In Los Angeles, on the other hand, only about 2% of the region's population uses public transportation very often. Moreover, about 20% of Angelenos ride rail or buses occasionally, one 2018 UCLA study found. And of course, Los Angeles is infamous for its sprawling metropolis and endless traffic. But there are some walkable neighborhoods where you can easily get around without a car, including Downtown LA, Pico-Union, and Palms.
Winner: For its walkability and easy access to public transportation, New York is the clear winner in terms of getting around.
Read more:
Food and Culture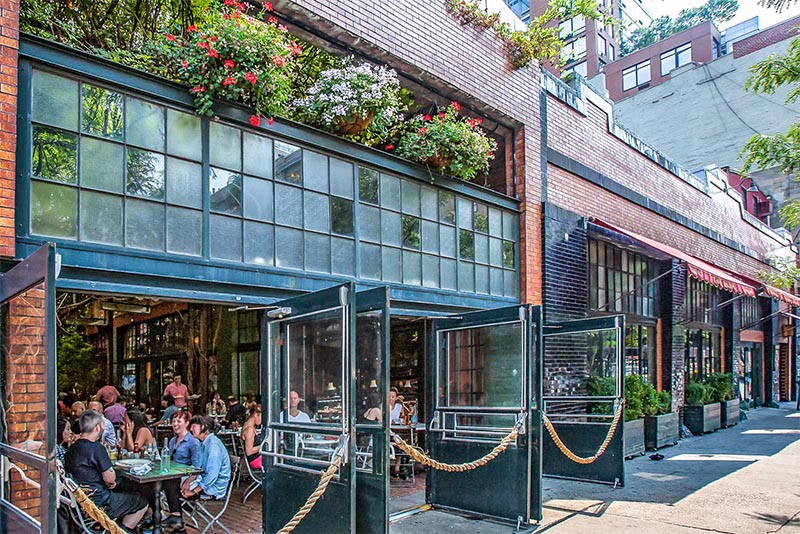 New York City has one of the most competitive and diverse restaurant scenes anywhere in the world, boasting over 23,650 establishments in 2019, according to the State of New York Comptroller. This means you could eat at a different restaurant every single day for 60 years and not have experienced all the restaurants New York City has to offer.
The diversity of food and culture seen is stretched throughout New York City's five boroughs. For the best pizza in New York City head to Grimaldi's Pizzeria in Brooklyn's Dumbo neighborhood. If you're feeling for some flavorful American Soul Food, the best spot for that is Red Rooster nestled away in Central Harlem. Dim sum, noodle soup, and the best Chinese food in New York City can be found at Shanghai Asian Cuisine located in the heart of Manhattan's Chinatown neighborhood.
Furthermore, if you just can't decide what to eat, Chelsea Market showcases unique food choices such as delicious Jamaican beef patties at Tings and raw honey infused superfoods at Zach & Zoe Honey.
While you may have to drive a bit to explore the Los Angeles food and culture scene, the 24,292 restaurants, according to the CDC, that make up the city are no less impressive.
Los Angeles's Koreatown neighborhood is a bustling dining passageway in the heart of LA, with hundreds of Korean, Salvadoran, and Bangladeshi eateries. Parks Korean BBQ is authentic enough to satisfy those who grew up eating their mom's version of these dishes. For a no-frills spot offering a wide variety of Bangladeshi, Indian, and Pakistani bites, Bangla Bazar & Restaurant is a go-to spot.
Winner: New York City takes the charge on food and culture with an abundance of world-class restaurant options packed within the city's borders.
Education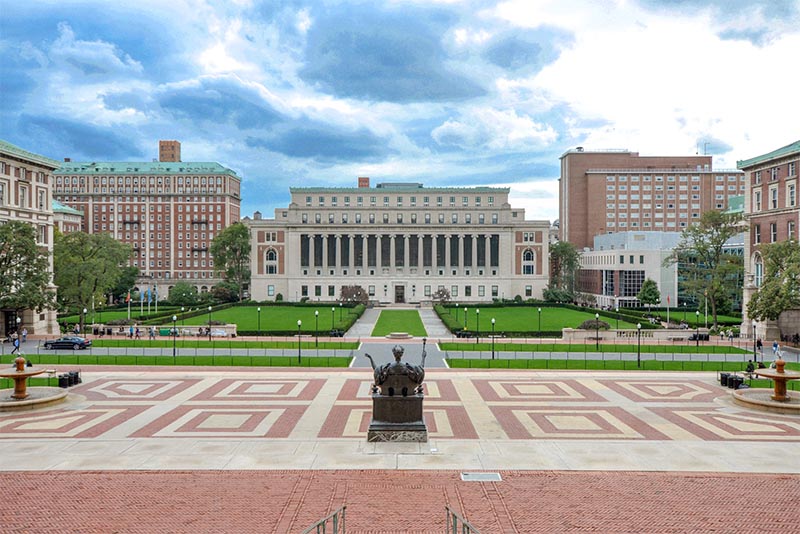 Los Angeles and New York City both are home to some of the top-ranked universities in the nation. New York City boasts the likes of Columbia University and NYU, while the highest-rated university in Los Angeles is UCLA.
In terms of K-12 education, the huge public school systems of Los Angeles and New York City rank the nation's second and first in size respectively. During the 2016-2017 school year, the Los Angeles school system served about 633,621 students while New York City served just over a million with 1,158,946 students, according to the Research Alliance for NYC Schools.
With that said, it may come as a surprise that the student to teacher ratio is 85.2% lower in New York than in Los Angeles, meaning New York has fewer students in each classroom than Los Angeles. New York also spends 97.2% more per student than Los Angeles, according to BestPlaces.
One of the best public schools in New York City is Townsend Harris High School, according to US News. Townsend Harris High School is located in the Flushing neighborhood of Queens New York City and is ranked 5th overall in the nation. California Academy of Mathematics and Science, located in the LA County city Carson, is the best public school in California, ranked 11th in the nation.
Winner: With smaller class sizes and more budget allotted to its students, New York City wins in the education department.
The Bottom Line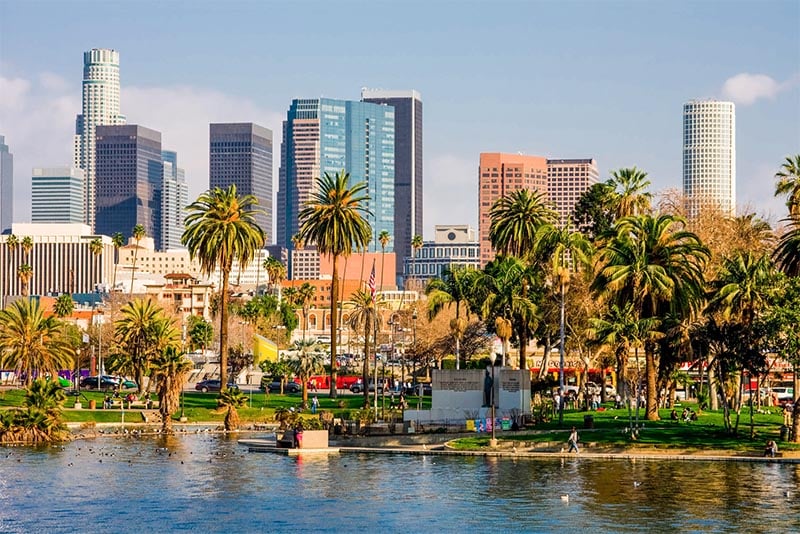 Los Angeles and New York City both are among the top metropolitan cities in the world. Both cities and the neighborhoods that comprise them have attributes that make them incredible places to live for young people and families alike.
If affordability and space is a priority and you love warm sunny weather year-round, Los Angeles may be the best choice for you (as long as you're OK with sitting in traffic sometimes). If you'd like easy accessibility to the urban core, you can appreciate experiencing all four seasons throughout the year, and you don't mind a tight squeeze, New York City may be a clear choice.