Los Angeles Local Life
What It's Like Getting Around Los Angeles Without a Car
Los Angeles is considered the largest city in California. It's not only expansive and widespread, especially compared to other cities in the U.S. such as Boston and San Francisco, but it also has one of the largest populations in the country following New York.
Being both substantial in size and density, many drivers in LA often complain about the city's mind-numbing traffic, lack of parking, and high rates when it comes to gas, insurance, and parking garages. With over a hundred neighborhoods, many first-time visitors and even locals in Los Angeles can find navigating the city difficult without a car. Many may say that it's necessary to have a car in the city.
Even though this might have been the case a decade ago, both residents and visitors now have access to more transit-friendly options in the city, such as rideshare services, scooters, and the Metro that can take them anywhere a car can.
Keeping all this in mind, here are some things to think about if you're considering getting around LA without a car.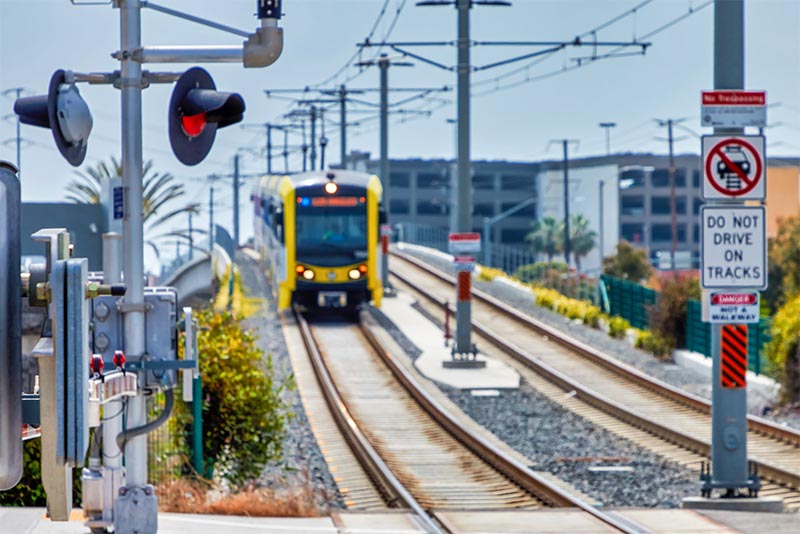 Your Daily Commute
Although having a car to get around town might be easier for people to go directly to their destinations (and often in less time), this isn't always the case. Depending on the LA neighborhood a person lives and works in, going without a car might even be worth it.
Rubin Fernando, a transplant from Toronto turned LA local, shared with neighborhoods.com what it's like getting around Los Angeles without a car. A media and entertainment professional who has been living in Los Angeles for nearly six years, Fernando decided to give up his car two years ago after getting a new job in Hollywood.
"To be honest, I don't really like driving, but I drove in LA because I had to. When I first moved here, it was for a job in El Segundo," Fernando said. "But after looking around that area, it wasn't really what I was looking for in terms of living. Some friends were already living in Palms, so I decided to live there instead. So yes, I don't really like driving, but my commute was only 20 minutes if I drove compared to the hour-plus taking the bus. I wasn't going to do that."
For many young professionals, living in Palms is attractive due to the neighborhood's overall walkability and abundance of local amenities, while El Segundo is more of a laid-back neighborhood with less access to pedestrian-friendly streets and transportation. Despite an increased amount of development in El Segundo throughout the years, the neighborhood is still located a bit further from the heart of LA. With changes to scheduling and train shutdowns due to this year's pandemic, the commute from Culver City to El Segundo is now around a whopping three and a half hours.
"When my license expired a couple years ago, I had already moved to Hollywood," Fernando said. "I put together an Excel with how much it would cost to have a car versus just Ubering, and since I now live super close to my job, selling my car was worth it for me."
I didn't have to worry about gas, insurance, or parking anymore. I don't regret it at all.
Alternatives to Cars
Transportation throughout Los Angeles has evolved dramatically over the past decade, with the advent of ride-share services, improved public transit with added train stops, more cyclist-friendly infrastructure, and electric bikes and scooters available throughout the city. The benefit of using these options to commute throughout the city includes less traffic, less worry about parking, and sometimes less of a strain on your wallet.
"I have a bike and there's the Hollywood subway station that I could easily take to Downtown because it's right next to me, but I mostly Uber for everything," Fernando says. "For the most part, though, my neighborhood is pretty walkable. I can walk across the street to Trader Joe's and a bunch of other places."
Fernando says that the biggest surprise for him was "how much of a stress relief it was. I didn't have to worry about gas, insurance, or parking anymore. I don't regret it at all." While many drivers in LA find having a car easier to go directly to where they need to be, people who mostly stay in their own neighborhood might find it well worth it to go without it.
Walkable and Transit-Friendly Neighborhoods
Not all neighborhoods in Los Angeles are considered equal in terms of walkability, transit access, or bike-friendliness. There are many neighborhoods in LA that offer little to no access to public transit or amenities; these areas tend to be lower in home pricing, though this is not always the case. However, there are also plenty of LA communities where residents can live, work, and play. Some of LA's most walkable areas include:
Also, many neighborhoods are slowly on their way to becoming more pedestrian-friendly, such as Koreatown, Miracle Mile, Century City, and Marina del Rey.
When asked if he had a chance to move to a different neighborhood without a car, Fernando said, "I think I'd move to Silver Lake because of the restaurants there, and so I could ride my bike more. I could do that here, but I feel like in Silver Lake, I'd be forced to because of all the bike lanes."