The Best Neighborhoods in Chicago
The Best Neighborhoods in Chicago
Chicago is uniquely known as a city of neighborhoods. Depending on who you ask, the city has anywhere from 50 to 200 neighborhoods, each with a distinct personality and feel. So when it comes time to choose a neighborhood to call home, the options are seemingly endless.
We looked at 11 factors, gauging everything from relative affordability and school ratings to lifestyle, amenities, and resident reviews, and we determined some of the best Chicago neighborhoods for homeowners.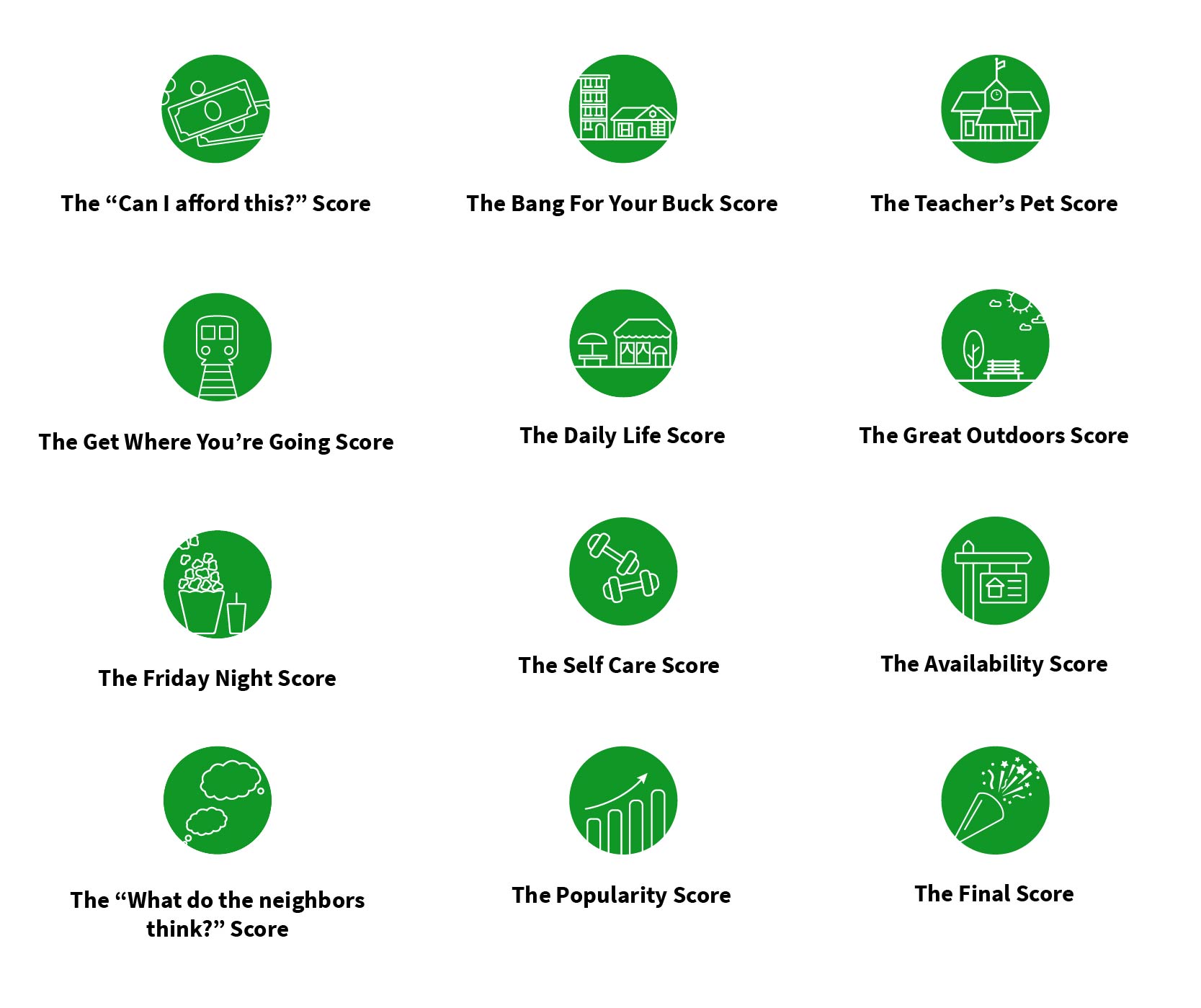 If you're interested in reading our full methodology, you can check it out here.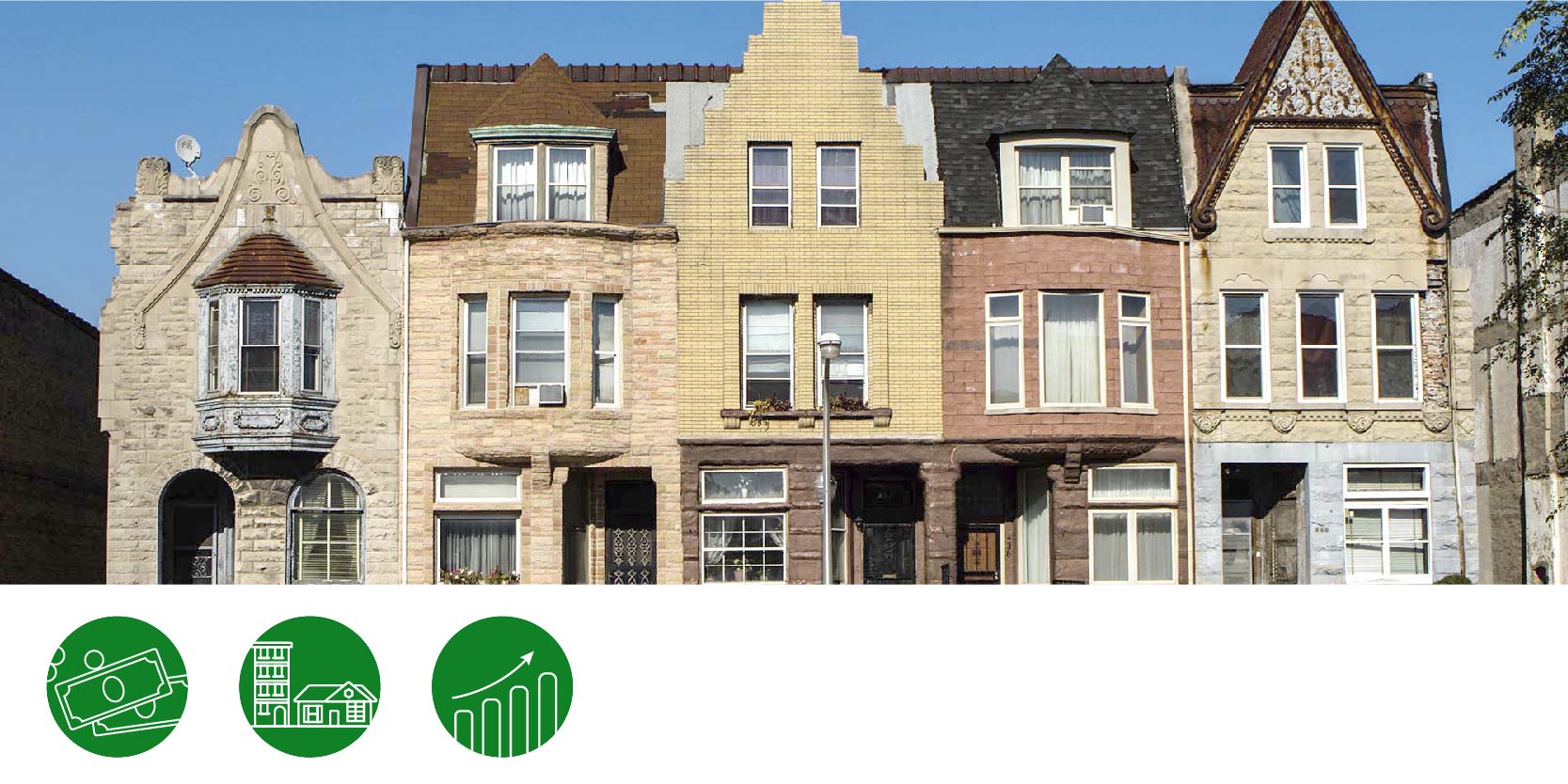 Bronzeville is a historic neighborhood on Chicago's South Side that's filled with stunning architecture, cultural attractions, and a vibrant jazz and blues music scene. The neighborhood was home to famous musicians like Sam Cooke, Lou Rawls, and Louis Armstrong as well as famous activists and writers including Gwendolyn Brooks, Bessie Coleman, and Ida B. Wells.
With recent revitalization efforts, new businesses and locally owned shops have sprung up along Bronzeville's 47th Street corridor, making it a bustling area for residents and visitors. South Martin Luther King Drive and South Cottage Grove Avenue are also busy spots where you'll find plenty of shops and foot traffic.
Bronzeville offers a mix of spacious single-family homes and attached rowhomes. A common sight in the neighborhood is newly developed residences mixed in with historic greystone buildings. Some of the historic homes in the neighborhood are from the Victorian era and represent Italianate, Gothic, Queen Anne, and Romanesque designs.
Although homes in Bronzeville are relatively affordable, there are a few homes with a higher price tag closer to the lakefront. But if you buy a home along Cottage Grove and Martin Luther King Drive, you'll have easy access to major roadways as well as public transit options like the CTA Red and Green lines as well as bus routes passing through 43rd Street, 47th Street, and 51st Street.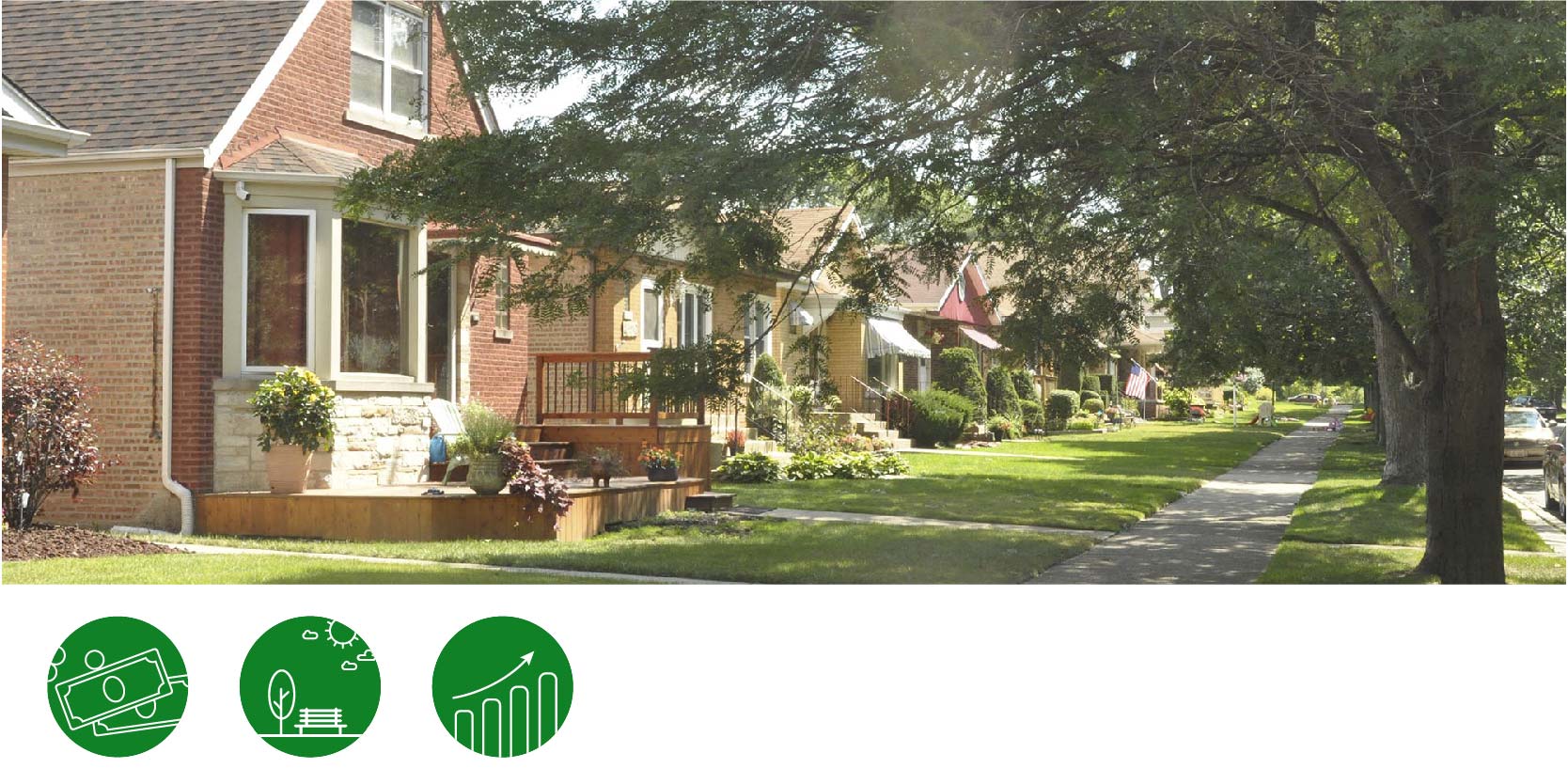 Beverly is a welcoming neighborhood located on Chicago's Far South Side. This hidden gem appeals to many homebuyers thanks to its small-town charm, expansive greenspaces, tree-lined residential streets, large single-family homes, and historic architecture.
Just like Hyde Park, Beverly also has iconic homes designed by famed architects like Frank Lloyd Wright as well as Edward Dart, Walter Burley Griffin, Howard Van Doren Shaw, and George Maher. With minimal new construction happening in Beverly, homebuyers will find an architecture-rich community filled with modest brick bungalows and preserved Tudors, Victorian, Colonial, and Prairie-style homes that were built before the 1960s.
Besides admiring the beautiful architecture, residents also enjoy a large selection of Irish pubs along Western Avenue. In addition to having the most Irish bars in the city, Beverly is also home to the popular South Side Irish Parade, a long-standing tradition in the community that brings residents together to celebrate Irish culture on St. Patrick's Day each year.
Beverly is an affordable neighborhood in Chicago that offers a variety of single-family homes and a few low-rise condos. Many of the homes feature spacious lots with a front or backyard and garage parking. But if you have your heart set on buying one of the famed historic homes, you'll end up paying a hefty price for it.
Although the neighborhood may seem like it's tucked away from the city center, Beverly does offer residents convenient access to public transit options such as the Metra as well as CTA bus routes along 103rd Street and 95th Street. But if you prefer to drive to the city, you can jump on I-90/94 and get downtown in about 30 minutes with no traffic.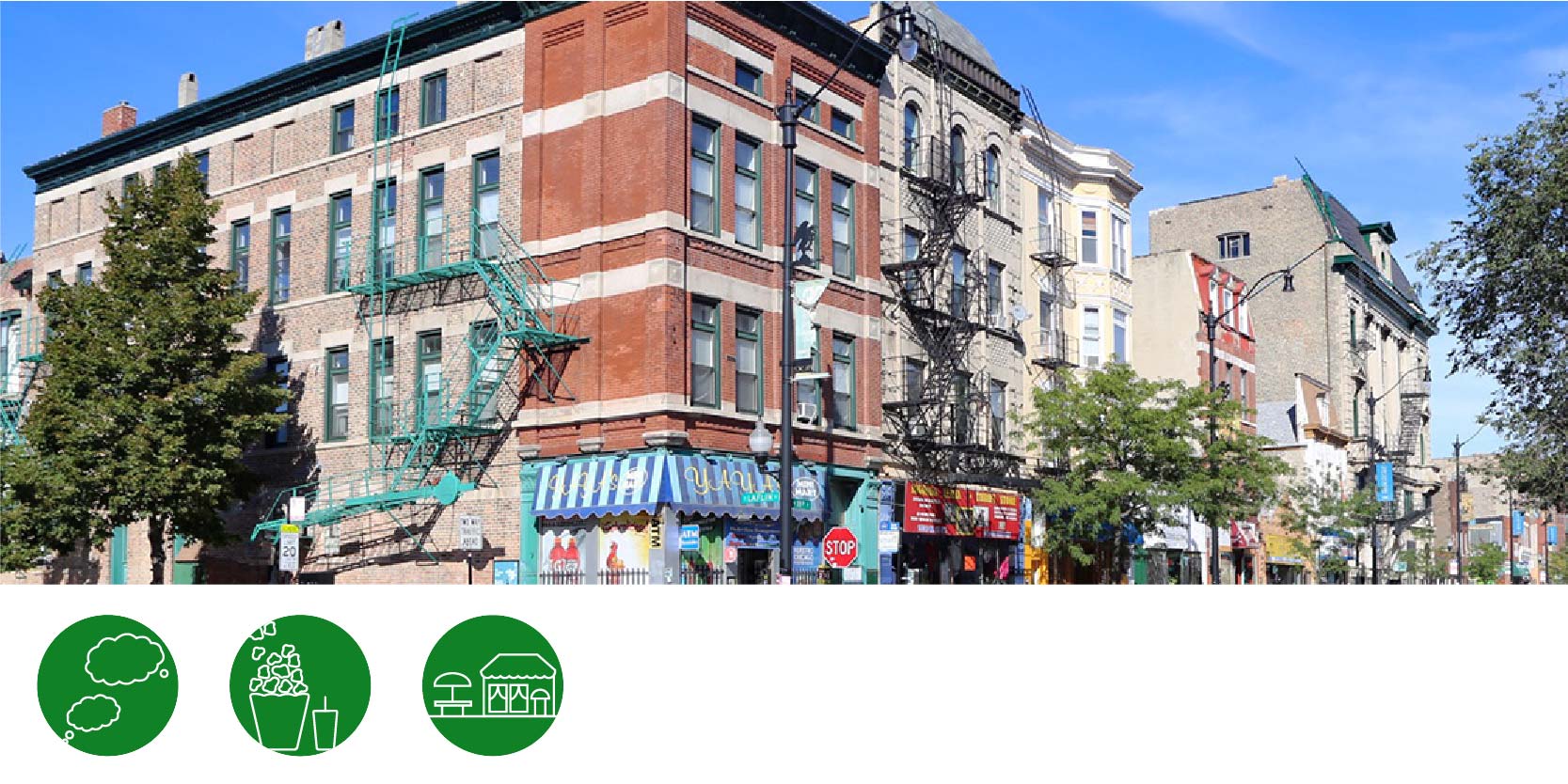 Pilsen is one of the largest cultural hubs in Chicago where you'll find endless art galleries and studios as well as colorful street art and murals painted on building walls, store fronts, doors, train platforms, and railway overpasses. Not only does Pilsen have a strong local art scene, it's also home to the National Museum of Mexican Art, which is an iconic and highly regarded cultural institution in the community and in the city.
Pilsen boasts a large concentration of well-known taquerias and authentic Mexican restaurants along 18th Street, but Pilsen doesn't just offer tacos. This culturally rich and diverse neighborhood also has an eclectic mix of eateries offering everything from ramen and fried chicken to Memphis-style barbecue and dumplings.
And not to be outdone by its culinary scene, Pilsen also has plenty of nightlife options. Residents can bar hop along 18th Street where they'll find dive bars, trendy cocktail lounges, laid-back pubs, and karaoke spots that will keep them entertained on any given night.
The housing inventory in Pilsen comes as low-rise condos, two-flats, and single-family homes, and the majority of residences are situated close to each other with limited backyard space. Most of the homes in the neighborhood feature brick or vinyl siding exteriors, and some of the recently renovated homes or new construction condos can be found east of Racine Avenue.
Pilsen's location within the city also allows residents to easily travel into downtown and the Loop as well as other parts of Chicago via the CTA Pink and Blue lines.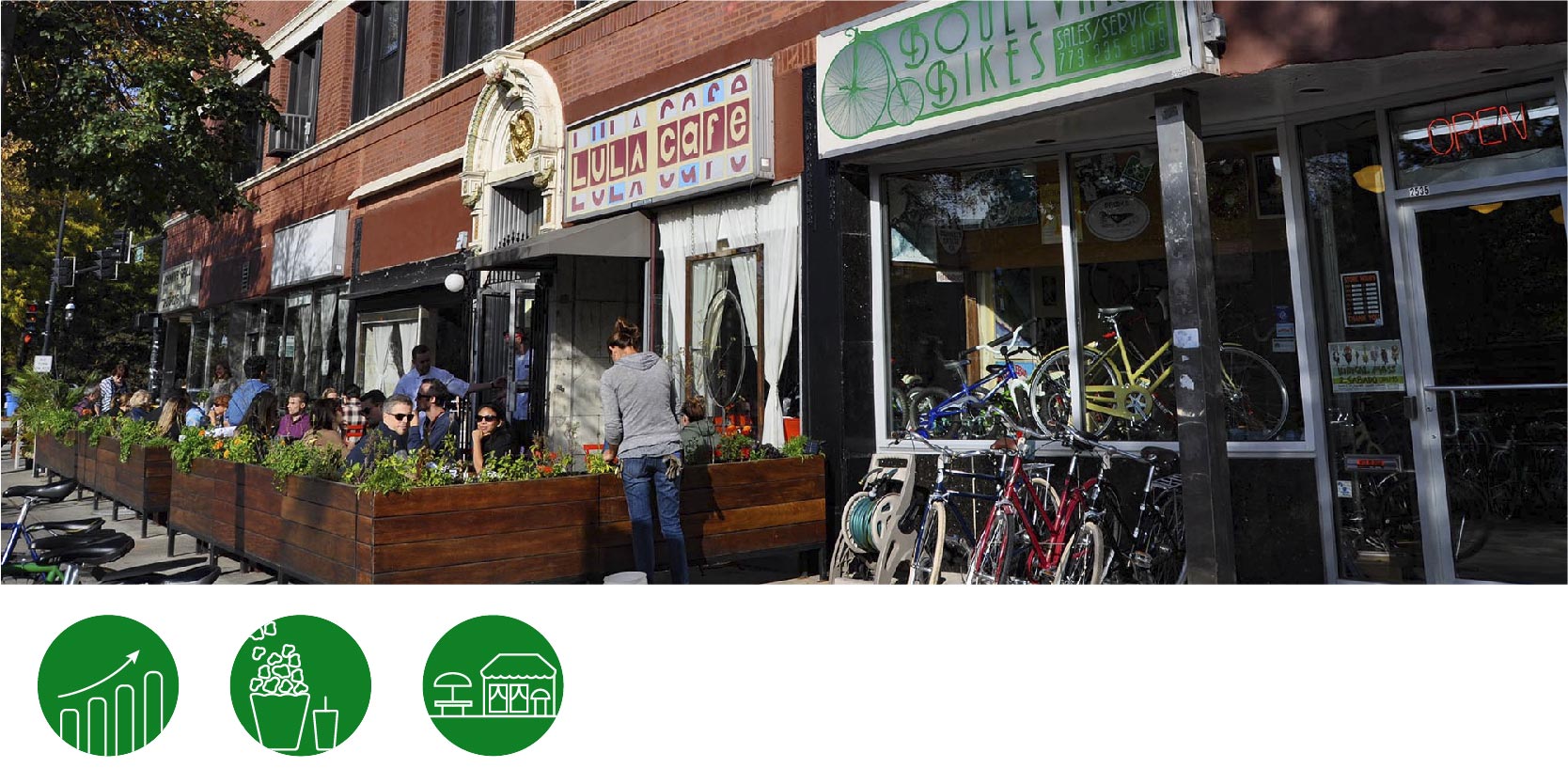 Logan Square has exploded in popularity, and it's easy to see why. It has several stops on the increasingly crowded CTA Blue Line, it's home to one of Chicago's grand boulevards and the stately homes that line it, and it has one of the largest concentrations of buzzed-about bars and restaurants outside the West Loop. It also has access to The 606 trail, and Milwaukee Avenue is constantly abuzz with families and bar-hoppers alike. What's not to love? (Well, some older residents have a few qualms.) The newly elected mayor of Chicago even calls Logan Square home.
The neighborhood is getting increasingly expensive—it's become one of the pricer neighborhoods on Chicago's northwest side—and even if you find a good deal on a home, you'll probably have some competition from other buyers. But inventory is growing with new condo buildings coming into the neighborhood.
Currently, the neighborhood consists of residential pockets filled with two-flats, greystones, courtyard apartments, and renovated bungalows. Logan Boulevard is where you'll find the neighborhood's most magnificent homes. Whether you're an artist or a high-powered professional, there's a lot to love about Logan Square.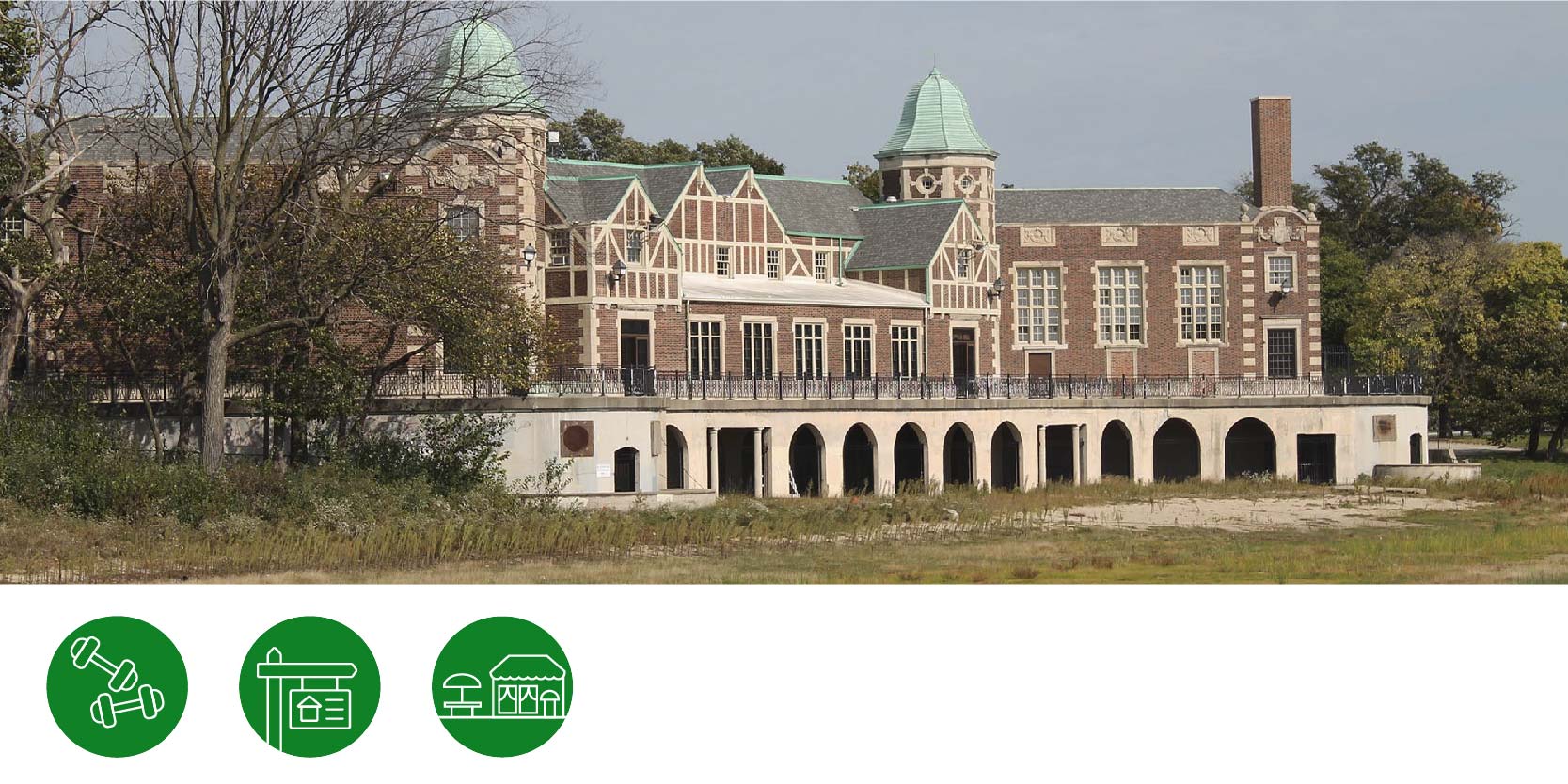 Even as Humboldt Park grows and attracts new residents, it seems little can be done to temper the neighborhood's strong cultural identity, welcoming feel, and surprising affordability (although, some new condo developments have been moving in).
The large steel Puerto Rican flags that tower over Division Street remind residents old and new of the neighborhood's history as a hub of Puerto Rican culture. Besides its history, Chicagoans love Humboldt Park for its 200-acre greenspace of the same name and all the charming shops and cafes on California and Western Avenues.
The neighborhood is filled with both vintage Chicago homes that run at the lower end of the price spectrum as well as the narrow, contemporary homes that are popping up in sought-after neighborhoods on the northwest and west sides. The neighborhood is big, and residents make a distinction between the eastern and western sides; the east side, closer to Wicker Park, tends to be more expensive.
Humboldt also doesn't have an 'L' stop, but stops on the CTA's Blue Line aren't too far away (and you're not too far from The Loop either). But for people who love Humboldt Park, the neighborhood's beauty, local businesses, and history make it ideal.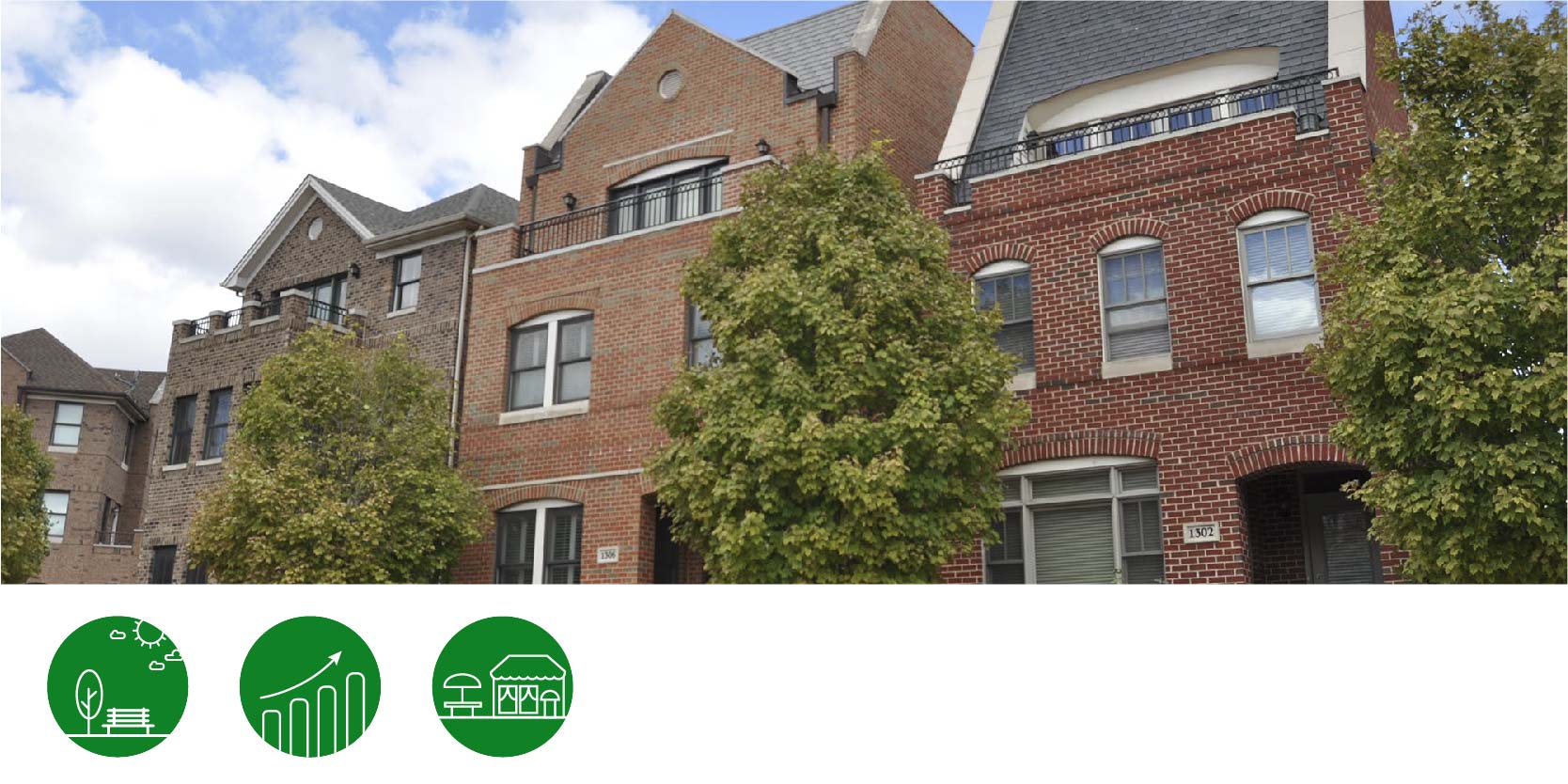 Home of the Chicago White Sox as well as the birthplace of five former Chicago mayors, Bridgeport is a historic and diverse neighborhood on Chicago's South Side. Besides baseball and politics, Bridgeport is a lively neighborhood that boasts a vibrant art scene as well as an eclectic dining and nightlife scene.
The neighborhood's main business corridor is found along Halsted Street and 31st Street. There, you'll find a mix of restaurants serving casual American bites to authentic international cuisine. Bridgeport is also home to a great lineup of local bars offering craft beers or specialty cocktails as well as charming coffee shops providing locally brewed coffee and tasty baked goods in a welcoming setting.
The neighborhood also has plenty of family-friendly amenities like parks and greenspace, trails, recreation centers, and athletic fields.
Homebuyers will find a variety of housing styles throughout Bridgeport. The neighborhood consists of low-rise condos, two-flats, and single-family homes. The housing close to Interstate 90/94 and Guaranteed Rate Field, home of the Chicago White Sox, consists of more expensive townhomes and low-rise condos, some of which enjoy views of the stadium.
Located just 15 minutes away from downtown Chicago, Bridgeport is a convenient neighborhood for residents who work in the city as well. Residents have access to multiple transit options like the CTA Orange and Red lines as well as bus lines that run through Halsted Street, 35th Street, and 31st Street.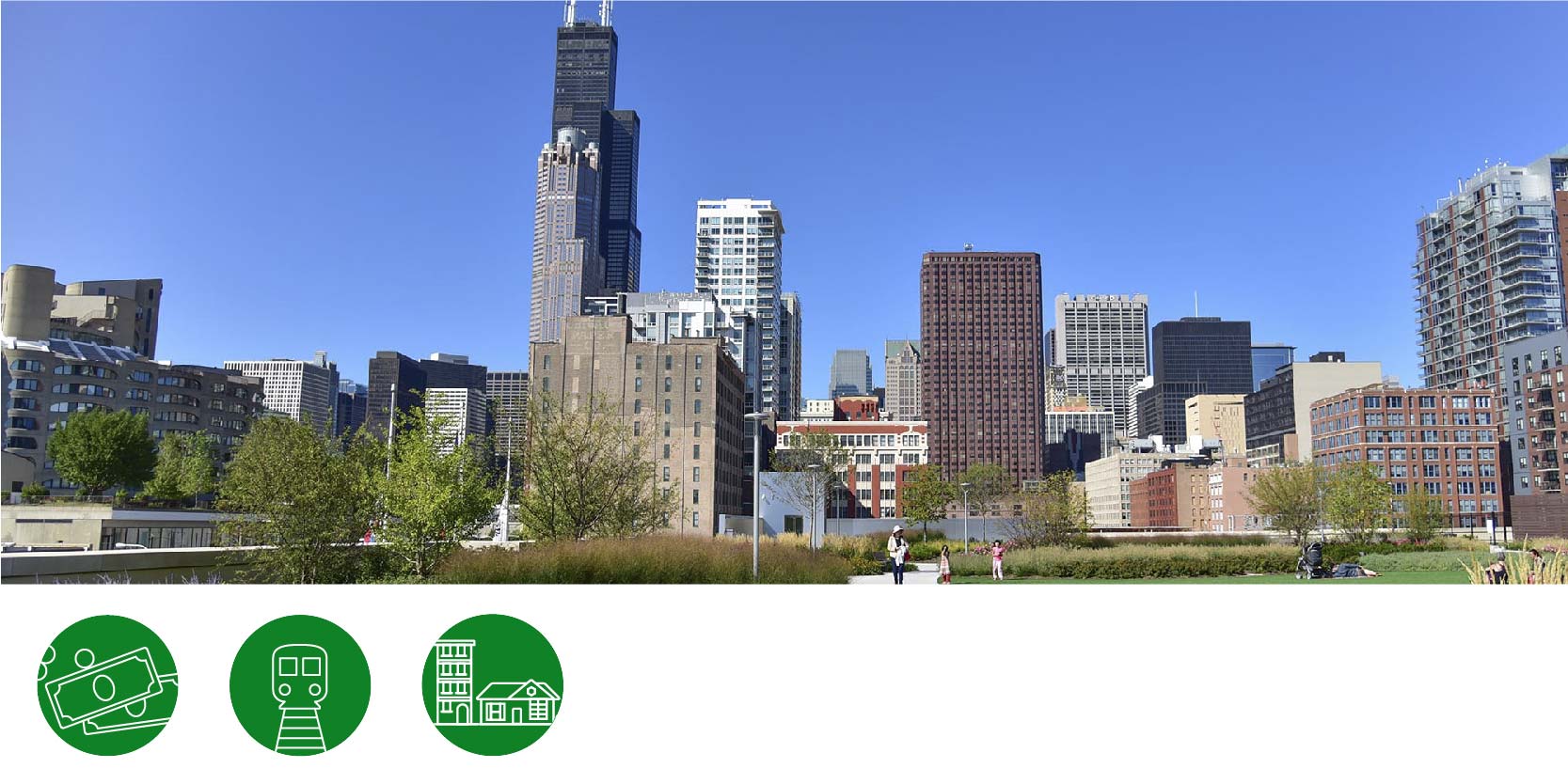 Homebuyers who want the density and walkability of The Loop without the crowds should check out the South Loop, which offers an almost suburban-like sense of serenity amid the skyscrapers.
Things feel noticeably removed from the Loop, yet there's access to greenspace (Grant Park), Chicago institutions and tourist attractions (Museum Campus), and public transit (CTA's Red and Green Lines) to make life here feel dynamic. Being close to the lake is another plus, and the college campuses in the neighborhood give the area a youthful buzz.
Housing here is almost exclusively in the form of condos in glittering skyscrapers. While units can cost well into the millions for penthouse suites in new developments, there are often one- and two-bedroom units available for under $200,000.
Of course, the closer you get to the Loop, the higher the prices are. But you can't beat living near the culture, world-class attractions, and stunning architecture Chicago is known for.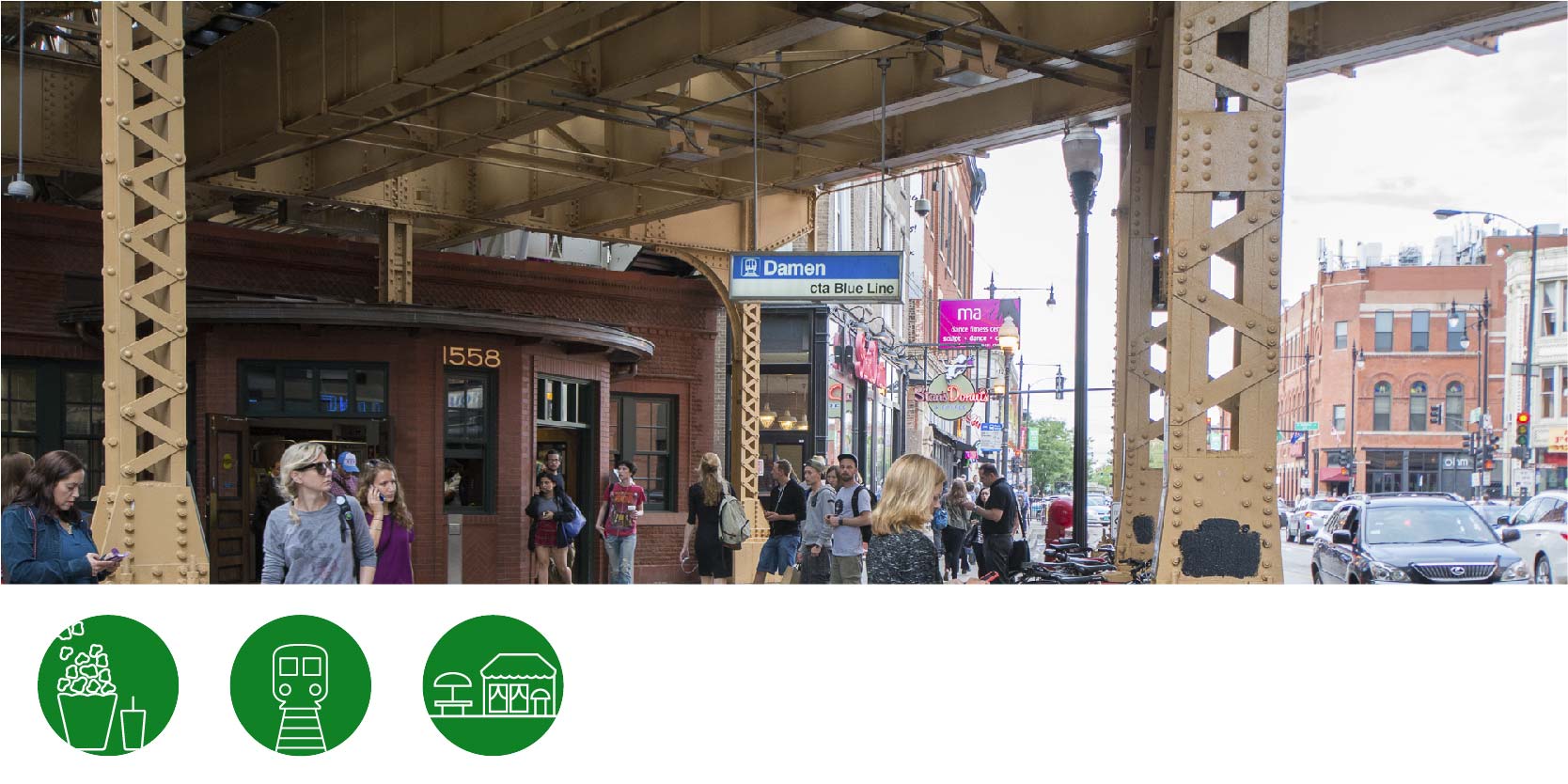 For many longtime residents, Wicker Park is the epitome of "cool." This northwest neighborhood has long been renowned as a city center for all things artistic or trendy.
Wicker Park lays claim to many of the hip eateries and bars that dominate North Damen Avenue, North Milwaukee Avenue, and West North Avenue. The intersection of these bustling streets serves as the epicenter for dining, nightlife, and entertainment in the neighborhood. Residents living on these main streets may have to put up with some noise late into the evening, but many feel that inconvenience is well worth it to live at the heart of such a lively neighborhood.
But Wicker Park isn't all cold brews and craft cocktails—the neighborhood is also home to its namesake park and several more residential havens. You'll find condos, townhomes, and single-family homes nestled together, creating a neighborly environment.
The neighborhood's smaller size also makes it highly walkable and the area is particularly bike-friendly due to the "Hipster Highway"—a stretch of Milwaukee Avenue so named for the caravan of cyclists that dominates the road during rush hour. And while Wicker Park residents don't ever need to leave the area, the Blue Line station at Damen makes it incredibly easy to access other parts of the city.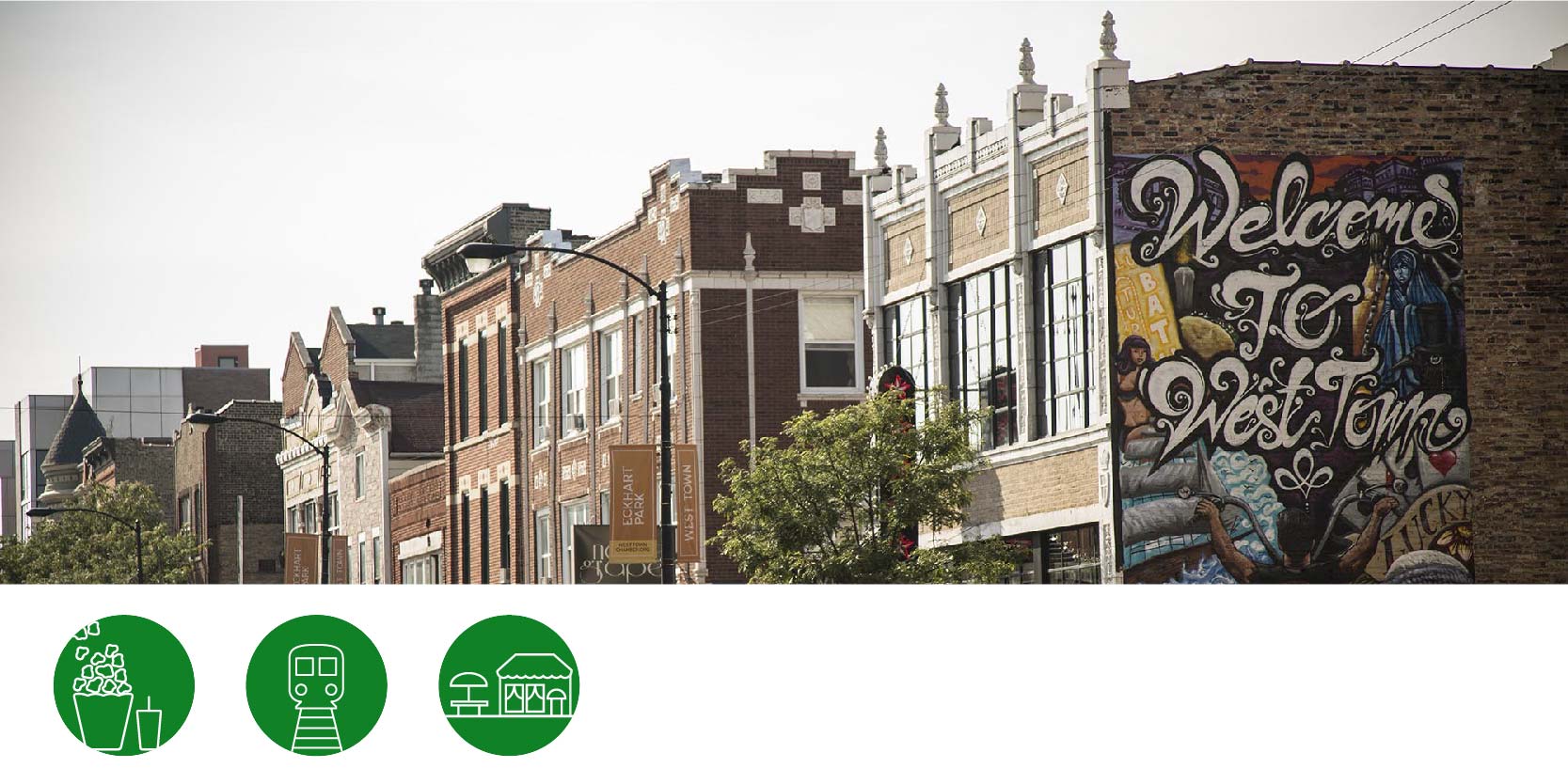 West Town tends to get conflated with the surrounding neighborhoods of Ukrainian Village and Noble Square, but it offers a gritty, industrial vibe that's all its own. This Chicago neighborhood is for the city lovers who value access to nightlife and stylish urban architecture. The neighborhood may lack in practical amenities like grocery stores, but West Town is more for night owls anyway.
Prices here tend to be on the higher side, with condo units in glassy new-builds and renovated old buildings making up the majority of the housing stock. Things get more expensive as you head east to the West Loop and its booming Restaurant Row—but wouldn't it be great to be able to walk to Girl and the Goat?
The neighborhood's walkability more than makes up for its lack of 'L' stops. The nightlife hubs of Ukrainian Village and Wicker Park are all nearby too. Anyone who wants to feel like they're in a truly urban neighborhood will want to explore West Town.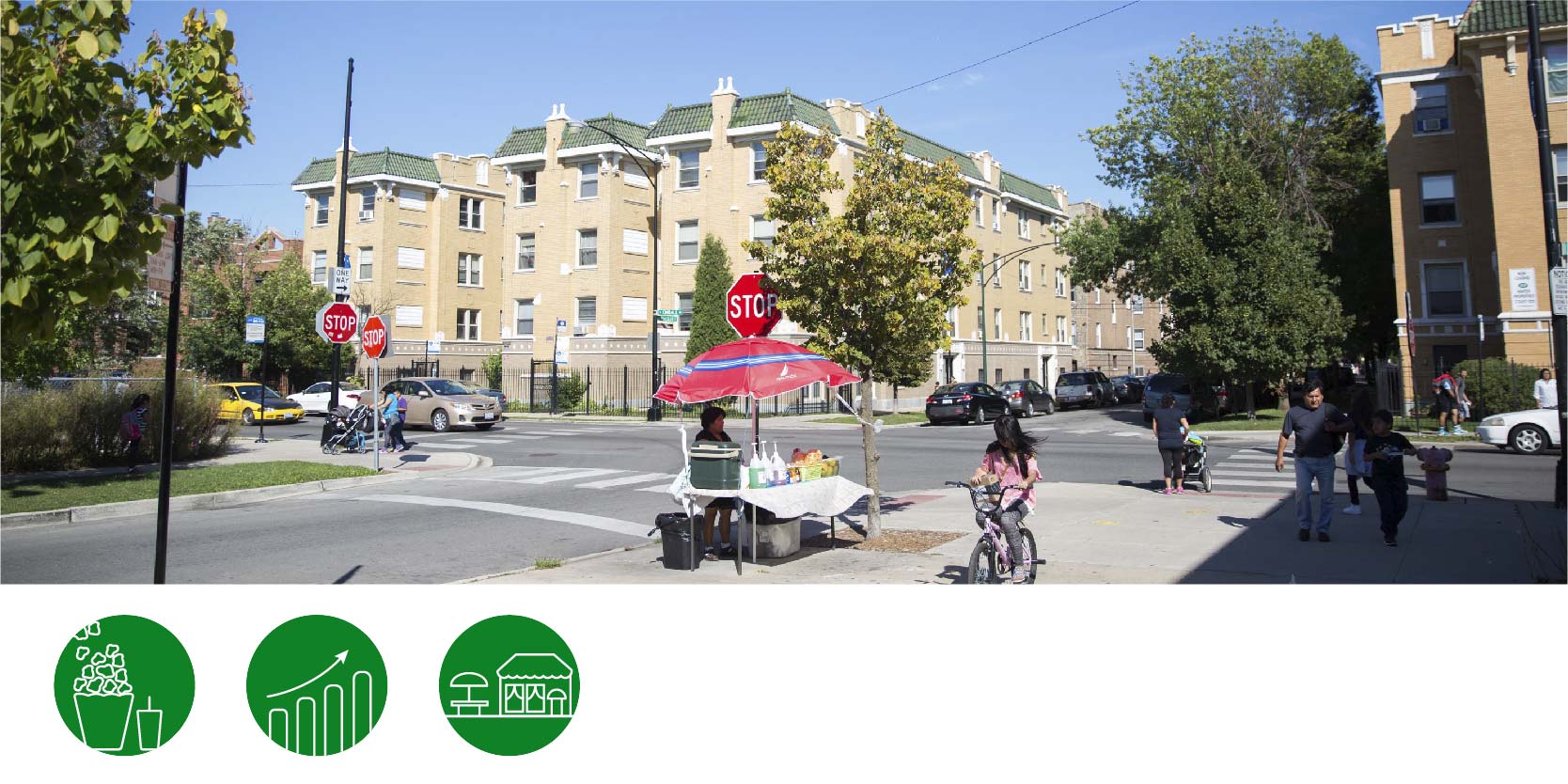 The secret's out: Albany Park is a great neighborhood. More and more Chicagoans are discovering this community on the city's northwest side because of its delicious ethnic food, architectural gems, access to public transit, and the green oasis that is Grompers Park.
The neighborhood encompasses two sub-neighborhoods—Mayfair and North Mayfair, the latter of which is on the National Register of Historic Places—and both provide affordable housing and ample charm. And again, the food scene is worth mentioning. Just within Albany Park alone, you can find Mediterranean, Mexican, Colombian, Korean barbecue, Lebanese cuisine, and many more.
The neighborhood boasts a lower median home price than neighbors Portage Park, Old Irving Park, and Lincoln Square, and housing here includes condos, lofts, townhomes, and single-family homes in all different sizes. Bungalows are a common housing type here, but condos in brick courtyard buildings are also plentiful.
The one downside of the neighborhood is its lack of nightlife and shopping, but the CTA Brown Line's three stops in the neighborhood can connect residents to more active nightlife hubs in the rest of the city. However, many residents like the quiet and in Albany Park just fine.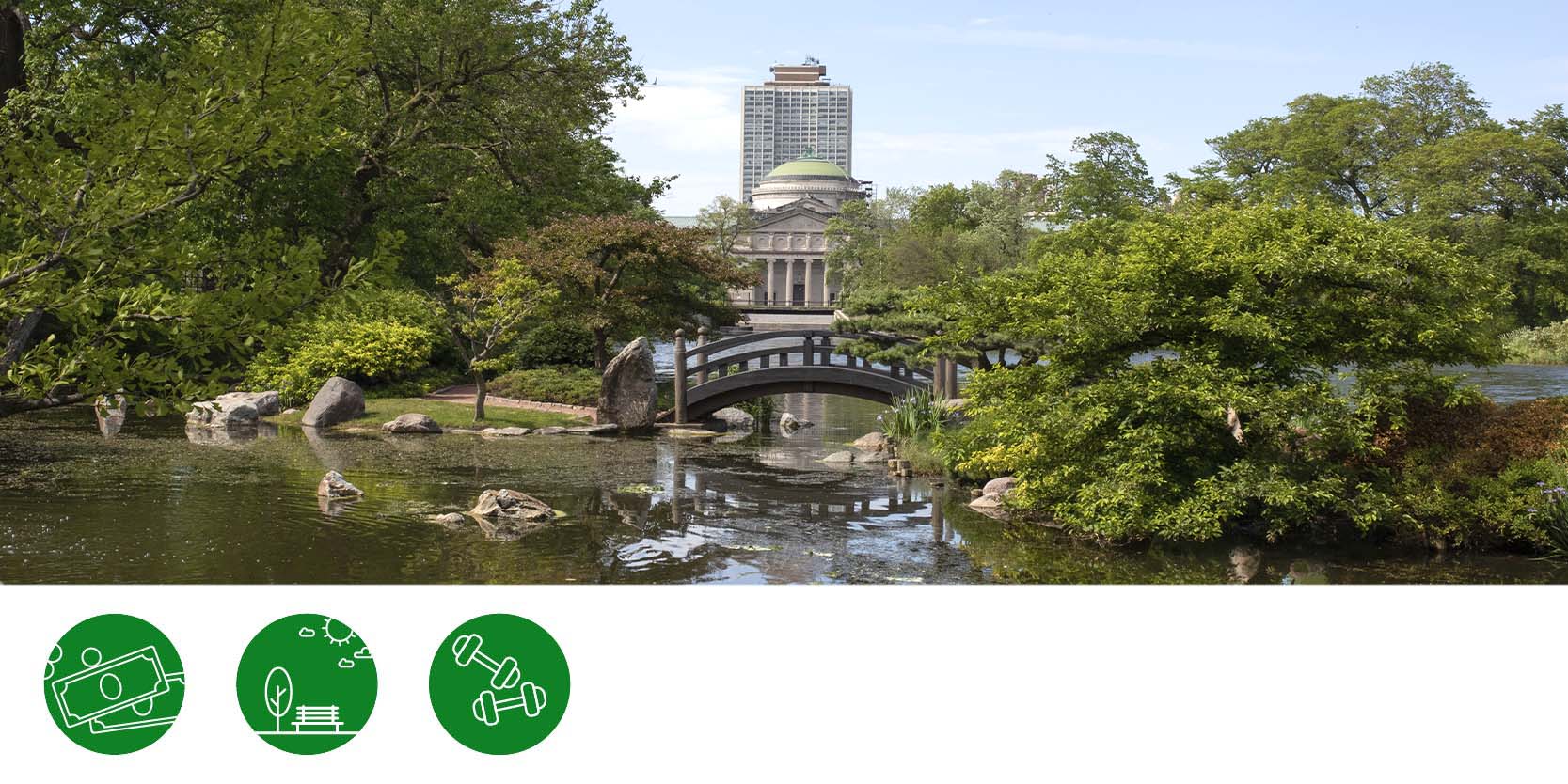 Home to the prestigious University of Chicago and the popular Museum of Science and Industry, Hyde Park is a culturally diverse neighborhood with a rich history and beautiful architecture. This South Side neighborhood is also filled with plenty of parks and beaches along the lakefront, as well as locally owned establishments along 55th Street and 53rd Street.
Located just six miles from downtown Chicago, Hyde Park provides residents with urban amenities but without the crowds or higher price tags of other neighborhoods. Its location along the lakefront also provides residents with plenty of outdoor recreation like the Lakefront Trail that wraps around Promontory Point, 57th Street Beach, and Washington Park.
Residents also have easy access to I-90 and Lake Shore Drive as well as public transit options like the Metra and CTA bus lines that connect to Green and Red train lines.
Thanks to Hyde Park's prime location, homeowners enjoy a tranquil and residential setting that boasts quiet streets and plenty of greenspace. The University of Chicago's campus provides college dorms while the rest of the neighborhood consists of a variety of new and old residences ranging from single-family homes and townhomes to low- and mid-rise condos.
Most of the buildings in Hyde Park feature classic Chicago architecture, but most noteworthy residence is the Frank Lloyd Wright Robie House which features an iconic Prairie-style design.
This far-north side neighborhood may feel a little removed from the rest of Chicago, but that's why residents like it. Rogers Park is a community all its own, where residents enjoy easy access to the beach, friendly neighborhood spots where college students and longtime residents co-exist, and a cultural diversity that's reflected in its restaurant scene. No matter how much the neighborhood grows, it still feels like a hidden gem.
Rogers Park is very far north—once you hit it on the Red Line, you're not too far from Evanston. But those seeking larger homes for less often end up here. The neighborhood also has a large inventory of condos, many with lakefront views priced at less than those in Lakeview.
Even though the neighborhood feels secluded, most residents are still able to commute to the Loop pretty painlessly via the aforementioned Red Line or the Metra. Whether you're looking for an affordable lakefront property or a quieter lifestyle without leaving city limits, Rogers Park offers it.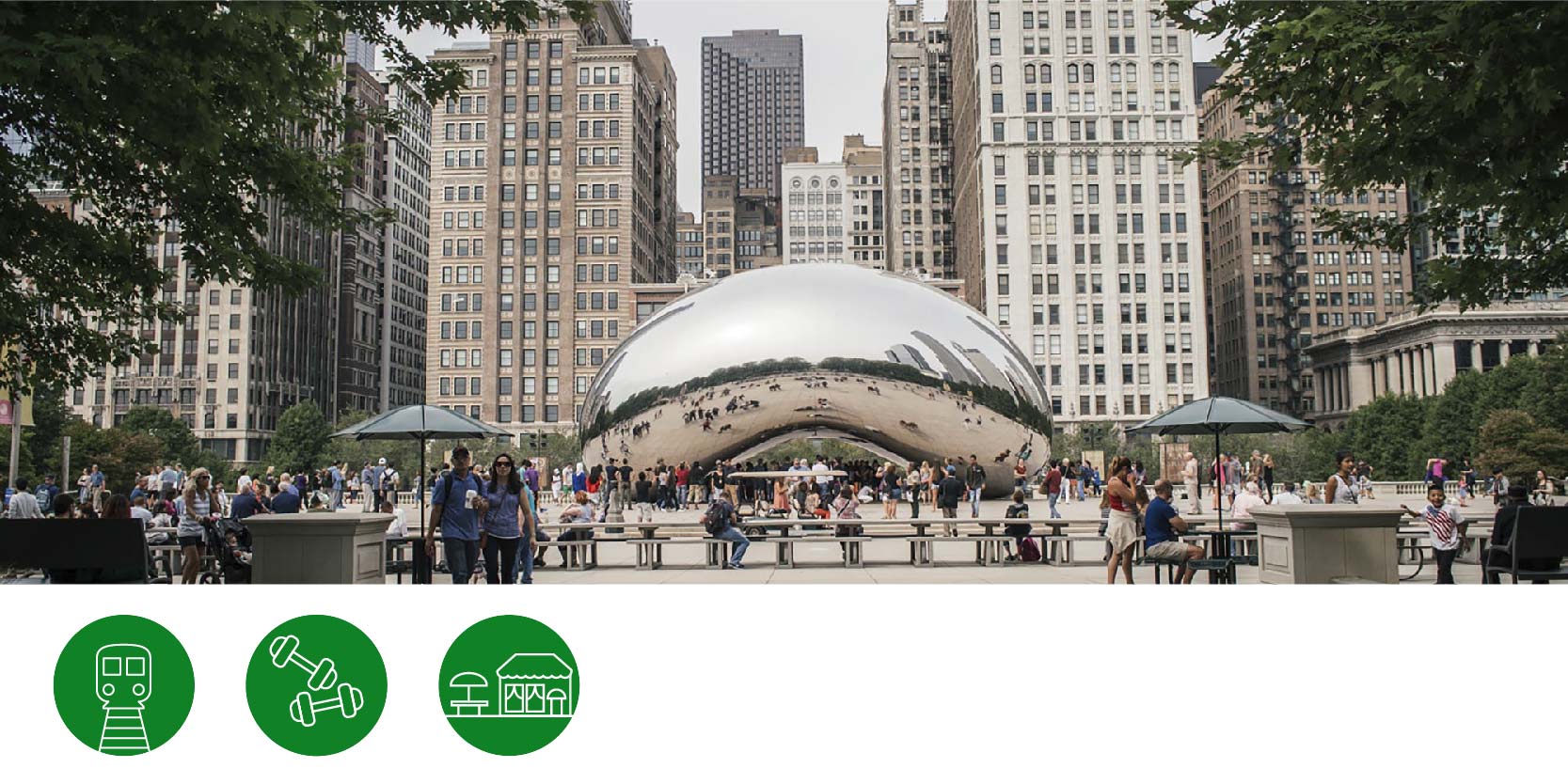 The Loop is the heart of Chicago. This is the part of the Windy City you see most often in pictures and movies depicting the city's notable landmarks and iconic 'L' train tracks. This neighborhood encompasses Millennium Park, The Art Institute of Chicago, Chicago's Theater District, a noteworthy portion of Michigan Avenue, and Daley Plaza.
The Loop is Chicago's business center, so expect to see a flood of commuters during weekdays followed by relative quiet at night. While the neighborhood caters to its working professional population, the Loop is also popular among suburbanites, tourists, and students.
Space is at a premium in this neighborhood, leading to high prices and a housing inventory exclusively offering condos, however, you can't beat the central location of the Loop. With a variety of public transit options allowing easy access to other parts of the city as well as several suburbs, residents of the Loop rarely own cars, preferring to get around on foot. For homebuyers looking to live in the at the center of it all, the Loop will not disappoint.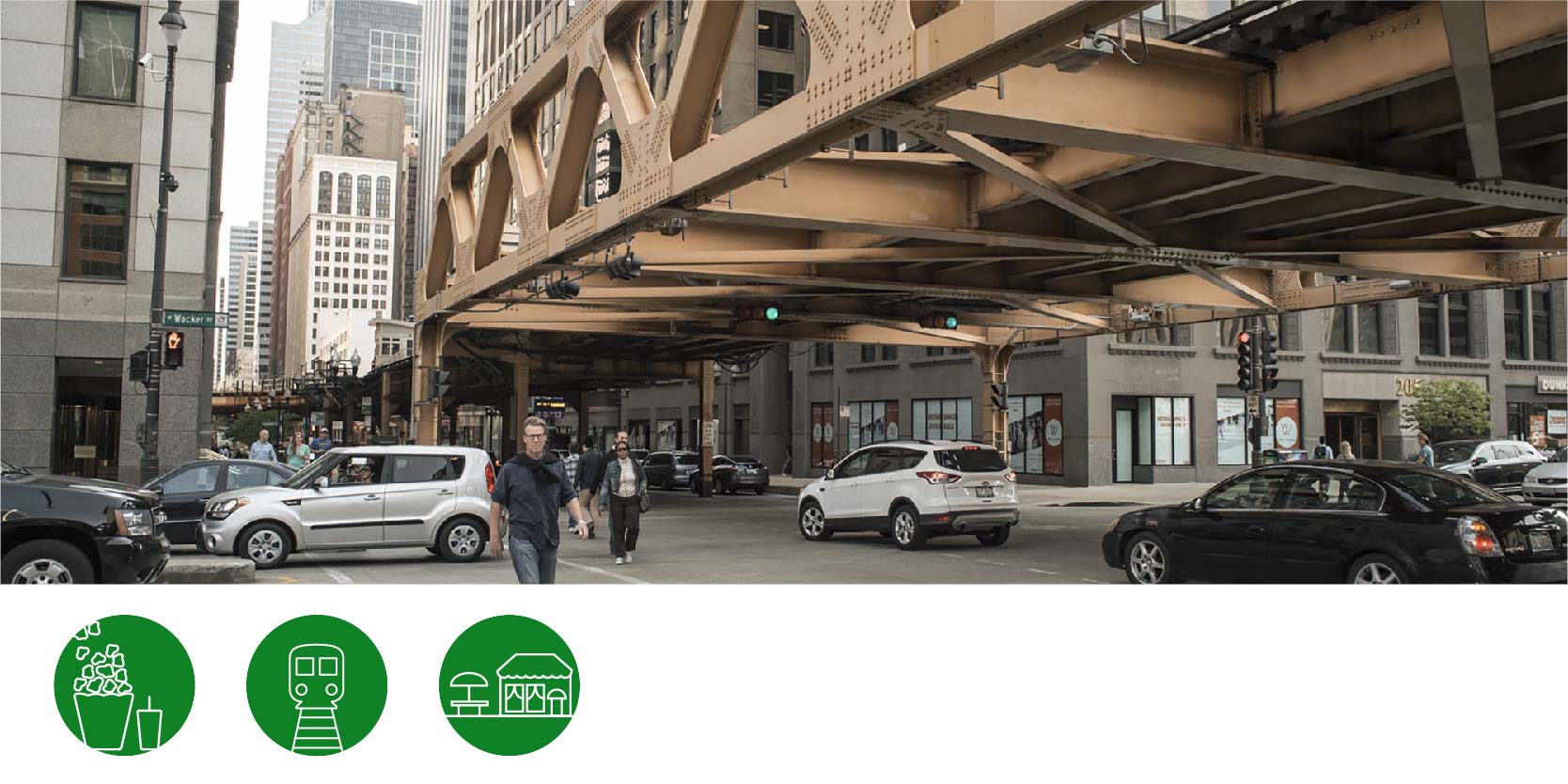 If the Loop is where Chicagoans go for work, River North is where they go for happy hour. This neighborhood is renowned for its bars and restaurants and for the lines of clubgoers crowding the sidewalks once the sun sets.
While the neighborhood certainly boasts its fair share of upscale eateries, it's also home to more low-key options. The area can get a little touristy during the warmer months, especially as you near the "Magnificent Mile" on State Street, but that comes with the territory of living at the center of an urban city.
Most River North residents call a condo home, though there are definitely a few townhomes and even the occasional single-family home in the area. Most people living in River North aren't looking for sprawling properties; they're interested in their location.
Situated in the heart of downtown Chicago, one of River North's greatest selling points it its accessibility. The neighborhood itself is easy to navigate on foot, and you're within walking distance of the business district in the Loop and some of Chicago's best restaurants in the West Loop. The Brown, Blue, and Red Lines all also have stops in the neighborhood, making it easy to venture to other parts of the city.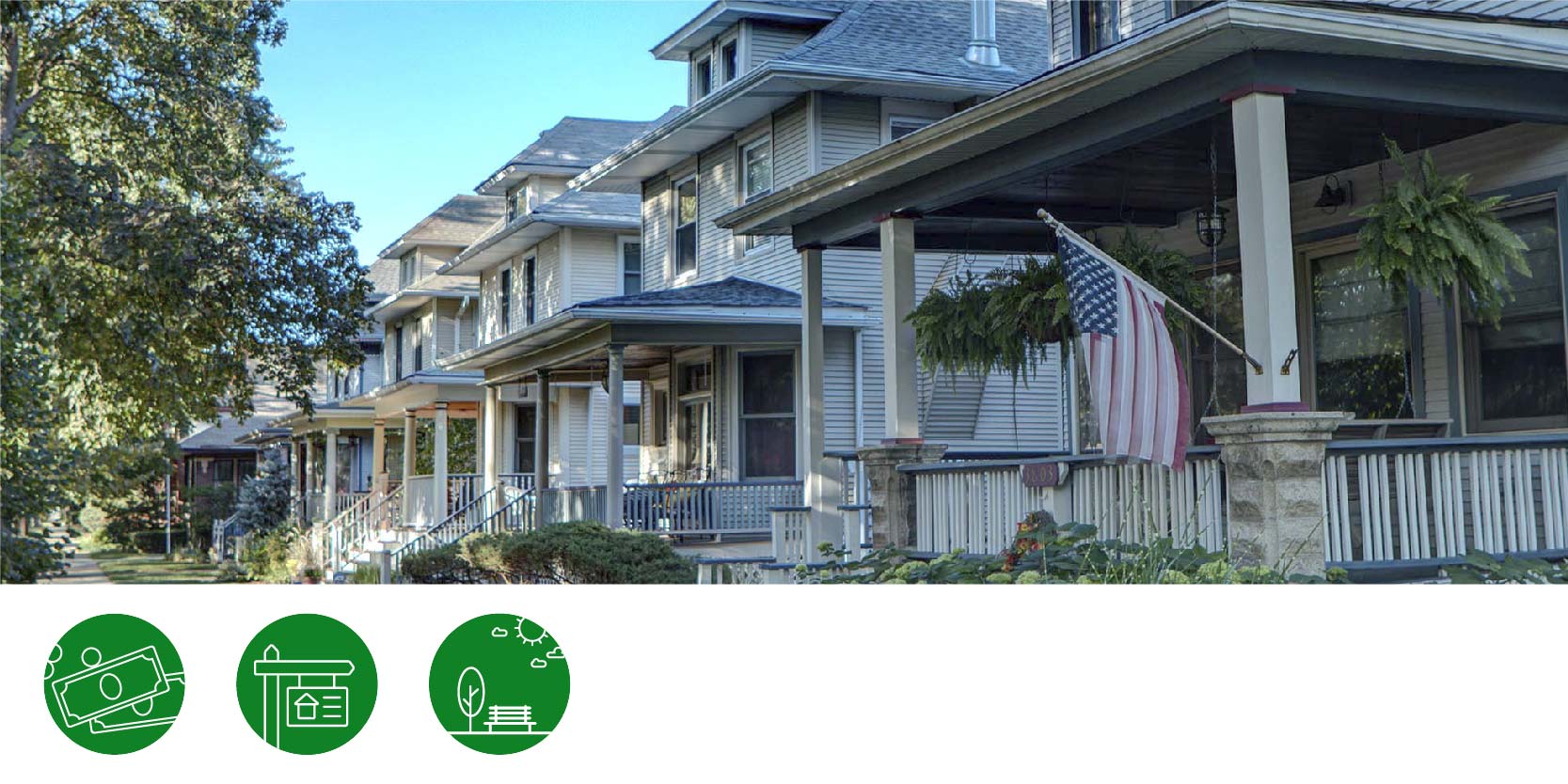 Those looking for a break from the pricey and populated neighborhoods of Logan Square and Wicker Park are looking to Irving Park, which is relatively affordable and offers Blue Line access.
While Irving Park lacks the density of attractions those other northwest side neighborhoods have, it offers a residential feel, beautiful old homes (some predating the Chicago Fire), lots of ethnic cuisine, and entertainment options that draw neighbors and visitors alike.
Just like many Chicago neighborhoods, Irving Park contains many sub-neighborhoods that give the area a dynamic texture of vibes and amenities. One of those pockets is Old Irving Park, which is seeing the opening of more and more bars, restaurants, and coffee shops (all right off the Blue Line), but it still has quiet streets and sizable historic homes.
In general, Irving Park has a wealth of single-family homes on large lots, but it also has its share of condos housed in courtyard apartment buildings as well as new townhome developments. If you're looking for a quieter scene, but you don't want to part with the youthful energy of those hot Blue Line neighborhoods just yet, Irving Park might be for you.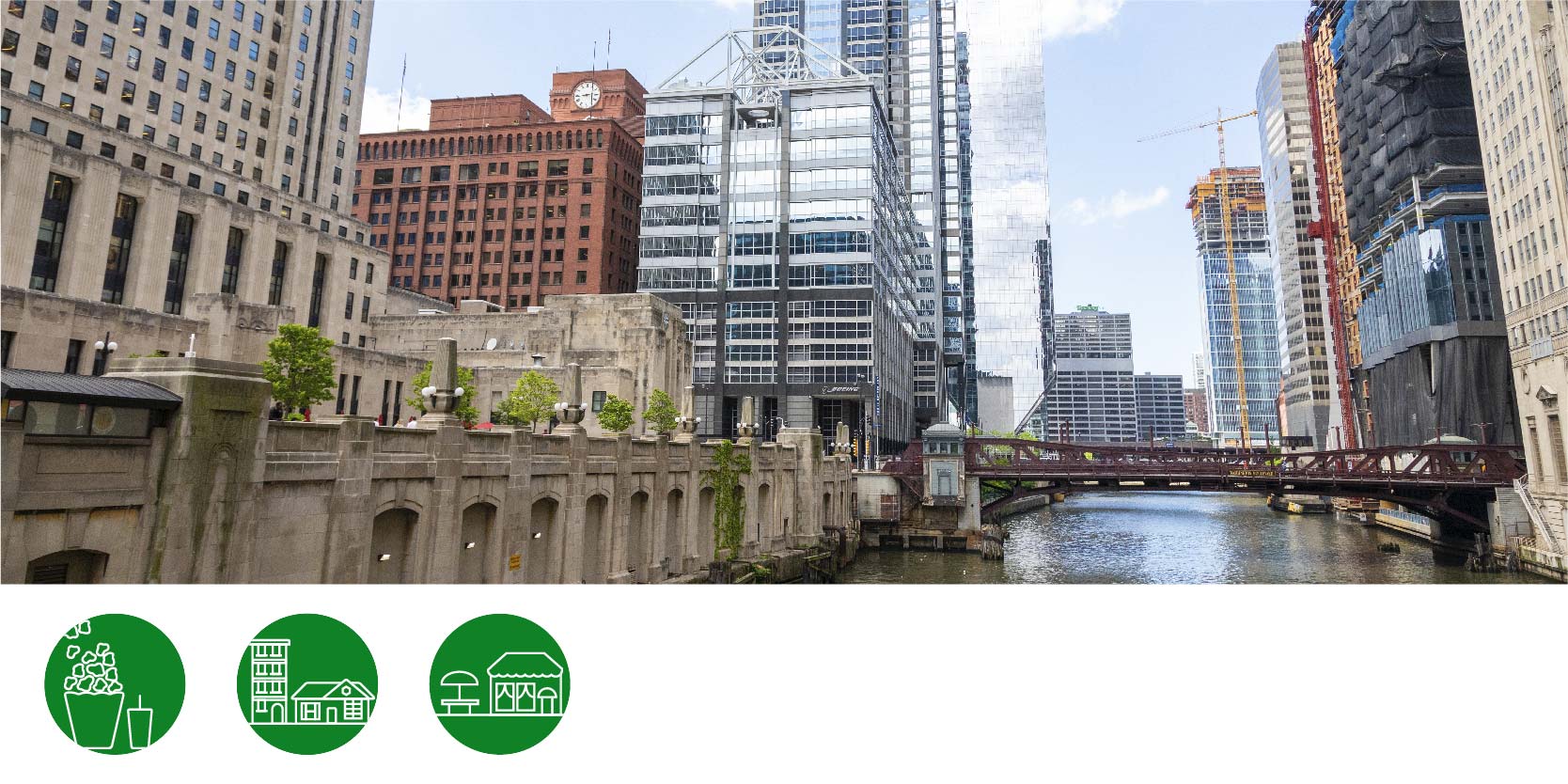 The West Loop was once the center of Chicago's meatpacking industry, but now, it's a fast-growing neighborhood with a chic, up-and-coming vibe. Walking the streets, you'll see the remnants of the neighborhood's past in the form of factories, wholesale markets, and warehouses converted into sleek restaurants, new businesses, attractive residential spaces, and start-up office buildings.
Home to both the Chicago French Market and the aptly named "Restaurant Row" on Randolph Street, the West Loop is an epicurean dream. From casual rooftop bars and swanky cocktail lounges to authentic taquerias and farm-to-table eateries, the West Loop is a noteworthy culinary haven in Chicago.
Because of its prime location and contemporary vibe, the housing market in the West Loop is highly competitive at the moment. Housing options in this neighborhood consist exclusively of luxury condos, impressive townhomes, and converted lofts.
For many homeowners, Lincoln Park is a quintessential north side neighborhood. Sprawling from the north branch of the Chicago River to the lake and prominently featuring its namesake park, this neighborhood covers a lot of real estate and boasts appealing amenities. It's an idyllic haven for outdoor lovers ready to enjoy the park's ample greenspace, the Lakefront Trail, or any of the marinas and beaches that dot the Lake Michigan coastline.
The neighborhood is also home to some of Chicago's best shopping, restaurants, and nightlife, much of which are concentrated along Lincoln Avenue, Clark Street, North Halstead Street, and Armitage Avenue. And not only is the neighborhood highly walkable, it's also easily accessible with Blue, Purple, and Brown Line stops and a multitude of bus routes traversing the area.
As one of the larger neighborhoods in Chicago, Lincoln Park offers a wealth of housing options and availability. You'll find condos and some townhomes populating the neighborhood's main thoroughfares, but as you move deeper into the area's residential pockets, you'll find plenty of single-family homes.
Part of Lincoln Park's appeal is its marriage of charm and convenience—homeowners appreciate that they can live on a thoroughly residential, tree-lined street without moving more than 5 minutes away from their nearest grocery store. Lincoln Park's youngest residents can attend several well-rated schools in the area, further reinforcing the neighborhood's desirability.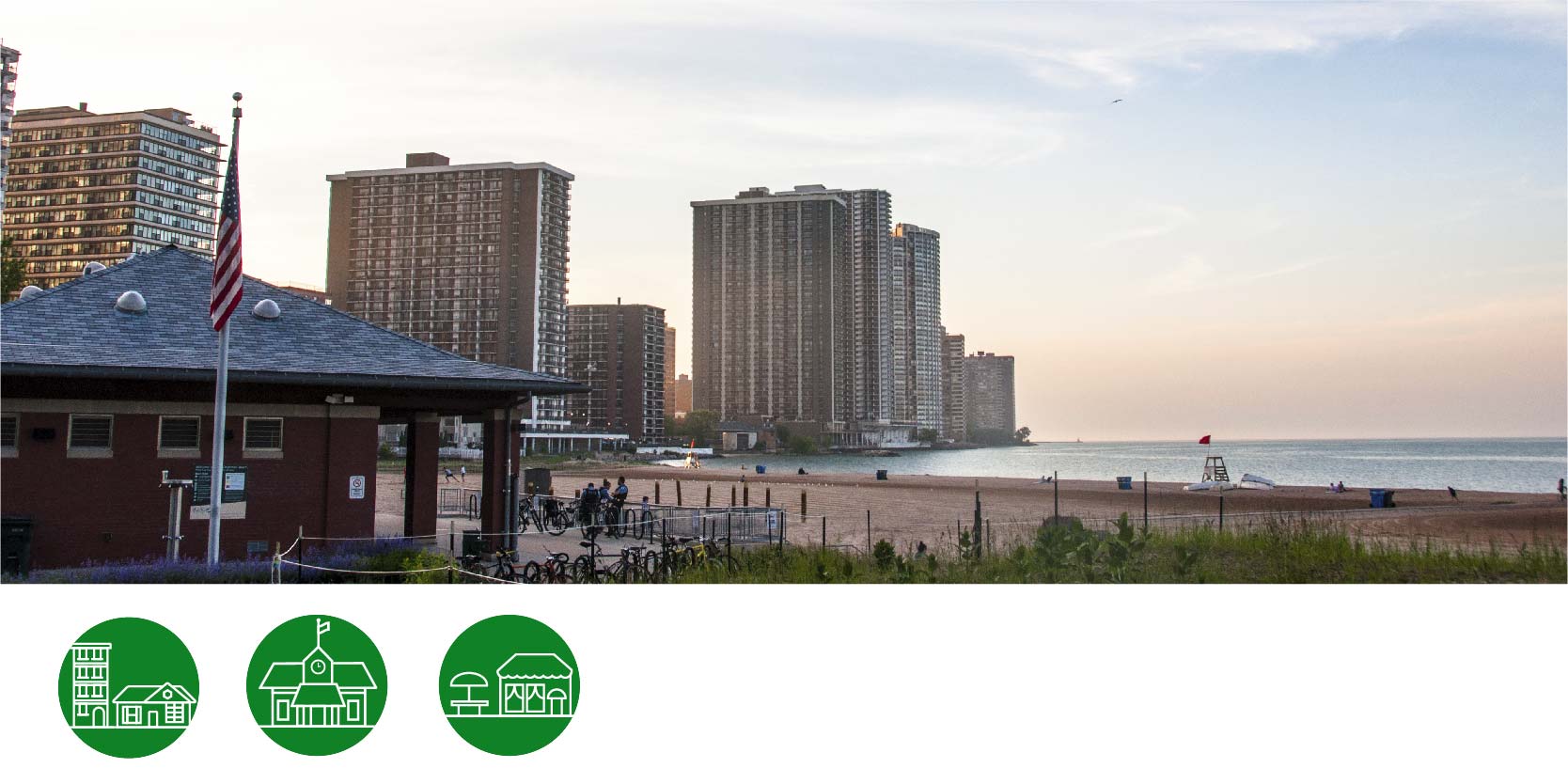 With Edgewater's lakeside location and its outdoor recreation options, this seemingly suburban escape will make you forget that you even live in a city. Even still, downtown is only a 30-minute commute via one of the 4 CTA stops or a 20-minute drive on Lake Shore Drive.
To enjoy the lifestyle of Edgewater, head to Foster Beach, a relaxing spot to catch some rays, take a leisurely stroll, or enjoy the skyline views. You can also walk along Clark Street, near neighboring Andersonville, to find a wealth of dining and boutique shopping options, most of which are locally owned.
The homes of Edgewater can range from vintage and historic to newly renovated depending on where you look. Most commonly you'll find mid-rise townhome and condo buildings littered along the green and shaded streets.
However, there are a few single-family homes to be found as well as more modern condo high-rises towards Lake Michigan. No matter what type of home you settle on, you'll still get more bang for your buck as square footage is more abundant here.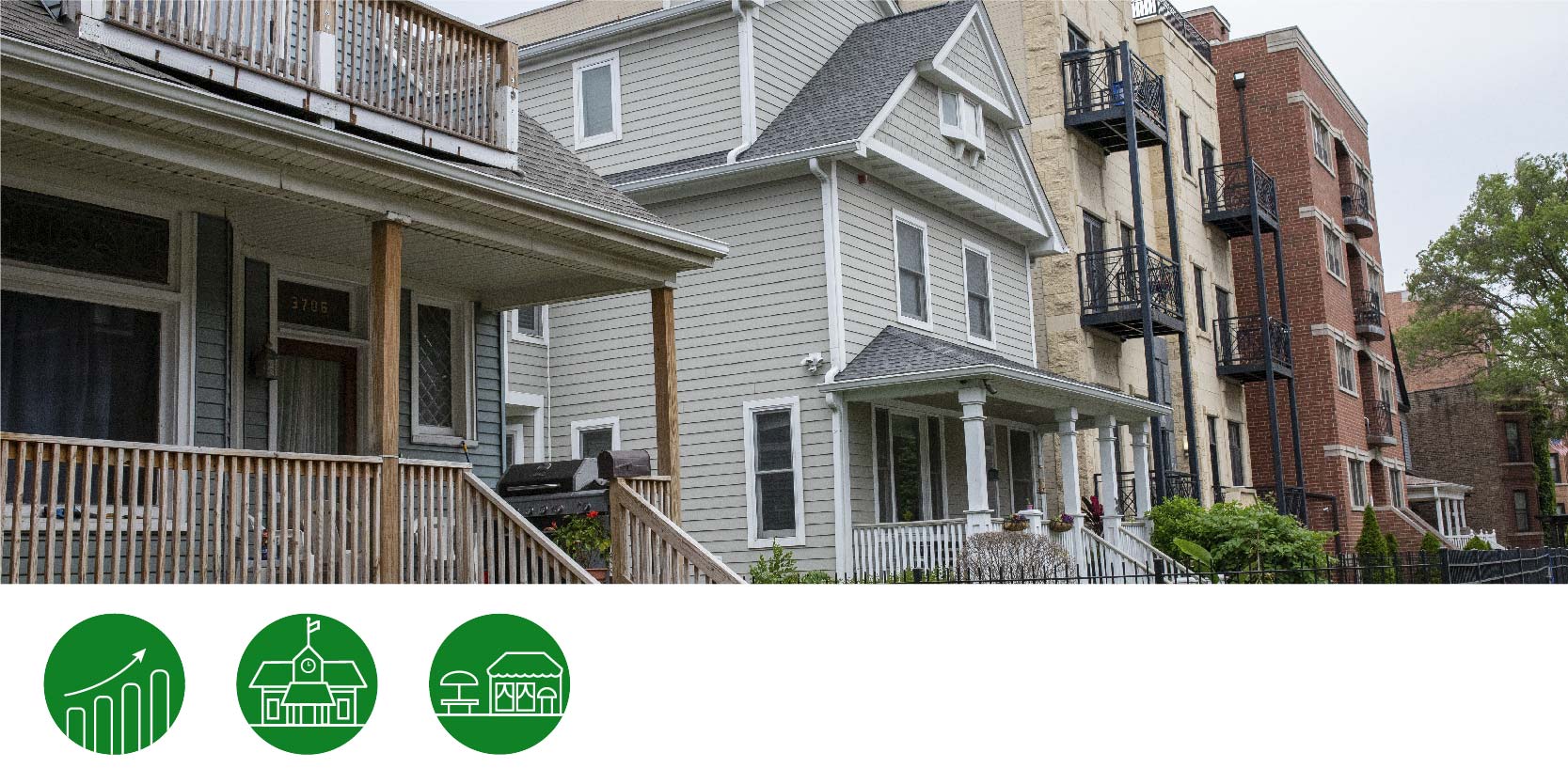 Lakeview is Chicago's most populous neighborhood, and it contains multitudes: both lakefront condos and handsome greystones, the party vibes of Wrigleyville and Boystown and the quiet pockets of historic districts, and wild bars and charming cafes. It almost feels like several neighborhoods packed into one (technically it is, if you count all of Lakeview's pocket neighborhoods). This neighborhood is for Chicagoans who want it all—and don't mind the Cubs crowds.
Just like the vibes here vary depending on where you are, Lakeview's real estate is equally diverse and offers options for a range of homebuyers. Condos in older buildings present the most affordable options, although there are some pricey luxury units in the Lakeview East area.
Elsewhere, you'll find rowhouses, two-flats, and single-family homes renovated with the latest fixtures. While homes here can be expensive, in general, the neighborhood is more affordable than neighboring Lincoln Park. And homeowners here get an easy commute to the Loop via the 'L,' prime access to the lake, and the feeling of being in the center of it all.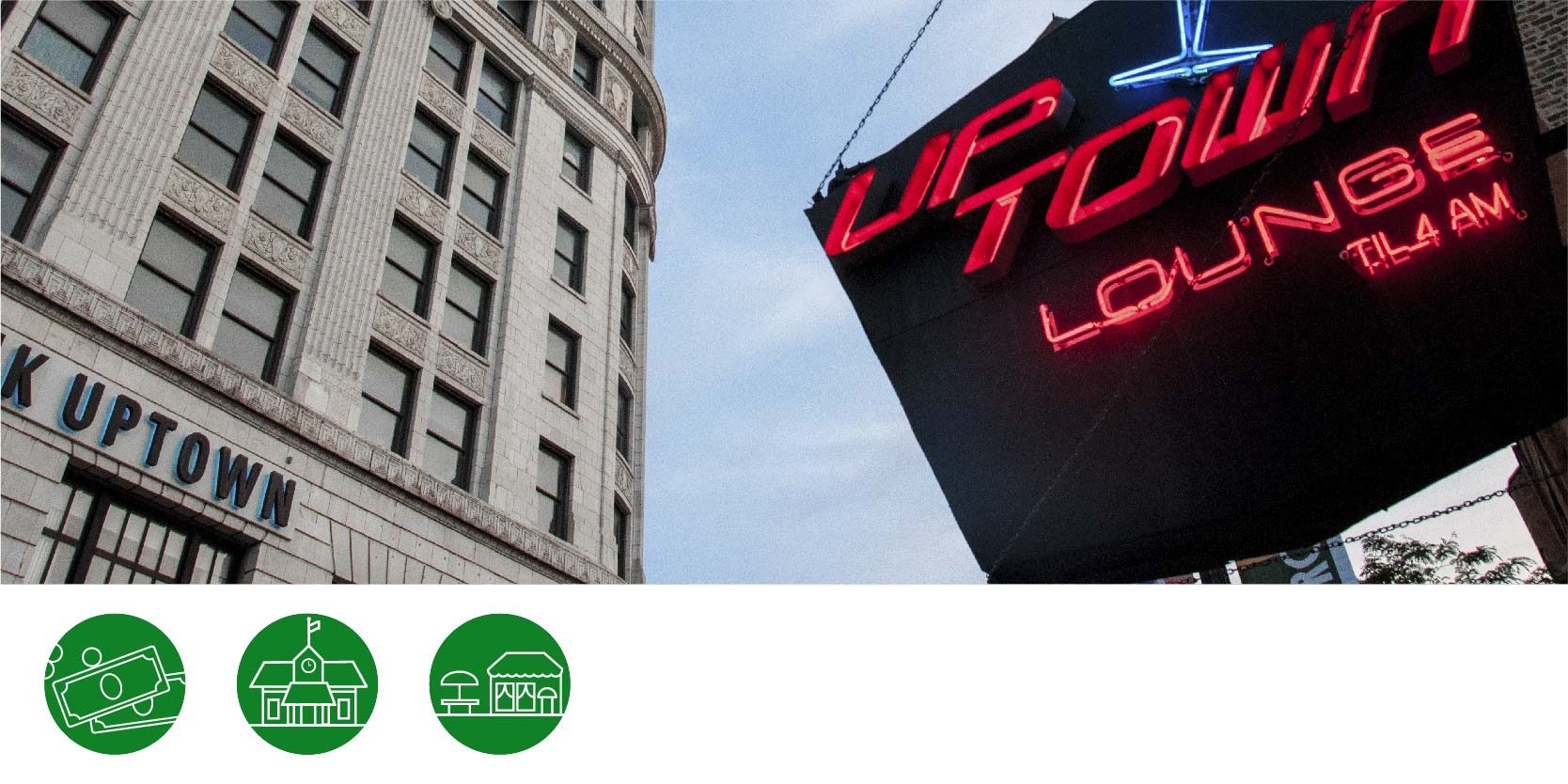 Topping our list is the often-overlooked neighborhood of Uptown. This north side neighborhood is the perfect retreat from the city, while still managing to be very accessible with three Red Line stops, a Metra station, access to Lake Shore Drive, and numerous bus routes. Even so, you'll soon find that there's no reason to leave this cozy pocket of Chicago.
Along the lake, you can relax at Montrose Harbor which boasts one of the largest dog (and people) beaches in the city, several sports fields, a bird sanctuary, and a marina. On a night out, head to Broadway where you can catch a concert, play some pinball, jive to some jazz, or even marvel at a magic show.
Last but not least, Uptown offers a wide world of cuisine, from savory Ethiopian to spicy Italian meats to steamy pho. Not to mention Asia on Argyle, which is a shared street lined with various Asian markets and restaurants, makes for the perfect Sunday stroll.
Tack all of that on top of the fact that Uptown is one of the most affordable places to buy a home in Chicago, and it's clear why this neighborhood is number one. Square-footage and yard space are two big themes throughout the neighborhood, complemented by tree-lined streets and friendly neighbors. Most of the neighborhood is a mix of historic townhomes and single-family homes, but you can also find more modern mid-rise condo buildings closer to the lake.
Two of Uptown's pocket neighborhoods, Buena Park and Sheridan Park, have been deemed landmarks based on the historical and architectural significance of their homes—which truly speaks to the value of this neighborhood.