Miami Real Estate
The Best Neighborhoods in Miami
From the celebrity sightings in South Beach to the artistic offerings in Wynwood, it's not hard to understand why Miami continues to draw homebuyers from around the world.
As a result, new residential projects have been springing up with regularity as more people decide to call "Magic City" their home. But, if you're one of the many looking to buy a home here, picking the right home—in the right neighborhood—can be a complex endeavor.
To make that task a little easier, we've compiled a list of Miami's best neighborhoods for homeowners based on 11 factors, gauging everything from relative affordability and school ratings to lifestyle, amenities, and resident reviews. If you're interested in reading our full methodology, you can check it out here.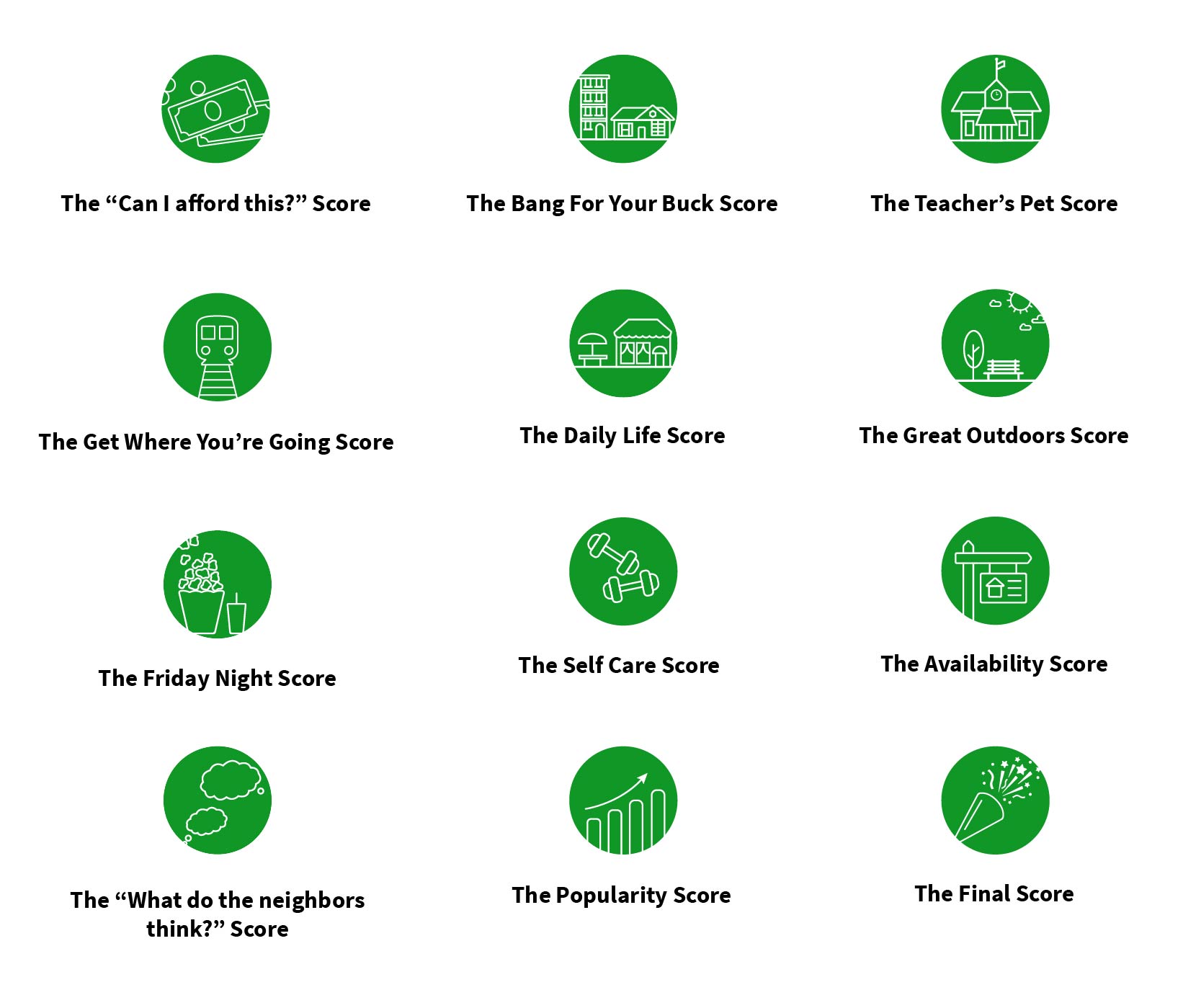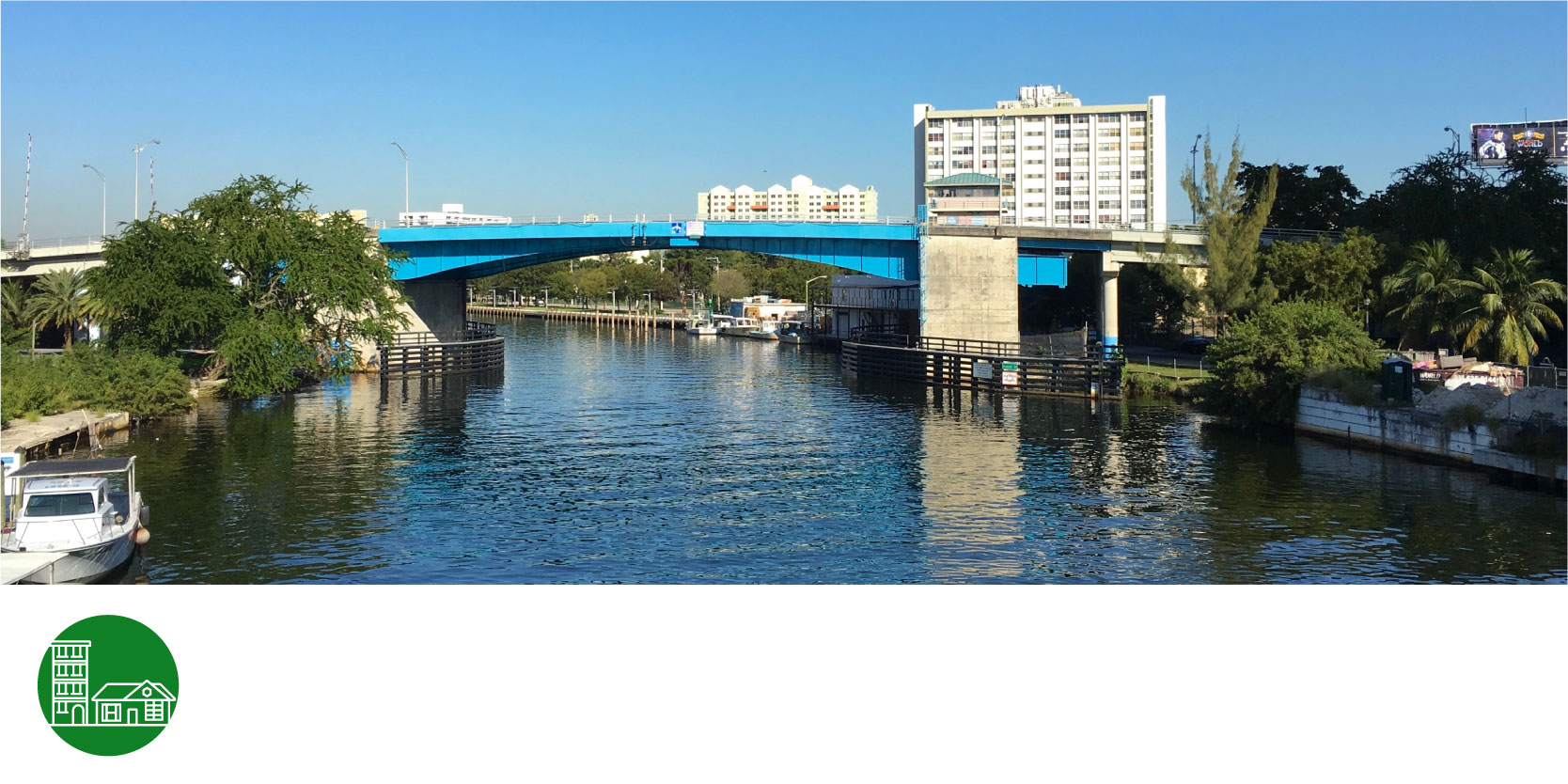 If you're looking for a neighborhood with a convenient location that offers a range of housing options and amenities that appeal to a wide audience, then West Flagler might be the destination for you. Although it may not grab as much attention as neighboring areas of Little Havana and Coral Gables, it offers a solid choice of both single-family homes and condominiums at various price levels.
With both high-rise and low-rise dwellings, the neighborhood doesn't neatly fit into the traditional definition of an urban or suburban area. But that might just be its appeal. It's a short drive to Downtown Miami and other business centers, but it also has the kind of shopping and restaurants that keep residents from traveling too far during their non-working hours.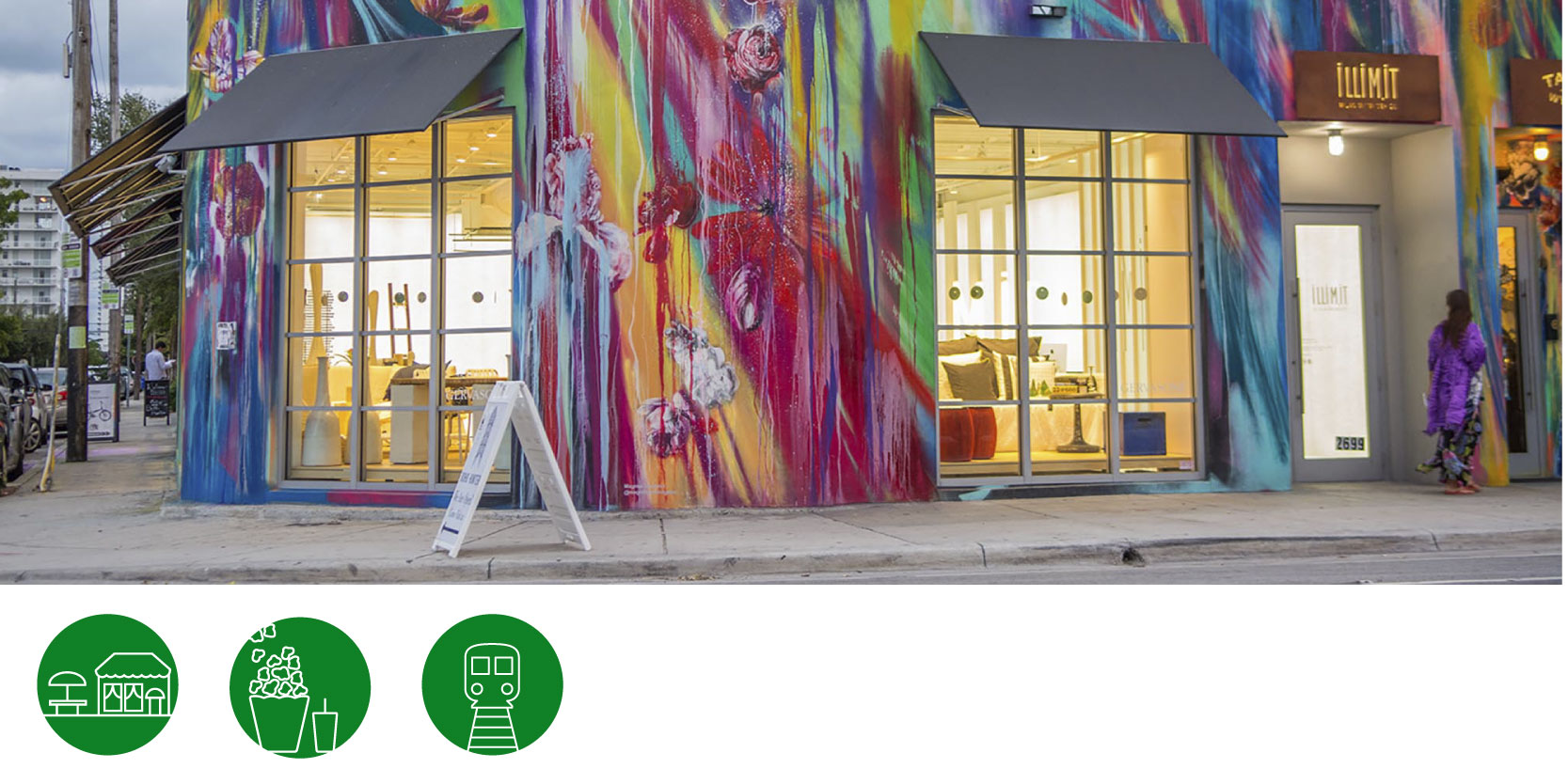 This artsy area is a favorite for those who want both work and play opportunities all within the confines of their own neighborhood. Although, if you're looking to buy in this area, you'll most likely have to look in the northern section closer to Midtown as for-sale properties located further south are few and far between.
Wynwood has the high foot traffic of popular urban neighborhoods tempered with a bohemian, art-filled sensibility, especially during the weekends when the streets are filled with pedestrians enjoying the many restaurants, bars, and overall vibe. In recent times, the neighborhood has become somewhat of a culinary attraction with highly rated restaurants becoming the norm and the addition of the city's only Asian food hall.
And there's no better area for artists, both established and aspiring, to call home with colorful murals adorning buildings through the area and ever-changing Wynwood Walls setting the tone for artistic inspiration.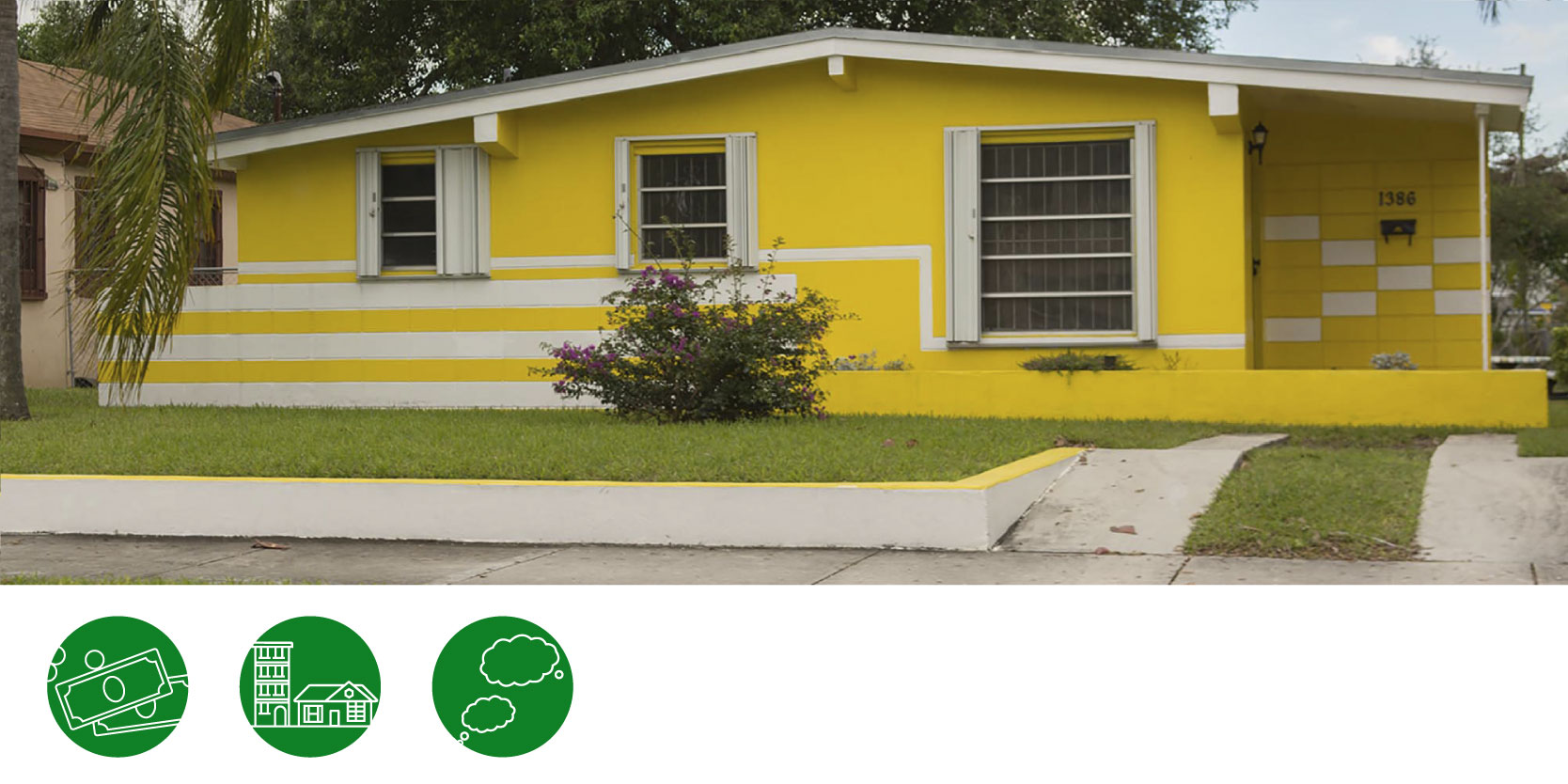 In a city where luxury condos have become the norm in new development, it's not easy to find a neighborhood with affordable housing that is also close to Downtown. Model City, also called Liberty City, is one of those neighborhoods in Miami. It also happens to be an area that is rich in culture and history.
Its start dates back to the 1930s when President Franklin D. Roosevelt authorized development of the Liberty Square housing project. It was also a frequently visited area by Martin Luther King Jr. during the civil rights era. In more recent times, it has served as home to music icons such as Luther Campbell of 2 Live Crew and NFL players such as Chad "Ocho Cinco" Johnson, Antonio Brown, and Willis McGahee.
Homebuyers will find moderately priced bungalows and lower priced "fixer uppers" set among several parks in the neighborhood, such as Charles Hadley Park. The area is also known to have the best soul food in the area, so much so that tourists have been known to leave the confines of more popular destinations, such as Miami Beach, in search of it.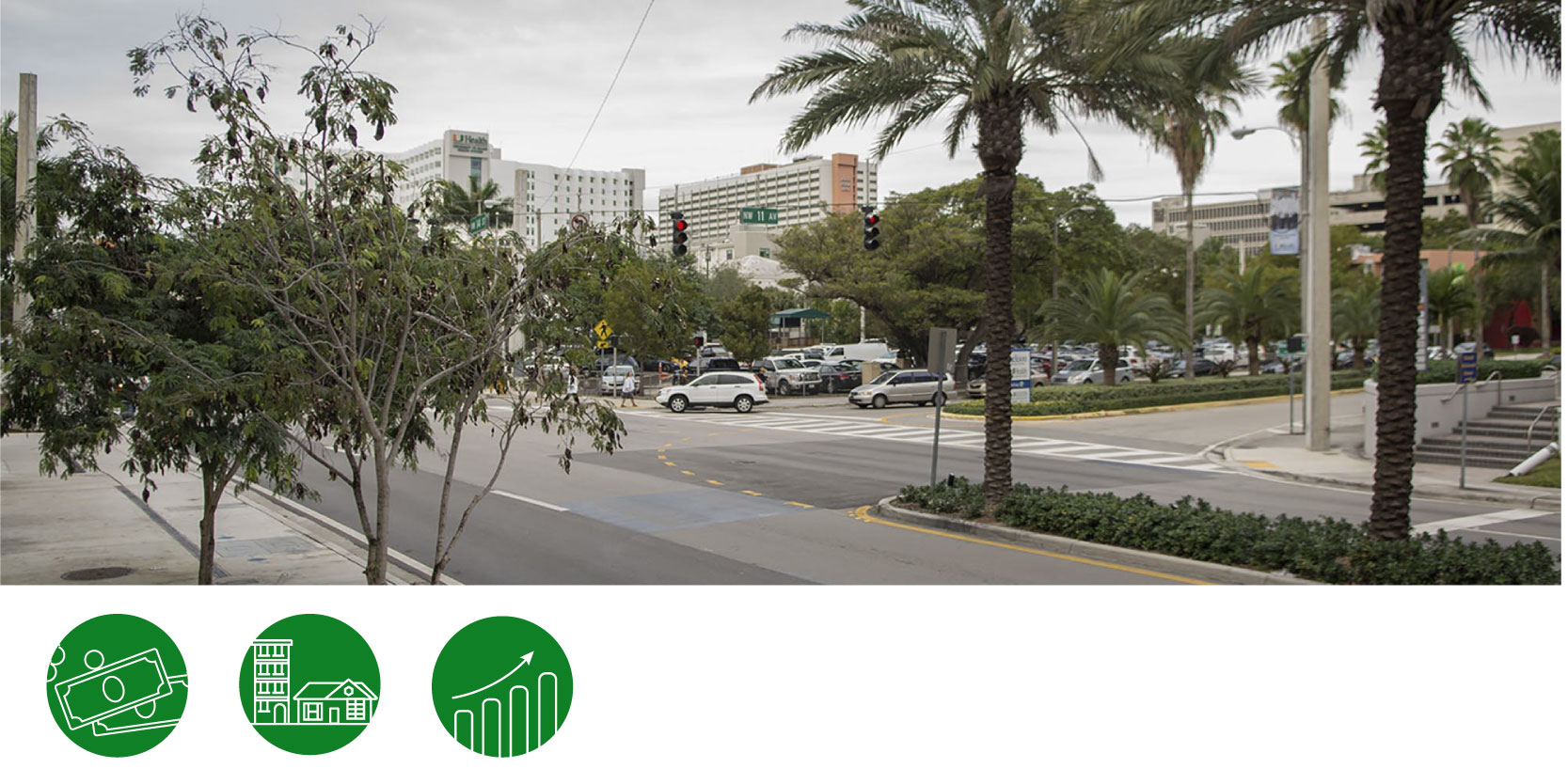 If you're looking to buy in a neighborhood before it becomes Miami's new hot area for development, then you might consider Allapattah, which is derived from the Seminole Indian-language word meaning "alligator." Many are predicting this largely industrial area, bounded by the Miami River to the south and Interstate 95 on the east, will become ripe for redevelopment as people flee the higher-priced areas around it, such as Wynwood.
With a median sale price just under $200,000, this is one of the last areas close to Downtown where you'll find affordable options in both single-family homes and condominiums. You'll find many homes located near Jackson Memorial Hospital, one of the city's largest health facilities. You'll also find homes with views of the Miami River—some that are even priced below $200,000—which is almost unheard of in other Miami areas with waterfront property.
The culinary offerings in the area are as diverse as its people, with Mexican and Chinese restaurants along with your standard pizza and burger joints and other low-key fare.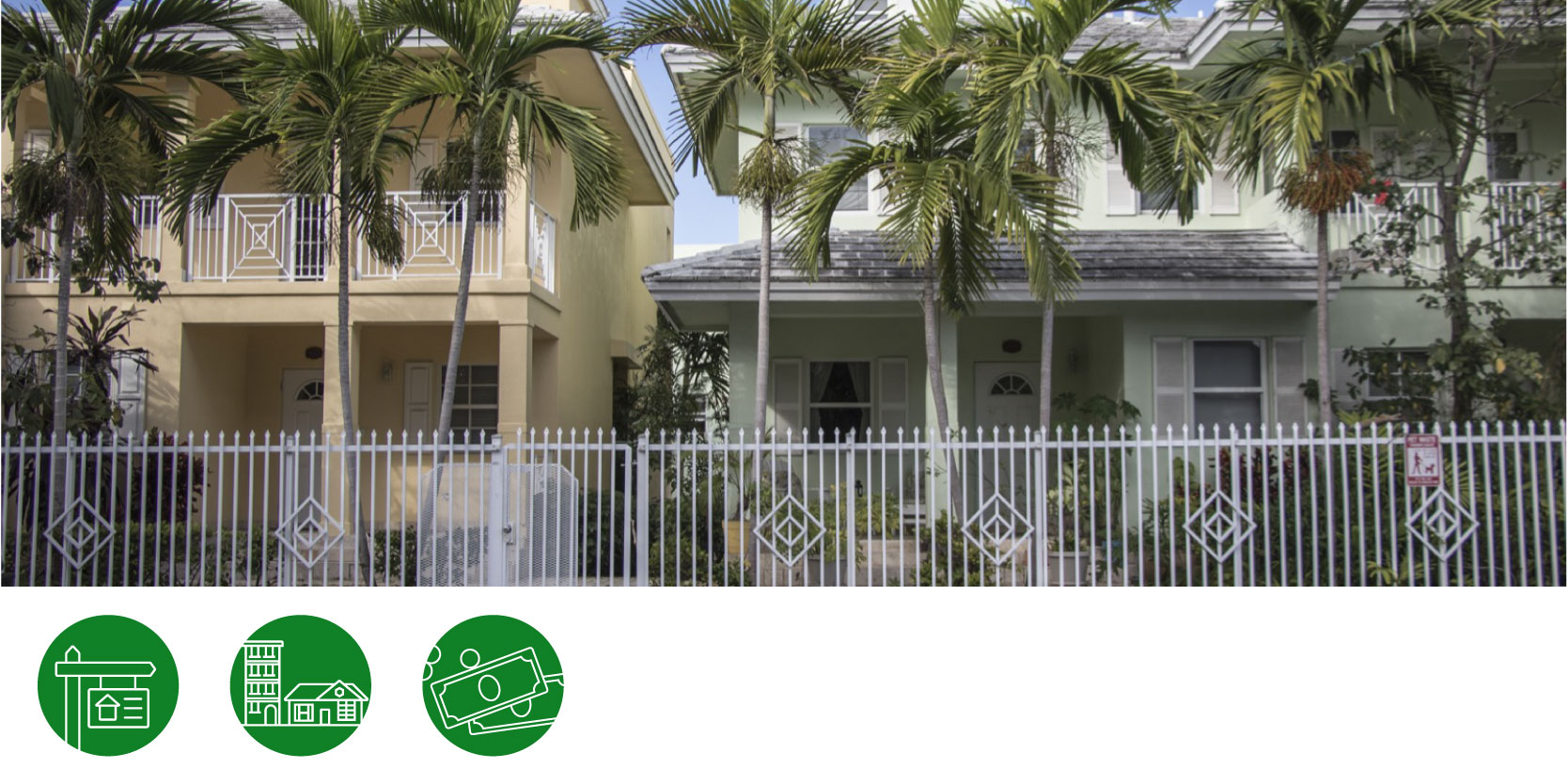 This neighborhood derives its name from the thousands of Cubans who fled to Miami after Fidel Castro rose to power in 1959. Even decades later, the Cuban influences are still very much a prominent aspect of life here, particularly on SW 8th Street (or Calle Ocho as its often called), the neighborhood's main street. The street signs are in both English and Spanish, and both languages are widely spoken here.
The neighborhood offers a mix of single-family homes, mid-rise condominiums, and multi-family residences, and prices fluctuate widely depending on the exact location of a home. Similar to the neighboring areas of Allapattah and Model City, you'll find lower-priced options just a short drive from Downtown.
Cafecito (also known as cafe Cubano or Cuban coffee) is a way of life here, as is the political discussions that take place while frequenting the ventanitas, or "little windows," where it's served. Here, you can find some of the best Cuban food in the city, but there's also other Latin fare, including Nicaraguan and Columbian cuisine. Every March, the Calle Ocho Music Festival draws hundreds of thousands to the area to celebrate the city's Latin and Caribbean cultures.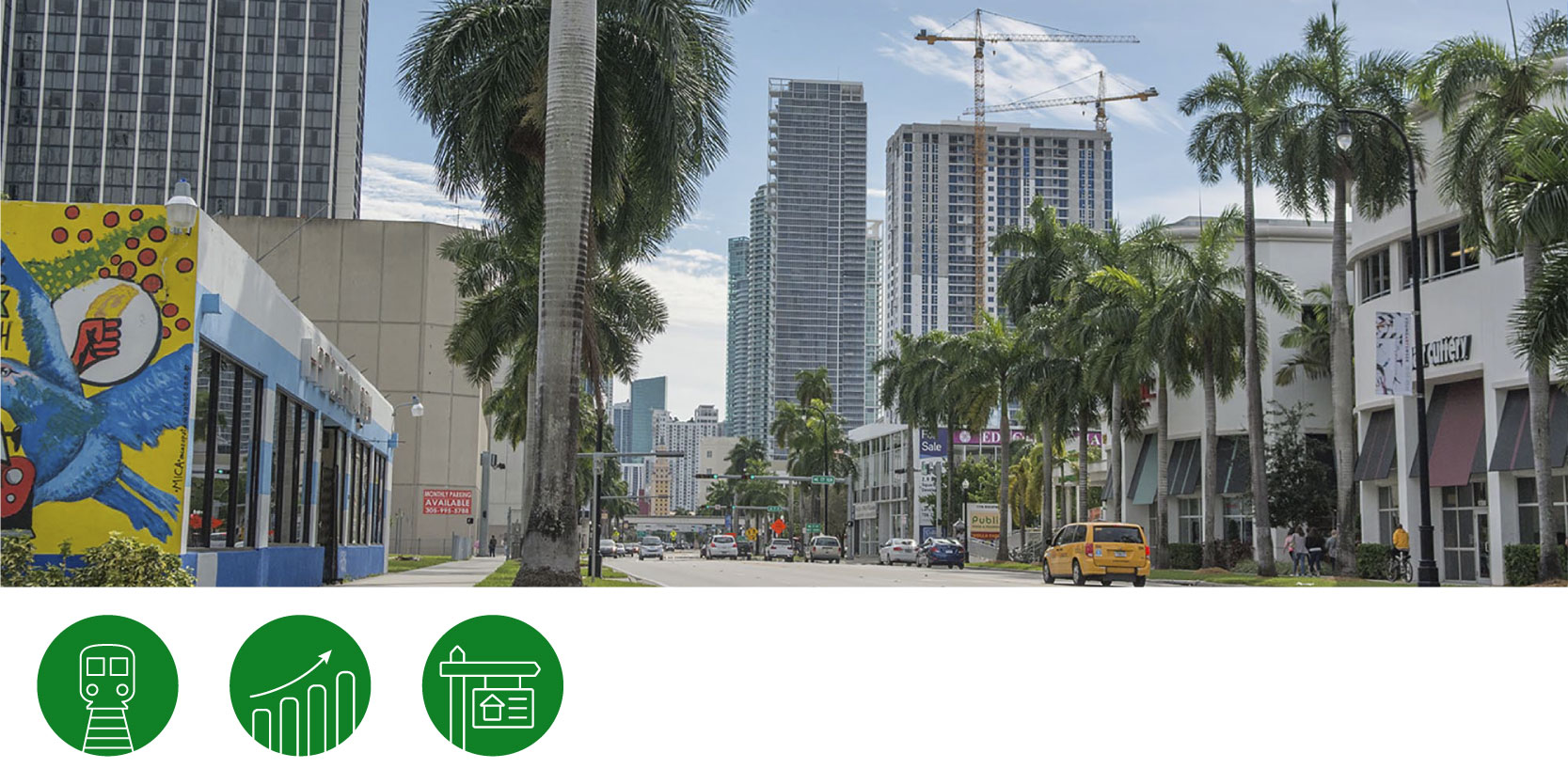 As its name suggests, you'll find a plethora of high-rise condominiums with spectacular ocean views in this trendy neighborhood north of Downtown and east of Wynwood. This largely residential area has been a draw for local developers in recent times, with both foreign and local investors purchasing the many new units that have been constructed.
In fact, many view the area's new condos located east on Biscayne Bay as a symbol of Miami's booming real estate market. The unobstructed views from most of the housing on North Bayshore Drive offer a glimpse of the Venetian Islands and South Beach. In addition to the high-rises, Edgewater also has mid-rise and historical homes that date back to the 1920s.
In a city where traffic is becoming an increasing problem, Edgewater offers a convenient location that is a short drive to Downtown with easy access to the Metromover located on 15th Street. It is highly walkable and is near many restaurants and shops. It is also home to Margaret Pace Park, one of the city's most popular parks with outdoor fitness facilities, a dog park, playground, and basketball, tennis, and volleyball courts.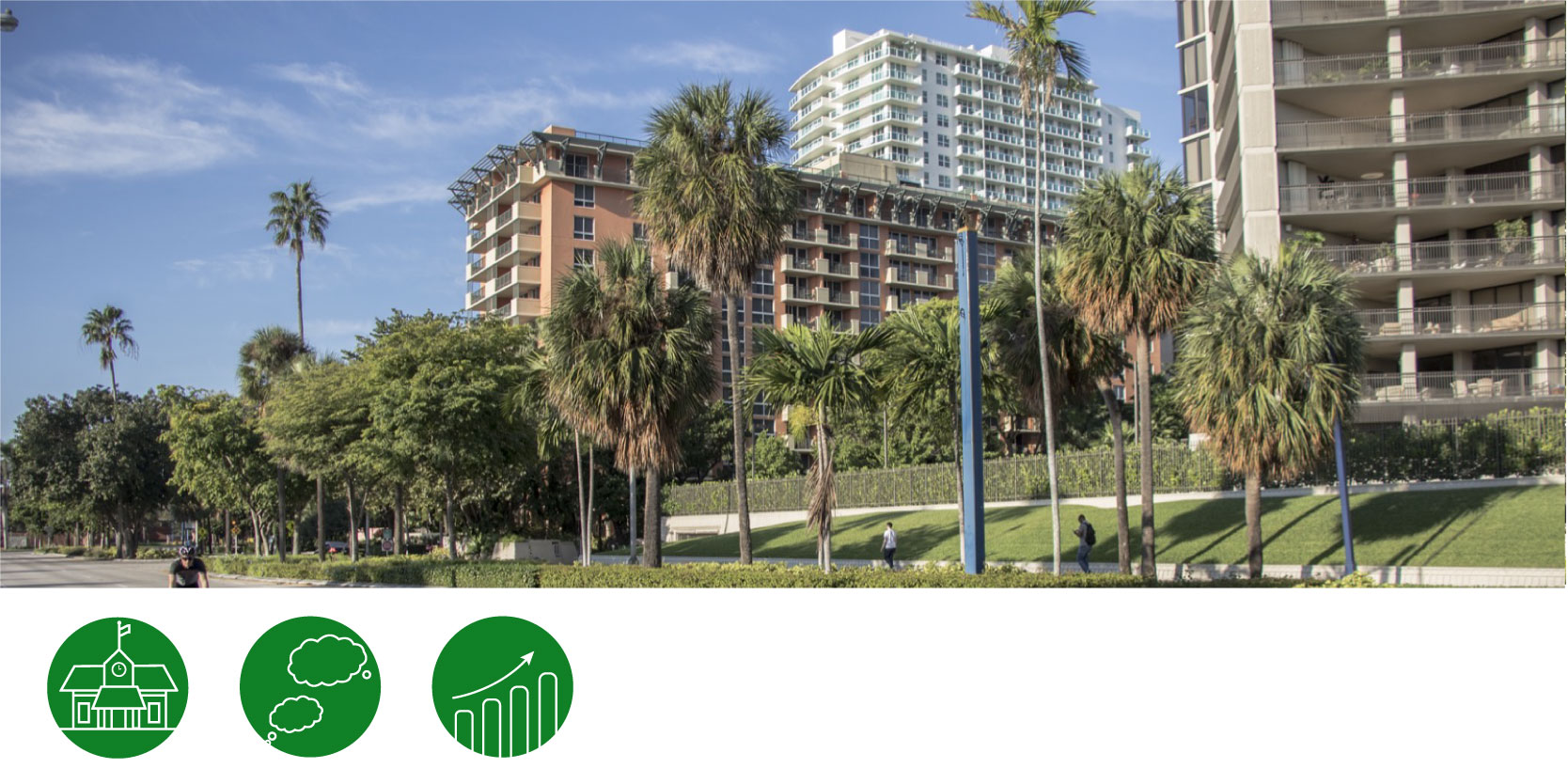 To even the most casual observer, Coconut Grove is one of Miami's most attractive and eclectic neighborhoods. Located south of Downtown along the Biscayne Bay, it has had its share of famous residents over the years, including Jimmy Buffett, Tennessee Williams, and Robert Frost, and has been featured in movies such as "Scarface," "Bad Boys," and "Meet the Fockers."
There's good reason for its popularity—its scenic environment and diverse offerings make it an appealing destination for a variety of homebuyers. Unfortunately, the one thing it doesn't offer is low-cost housing. At a median sale price in the mid-$700s, finding a home priced under $300,000 is challenging, although not impossible.
For those who choose to call Coconut Grove home, it offers a wide range of activities—including shopping at the open-air shopping plaza Cocowalk, learning some history at Vizcaya Museum and Gardens, sailing and other water activities on Biscayne Bay, and dining at a diverse mix of restaurants. It also attracts artists with its art galleries and annual Coconut Grove Arts Festival.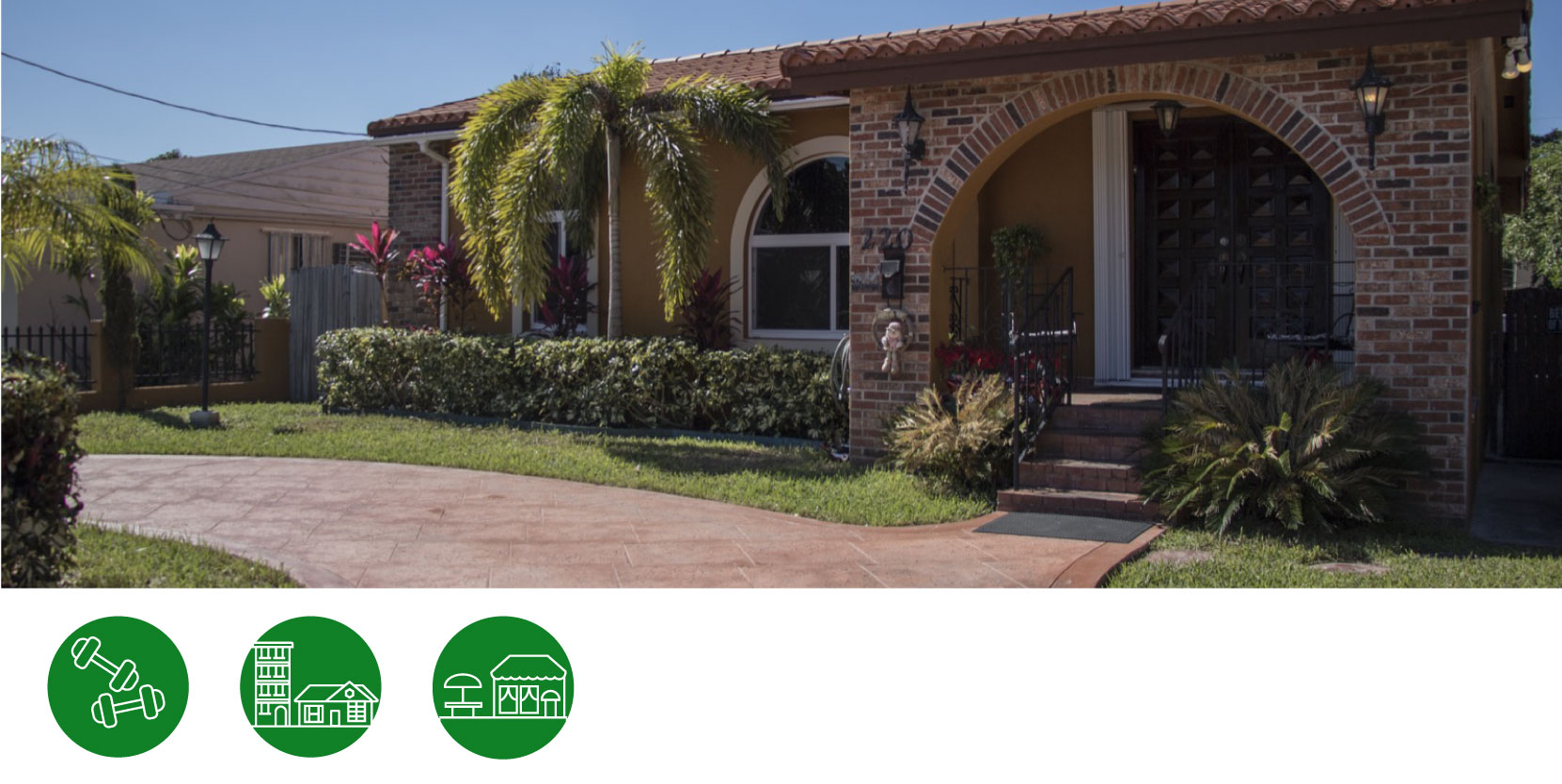 Named after its main thoroughfares, Flagler Street and the Tamiami Canal, Flagami is still one of the most affordable neighborhoods in the city. Where other areas have changed considerably in recent years, driving up the cost of housing, Flagami has remained relatively constant. The boot-shaped district stretches south from the Miami International Airport to Southwest Eighth Street and spans east to Douglas Road and offers a nice alternative to Miami's higher-priced areas.
Most of the housing options in this area are moderately and modest-priced single-family homes, although there are some condominiums. Like other areas of Miami, the cuisine is inspired by Latin American influences, so you'll find a rich mix of Cuban, Argentinian, and Venezuelan restaurants. Most dining places can be described as cozy and low-key, but with a distinct local spirit. Similarly, the shopping in the area has a local flair, with small shops found throughout the area.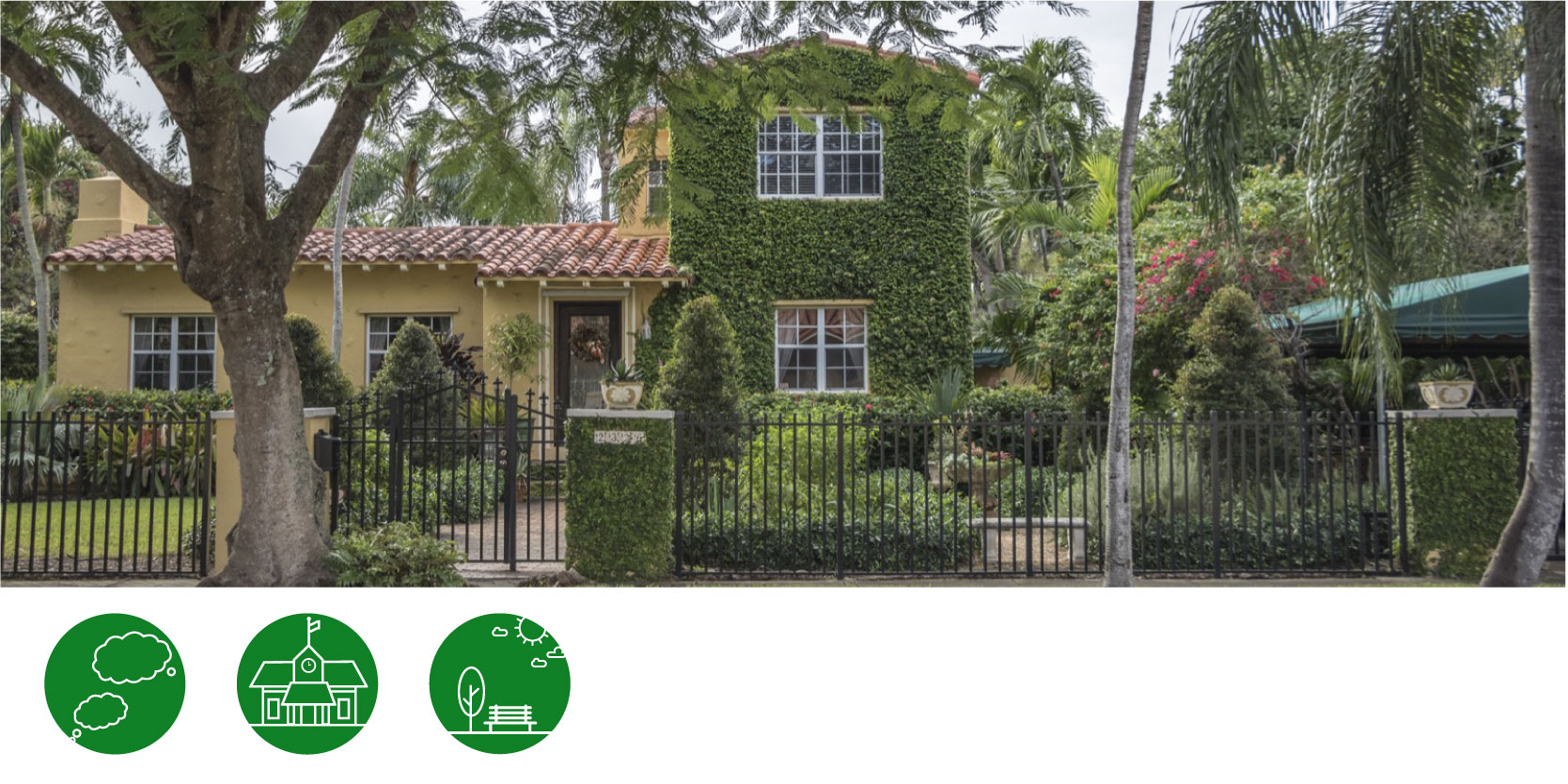 Although it doesn't get as much attention as the neighboring areas of Coconut Grove and Coral Gables, Coral Way offers much of the same charm and convenience. Located just south of Downtown, its tree-lined streets and Art Deco architecture offer a welcome change from the urban areas further north.
The neighborhood's high quality of life earns it high marks from a diverse range of residents, although it should be noted that it is one of the most expensive places to live in Miami. While there is a mix of single-family and multi-family residences, even small condos can have large price tags.
Part of Coral Way's charm lies in its commercial centers where you'll find a mix of international restaurants and local shops. For those who enjoy the outdoors, Shenandoah Park is also a great place to relax with friends and family. The park is suitable for sports activities for adults, but it can also be an inviting area for children to play.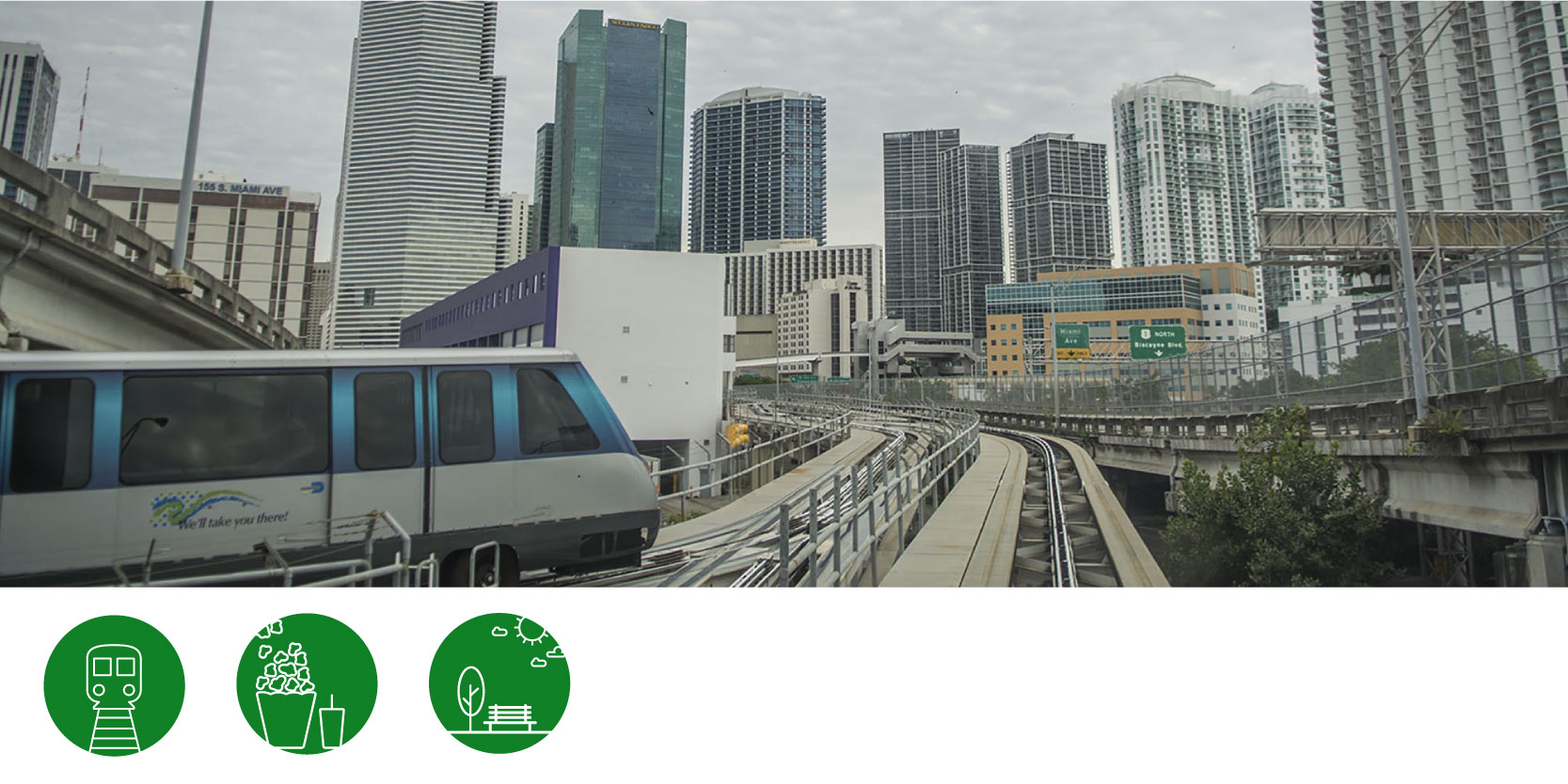 In recent times, no Miami neighborhood has been written about more than Downtown—and for good reason. The transformation of this area has been nothing short of remarkable, with massive residential and retail developments either under construction or in the planning stages.
The result has been a surge in population—and it's not just urban professionals that are attracted to the dense, walkable neighborhood. Families are interested, too, and as a result, new schools are being planned. If there's a common thread among Downtown residents, it's the desire to live, work, and play, all without leaving the confines of the neighborhood.
Despite its surge in popularity—and the influx of luxury condo projects—it's still possible to find a reasonably priced home, although the market has its fair share of multimillion condos. One thing you find here in great abundance is single-family homes.
For those who choose to call it home, Downtown offers all the great restaurants, cultural attractions, and shopping you'd expect to find in a thriving urban core. Although it's a walkable area, there is also access to public transportation, including the Metromover and Metrorail, and the Brightline train that can take you all the way to West Palm Beach.