Los Angeles Real Estate
The Best Places to Live Near Disneyland
With everything from your favorite Disney characters and castles to roller coasters and fireworks, Disneyland is known as "The Happiest Place on Earth." This magical amusement park actually resides in Anaheim, so moving to a neighborhood nearby makes all the festivities only a short ride away. But if you aren't familiar with California, buying a home in this area can be a tough decision. Some people prefer living by the beach, while others prefer quiet suburban living.
If you're looking to put down roots near one of the world's most famous amusement parks, here are a few excellent choices.
Located approximately 25 minutes from Disneyland, Huntington Beach is a coveted neighborhood with stylish boutiques, a vibrant nightlife, and gorgeous cresting waves perfect for surfing. The city is officially recognized as "Surf City USA," so those who want to experience the convenience of being near the fun-filled Disneyland can also enjoy the benefits of living in a laidback beach town.
If you're searching for a luxury, beach-side home in Huntington Beach, you can start your search in SeaCliff, a charming community with many single-family homes and a median sale price hovering at nearly $1.4 million.
Or, if you'd like a bit more variety, check out Downtown Huntington Beach. In the heart of the city, you'll find both single-family and attached homes in the mediterranean or traditional style. The median home price comes in at about $1.1 million, but there are homes available below $600,000.
Huntington Beach is kid-friendly, so the entire family can enjoy embarking on a whale-watching tour, sailing onto the open ocean for some deep-sea fishing, or simply walking along the Huntington Beach Pier. Be sure to visit Ruby's Diner, the 1940s-style diner with an ocean view at the end of the pier.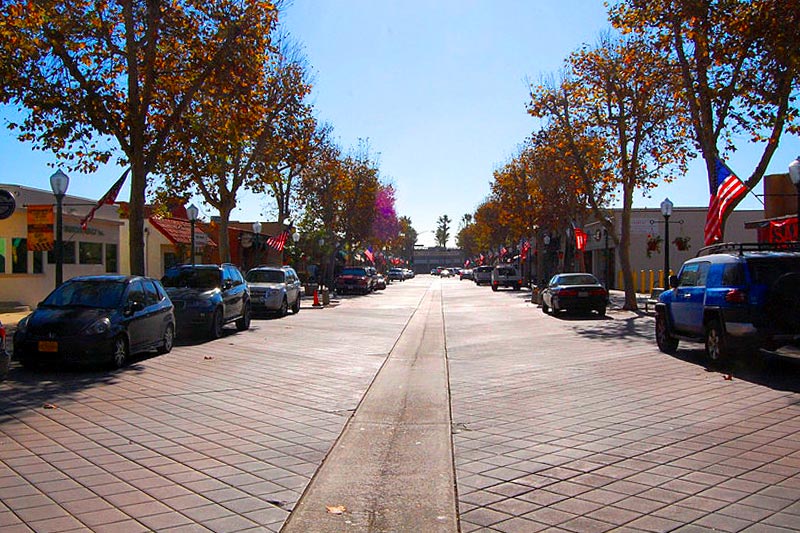 For those who want to be in Disneyland's backyard, Garden Grove is less than 10 minutes away from the resort. For visitors who want to stay nearby without paying astronomical prices, Garden Grove has several hotels and shuttles meant specifically for Disneyland-goers. However, the city isn't just a tourist destination, it's also a quality place to settle down, especially for young families and working professionals.
The Eastgate neighborhood of Garden Grove is the place to go for high-value homes between the low $400s and the high $600s. On the other hand, if you're searching for an attached home in the $300s range, take a look at Lake Grove.
You can sample some of the best Asian cuisine in Southern California at local Garden Grove restaurants, and according to the city department, residents report being highly satisfied with the quality of life in this cozy community.
Not to be confused with Orange County, the city of Orange is adjacent to Disneyland—approximately 15 minutes from the park. While Garden Grove is southwest of the park, Orange sits at its southeast side. The city has distinct historical value, especially when it comes to its Old Town District homes, which date back to the 1920s and earlier.
The city also hosts several annual events, such as Concerts in the Park, a 3rd of July Celebration, and a holiday tree lighting ceremony, to encourage a strong sense of community among its residents.
Orange is the place to go if you want to compare a variety of housing options. Condos and attached homes range from the high $200s to the mid-$600s, while single-family homes run the gamut between the low $100s and over $5 million.
If you're looking to narrow down your search, Orange Park Acres features luxury homes in a quaint residential community with a median sale price of about $1.6 million. On the other hand, Orange Hills has a median sale price in the mid-$500s and offers both midsize single-family and attached homes with an abundance of nearby greenspace.
Although the city didn't get its name from its famous orange groves (this was just a coincidence apparently), it's known for having orange trees dotting several neighborhoods. Residents are regularly known to walk outside and pick oranges if they want freshly squeezed OJ.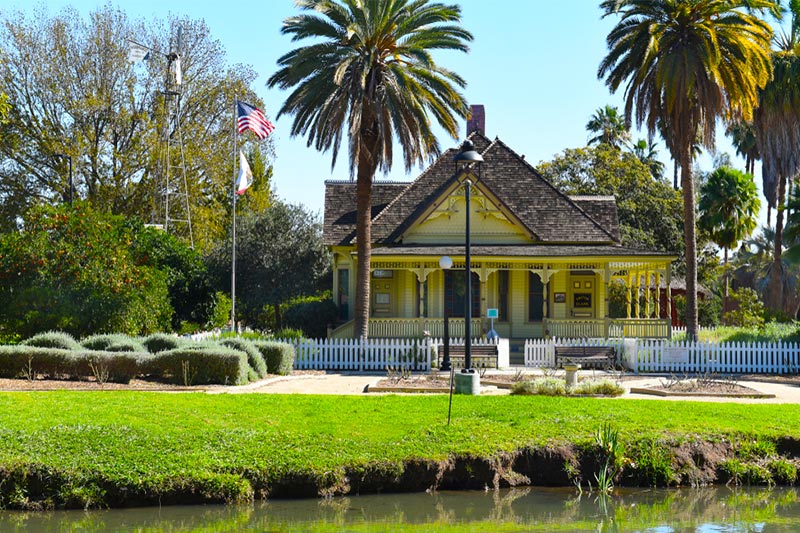 Located about 10 minutes from Disneyland, the laid-back suburb of Fullerton offers visitors and residents many fun activities to do, especially in the spring.
Though the majority of properties in this suburb are single-family homes, there's also a decent number of condos and attached homes. Single-family homes in this community with three- to four-bedrooms start in the low $200s, while a one- to two-bedroom condo carries a price tag in the mid-$200s. If high-value, luxury homes are more your style, Sunny Hills View Estates offers large, ornate homes at a median sale price of $1.2 million.
The city is a growing hotspot for nightlife, recreation, and culture, and many popular areas include Downtown Fullerton and the Fullerton Arboretum. Perfect for families, the city also has more than 50 parks as well as several historical landmarks that kids can readily explore.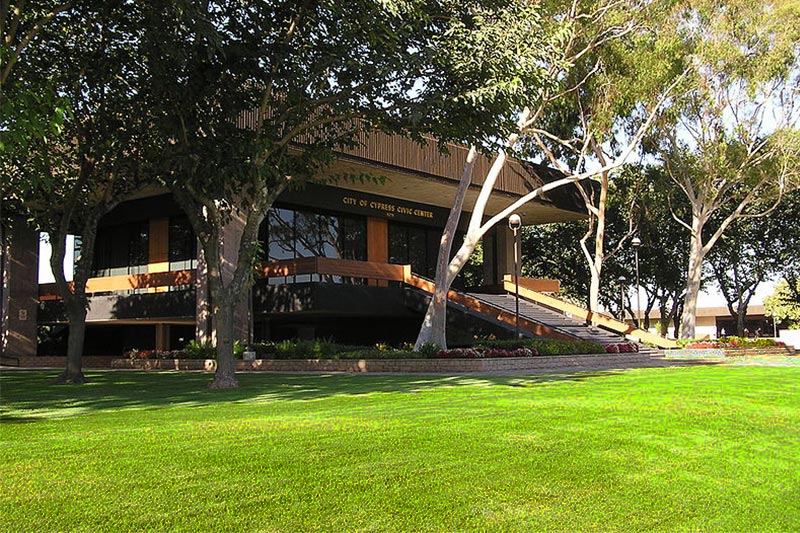 Cypress is not just 20 minutes from Disneyland, it's also 10 minutes from Knott's Berry Farm and a short five minutes from Adventure City. If you want to enjoy endless theme park adventures, this quiet city is a great option.
This thriving community has a selection of condos and attached homes available between the low $300s and the high $700s, but most of the housing inventory consists of single-family homes.
Because of the abundance of nearby amenities and entertainment options, homes in this area tend to carry a heftier price tag, but you can find two- to three-bedroom homes between the low $600s and the high $700s. Luxury homes in Cypress boast coveted locations and asking prices of nearly $2 million.
Although there isn't much of a nightlife available in the tranquil suburb, the community has a small-town feel and high-quality schools. The city regularly holds festivals and concerts, such as the annual Cypress Community Festival at Oak Knoll Park and the free Summer Concerts on the Green at the Civic Center.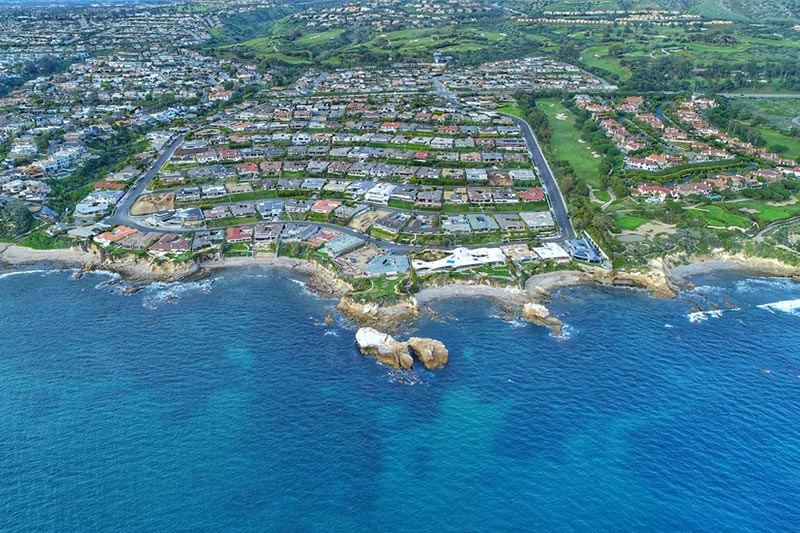 A bit further away—about a half-an-hour drive to Disneyland—is the coastal city of Newport Beach, known for its many, many boats. This community is a perfect place to stay if you're interested in being near Disneyland while still being able to experience beach living and boating trips to smaller islands.
The cost of living in Newport Beach is higher than the national average, mostly due to the high demand for housing in this idyllic city. However, Newport Beach has a wide variety of housing options and properties in this area tend to retain their value.
For premiere luxury living, you can own a home on a man-made island—Lido Isle. Nearby Balboa Peninsula also provides upscale living, or if you're looking for a high-end home a little farther from the shore, take a peek at Wyndover Bay. For more modest, midsize homes, try searching in Bayside Village.
For those who enjoy their fun in the ocean, the city features two main piers, Balboa Pier and the Newport Beach Pier. Newport Beach even has its own amusement park called the Balboa Fun Zone, which is your traditional old-school amusement park complete with a Ferris wheel and views of the ocean.