5 Top-Selling Neighborhoods in Houston
5 Top-Selling Neighborhoods in Houston
Despite a hit on the housing market dealt by Hurricane Harvey, Houston's single-family home sales broke records in 2018. The Houston Association of Realtors (HAR) reported a nearly 4 percent increase in home sales compared to 2017.
According to Neighborhoods.com data, which lists the Houston neighborhoods with the most home sales from May 2018 to April 2019, the top four sold over 1000 units while the fifth barely missed the mark with 982 homes sales.
The HAR data points to especially strong sales in the luxury homes market—those priced above $750,000—but homebuyers have a variety of options in the city. From midcentury ranches to sprawling estates; urban, suburban, or somewhere in-between; family-friendly areas or next-level nightlife opportunities, here are Houston's top-selling neighborhoods.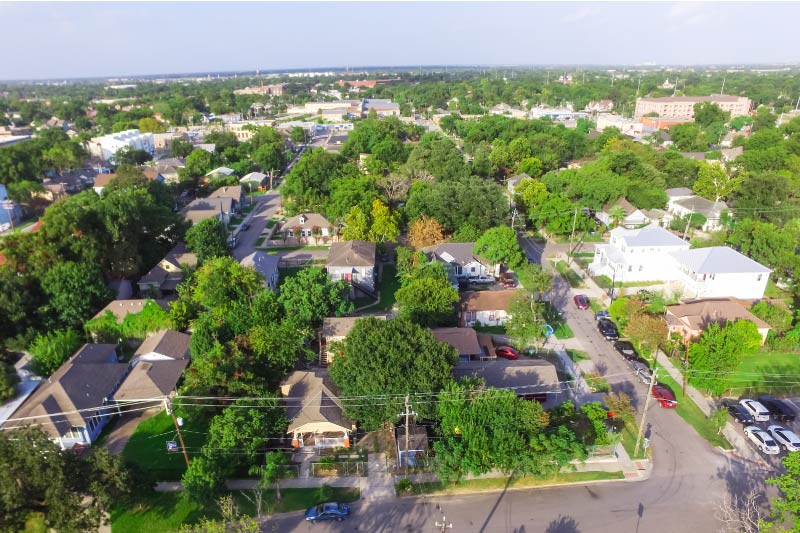 Not to be confused with Memorial, Memorial Park/Washington Corridor (aka Washington) is an inner loop neighborhood bordering Downtown Houston. Sandwiched between millennial hotspots Montrose and the Heights, Washington is a transitional neighborhood inhabited by artists and professionals not quite ready to settle down.
Nightlife and happy hour spots are plentiful along Washington Avenue. Weekends are lively but lack the raucousness of party central Midtown, and streets surrounding the main thoroughfare are calm and residential. Community jewel Memorial Park on the west end and Buffalo Bayou to the south provide greenspace, water recreation, sports, and fitness opportunities.
Washington is made up of distinct neighborhoods including Old Sixth Ward, a historic district with a large concentration of Victorian dwellings and one of the city's original wards. Old Sixth Ward's industrial aesthetic is preserved in places like the Silos at Sawyer Yards (rice silos converted into art galleries and studio space).
The most common Victorians found in the neighborhood are Queen Anne structures with gables and porches. Other home styles include early 20th century bungalows and three-story townhomes.
Located 30 miles northeast of Houston, Kingwood is the largest master-planned community in Harris County. The 15,000-acre suburb has been dubbed "The Livable Forest" because of its ample greenspaces and wilderness areas, including four parks and the 75-mile Greenbelt trail carving through tranquil thickets.
Lake Houston partially wraps around Kingwood, affording residents a variety of water activities, including boating and fishing. The Clubs of Kingwood—with island, lake, marsh, and forest golf courses as well as over two dozen tennis courts and a water park—is a community favorite recreational facility.
Kingwood commuters have direct access to Downtown via I-69, a 45-minute trip that can take longer during peak travel times. The Woodlands, where many oil and gas companies are headquartered, is also nearby. And Bush Intercontinental Airport is a brisk 12 miles away.
Kingwood is roomier than Houston and more affordable than comparable suburbs like The Woodlands. According to Neighborhoods.com, the median sale price is in the low $200s and includes ranches surrounded by pine forests and sizable brick homes nestled in sleepy cul-de-sacs.
Shady Acres is a neighborhood within the Greater Heights and adjacent to Lazybrook/Timbergrove. As the name suggests, Shady Acres was once a dense patch of woods. The land was developed in the 1930s, and many of the neighborhood's original cottages still stand.
The area has a laid-back vibe embodied by no-frills dives like the Hubcap Grill, a bygone era burger joint, and SPJST Lodge 88, a social club hosting one-of-a-kind bingo nights.
Shady Acres is near the Heights' famed 19th Street, a walkable strip of local businesses where the restored Heights Theater (originally constructed in 1929) still stands, functioning as a live music venue. The White Oak Bayou Greenway, a paved hike and bike trail, snakes along T.C. Jester Boulevard, carving from the top border of the Heights to the bottom and connecting to Downtown.
While early 20th century cottages and a few new-build single-family homes are available, townhomes are the dominant housing style. Stainless steel appliances, rooftop gardens, and modern amenities add a contemporary splash to the old-school community.
Though located in Houston's urban inner loop, the Heights is a quiet neighborhood with suburban appeal, due in part to the fact it was one of the earliest planned communities in Texas and the first in Houston.
The Heights is removed from the ruckus of Downtown, even though it's near enough to bike there. Residents ambling down the lush, oak-lined Heights Boulevard forget they're living in the fourth-largest city in the country. Yet, all the amenities of city life are a short reach away.
Joggers and those wishing to bike commute can do so via the Heights Hike and Bike Trail, which extends down Heights Boulevard then across the southern portion of the neighborhood to Downtown.
Since the neighborhood is so vast, home prices vary depending on architectural styles, spanning from the mid $100s to over $3 million. Characteristic single-family options include historic Victorians with wrapping verandas and Craftsman-style bungalows, both of which are spacious enough to accommodate growing families.
Memorial is a desirable, upscale community flanked by I-10 to the north and Buffalo Bayou to the south. Located between Downtown Houston and Katy and encompassing the Energy Corridor business district and Memorial Hermann Medical Center, the neighborhood is advantageous for professionals seeking short commutes.
Families are also attracted to the area since Memorial is served by high ranking Spring Branch and Katy school districts, many of which have perfect ratings on GreatSchools.org. Topgolf and The Little Gym, which offers gymnastics, dance, and karate classes, are just some of the area's family-friendly activities.
Popular pastimes for residents include shopping at the Memorial City Mall and Citycentre, an open-air plaza with high end retailers, restaurants, and a Studio Movie Grill theater. Residents also head to the 500-acre Terry Hershey Park to hike, canoe, and mountain bike the reputable "anthills."
The neighborhood's median sale price hovers around the mid $300s, and real estate ranges from condos and modest single-family houses to stately luxury homes along winding bayou drives.