Your Guide to the Six Wards of Houston
Your Guide to the Six Wards of Houston
Before there were neighborhoods, Houston was divided into wards. Originally, there were four wards. The city's founders established these wards for political purposes, akin to today's voting districts. The Fifth Ward came about 30 years later to accommodate the city's growing population, and the Sixth Ward followed 10 years after that.
While some modern neighborhoods are clearly bounded by the original wards, others are split into multiple. Downtown, for instance, was once part of every single ward. Since government and commerce was conducted Downtown, the wards began in the city center and unfurled from there.
The wards were abolished in the early 20th century due to pressing economic issues and political corruption. City maps continued to refer to the wards until the late 1920s after which geographic locations were identified by landmarks like parks, bayous, and universities. Remnants of the original wards can be found in current neighborhoods, for example, slices of Second and Third Ward retained their historic designations and are thriving cultural communities today.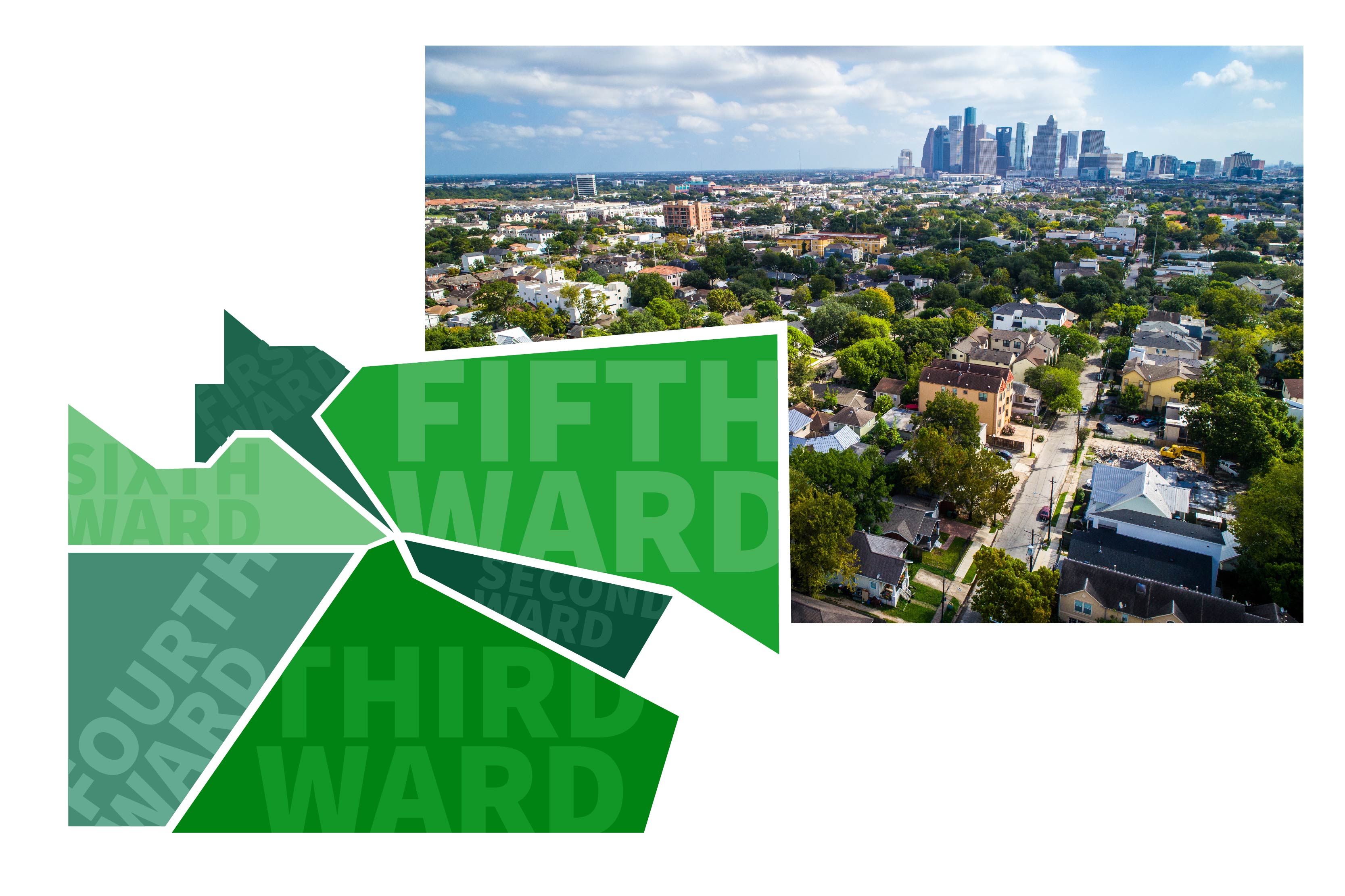 First Ward
First Ward was the city's business district and home to Allen's Landing, considered the birthplace of the city. Now marked by a plaque, the area where Buffalo Bayou and White Oak Bayou intersect was once a bustling port. From there, First Ward spread north and west encompassing the southern portion of the modern day Heights neighborhood.
Neighborhoods to Explore
Woodland Heights is a desirable, family-friendly neighborhood characterized by Victorian homes, local shops, and bike trails along the winding White Oak Bayou.
Check out Stude and Woodland parks, two scenic greenspaces; kayak along the bayou; chow on Tex-Orleans fusion at BB's Cafe or Mexican cuisine at Spanish Flowers; caffeinate at hip coffee shop Antidote; and don't miss the dazzling holiday displays during Lights in the Heights.
Second Ward
Second Ward aka Segundo Barrio exists in part today. Historically, the neighborhood stretched from Downtown to Magnolia Park and was flanked by Buffalo Bayou and Harrisburg Boulevard. Those borders, minus Downtown's portion, still exist today.
Second Ward was an industrial expanse churning with factories, but in the latter part of the 20th century, shuttered factories littered the landscape. Now, long-abandoned warehouses are being preserved and repurposed as part of the neighborhood's resurgence.
Neighborhoods to Explore
Part of the Greater East End, this is a neighborhood with a rich cultural history. Stroll down Navigation Esplanade which hosts community celebrations and weekend farmers markets; eat at Ninfa's, a longstanding institution with mouthwatering Mexican fare; tour the many family-run taquerias and bakeries; visit the Houston Maritime Museum; or see art and theatre at the Talento Bilingüe de Houston.
Third Ward
The Third Ward we know now is only a fraction of its initial size. The ward encircled a large swath of modern neighborhoods including the southern part of Downtown, Third Ward, Greater East End, EaDo, the Museum District, and half of Midtown. The area broke apart due to the abolishment of the ward system and Jim Crow era segregation. In the 1950s and 1960s, Third Ward became the epicenter of the city's civil rights movement.
Neighborhoods to Explore
This is a vibrant community lined with New Orleans-style shotgun cottages and home to both Texas Southern University and the University of Houston. Check out Emancipation Park, a neighborhood hangout with a storied past; get involved with community organizations like Project Row Houses; and dine on oxtails and chitterlings at This Is It, the city's oldest soul food joint.
This area is Houston's hub for arts and culture. Peruse 14 different museums showcasing visual art, historical artifacts, and interactive exhibits; catch a movie under the stars at Miller Outdoor Theater; bring the family to the Houston Zoo; and jog, picnic, or paddle boat through Hermann Park.
Houston's latest "it" neighborhood has an industrial urban aesthetic and booming art and music scene. Watch a major league soccer game at BBVA Compass Stadium; hang out at 8th Wonder Brewery or the neighborhood's other patio bars; eat at Nancy's Hustle, named one of the best new restaurants in America; or spend Sunday funday at the Blue Field Farmers Market.
Fourth Ward
Along with Third, Fourth Ward was one of the largest original wards. What modern day Houstonians consider Fourth Ward is actually Freedman's Town, a small section of the original ward settled by freed slaves after the Civil War. Fourth Ward originated in Downtown and expanded westward along Buffalo Bayou. The city's oldest surviving structures, once Fourth Ward residences, are now part of the Sam Houston living history park.
Neighborhoods to Explore
This neighborhood is a burgeoning commercial and residential area with high rise condos and an unforgettable nightlife. Bar hop; attend an art show or performance at MATCH, Diverse Works, or the Ensemble Theatre; chow on the city's best chicken and waffles at The Breakfast Klub; or bring your dog to the newly developed Midtown Park.
Well known for its political history and LGBTQ activism, this area is trendy among millennials and urban professionals. Stop by the Menil museum, eat and drink at the city's most esteemed establishments like Hugo's and Anvil; thrift and antique along Westheimer Road; and photo-op in front of the murals.
Fifth Ward
Fifth Ward was carved out of the First and Second Wards. The area spans north and east of Downtown. Historically, the neighborhood was populated by working class residents employed by the Houston Ship Channel and Second Wards' manufacturing warehouses.
Neighborhoods to Explore
One of the most underrated neighborhoods within the 610 loop, this is a residential area with affordable real estate and a high concentration of single family homes. Play sand volleyball at Sideout Volleybar, watch a concert at White Oak Music Hall; grab some trompo street tacos at Moody Park; or tour the Saint Arnold Brewery.
Sixth Ward
The section of Fourth Ward north of Buffalo Bayou became Sixth Ward. In 2007, residents launched an initiative to preserve Sixth Ward. As a result of these efforts, the ward's eastern portion is now its own neighborhood: Old Sixth Ward. The area has one of the highest concentration of intact Victorian homes in the region.
Neighborhoods to Explore
This rapidly developing neighborhood is ideal for busy urban professionals. Check out the nightlife along Washington Avenue; visit the art studios and workspaces at the Sawyer Yard Silos; admire the eclectic collection at the Art Car Museum; and get fit at the many gyms.