Dallas Real Estate: Tracking the Trends of Downtown's Urban Redo
Dallas Real Estate: Tracking the Trends of Downtown's Urban Redo
Downtown Dallas is a dazzling model of urban dynamics.
According to Downtown Dallas Inc., about 135,000 employees work in the Central Business District. Approximately 11,000 residents call Downtown home and 70,000 live in the City Center, which encompasses a 2.5-mile radius. Since Dallas is the nation's third-most popular destination for business travel, Downtown is a hotspot for out-of-town visitors.
Residents and visitors alike have plenty of play options in Dallas' urban core: hundreds of eateries and retail stores, urban parks, outdoor concerts and other events, and culture that stretches from the Dallas Arts District to artisan enclaves in The Cedars. And with walkability, biking, buses, and one of the largest light-rail transit systems in the U.S., Downtowners have many choices for easily navigating the neighborhood.
Though all the moving parts in Downtown's "live, work, play, and stay" engine are working at peak performance now, two key components were missing from the circuitry a couple of decades ago. One: Nobody lived in Downtown. And two: Downtown was no longer the epicenter for shopping, dining, and entertainment.
Consequently, the neighborhood lost its shine and eventually faded into a ghost town on weekends and at the end of workdays.
The Urban Renaissance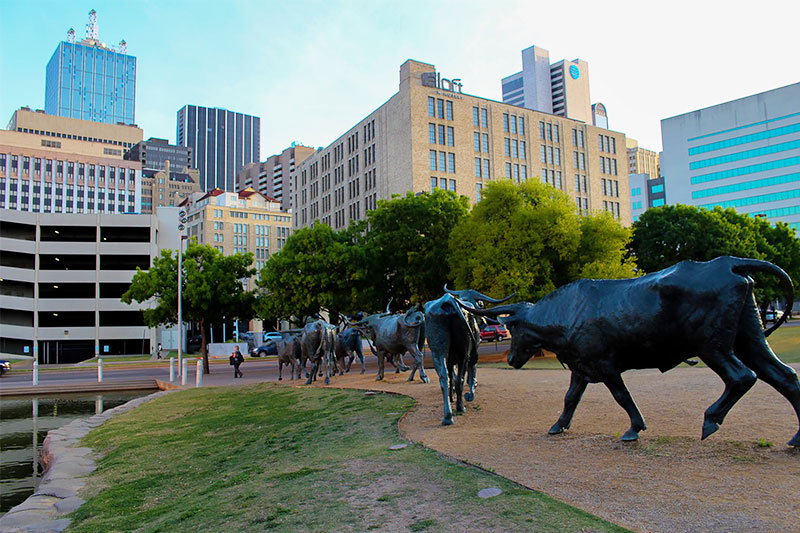 In 2001, city leaders and stakeholders launched a massive revitalization effort to reenergize Downtown by using trends similar to today's urban mixed-use developments. In many ways, the first six words of Willie Nelson's 1974 hit, "Phases and Stages," sum up the painstaking processes: "Phases and stages, circles and cycles."
Historic neighborhoods were preserved by reimagining landmark buildings into creative office space, restaurants, bars, retail, and trendy lofts. The West End Historic District—the neighborhood where Dallas began in 1839 and forever changed in 1963 with the assassination of President John F. Kennedy—added a booming restaurant area and high-tech community. The Cedars and Deep Ellum also emerged from the ashes of history as havens for live music and homegrown art.
Between sleek luxury condo high-rises—like Museum Tower and 1505 Elm—and a colorful new batch of contemporary skyscrapers, the Dallas cityscape was voted the "Best International Skyline" in the 2014 USA Today Readers Choice awards.
In the "build-it-and-they-will-come" spirit, a steady flow of urban dwellers migrated to Downtown. Restaurateurs, retailers, and service businesses set up shop to cash in on the action, and regional visitors discovered a new excitement in the urban core.
Reimagining Downtown was the prime time for Dallas to hit the reset button on its economic development image. As a fierce pro-business competitor, the city had earned a "buttoned down" reputation. But after revitalizing an eclectic mix of neighborhoods in the City Center, Dallas has softened its persona by adding an artsy vibe.
Measuring Downtown's Urban Success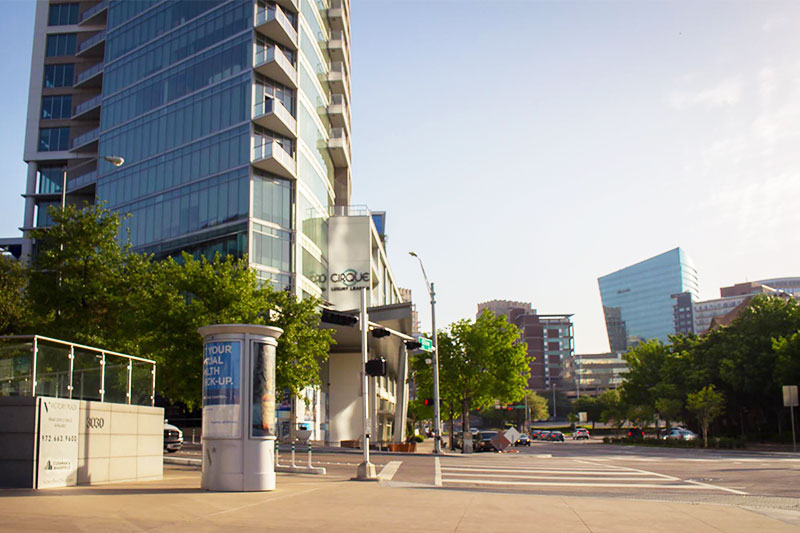 Amazon may be the most effective barometer for measuring the large-scale urban success of Downtown Dallas. Since the mammoth corporation is urban-centric and far from buttoned down, it likely would not have given Dallas a second look if it had embarked on its search for a second headquarters (HQ2) a decade or so earlier. Instead, Dallas was a major contender.
Out of the 235 cities and regions that vied for the largest economic development deal in history, which equated to a $5 billion investment and 50,000 jobs, Dallas wound up on Amazon's short list of 20 metropolitan areas. After Dallas submitted its slick pitch package of major sites around Dallas-Fort Worth, city leaders hosted several site visits before Amazon announced its top three candidates: New York, Northern Virginia, and Dallas.
Though Dallas didn't get the rose, it may ultimately be the winner. Amazon split the deal between New York and Northern Virginia in the end, leaving Downtown Dallas abuzz with new construction and an energetic crop of new corporate suitors.
Unlike Toyota, State Farm Insurance, and other large relocations that recently opted for the burbs, Amazon's interest centered solely on sites in and around the City Center, according to the Dallas Morning News.
"We see the Central Business District and Downtown Dallas coming back with a vengeance," Steve Van Amburgh, CEO of the top Dallas developer KDC, told the News. "People are going to want to be there, and we have a lot of potential."
Downtown Dallas Inc. estimates there are nearly 90 construction projects either underway or in the pipeline. AT&T is redeveloping its world headquarters to the tune of $100 million, which will revitalize several blocks of Downtown. Other large-scale projects include the new Sam's Club high-tech innovation center in the West End, Arcosa Inc.'s new headquarters in Ross Tower, and Steward Health Care's relocation from Boston to 1900 Pearl St, according to the Dallas Morning News.
Hot City Center Neighborhoods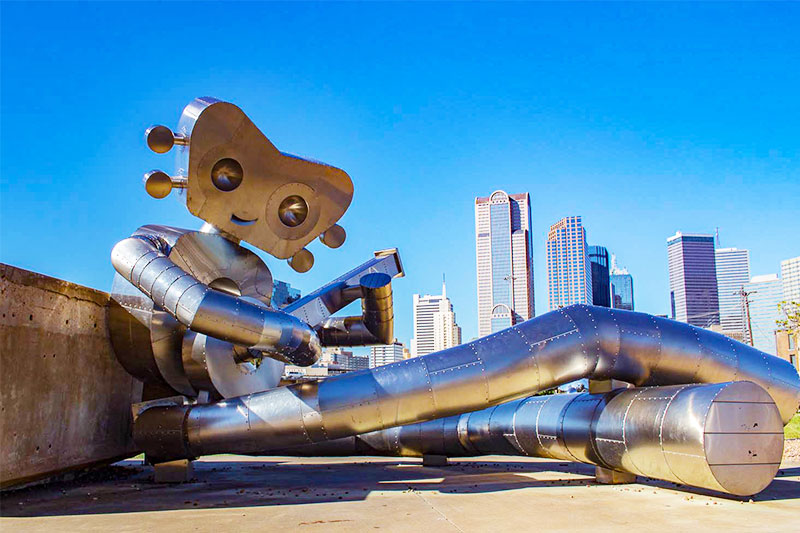 Once-forgotten City Center neighborhoods transformed into hot live-work-play areas as demand for walkable urban communities grew, and those neighborhoods are part of what's established Dallas as a solid real estate market going into 2019. They're also upping Dallas' cool quotient with rich culture and amenities.
Conveniently located between Downtown and Uptown, the Dallas Arts District is the largest contiguous urban arts district in the United States and the city's crown jewel for culture and high-rise luxury living and working. In addition to world-class galleries, museums, performance centers, restaurants, and shops, the neighborhood includes Klyde Warren Park, a favorite for free programs and outdoor concerts.
Deep Ellum is one of the most fun neighborhoods in Dallas. Though it was originally named Deep Elm, early blues musicians with a Texas drawl dubbed it Deep Ellum, and the name stuck.
Located on the eastern edge of Downtown, music and a quirky vibe have been embedded in the neighborhood's roots since 1873. With more than 30 live music venues, it's one of the state's biggest entertainment districts. But Deep Ellum is also a great place to explore restaurants, shop, work, get a tattoo, or live in an authentic industrial loft.
Located on the border of Downtown and South Dallas, The Cedars offers a SoHo-like feel with its eclectic mix of artists, sculptors, glassblowers, and designers selling their creations in neighborhood galleries and studios. There's also a live music scene with musicians at Gilley's, the Alamo Drafthouse, Poor David's Pub, Lee Harvey's, and several dive bars cranking out a broad range of genres.
But the creative energy doesn't stop there. The neighborhood will eventually be home to the Texas Bullet Train Terminal and the Texas Odyssey Observation Wheel. While warehouse lofts are popular in The Cedars, other housing choices include condos, townhouses, and single-family homes.