Chicago Real Estate Development
Development Could Give Rise to a New Neighborhood: East Bucktown
Chicago officially has 77 neighborhoods, but that number can change depending on who you ask.
Sprawling neighborhoods like Lakeview contain well-known communities like Wrigleyville and Boystown within its borders. Other communities are so small (think The Villa) they occupy only a few blocks. Others are up for debate as to whether or not they even exist—Chicago Magazine asserted that East Village is fake (we disagree).
While people may still be busy arguing about those small pocket neighborhoods, developers are hard at work introducing new neighborhood names into the Chicago lexicon.
Bucktown, along with its sister neighborhood Wicker Park, has long ruled as one of the city's hippest neighborhoods, rich in places to dine out, find fancy cocktails, and catch live music. Interest in the area is only heating up as developers clamor to get a piece of the North Branch.
Developer Belgravia Group is leading a mixed-use development on a vacant site between Bucktown and Lincoln Park, according to Block Club Chicago. Instead of trying to meld into either of the existing neighborhoods, the developer is opting to create a new name for the area: East Bucktown.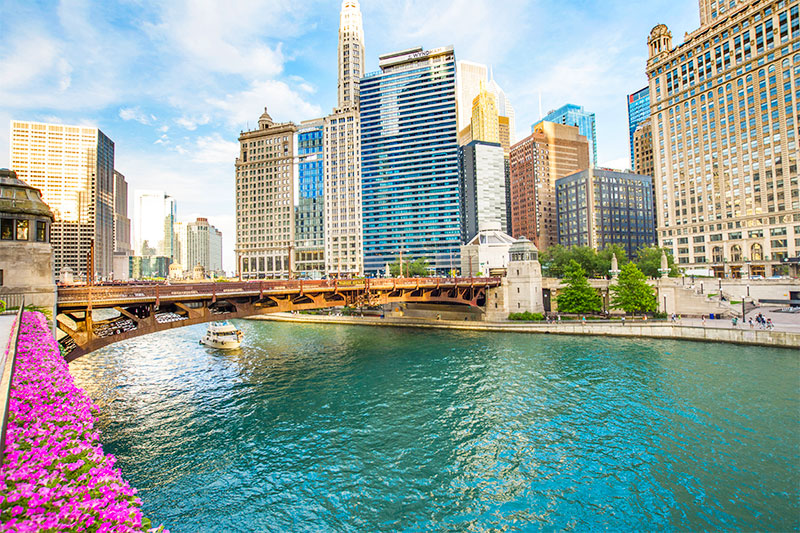 The Triangle Square Development
Dubbing the project "Triangle Square," Belgravia Group plans to build three buildings on the 4.1-acre site, according to the Block Club Chicago report. The mixed-use development will feature 66 condos, 300 apartments, retail space, and office space. The project is expected to cost $200 to $250 million.
Pricing for the condo buildings has been listed on Belgravia Group's website. Two-bedroom condos will start at $495,000. Two-bedroom condos with a den will start at $599,000, and three-bedroom condos will range from $695,000 to $1 million.
This puts the new development's home prices in line with neighboring Bucktown and Lincoln Park. According to Neighborhoods.com data, the median home sale price for Bucktown is in the low $500s, and the median sale price for Lincoln Park is in the mid $500s.
The development and the newly dubbed East Bucktown will be within walking distance of several amenities, including a Mariano's, The 606, Holstein Park, and a Metra stop.
"We're excited to be part of the transformation along this corridor. So many people travel along there every day, but it hasn't been a destination. We're going to be part of changing that," David Goldman, executive vice president of Belgravia Group, told Crain's Chicago Business.
The City Council approved the project in October, according to the Block Club Chicago report.
How the North Branch Is Changing
Triangle Square isn't the only development reshaping the largely industrial area around the North Branch of the Chicago River. Not far from Belgravia Group's project, developer Sterling Bay is investing up to $10 billion to build Lincoln Yards.
Lincoln Yards is actually included in the area Belgravia Group is referring to as East Bucktown, according to Curbed Chicago. The mega-development will bring new homes, office space, a soccer stadium, a dog park, and a whole lot more to its riverfront site.
Last year, the Chicago Plan Commission approved the North Branch Industrial Corridor Modernization Plan, which opens up 760 acres of industrial land to the possibility of commercial and residential development. While developers are clamoring to make their mark, many voices in the community, including Ald. Michele Smith (43rd Ward) have pushed for the inclusion of open space.
Earlier this year, the City of Chicago approved the "Wild Mile" as part of its North Branch Framework Plan. The mile-long stretch of land will include a boardwalk, pier, fishing spots, canoe launches, and more. The third phase of the project, which includes floating gardens, is expected to reach completion in 2020.
Other Developers With New Neighborhood Ambitions
Belgravia Group is not the first to try to carve out a new neighborhood name. The proliferation of development in Fulton Market is spilling westward, sparking some developers to crown the space between Lake Street and Grand Avenue as Fulton Market West. Like East Bucktown, Fulton Market West sits on industrial land that could easily be considered part of an existing neighborhood—in this case the Near West Side.
Only time will tell if East Bucktown will weather cries of "fake neighborhood" or become accepted as a part of Chicago's patchwork of communities.