Dallas-Ft. Worth Real Estate
Fort Worth Neighborhood Guide
Fort Worth is often in the shadows of Dallas, its larger neighbor about 30 miles to the east. But what you may not know is that Fort Worth is a pretty big city in its own right. Fort Worth is now the 13th-largest city in the U.S. by population as of 2019, with nearly 900,000 residents.
New people continue to move to North Texas every week, so the population in all of the cities in the area only continues to increase. However, growth is occurring at a faster rate in Fort Worth than Dallas, according to the Fort Worth Star-Telegram. Many people in the area choose to settle for the slightly slower pace of Fort Worth neighborhoods. While the city has plenty of great places to live, these neighborhoods are some of the highlights.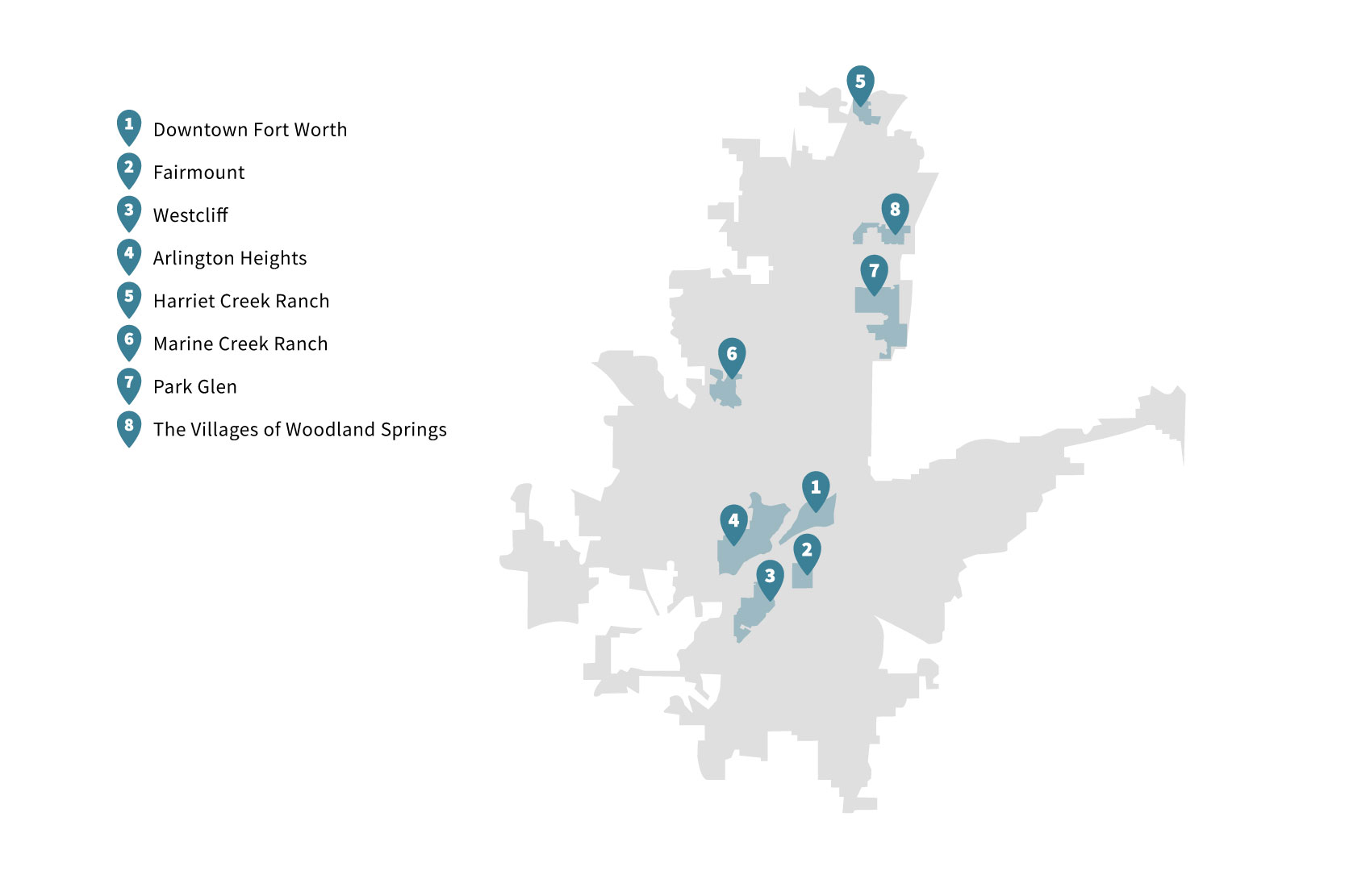 Read more:
For those who want the true city experience of living up close and personal among the skyscrapers, Downtown Fort Worth has what you need. You have easy access to all the nightlife and amenities in Sundance Square.
It's a very walkable neighborhood and if you also work downtown, you can easily get by without a car. Most housing is in lofts or condos in high- and mid-rise buildings, with few single-family homes available. The price per square foot is high—currently, it's just under $300—but so is the standard of living.
This historic neighborhood is a gem for those who want an alternative to the typical brick ranch homes that are so common in DFW. Fairmount is one of the rediscovered Fort Worth neighborhoods that's in the middle of a renaissance.
You'll find historic foursquare and Craftsman homes here, some of which can still be bought at a reasonable price (in the low $200s) if you're willing to put in a little bit of work. But expect a lot of competition because the neighborhood's brewpubs and restaurants make this a desirable place to be.
Another highly desirable neighborhood, Westcliff is close to the prestigious Texas Christian University. Home to many TCU professors and Fort Worth executives alike, this neighborhood features sprawling ranch homes dating back to 1947.
Known for larger-than-average lot sizes and lots of mature trees, this is the anti-cookie cutter part of town. You'll definitely need a car to get around but you'll like the quiet, genteel feeling of the neighborhood. Homes go quickly in this popular neighborhood and often sell for above the asking price.The median sale price here is just over $350,000.
One of the trendiest Fort Worth neighborhoods, Arlington Heights is a highly sought-after place to live. New shopping and dining establishments in the growing West 7th area are just outside your doorstep when you live in Arlington Heights.
You can walk to the places where you want to hang out and leave your car at home, avoiding the famously crowded parking challenges. Homes range from new condos to classic midcentury ramblers and historic houses, with prices running the gamut from around $100,000 for a fixer-upper to stately homes with flashy renovations. Expect bidding wars when trying to find your perfect home.
When you want a Fort Worth address but don't want to be in a busy city neighborhood, Harriet Creek Ranch might be the right option for you. Located in the well-regarded Northwest Independent School District, this is a great place to live if you want to feel like you're a bit more in the country.
You'll definitely need a car to get around, but more stores and restaurants are being built near this neighborhood. With larger-than-average lot sizes and more space to roam, the newer construction homes are less likely to need repairs and updates than in some other neighborhoods. Home prices here mostly hover around the low $200s.
Read more:
Another neighborhood with more of a small-town than a big-city vibe, Marine Creek Ranch feels like you've gotten away from it all. With easy access to Northwest Loop 820 and I-35, you can easily get to where you need to go. But time at home is peaceful and relaxing, with recreation opportunities available at the nearby Eagle Mountain Lake.
Located in the Eagle Mountain/Saginaw Independent School District, families appreciate being away from the hectic pace of the city. You'll be car-dependent in this neighborhood, but most residents don't mind because it adds to the slower pace of home life. Homes are mainly single-family homes with a median sale price of about $250,000.
Located in northeast Fort Worth, Park Glen closely borders the popular suburb of Keller. This suburban neighborhood tends to be popular with families because the average home has four bedrooms and is zoned to attend Keller Independent School District.
The housing stock spans a variety of styles and most have been built since 1990. Some homes require updating, whereas others have been fully renovated. Residents enjoy parks and trails throughout the community and the homeowners association presents several community events.
The homes in Park Glen are generally on the more affordable side (the median sale price is $250,000), so don't expect them to stay on the market for long or to get a bargain.
The Villages of Woodland Springs is a master-planned community that doesn't even feel like it's in Fort Worth. Abbreviated to VOWS by residents, this neighborhood in far northeast Fort Worth is conveniently located near I-35 and State Highway 114 for easy commuting.
More suburban than urban, this large community of homes bordering Keller features newer construction and lots of amenities, including active community groups and multiple recreation areas. The mid-range-priced homes tend to go quickly in this neighborhood, in part because families like the Keller and Northwest Independent School District to which the homes are zoned.