Las Vegas Real Estate Development
Las Vegas New Development Drilldown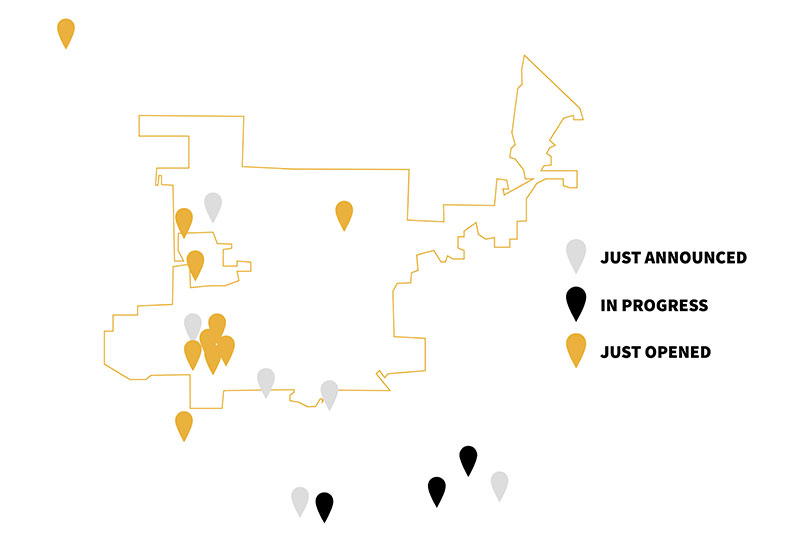 Earlier this year, Las Vegas was named the most overvalued housing market in the nation when purchase prices on condos and homes went up 11 percent, which experts estimated was 21.3 percent over fair market value. In September, local real estate experts questioned the ranking based on a national poll, stating that historical trends back up the rationale for real estate prices in the Valley. Las Vegas continues to rank high in national sales and draw national attention.
In another unrelated study, Las Vegas knocked Seattle out of the top spot for hottest housing market when Las Vegas home prices had the highest year-over-year gains. The median sale price in Las Vegas currently stands at $290,000, which concerns residents who fear they'll be priced out of the market. The Las Vegas Sun conducted its own study of real estate numbers and determined that the number of single-family homes, condos, and townhomes under $250,000 stands in the hundreds, making homeownership difficult for many Las Vegans. With talk of price deceleration, the numbers predict that home prices may stabilize.
Here's what you need to know about the major developments happening in Las Vegas.
Just Announced
When four Las Vegas master-planned communities are named among the top-selling communities in the country with Summerlin in the top spot, it's no surprise that Las Vegas always has new communities in development. Trailing close behind is Inspirada, Cadence, and Skye Canyon, all of which embody the definition of a master-planned community with access to amenities and a strong sense community. These neighborhoods all earned a spot on the list not only because of the new construction coming to the market this year, but also for their sleek, modern styles that builders are emphasizing in their more recent developments.
In North Las Vegas, D.R. Horton recently announced Infinity Bay, which offers homebuyers three floorplans ranging from 2,180 to 2,480 square feet. These single-family homes also offer two-story living along with three or four bedrooms, two-and-half bathrooms, and an attached two-car garage. Although pricing has yet to be released, homes in Infinity Bay feature granite kitchen islands, spacious great rooms, and plenty of space for entertaining.
Developers are also building more new communities in South Las Vegas Boulevard. Touchstone Living plans to break ground near I-15 and St. Rose Parkway this fall to develop an 800-townhome community surrounding a 100,000-square-foot park. According to Tom McCormick, president of Touchstone Living, a three-bedroom home in this new community will be priced in the low $200s while most of the other homes will be priced under $300,000.
In Progress
Although Rose Ridge by Lennar isn't located on Las Vegas Boulevard, this new community in Henderson is already in progress. Rose Ridge offers 11 floorplans from its three design series: Dahlia, Lavender, and Magnolia. Homes are priced starting in the mid $300s and range in size from 1,699 to 3,128 square feet. Homes in Rose Ridge feature energy-efficient designs, gourmet kitchens, granite countertops, and raised-panel cabinetry.
Other developments are also in progress in Henderson. Where South Las Vegas Boulevard and St. Rose meet at Rose Ridge, homebuilders like D.R. Horton and Lennar are expanding their portfolio of homes and bringing new residences to the area that will surround the Raiders practice facility. D.R. Horton plans to build a 299-unit project, although the developer already has a 55+ community in the area called Cordera Ranch priced in the high $300s and located behind the M Resort.
Meanwhile, Cadence's newest neighborhood Monroe by Lennar is already sold out, but Monroe II, is in its final stages of construction. The 75-home neighborhood, located near the intersection of Warm Springs Road and Water Street, features up to four bedrooms, four bathrooms, and two-car garages, with pricing starting in the mid $300s.
Just Opened
Las Vegas has an abundance of homes that are now open and pre-selling, especially in Summerlin. In The Cliffs village, Terra Luna by Lennar is a collection of sleek, modern one- and two-story homes priced from the mid $500s that come in four floorplans ranging in size from 2,463 to 3,265 square feet. Also in The Cliffs village is Lyon Homes' Jade Ridge, where models are opening this December. Nearby, Delano by Lennar in the Paseos village is now selling Mediterranean-meets-modern homes priced in the mid $600s and starting at 3,300 square feet.
Summerlin's Stonebridge Village is also seeing activity now that models are open at Skye Knoll by Richmond American Homes, with pre-construction pricing in the mid $300s.
In North Las Vegas, builder Pardee Homes just opened its new community Indigo, with homes priced from the low $300s. The two-story modern homes range from 2,104 to 2,642 square feet. Also in the area is Lennar's Emerald Crest, which recently opened new models that feature RV garages, four-bay garages, and private suites.
At Lake Las Vegas, Lennar's The Outlook also recently opened. Priced in the $500s, these single-story homes have enough space that homebuyers can add on a pool to their property before closing on their house to help with the completion time.
And while Lone Mountain may have once been considered too far from The Strip, an increasing number of homebuyers are moving to this development where the median sale price is in the mid $200s, according to Neighborhoods.com. Because of its proximity to two military bases and a growing number of master-planned communities taking their place in the north valley, Lone Mountain developments have increased in recent months with new construction from Touchstone Living and D.R. Horton.
Nevada-based developer Touchstone Living is now selling at Indian Springs, a small community of just 40 single-family homes near Creech Air Force Base. Homes feature single-story living, four bedrooms, two bathrooms, an island kitchen that opens to the great room, and a two-car attached garage. Although it's not within city limits of Las Vegas, the move into a smaller city indicates that builders aren't just focused on the Valley.
Luxury condos are also doing well in the Las Vegas housing market despite the fact that some locals are concerned about being priced out of the market. The Las Vegas Business Press projects that with the Raiders coming to town, luxury condos will do well in the coming years. While the stadium isn't necessarily a cause for the bubble in Las Vegas right now, the stadium and other accompanying retail and hospitality projects only lend credibility to Las Vegas as it becomes known as a major metropolitan area.
Condo projects like Mira Villa by Toll Brothers offer high-end residences that start in the low $600s on the TPC and Angel Park Golf courses, while the accompanying Fairway Hills offers condos with modern, spacious decks in the only staff-gated luxury condo community in The Ridges.