Dallas-Ft. Worth Real Estate
New Wave of Multi-Generational Housing Hits Dallas-Fort Worth Communities
Multi-generational households are at a record high. According to a new study conducted by the Pew Research Center, 64 million Americans currently live in multi-generational houses, a jump from 51.5 million just nine years earlier.
The surge of blended generations living under one roof is attributed to several trends, including adult children returning after college and millennials delaying homebuying. But merging aging parents into existing family households is the primary reason.
Lennar Homes was the nation's first major builder to tap into the trending demand for new multi-generational homes. In contrast to traditionally modified homes that downsize aging parents to a spare bedroom or drafty garage apartment, Lennar's Next Gen line offers families "the home within a home" concept that contains two separate living areas within the total square footage of each house.
While the family lives in the main part of the house, grandparents have their own upscale suite with an average of about 600 square feet of space. In addition to an open kitchenette and living area, a bedroom, walk-in closet, and private bath, a separate entrance and a door leading to the family room provides independence to come and go as they please and spend time with the family. Some suites include a one-car garage, covered patio, or porch.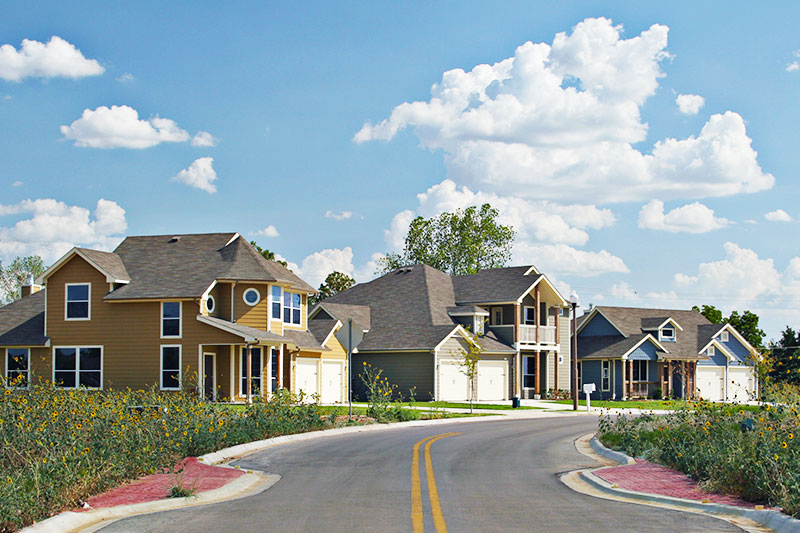 New multi-generational houses are a win for everyone in the household. Families are assured the older generation is safe and not alone. Aging parents are "neighbors" with the people they love most. Kids can spend more time with their grandparents. And everyone has privacy.
"We've recognized that there is a significant need for families that is different than we were used to," David Grove, Lennar's Dallas Division President, told the Dallas Morning News. "A lot of our buyers are families with aging parents or boomerang kids."
Lennar markets Next Gen in around 326 communities nationwide, which includes a broad swath of master-planned developments in Dallas-Fort Worth. And the multi-generational line accounts for around 5 percent of the builder's business.
Master-planned communities are an ideal fit for multi-generational homes. Not only do they provide amenities for the entire family, aging parents will find plenty of opportunities to stay active and meet new friends. Houston-based Plantation Homes, a subsidiary of McGuyer Homebuilders, Inc., also offers its GenFlex series in the North Texas market. But for buyers who prefer to live outside a master-planned neighborhood, Plantation's "Build on Your Lot" program includes floorplans from the GenFlex series.
Here are the North Texas communities where you can find Lennar Next Gen and Plantation GenFlex homes:
Lennar Homes Next Gen
Lennar Homes offers its Next Gen line in the following 23 Dallas-Fort Worth communities: Arcadia Farms in Princeton; Artesia in Prosper; Avery Pointe in Anna; Bretton Woods in Frisco; Chamberlain Crossing in Fate; Creeks of Legacy in Celina; Crown Ridge in Frisco; Edgestone at Legacy Baysides in Frisco; Edgestone at Legacy Lakesides in Frisco; Estates at Rockhill in Frisco; Estates at Shaddock in Frisco; Gean Estates in Keller; Hidden Cove in Frisco; Hills of Crown Ridge in Frisco; Lakewood Hills South in Lewisville; Lakewood Hills West in Lewisville; Las Ventanas in Fort Worth; Northlake Estates in Little Elm; Sendera Ranch in Haslet; Sutton Fields in Celina; University Place in Dallas; Ventana in Fort Worth; and Wyndale Meadows in Lewisville.
Next Gen homes come in 27 floorplans, and some are built by Village Builders, a Lennar company. While most homes are two-story, a few are single-story. Home sizes vary from 2,751 to 4,270 square feet, and prices range from the mid-$300,000s to more than $700,000 depending on location.
Plantation Homes GenFlex
Built exclusively on 70-foot home sites, Plantation's GenFlex series is available at the Harvest community located in Argyle and Wildridge in Oak Point. Though all six floorplans in the series offer multi-generational suite options, the choice of floorplans can vary according to the community.
One-story homes range in size from 2,594 to 3,164 square feet, and two-story floorplans run from 3,411 to 4,125 square feet. A multi-generational suite, which contains a private bedroom, full bath, living area, and optional kitchenette, adds between 147 and 315 square feet to the home size. And several suite floorplans include a separate entrance.