Los Angeles Local Life
The Best LA Neighborhoods for Freelancers
Los Angeles is a hotspot for freelancers, and it's easy to see why. It's sunny almost every day, the atmosphere is free-spirited and laidback, and there are a multitude of places in the city that offer freelancers opportunities to thrive. It's no wonder why so many people who live in the star-studded city are involved in freelance work.
Some residents freelance full-time, while others like to do it as a supplement to their day job. Even for those who recently moved to LA, freelancing is something easy and convenient that can help them make extra cash while offering opportunities to network, control their own schedule, and maybe even turn it into something more permanent.
With numerous coffee shops, libraries, and coworking spaces littered throughout the city, Los Angeles has emerged as one of the best places to live in for freelancers.
Whether you're a freelance artist, writer, photographer, director, or in another industry, here are four of LA's best neighborhoods to live in as a freelancer.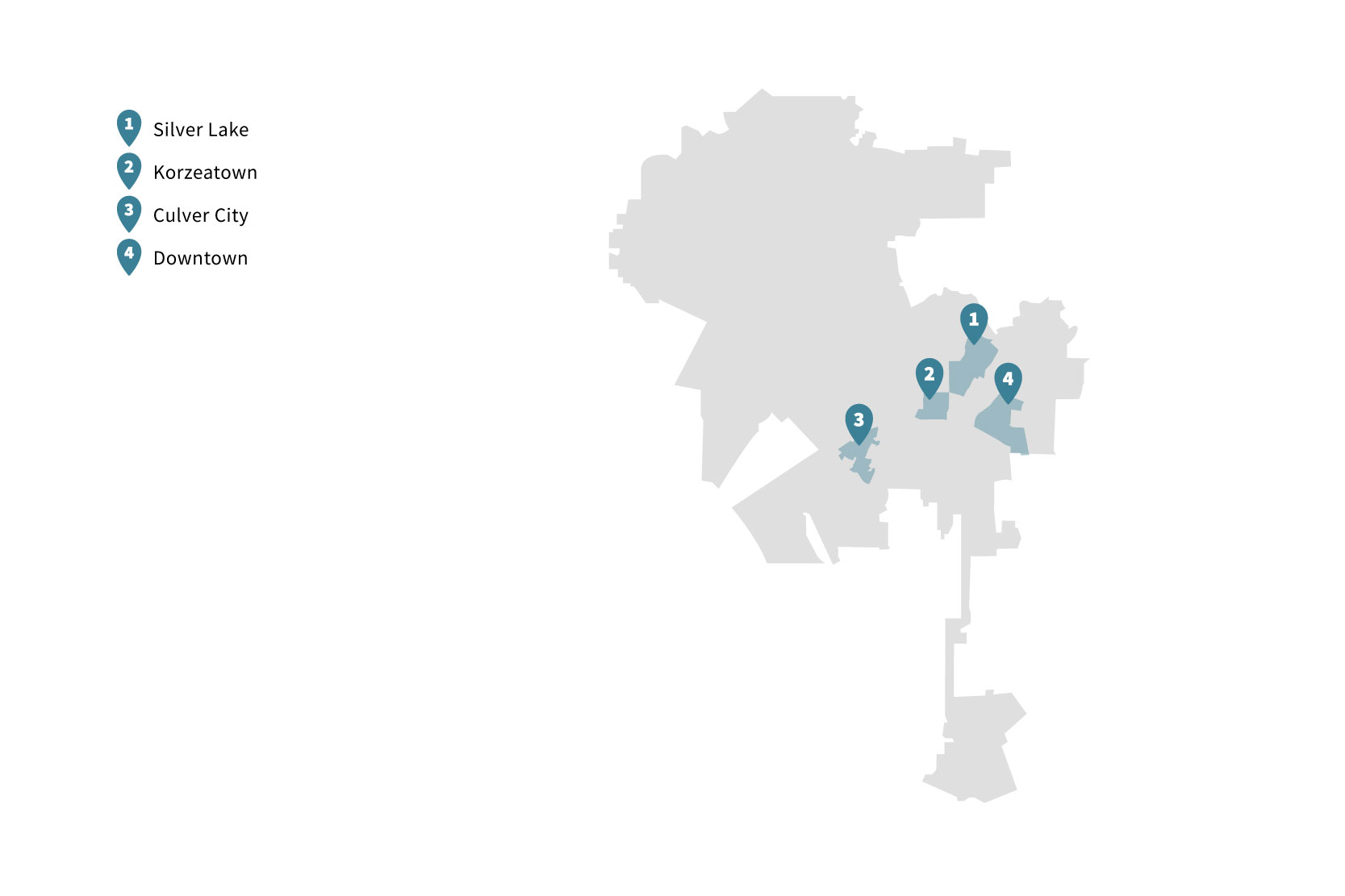 For freelancers who want to live near one of LA's most vibrant neighborhoods, try heading towards the city's laidback community of Silver Lake. Not only are there plenty of activities to do in this area, but it's also an ideal place to get some work done. Long gone are the days when Silver Lake was a quiet and low-key residential community—it's officially become one of LA's most popular places to visit.
Artistic, free-spirited, and considered a hipster haven, Silver Lake features some of the city's best coffee shops and cafes for freelancers. Venues like Silver Lake Lounge, Lyric Hyperion Theatre & Cafe, and The Friend also offer ample opportunities for freelance musicians and comedians to share some of their material to an avid audience.
If you're a freelancer looking for a quiet place to write or brainstorm, head towards the Los Angeles Public Library's Silver Lake Branch.
Another neighborhood that's been on the rise in recent years is the central LA community Koreatown. Locals in Koreatown rave about the neighborhood being one of the city's best hotspots for Asian cuisine, and it's quickly becoming more culturally diverse.
One of the most desirable places to live for newcomers, professionals, and business owners, Koreatown has over a hundred small businesses—many of which are 24-hour establishments.
While there aren't too many libraries or coworking spaces available in the trendy neighborhood, there are dozens of cafes and coffee shops – complete with outlets, lounge-chairs, free Wi-Fi, and food—making it an ideal place for freelancers to be productive and comfortable. Coffee shops such as Awesome Coffee even stay open as late as 2 a.m., which is great for freelancers who prefer to do work at night.
Towards the other end of town in LA's Westside near Palms and Marina del Rey is Culver City. At the heart of this neighborhood is a Downtown area, which features many cafes, fitness studios, eateries, bars, and entertainment studios. This active neighborhood is simply a hub for those looking to live around entertainment and tech.
Culver City is a top option for freelancers because it's also home to Procolo.Co, an award-winning coworking space for those who want to socialize with others in an office-like setting. Not only does this coworking space feature outdoor patios and a gourmet kitchen, but it's also situated next to the Expo Line, so if you want to forego driving and perhaps walk to work, this is the right neighborhood for you.
Additionally, Culver City is part of the tech-fueled Silicon Beach, so if you're a freelancer running a start-up company, this community is a start-up haven.
Last but not least is the ever-popular Downtown Los Angeles neighborhood, which includes distinct districts such as Chinatown, Little Tokyo, Pershing Square, and the Arts District.
A decade ago, this community attracted mostly corporate professionals during the day. However, after work hours the neighborhood virtually turned into a ghost town. With the construction of several luxury live-work-play developments, high-end hotels, bars, and lounges, as well as premier venues such as the Staples Center, Microsoft Theater, and L.A. Live, the neighborhood has become one of the city's best neighborhoods to live overall.
Whether you're freelancing as an artist, model, photographer, writer, or in another industry, DTLA is a community that can help foster your goals by connecting you with like-minded individuals and opportunities. This area has the highest concentration of coworking spaces in all of LA, from WeWork and The Collection to Indie Desk, Cross Campus, The Park, and plenty more.
Everyday, new coffee shops are popping up around Downtown as well, and for freelancers who live in DTLA, getting your work done at a cafe is only a short walk or scooter ride away.
As if there weren't countless productivity options available already, the fact that Downtown is also home to the Los Angeles Library's main branch is the cherry on top. The neighborhood is still in flux and constantly growing by the day.