Washington D.C. Local Life
Washington, D.C. Neighborhood Guide
Washington, D.C. is currently known as a government city, but in a few years' time it might blossom into a tech-focused titan, thanks to its proximity to Amazon's planned second headquarters in Virginia. Before this happens, though, D.C. will continue doing what it's always done: housing some of the nation's best parks, having some of the worst traffic, and perpetually fighting for statehood.
There's a lot more to D.C. than the White House, the Smithsonian museums, and the bad traffic. D.C. neighborhoods offer charming architecture and cobblestone streets, major walkability supplemented by a well-connected public transit system, and artsy enclaves. Here's your guide to the many neighborhoods in the nation's capital worth exploring.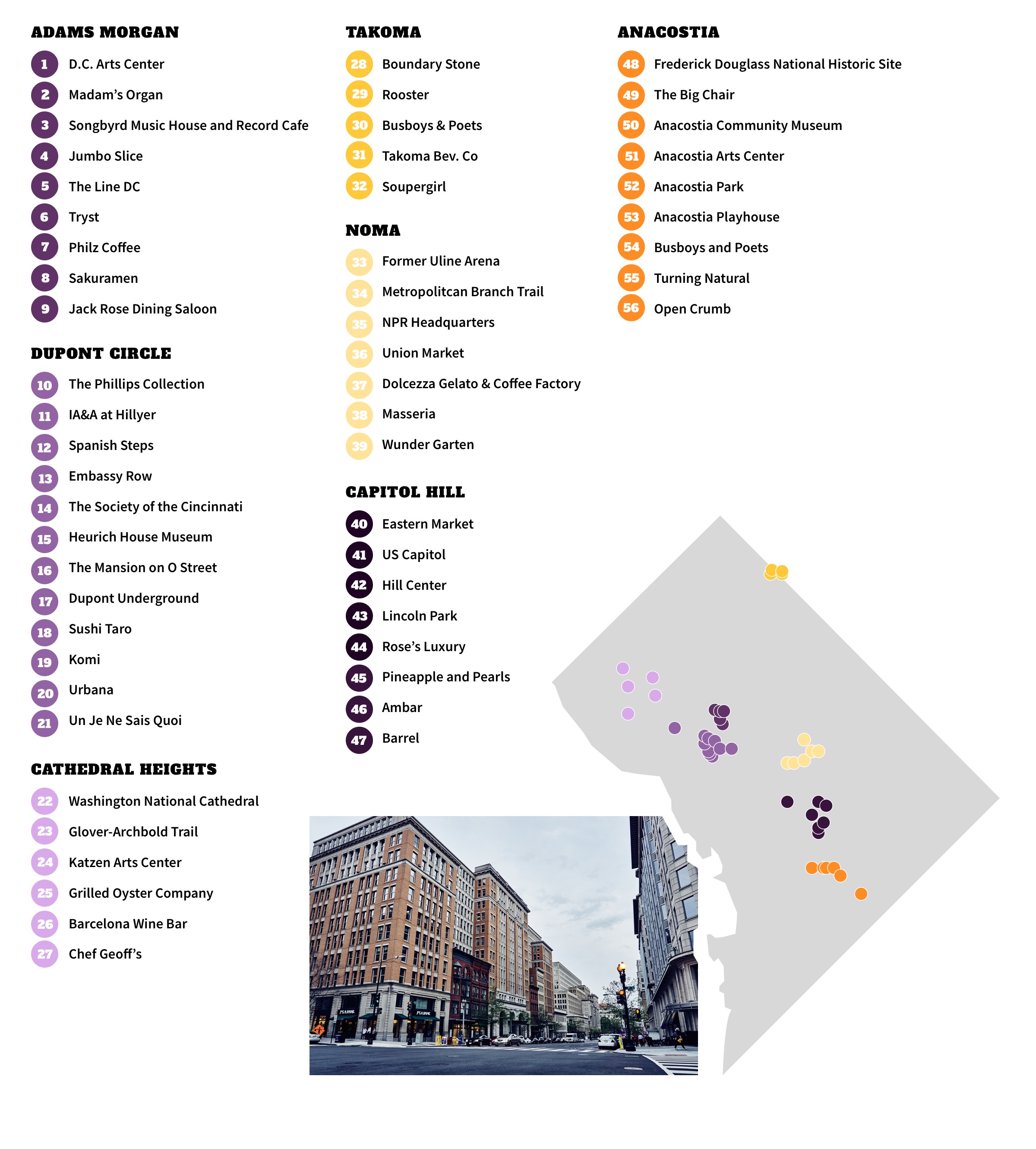 Washington, D.C. at a Glance
D.C. is divided into four quadrants—Northwest, Northeast, Southwest, and Southeast—with the U.S. Capitol at the center of them all. The most expensive homes in the city tend to be in the Northwest quadrant, especially in Downtown and Georgetown. Areas in the Southeast quadrant tend to be more affordable, with Hillcrest serving as a great choice for larger single-family homes. In the Northeast and Southwest quadrants, every few blocks can vary widely in terms of affordability, density of retail, or general amount of action.
The city is divided by numbers and letters. (Though if anyone tells you, "Meet me on J Street," they're fooling you.) The numbers increase as you travel east or west from the Capitol, and the letters ascend as you go north or south.
The district is divided into eight wards that serve as their area's bodies of local government. Each ward has its own identity, history, and, of course, price level.
The Metro serves D.C. proper as well as parts of Maryland and Virginia, providing easy commutes from the suburbs. The WMATA also operates the Metrobus in D.C., Maryland, and Virginia.
If you can't be bothered with Metro, there are electric scooter providers and both dockless and docked bikes to choose from. Whatever mode of transit you choose, you won't need a car in D.C.; it's not worth the extra cost for off-street parking, which can be upwards of $200 or more per month.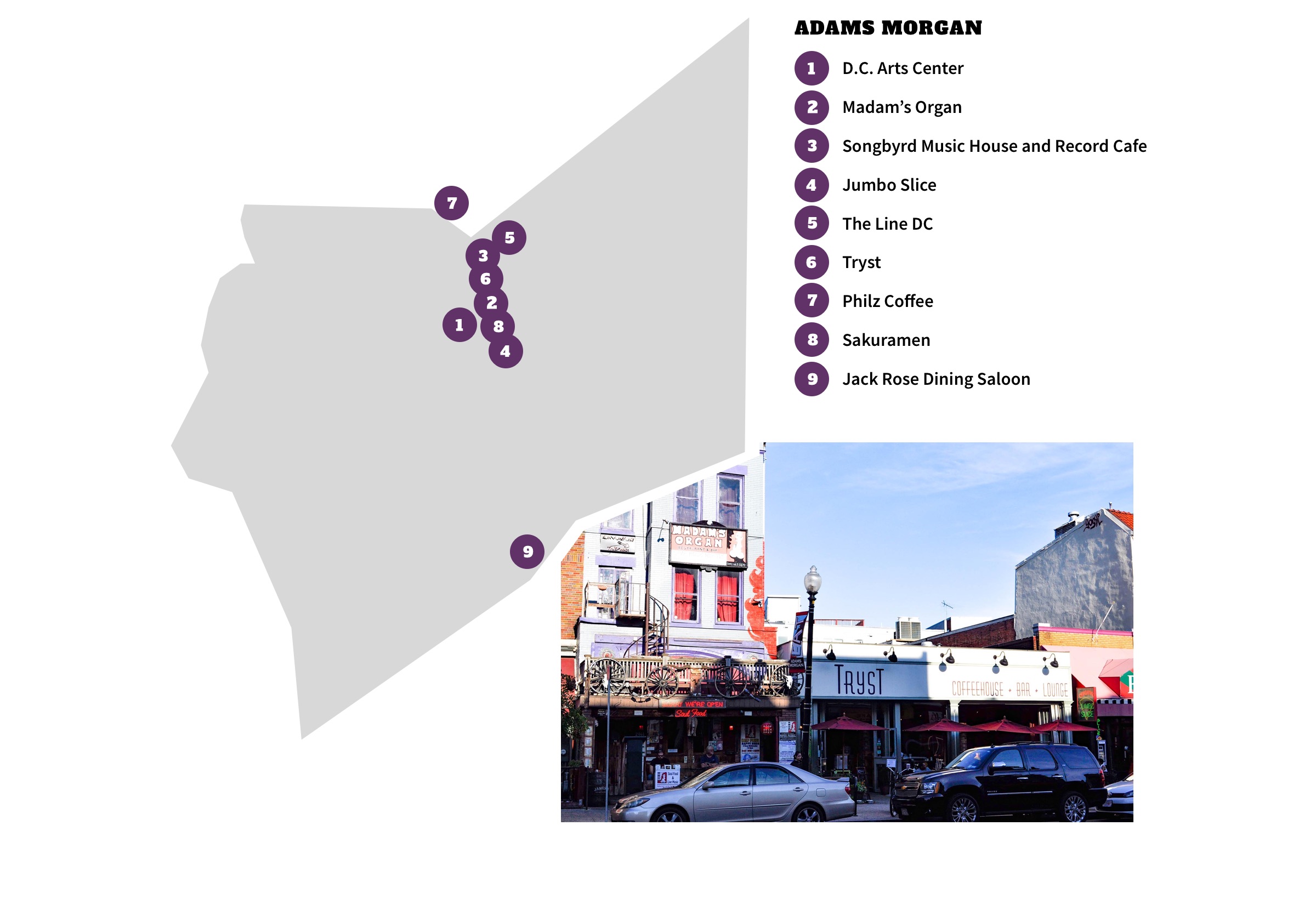 Adams Morgan is a neighborhood known for its nightlife scene. The neighborhood's main thoroughfare, 18th Street NW, buzzes with bar-hopping interns and local revelers. However, the neighborhood is more than just wild nights and Jumbo Slices. Residents love the neighborhood's concentration of local businesses, making it easy to find a favorite spot or two, as well as its colorful street art and approachable, diverse community.
What to Do
The neighborhood arts hub hosts a schedule of almost-always-free gallery shows, plays, comedy performances, concerts, and more.
This four-level, five-bar restaurant and nightclub, instantly recognizable with its controversial mural, has been a neighborhood mainstay for over 20 years now. Teeming with live music and 18th Street partiers, Madam's Organ embodies the neighborhood's nightlife reputation.
There are many vinyl stores in the area, but this one might be the one most worth pursuing—not only for its selection, but for its cafe, restaurant, bar, and live performance venue.
4. Grab a Jumbo Slice
The infamous late-night drunk food, sold by various Adams Morgan vendors, is frequently the subject of debate. Where can you find the best Jumbo Slice? Is there even such a thing as good Jumbo Slice? The slice of pizza can measure as long as 13.5 inches—sometimes even longer—so be sure you're hungry.
Where to Eat and Drink
This church-turned-Instagrammable hotel—a small chain that also has properties in Los Angeles and Austin—appeals to more than just overnight guests with three restaurants, two bars, and a coffee shop.
The neighborhood anchor coffee shop turns into a bar at night. It's usually hard to snag a seat at either time, but it's always worth it.
This coffee shop has it all: over 20 customized blends from around the world, great service, and healthy snacks.
In the basement of a rowhouse, this Michelin-recommended restaurant offers gyoza and steamed buns, angus bulgogi, kimchi, and, of course, ramen.
This bar is most notable for its ever-changing whiskey selection—with up to 1,800 bottles available—and its gastropub-style eats.
Why Locals Live Here
D.C. locals who enjoy living in a dynamic neighborhood full of funky small businesses love Adams Morgan. The neighborhood mostly offers homebuyers condos, both in newer buildings and in rowhomes. There's no dedicated Metro station in Adams Morgan, but there are bus stops in the neighborhood and the Woodley Park-Zoo/Adams Morgan station is a 15-minute walk from the heart of 18th Street.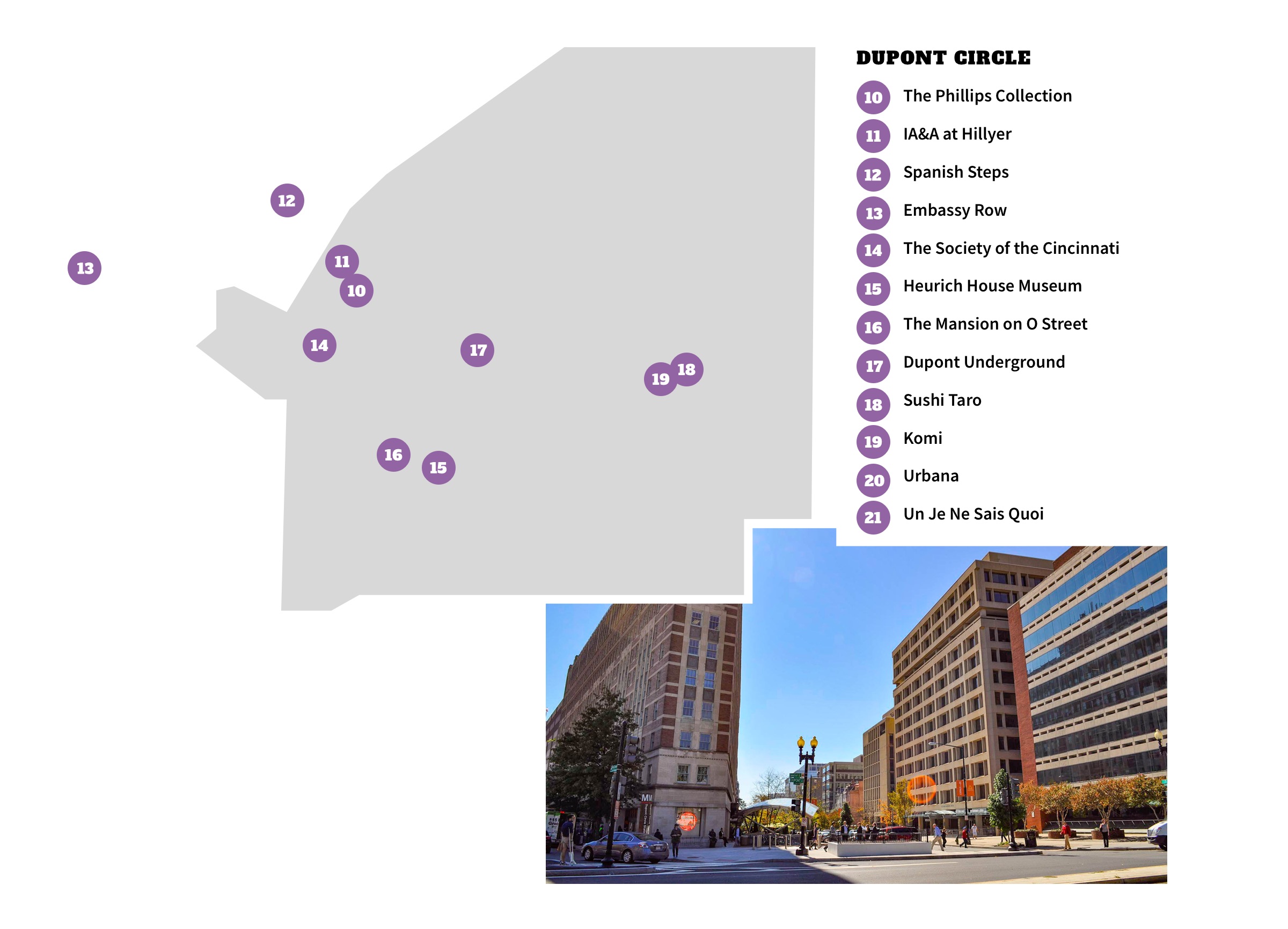 Dupont Circle is a walkable microcosm of the best D.C. has to offer—museums and historic sites, quality dining, and fun nightlife. The housing stock here is incredibly varied and invariably attractive, with brownstone and greystone rowhouses and stately single-family homes. And the nearby Embassy Row adds to the neighborhood's visual appeal.
What to Do
Welcome to America's first museum of modern art. Here, visitors can find the works of artists like Auguste Renoir, Mark Rothko, Vincent van Gogh, Georgia O'Keeffe, and Claude Monet.
Formerly known as the Hillyer Art Space, this small contemporary arts center is located directly behind The Phillips Collection. It's open seven days a week.
Technically in neighboring Kalorama, this is the only D.C. public park that occupies a street. Architect Robert E. Cook constructed these steps in 1911 after urban planners determined that the slope was too steep to create a street for automobiles, carriages, or pedestrians. Today, it's a peaceful respite in the city.
13. Embassy Row
On Massachusetts Avenue NW, also in Kalorama, there's a dense population of embassies, diplomatic missions, and other government organizations. Many of these buildings were built in the early to mid-20th century. Take a stroll along the block between Scott Circle and the North side of the United States Naval Observatory to view these architectural stunners.
Explore The Society of the Cincinnati's headquarters and the Anderson House, a National Historic Landmark. Visitors can tour the first and second floors of this fashionable, 1905-constructed mansion with its eclectic interiors.
At one time, Brewmaster Christian Heurich, owner of the Chr. Heurich Brewing Co., was the District's largest private landowner and non-governmental employer. Visitors of this late 19th century mansion-turned-museum can get an inside look at the visually stunning interiors.
This maze-like hotel, museum, and private club combines four rowhouses into one. Here, there are boundless curiosities to discover, such as The Beatles and Bob Dylan memorabilia and even 70 secret doors.
This 75,000-square-foot subterranean space was used as a trolley station from 1949 until 1962. Since 2014, the underground tunnels have found a new use as an art, theater, and live music space.
Where to Eat and Drink
This Michelin-starred gem offers tasting menus with courses like grilled, marinated tuna cheek and soft-shell crab tempura. Be sure to make reservations, as nabbing a table can be challenging.
For a Mediterranean-influenced dinner at this highly rated restaurant, expect to pay a hefty fee: For a tasting dinner, it costs $165 per person with a set meal of a dozen or so dishes. But it's worth it.
This Italian eatery is a go-to for hand-made pasta, wood-fired pizza, and brunch.
Immediately south of Dupont Circle, this quiet French pastry shop has turned heads for its desserts since opening in 2016. Try the merveilleux (translates to "wonderful"), which consists of whipped cream or ganache sandwiched between layers of meringue.
Why Locals Live Here
With homes with high curb appeal, a walkable concentration of amenities, and easy Metro access, why wouldn't someone want to live here? But of course, Dupont Circle is one of the most expensive neighborhoods in the District (although there are some more affordable condos here). For those who can afford it, Dupont Circle is D.C. living at its best.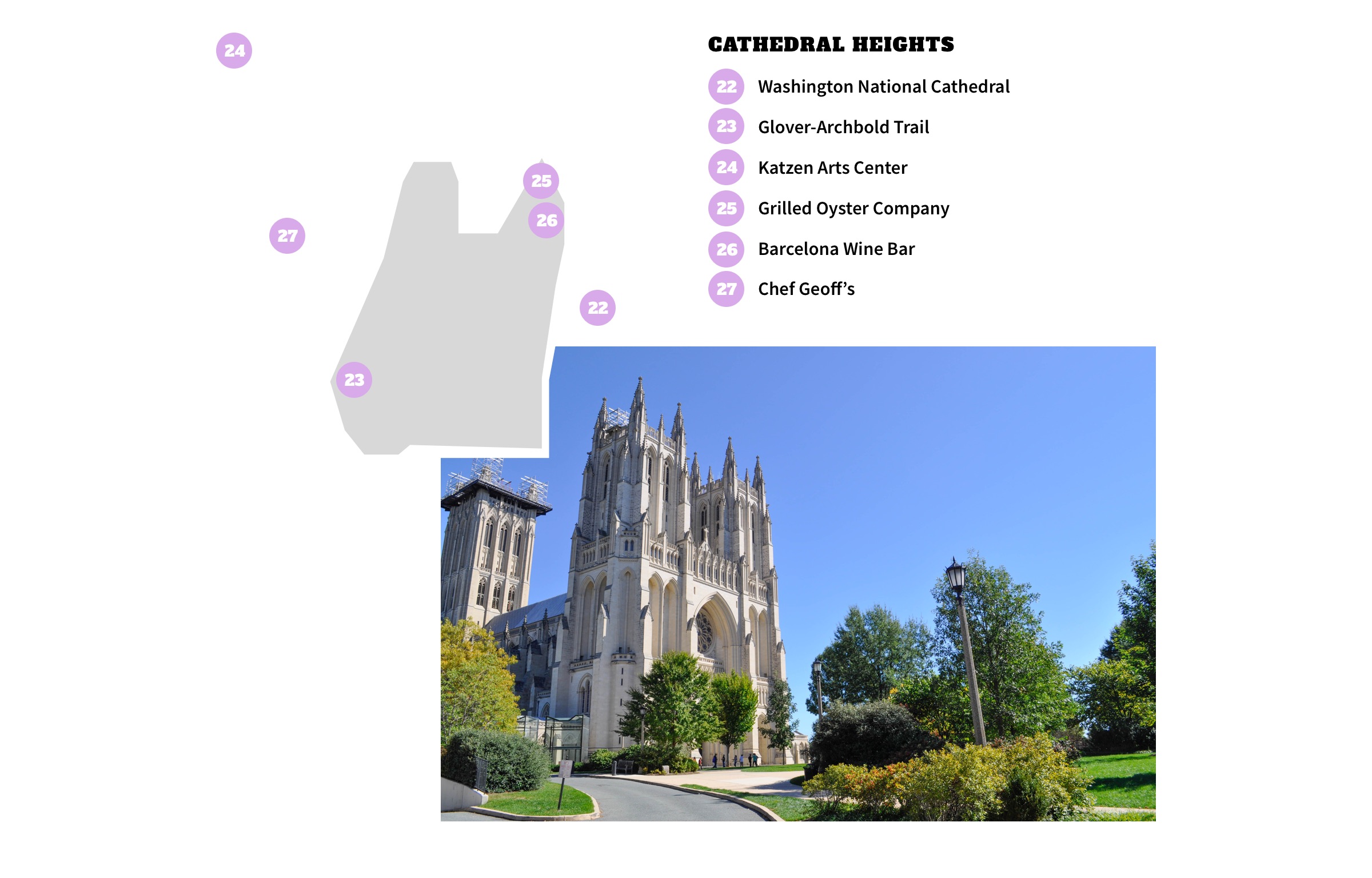 This residential neighborhood might be small, and it may not have a dedicated Metro station (several bus lines roll through the neighborhood), but it's beloved for its architecture and quiet, well-maintained atmosphere. Along with views of the Washington National Cathedral, the second-largest church building in the United States, the neighborhood offers stately single-family homes and condos that run the gamut when it comes to prices.
What to Do
The landmark to look out for when searching for Cathedral Heights is unsurprisingly the Washington National Cathedral. This Neo-Gothic, Episcopal cathedral is the fourth tallest structure in the nation's capital and the second largest church in the United States.
This well-maintained, three-mile trail is a popular place for picnicking and hiking.
Located in neighboring Tenleytown on American University's campus, this free, lesser-known museum has stunning architecture and a wide selection of rotating contemporary art from around the world.
Where to Eat and Drink
Stop by this seafood restaurant for calamari, raw oysters, crab cakes, and their popular happy hour menu.
A quieter and far less crowded version of this chain's 14th Street NW location, this wine bar has nearly 400 wines to try.
Expect consistently good food, friendly service, and excellent happy hour deals at this 20-year-old neighborhood staple.
Why Locals Live Here
Residents love this peaceful enclave in the city. Cathedral Heights offers the residential feel in the suburb, with the walkability and quality bars and restaurants D.C. urban neighborhoods are known for. The variety of condos in this area give potential homebuyers a lot of options, but those in the market for a single-family home will find the inventory a bit limited.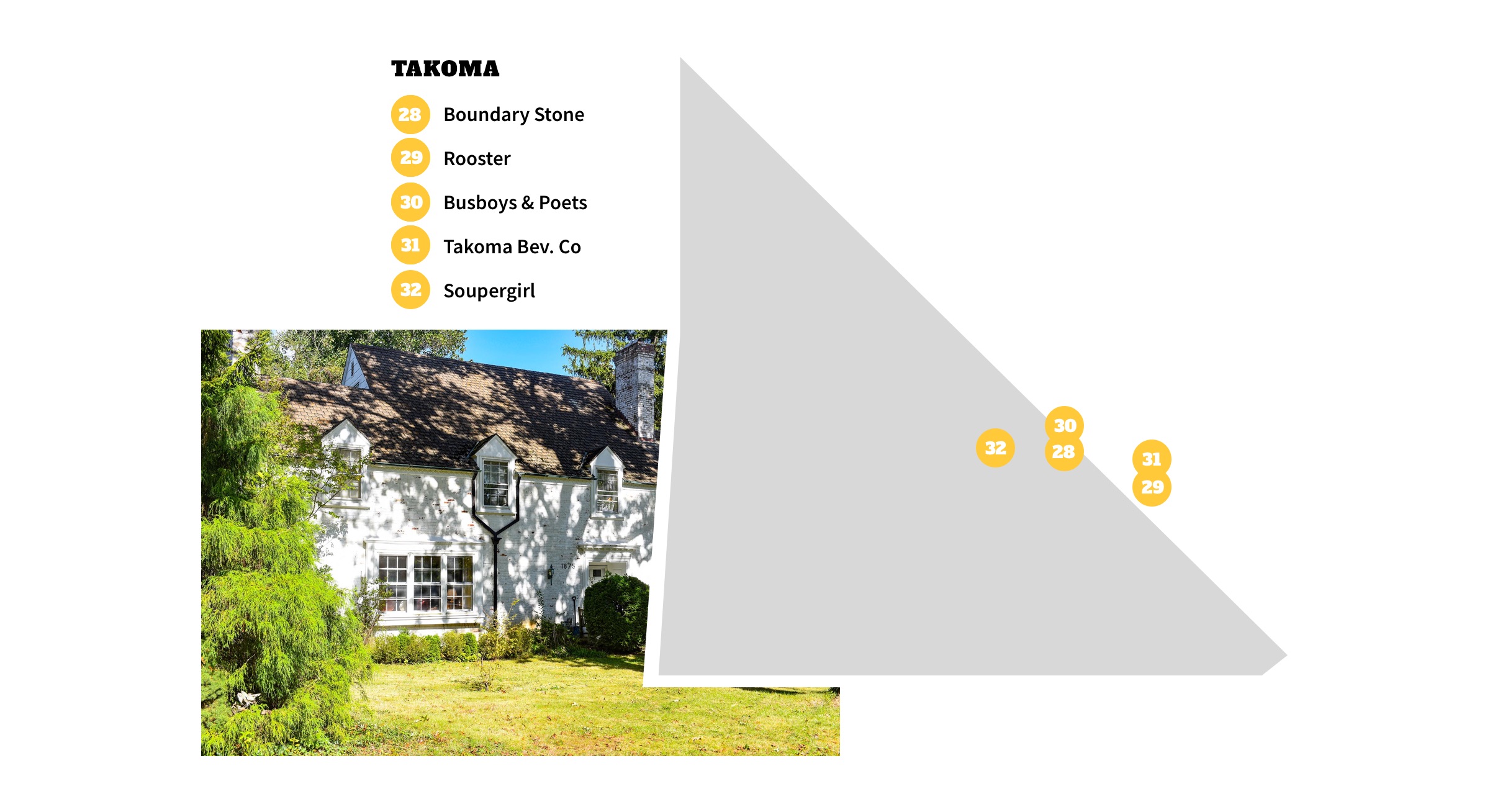 Often confused with the adjacent Takoma Park neighborhood in Maryland, this pedestrian-friendly D.C. neighborhood is beloved by residents for having not only a Metro Red Line station that shares its name, but also a grocery store, a library, and a nearby recreation center. The neighborhood has large, relatively affordable, single-family homes, as well as some recently built condos in mixed-use developments.
What to Do
Near the intersection of Maple and Carroll avenues, there's a stone that marks the boundary between D.C. and the state of Maryland. This monument dates back to 1792 and was one of 40 total boundary stones placed around the perimeter of the city. Of those 40, only 36 currently remain.
For approximately 10 years, a rooster named Roscoe roamed the streets of Takoma, becoming a neighborhood mascot. There's no telling where he came from, but after he fell victim to a hit and run in 1999 the neighborhood came together to stage a memorial service. Following this, artist Normon Greene was commissioned to create a life-sized, bronze statue in the animal's likeness at 6927 Laurel Avenue.
Where to Eat and Drink
Since 2005, outposts of this social justice-minded bar, restaurant, and artistic event space have proliferated across the D.C. area. Busboys & Poets opened in this location in 2015 with a bookstore and a children's section.
Don't expect anything crazy or pretentious at this place, just well-done breakfast sandwiches and single-origin coffees and teas. It's incredibly comfy and art-filled with tons of seating space to spare.
For a healthier choice, this restaurant's homemade cold and hot soups will surely satisfy a variety of dietary needs.
Why Locals Live Here
This pedestrian-friendly neighborhood offers a pleasant atmosphere with plenty of things to do nearby, and the neighborhood's Metro stop can quickly take you to more popular sections of the city. You can even walk to Maryland from here, but the neighborhood is still firmly within D.C. city limits. With its many tree-lined streets and quirky restaurants and bars, it's perfect for those who want cool places to shop and eat without the commotion of a more nightlife-centric neighborhood.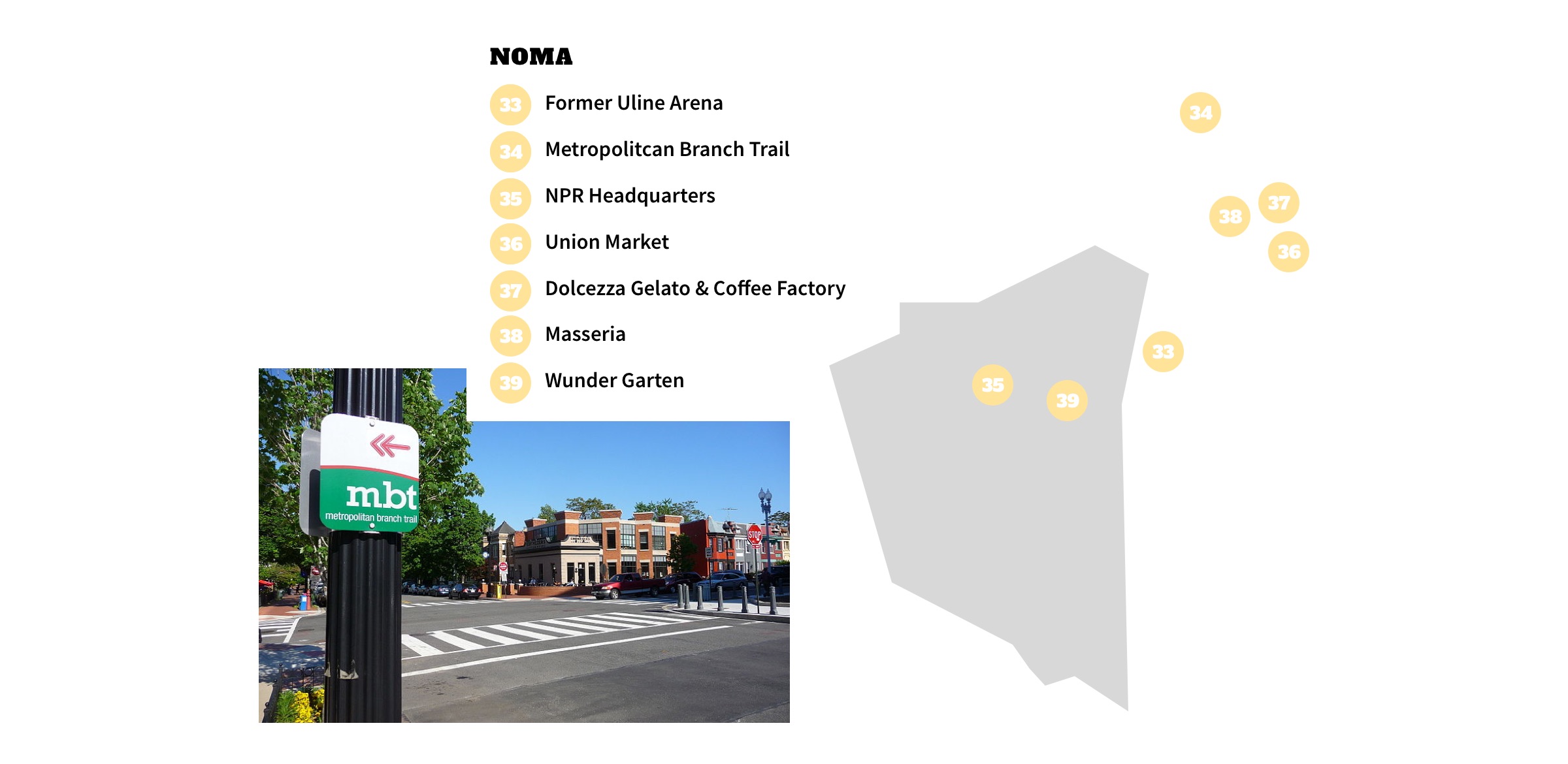 To sum up NoMa in a few words is difficult because the neighborhood is constantly changing, and it has been for at least a decade now. The area didn't even have an official name until the mid-2000s after several billion dollars worth of investments, redevelopment, and a large growth in population. It now sports several murals and public artworks, a Harris Teeter grocery store, greenspaces, and several restaurant and bar options worth revisiting—and there's still more to expect in the future.
What to Do
Within walking distance of the NoMa-Gallaudet U Metro station, this arena has a long history. It was the venue for the first American concert by The Beatles in 1964 and the first inaugural ball for President Dwight D. Eisenhower in 1953. It also hosted a speech by Malcolm X and the pro-wrestling debut of boxer Joe Louis. After a 2016 renovation, the building became an REI store.
Spanning approximately eight miles from Silver Spring, Maryland down to Union Station in D.C, this easygoing trail is perfect for athletes of all levels. Along this trail, be sure to look out for the many murals along the way, including "28 Blocks," which honors the African-American men who quarried the white Georgia marble used to build the Lincoln Memorial.
Some of the radio industry's best minds are found in this glassy, LED-decorated building, which has garnered many accolades for its architecture after being completed in 2013. Don't be shy about checking out this building; NPR hosts daily public tours.
Where to Eat and Drink
This indoor market was constructed in 1967 and later renovated and reopened in 2012. Since then, this booming indoor food hall has become a dining destination for locals, tourists, and food critics alike.
This popular D.C. sweet shop has a location right behind Union Market.
Everyone from The Washington Post to Bon Appétit have fallen in love with this modern Italian restaurant, headed by chef and owner Nicholas Stefanelli. Menu highlights include risotto, truffles, and caviar.
During the warmer months, this beer garden, known for its many draft beers and salty snacks, is the place to be. Often, the space will host events like live music, comedy acts, and even makers markets.
Why Locals Live Here
NoMa is the place to be for any resident interested in convenient access to the Metro's Red Line, the Metropolitan Branch Trail, a variety of retail and food options, and both small- and large-scale housing. There's a variety of residences in the area, including condos in recently constructed, mixed-use buildings and rowhouses constructed over a century ago.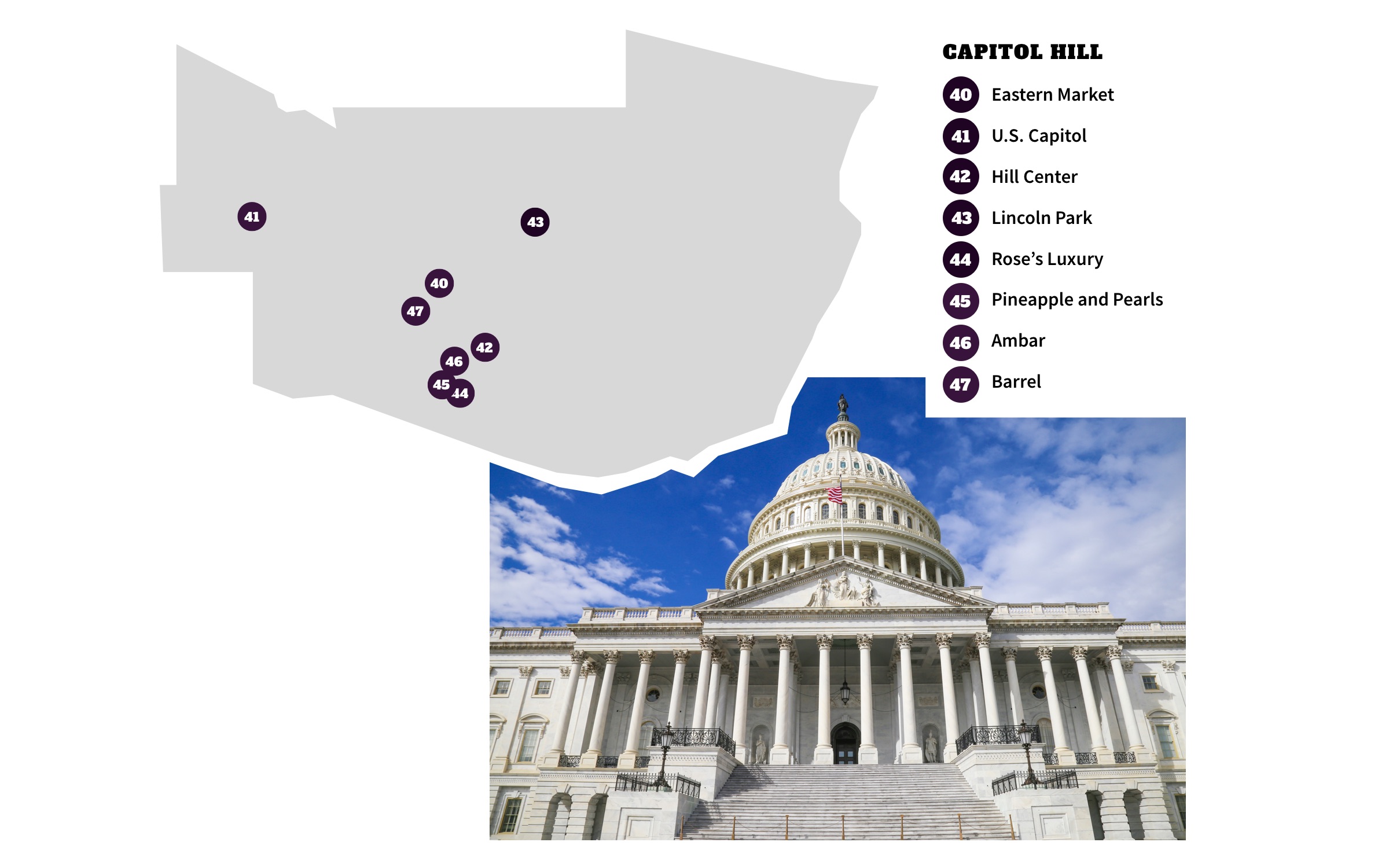 Capitol Hill is one of the oldest, most charming, and most well-known neighborhoods in the nation's capital. It offers walkable, tree-lined streets with cobblestone sidewalks, multiple commercial corridors, and greenspaces. It's pretty common to see a D.C.-famous face here, as many political figures past and present have lived here.
What to Do
Eastern Market serves as a kind of town center to this community. For the vendors who fill the building with meat, seafood, and pastries to the artists who fill the adjacent streets with their goods, this market is always thriving.
As one of the most recognizable buildings in Washington, D.C., the U.S. Capitol is worth the trip not only to see inside the 200-year-old structure's stunning dome, but also to learn about the structure's long and storied history.
This former naval hospital officially opened as an educational center in 2010 after it was refreshed in a $10 million, 18-month restoration. Now, Hill Center offers a variety of classes dedicated to cooking, the visual arts, and health and fitness. The venue also hosts film screenings and stage performances.
At the largest park in Capitol Hill, you'll find memorials to President Abraham Lincoln and Civil Rights activist and educator Mary McLeod Bethune. The Lincoln statue was unveiled in 1876, nearly 100 years before Bethune's statue was added in 1974, becoming the first monument to honor a black woman in a public D.C. park.
Where to Eat and Drink
People have waited in line for hours just to dine at this Michelin-starred restaurant. Thankfully, you don't have to anymore; Rose's Luxury is finally accepting same-day reservations.
Directly next to Rose's Luxury, Pineapple and Pearls is a restaurant by the same chef and owner, Aaron Silverman. This Michelin-starred dining experience is praised for its comfortable ambience, high-quality service, and dishes sure to wow.
Ambar is the first restaurant in the District to showcase modern Balkan cuisine. It also made Michelin's Big Gourmand list, which features eateries that are not only excellent, but also on the more affordable side.
Since it first opened in 2014, Barrel has been praised for its lengthy bourbon selection and Southern comfort-inspired dishes.
Why Locals Live Here
With the Capitol, Marine, and Navy complexes in the neighborhood, many District residents live here because it's close to their jobs. But anyone who appreciates high standards when it comes to dining and living will love Capitol Hill—if they can afford it. Expect to pay high prices on pretty much everything here, from the housing to the food to the parking. Housing here consists of century-old Victorian rowhouses alongside high-priced, modern condos. The neighborhood also attracts vocal residents who attend meetings to speak out against planned mixed-use projects that could drastically change the historic environment.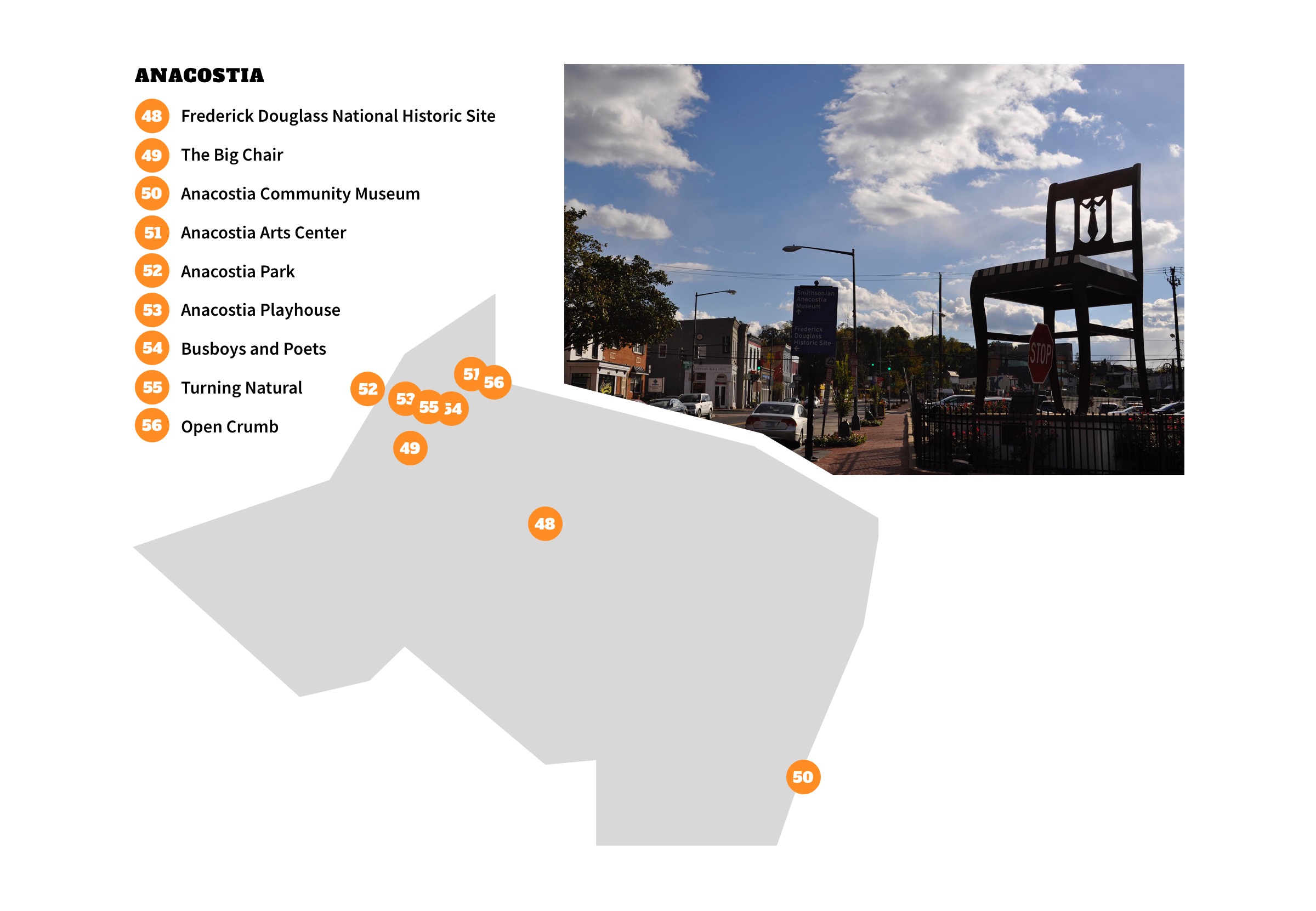 Located east of the Anacostia River, this tight-knit community is one of the District's most misunderstood areas. It's often discounted because of its lack of amenities, but the neighborhood has many organizations invested in the area's growth, including many arts-centric organizations. And with many new developments in the pipeline, Anacostia is a neighborhood on the rise.
What to Do
The former residence of Frederick Douglass, the African-American social reformer, abolitionist, and author, is now a National Historic Site that offers public tours and sits atop a hill, allowing for views of D.C.'s skyline.
The 19-and-a-half-foot sculpture at the intersection of Martin Luther King Avenue and V. Street SE was originally conceived by Charles Curtis as a creative way to bring business to his furniture store. Although the original sculpture was replaced with an aluminum replica in 2005, the giant chair has served as a neighborhood landmark through its ups and downs.
This Smithsonian institution first opened in 1967, becoming the nation's first federally funded community museum. For seven months, starting mid-March of 2019, this museum will remain closed for a $3.5 million renovation project that will bring a multi-functional plaza, a community garden, better accessibility, and other updates.
This small business incubator and arts center spans 9,300 square feet and includes a black-box theater, cafe, galleries, and boutiques. The center also hosts poetry open mics, live dance performances, and creative workshops.
This public park offers over 1,200 acres of space to relax in, making it one of the District's largest recreation areas. Not only does this park offer scenic views of the Anacostia River, but it also includes a roller skating pavilion.
Originally the H Street Playhouse, the space reopened in 2013, took on a new name, and reinvigorated the local community through the arts. Visitors can see a range of performances here, and the theater often engages in outreach efforts with nearby schools.
Where to Eat and Drink
Busboys & Poets has already been mentioned in this guide, but it's worth repeating with this Anacostia location, which opened March 2019. The social justice-centered chain's seventh location has a private event space named after former D.C. Mayor Marion Barry.
Along with juice and smoothies, there are also a few food options, including veggie patties, vegan cakes and pies, acai or pitaya bowls, soups, and salads.
This easily missed cafe might look modest on the outside with its simple sign, but it's a neighborhood favorite when it comes to grabbing a quick sandwich or slice of cake.
Why Locals Live Here
Inventory is tight in this neighborhood, but the housing stock typically consists of attached units and boxy, Wardman-style single-family homes that are relatively affordable for D.C. Along with other neighborhoods east of the Anacostia River, this community still lacks a lot of amenities. However, the organizations in Anacostia committed to the neighborhood's growth make it appealing to homebuyers looking to be engaged in their community.