National Real Estate
Where to Find New Construction Homes in Atlanta
Atlanta is a major U.S. city with a booming film and music industry. Major companies have planted their headquarters in this southern city, and it has one of the busiest airports in the world. While other major cities can boast of similar reputations, Atlanta has all of this and more with a more affordable cost of living. You can find a newer home in this city without sacrificing on size and your neighborhood of choice.
Explore these eight Atlanta neighborhoods if new, modern construction is high on your list of homebuying priorities.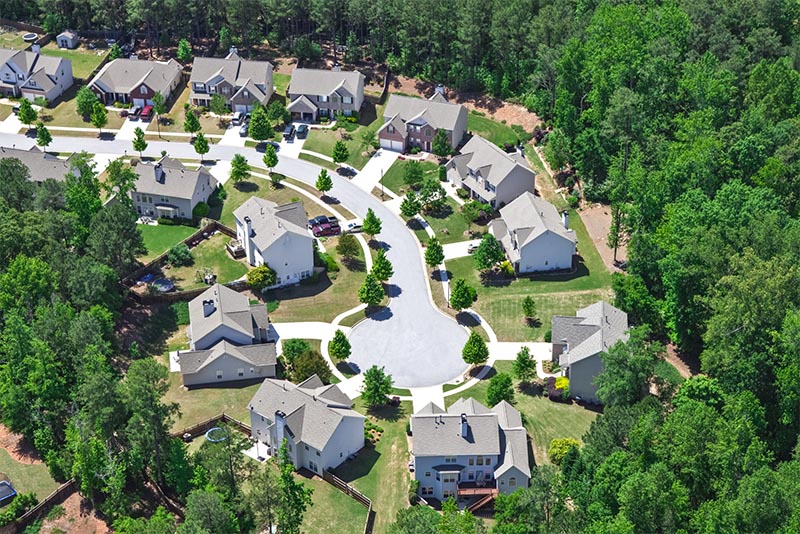 As one of Atlanta's trendiest neighborhoods, Buckhead welcomes new construction with open arms. The neighborhood is a blend of both commercial and residential space. On the commercial side, you'll find hot spots to eat, upscale boutiques, and art galleries. The neighborhood's more residential areas still manage to offer large single-family homes.
Home prices are commensurate with Buckhead's hotspot reputation. You'll find plenty of listings for homes built after 2015. The single-family homes in this category will have a higher price, but the lofts and condos popping up in the more commercial areas of the neighborhood will offer more budget-conscious shoppers options to consider. Current homes in Buckhead listed on neighborhoods.com range from the low thousands all the way up to over $10 million.
East Atlanta, sometimes bearing the name of East Atlanta Village, is an urban neighborhood with suburban vibes. Colorful murals, plenty of spots to eat out, coffee shops, and a proliferation of music venues create a city atmosphere, while the neighborhood's walkability and modern real estate create a relaxed suburban vibe.
People looking to settle down in East Atlanta will find a fair amount of new construction to consider, mostly in the form of townhomes. Home prices range from the high $100s to the high $600s, making East Atlanta a pretty affordable place to embrace the trendy lifestyle of Atlanta.
Midtown is an essential Atlanta neighborhood, home to some of the city's biggest attractions. From theater and museums to parks and gardens, this central Atlanta neighborhood has the flavor of New York's Midtown while creating a character entirely its own.
As new construction continues to be a pretty big theme in this dense neighborhood, you can find quite a few homes built post-2015 in Midtown. Your options range from lavish single-family homes to high-rise units, both of which likely include quite the laundry list of amenities. Midtown does have an upscale flair, with current home prices ranging from the low $100s to more than $2 million.
Ridgewood Heights is an attractive option for families considering where to settle in Atlanta. The largely residential neighborhood features large homes with sprawling lawns. Plus, residents have access to two highly rated elementary schools: Jackson Elementary School and Brandon Elementary School.
Current home prices in Ridgewood Heights are the higher end, ranging from the mid $400s to over $1 million. New construction in this neighborhood tends to be large single-family homes, so you can expect prices to be on the higher end.
Reynoldstown is a historic Atlanta neighborhood with roots in the railroad industry. Today, the neighborhood is a popular spot to settle thanks to its walkability, bikeability, and proximity to the city center. The neighborhood has a definitively artsy vibe with plenty of street art to catch the eye.
Given its history, Reynoldstown has its fair share of historic architecture—think bungalows and cottages. It also has a good amount of new construction, injecting an atmosphere of modernity into the neighborhood. Homes built after 2015 may be single-family, but you'll be more likely to spot modern condos and townhomes. The median sale price in this neighborhood is in the mid $400s, but you can find more affordable choices and more opulent options.
The Summerhill neighborhood of Atlanta is home to the Center Parc Credit Union Stadium (formerly Georgia State Stadium), where the Panthers play. While this draws plenty of sports fans, Summerhill is about more than just football. The neighborhood also has a thriving residential scene dotted with colorful single-family homes, older tri-levels, and new construction.
The median sale price in Summerhill is in the high $300s, making it an affordable option for many homebuyers. The bulk of homes built after 2015 are townhomes, but you can spot some more modern single-family options on the market.
Sylvan Hills has a strong sense of community, bolstered by an active neighborhood association. Atlanta's reputation as a "city in a forest" shines through in neighborhoods like Sylvan Hills, which has a large collection of parks.
This Atlanta neighborhood is conveniently located near the Hartsfield-Jackson International Airport and offers prospective residents affordable options. Current home prices in Sylvan Hills range from under $100k to the low $500s. It does have a fair collection of single-family homes built post-2015.
Westside Station, created by developer Brock Built, was designed to offer more affordable home prices for intown Atlanta. The developer also brought a pool and clubhouse to the community.
You'll find both townhomes and single-family homes in this residential Atlanta neighborhood. Westside Station is a small neighborhood, but it continues to attract interest due to its sizeable homes. Current home prices range from the low $500s to the low $600s. As a relatively new neighborhood, most of what you see on the housing market will have been built post-2015.