National Local Life
The Best Neighborhoods for Barhopping in Atlanta
Atlanta is an expansive city that's famously challenging to traverse across. Luckily, it's divided into thriving neighborhoods that feel like their own little cities, each with its unique nightlife scene. Because of this, you can hit the town and experience a variety of places by going out in one of the best neighborhoods in Atlanta for barhopping.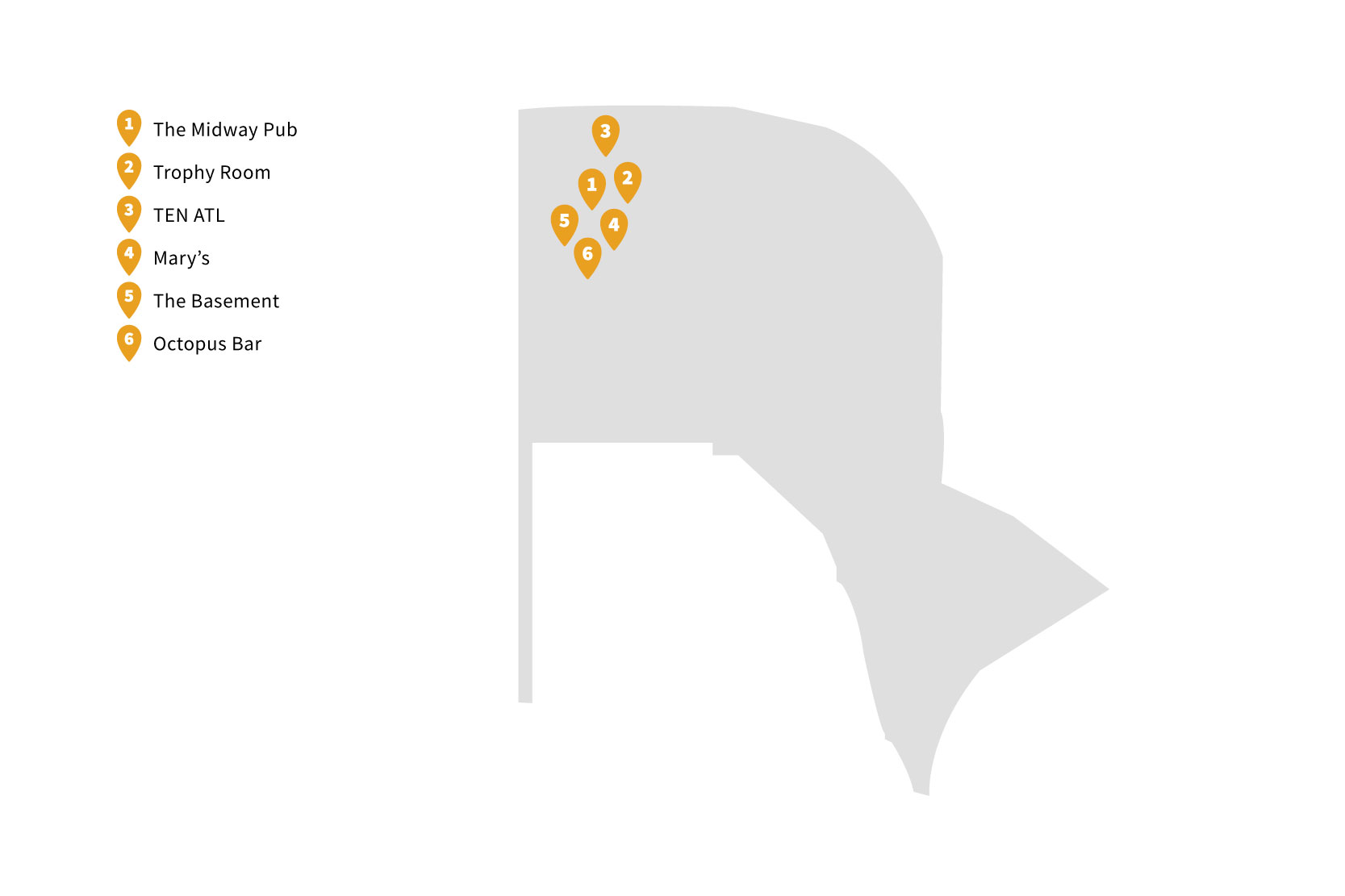 East Atlanta has many great qualities, but the barhopping potential is at the top of the list considering the variety of options all within a few walkable blocks.
If you want to enjoy a patio, watch a game, or you require a large beer selection and above-average bar food, The Midway Pub is the spot. Just down the street is the Trophy Room, the hidden gem upstairs extension of The Flatiron Bar and Restaurant, which has different rooms for playing darts and pool in a rustic space decorated with taxidermy.
For turning things up multiple notches, there's plenty of East Atlanta Village bars and clubs with DJs for dancing in a fun, lively setting. There are several options that all offer a distinct experience, like TEN ATL for rap, hip hop, soul, and R&B music. Right next door is Mary's, an Atlanta favorite LGBTQ destination for dancing, karaoke, and drag shows. Further down the street is The Basement which hosts regular weekend dance nights with themes like Beyonce and punk/emo parties.
For seasonal, intercontinental small plates and an impressive wine-by-the-glass and cocktail selection, Octopus Bar is a late-night spot where service industry workers go to enjoy dinner after work.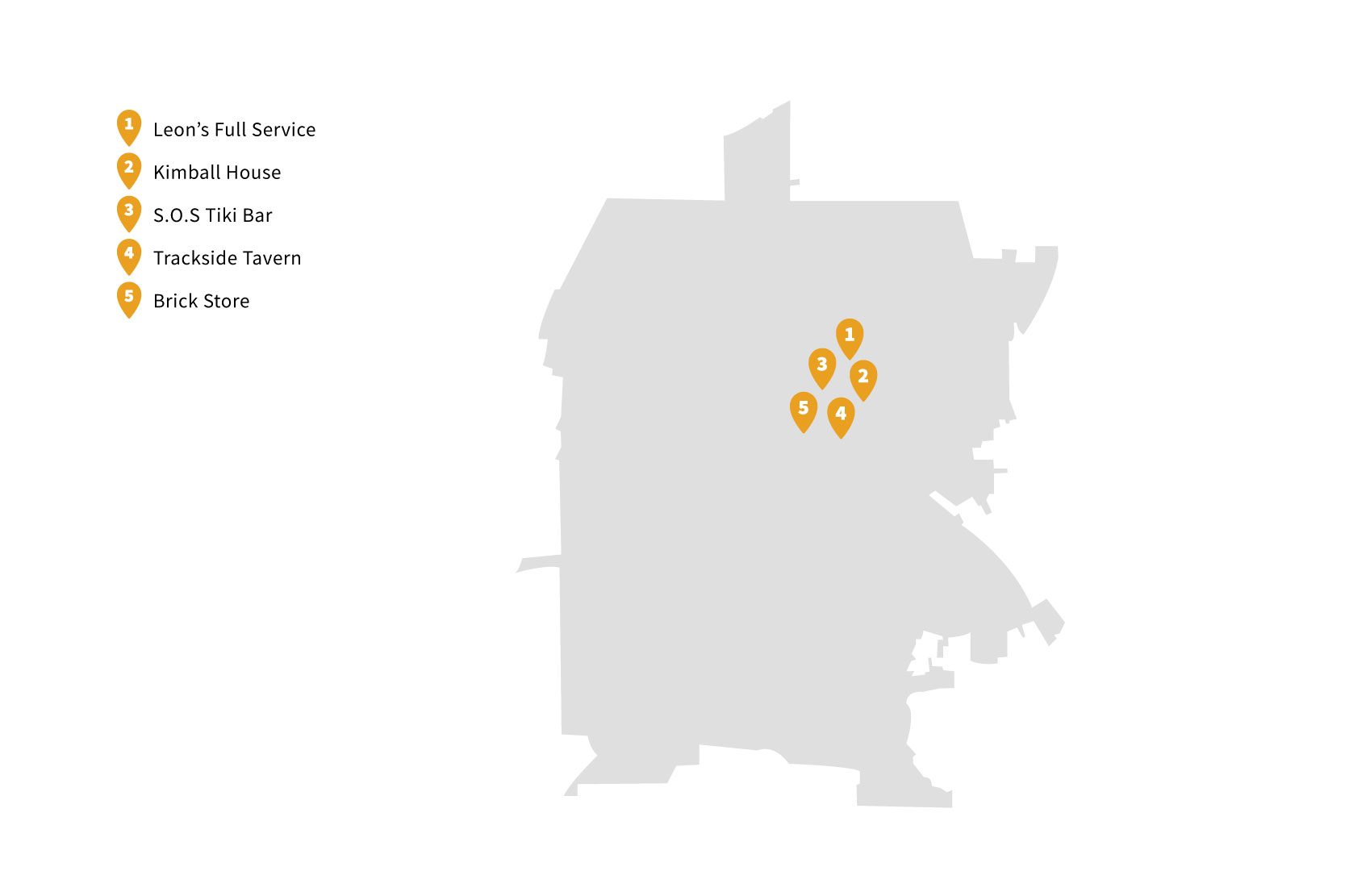 Over the past five years or so, this community—technically its own city, but still "in the perimeter" and considered a part of Atlanta—has gained some of the area's most sought-after restaurants and bars. It has a lot to offer in addition to its nightlife, like top schools and lots of festivals and events. Downtown Decatur is ground zero for dining and drinking, and every bar is within walking distance or a short ride from each other.
Leon's Full Service in downtown Decatur is known for always tantalizing cocktails made with obscure, fresh ingredients. As its name implies, it's also a restaurant, so just having drinks at the bar or a full meal are both options. Kimball House is another esteemed bar/restaurant with a James Beard-nominated beverage program.
For island vibes without venturing outside the perimeter, the S.O.S. Tiki Bar is complete with palm trees and tropical cocktails in a fun, colorful, kitschy atmosphere. Trackside Tavern and Brick Store Pub are both trusty, welcoming bars for beer lovers, especially Brick Store with its huge draft selection and a separate upstairs bar just for Belgian beer.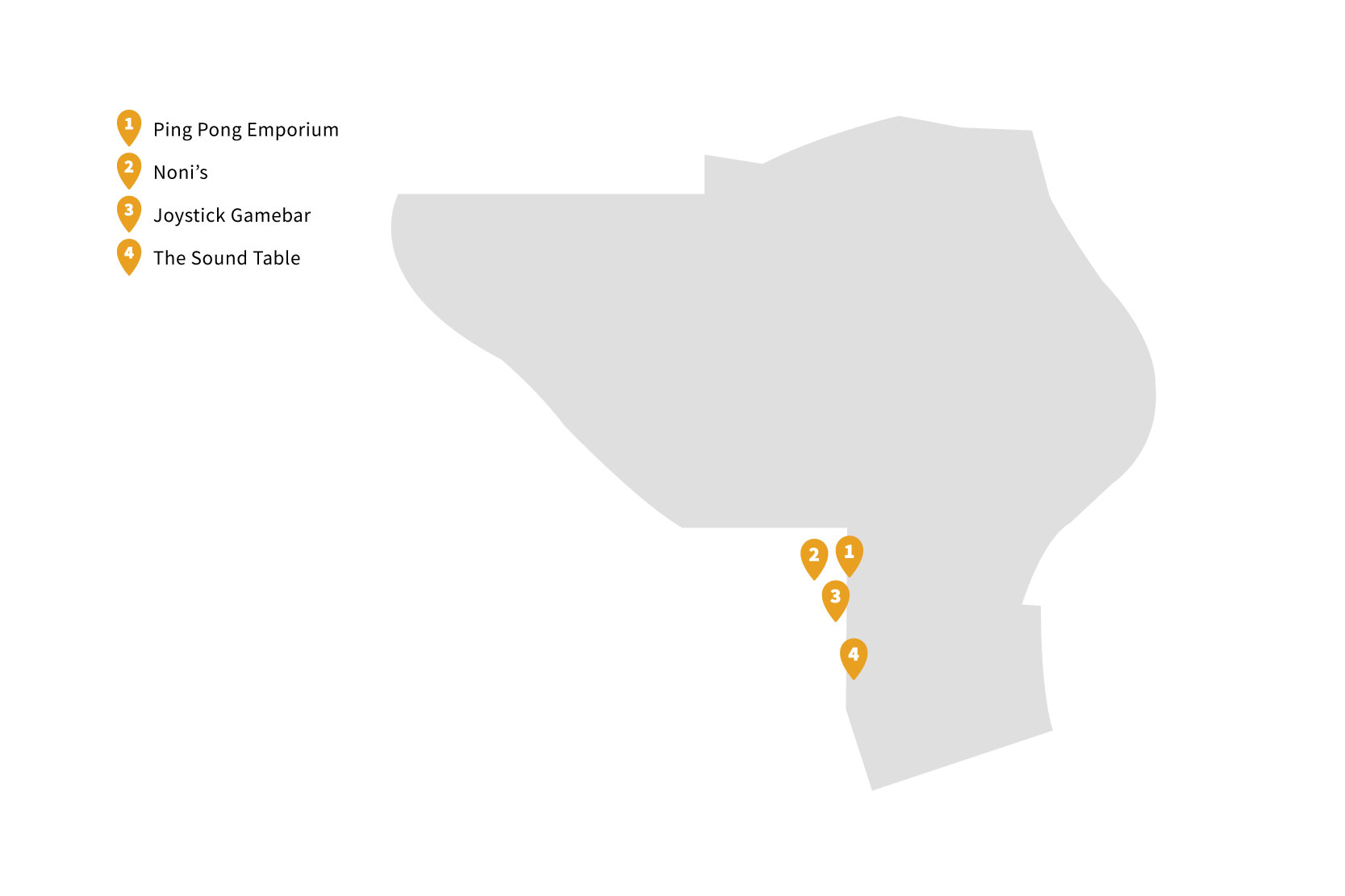 The character and history of Old Fourth Ward is palpable. It's a neighborhood with very strong roots and an undeniable Atlanta culture. Edgewood Avenue is the very hip stretch in O4W with bars, shopping, and art, making it one of the top Atlanta bar-hopping destinations.
Sister Louisa's Church of the Living Room and Ping Pong Emporium usually referred to as just "Church," is a whimsical bar owned by a former seminary student, artist, and civic developer. It bursts with personality and joyous vibes. This dive bar has an exuberant aesthetic, good drinks, and plenty of entertainment.
Just down the street from Church is Noni's, an Atlanta treasure. Noni's is a neighborhood restaurant, bar and late-night dance spot serving house-made pasta, pommes frites, sandwiches, and excellent cocktails, beer, and wine.
Joystick Gamebar is an arcade for adults with old-school games like Mrs. Pac-Man and pinball as well as good old-fashioned board games—and of course, a full bar for drinks while you play.
For a party scene, The Sound Table is a small bar with big energy co-owned by DJ Karl Injex. This Edgewood Avenue treat is open Wednesday-Sunday starting at 7 p.m. with a full food menu, a thoughtful cocktail list, and music leaning towards the funk and soul variety.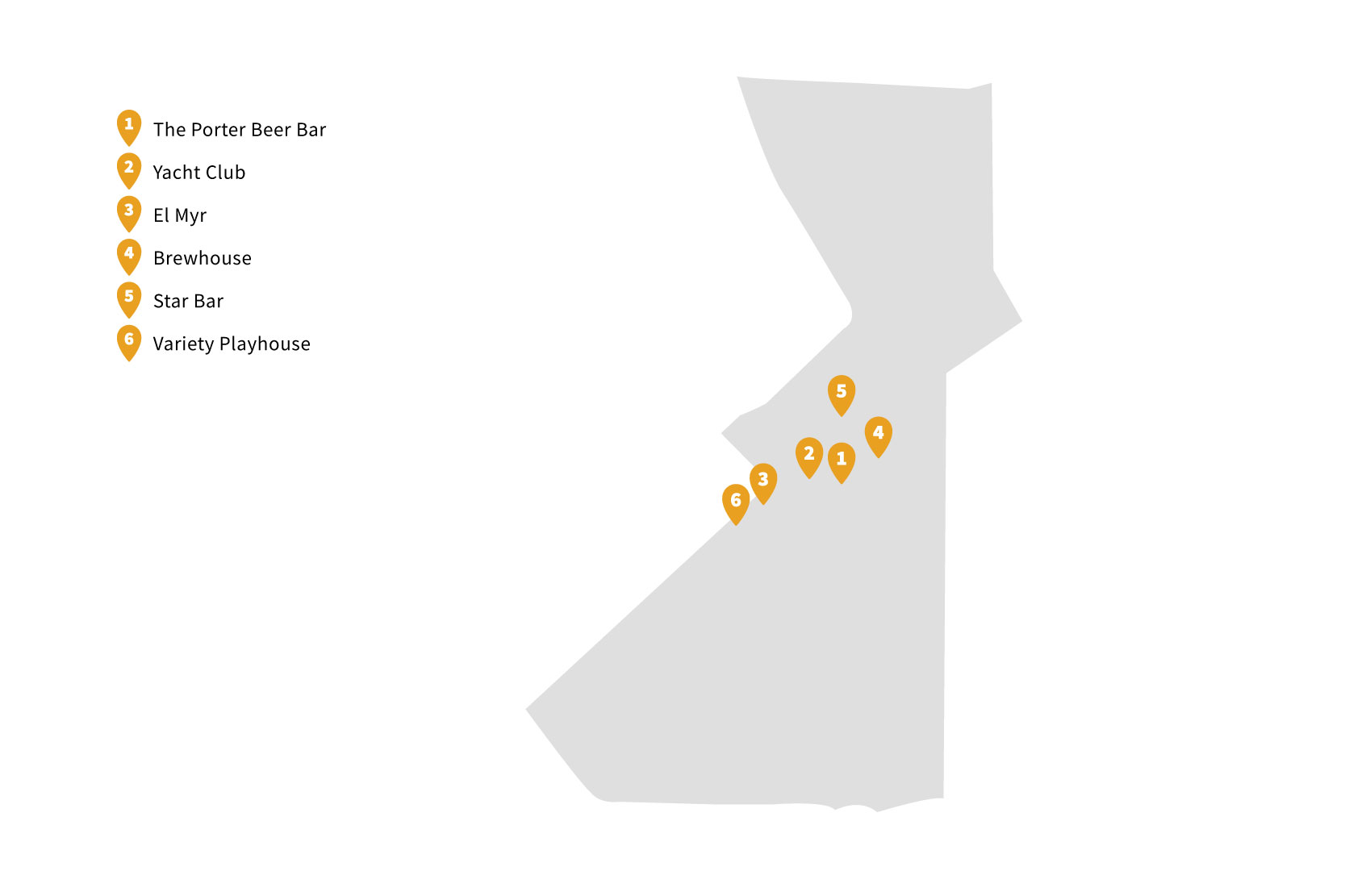 If you're looking for low-key vibes, affordable-to-cheap drinks, and no-frills bar food is more your speed, Little Five Points is the neighborhood to find it. All within a few blocks of this fringey Atlanta enclave are great bars for hopping from one to another.
The Porter Beer Bar is one of the best bars in Atlanta for beer enthusiasts with a comprehensive draft selection and excellent pub food. Down the street is Euclid Avenue Yacht Club, a nautical-themed casual neighborhood bar with cheap drinks, food, and darts in a no-judgment zone.
El Myr is a rock-and-roll bar with standard Mexican food, beer, and margaritas open until 2 a.m. Monday-Saturday and midnight on Sunday. For sports fans, Brewhouse is an Atlanta headquarters for watching Atlanta United and other soccer games, football, and other major sporting events.
Little Five Points is also a great neighborhood to see live music, like at Star Bar, a grungy dive for punk, metal, and rock bands and Variety Playhouse, a larger venue for prominent local and touring bands.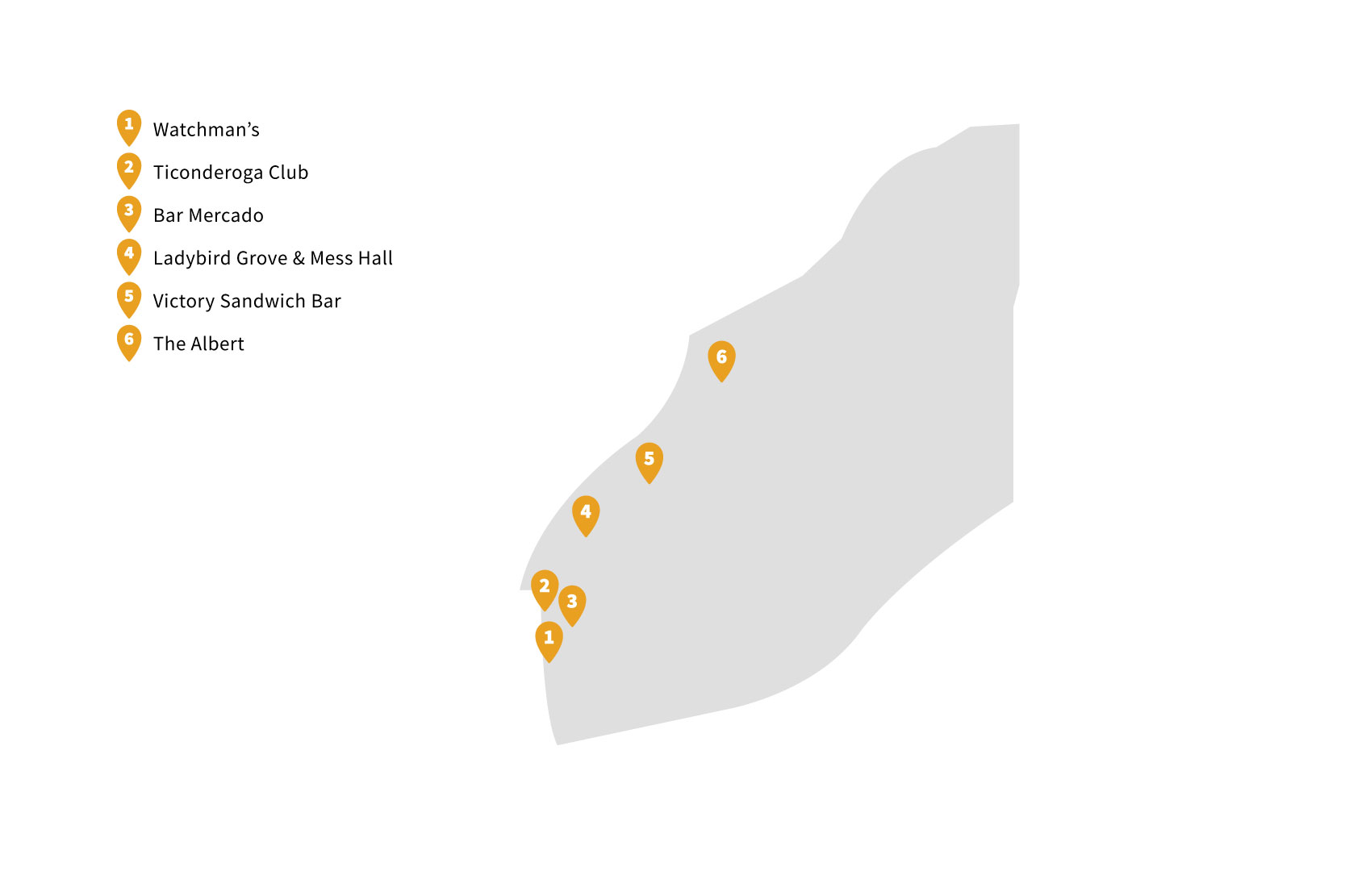 The Inman Park section of the BeltLine and surrounding area was made for bar hopping. Along this part of the city-spanning walking, biking, and skating path is a bounty of bars and restaurants to visit.
Krog Street Market alone has some of the best bars in the city with exquisite food, like Watchman's, Ticonderoga Club, and Bar Mercado. Venturing further down the BeltLine trail around Inman Park is Ladybird Grove and Mess Hall for cocktails, small plates, and one of Atlanta's best patios.
Victory Sandwich Bar has signature frozen cocktails, slushies, and sandwiches right off the Freedom Park Trail that connects to the BeltLine. The Albert is an Inman Park neighborhood staple sports bar with killer burgers, wings, and beer.