The Best Neighborhoods in Austin
The Best Neighborhoods in Austin
Austin consistently tops nationwide lists and surveys of the most desirable and liveable urban areas in the United States, and for good reason. The Texan capital's strong job market, diverse real estate offerings, and creative spirit make it an appealing locale for long-time Austinites and newcomers alike.
To determine the best neighborhoods in Austin, we looked at 11 factors including relative affordability, school ratings, lifestyle, amenities, and resident reviews. (If you're interested in learning about our methodology, you can check it out here.) If you're in the market for a home in Austin, these 10 neighborhoods top our list.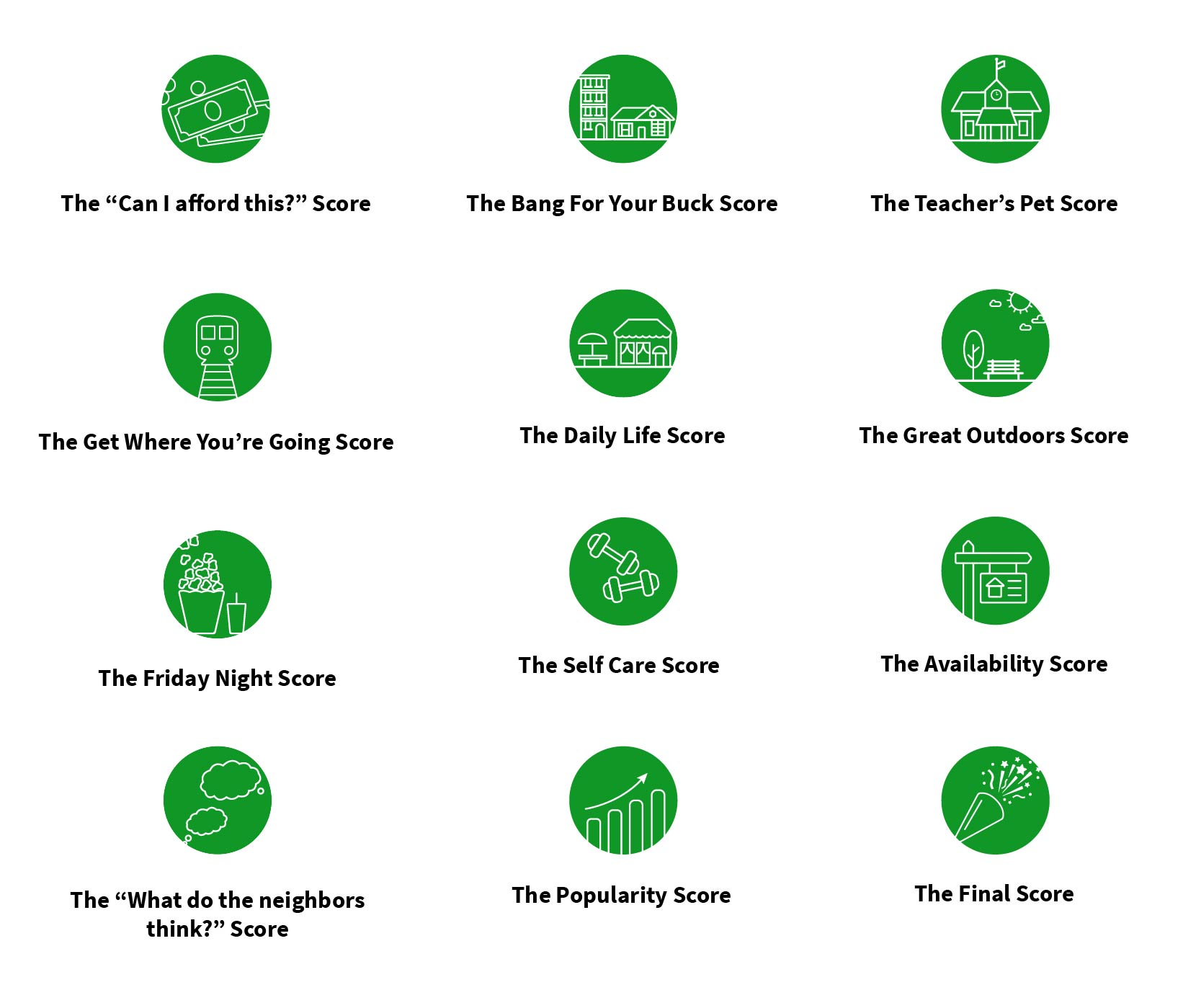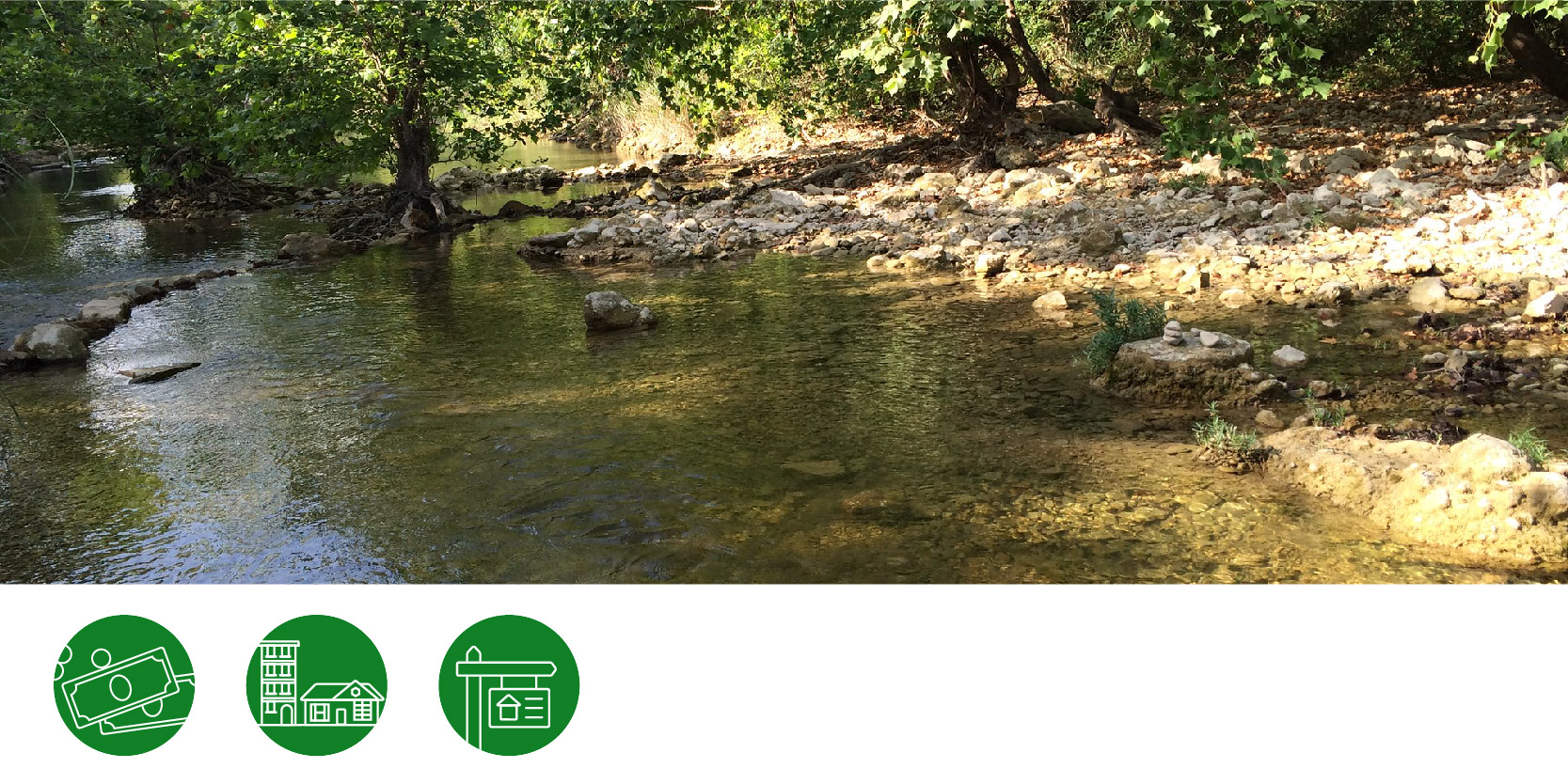 Wedged between some of south Austin's most popular and high-value areas like South Congress and South Lamar, you'll find South Manchaca, a serene and residential enclave with affordable housing options and a location that's conducive to easy downtown commutes.
Homebuyers looking for an Austin neighborhood with excellent amenities for their families gravitate to South Manchaca for the appealing public greenspaces surrounding Williamson Creek and the area's inclusion in the vaunted Austin Independent School District, which regularly tops lists of the best public school districts in Central Texas.
Residents who value exciting dining and drinking options will also find their needs met by South Manchaca; while the neighborhood itself is peaceful and non-commercialized, it's adjacent to bustling areas with vibrant restaurant and bar scenes, including charming local cafes/beer bars like Radio Coffee & Beer and Cosmic Coffee & Beer Garden, beloved Tex-Mex icon Matt's El Rancho, and hyper-trendy Asian barbecue joint Loro.
Austinites who live in South Manchaca and work in Downtown Austin have a 10-15 minute commute by car and a 40-minute commute by CapMetro bus. The majority of available residences in the neighborhood are attached homes (condos, apartments, and townhouses), and single-family houses. Pricing ranges from the mid-$200s to the low $800s, with a median sale value in the mid-$300s.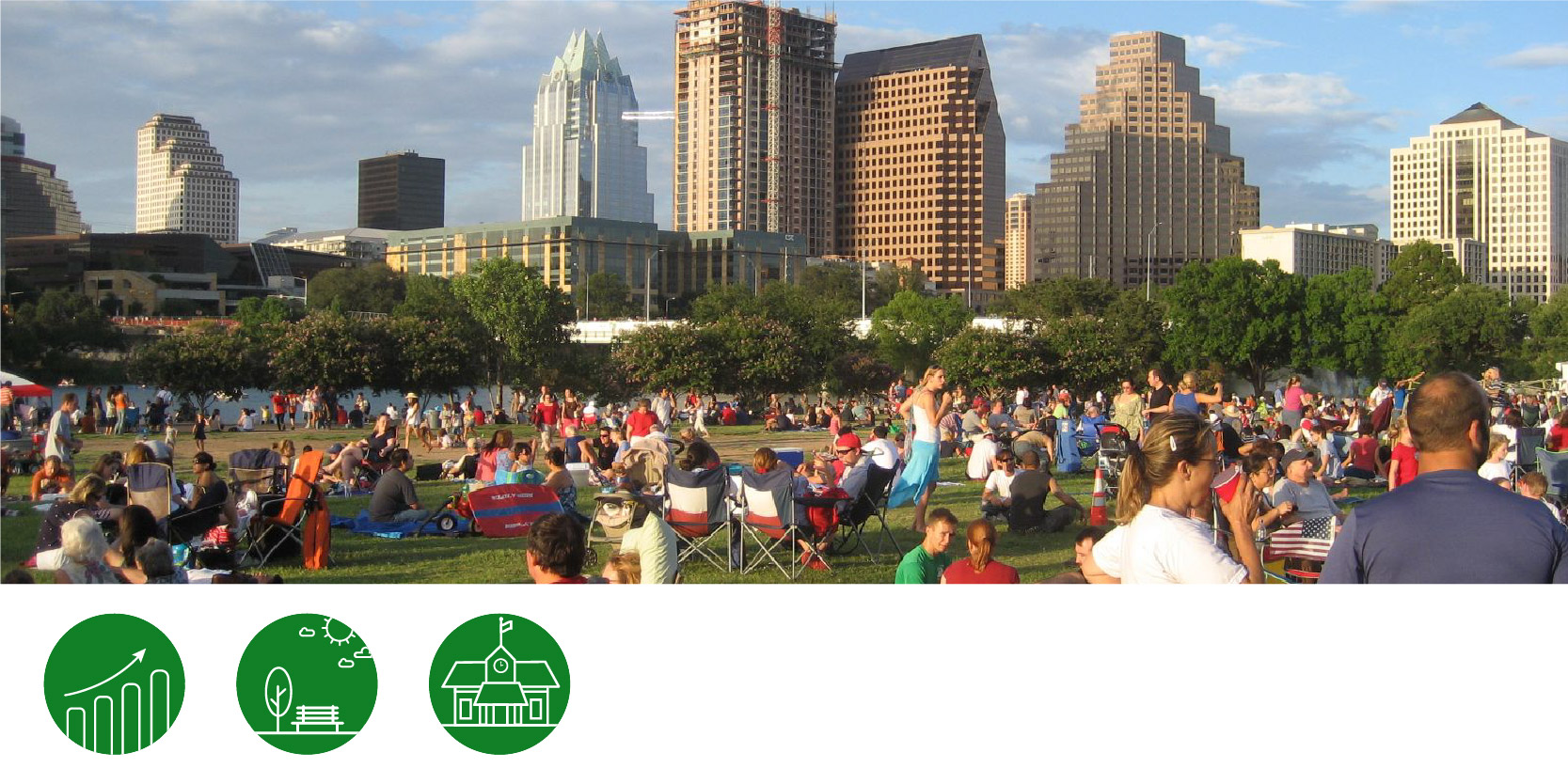 Bouldin Creek's lively, creative vibes make it a south Austin favorite, as do its convenient locale and proximity to major restaurant rows like South 1st Street and South Congress Avenue. It's also home to some of Austin's most scenic outdoor venues, like Auditorium Shores (home of the Stevie Ray Vaughan Memorial statue and the Long Center for the Performing Arts) and the famous Congress Avenue "Bat" Bridge, where colonies of bats fly above the river at nightfall throughout the spring and summer.
Bouldin Creek residents have the advantage of an easy downtown commute (10 minutes by car, 20 minutes by bus) and many restaurants and entertainment options up and down South 1st and South Congress. Street art aficionados regularly make pilgrimages to the highly Instagrammable "Greetings From Austin" mural on South 1st, and outdoorsy Bouldin Creekers benefit from the boating, hiking, and biking infrastructure in and around Lady Bird Lake.
As an especially desirable region of the city, Bouldin Creek features above-average pricing for homes. Prospective buyers can choose from single-family houses or apartments/condos, and the current range stands between the low $200s and the high $1 millions, with a median price in the mid-$600s.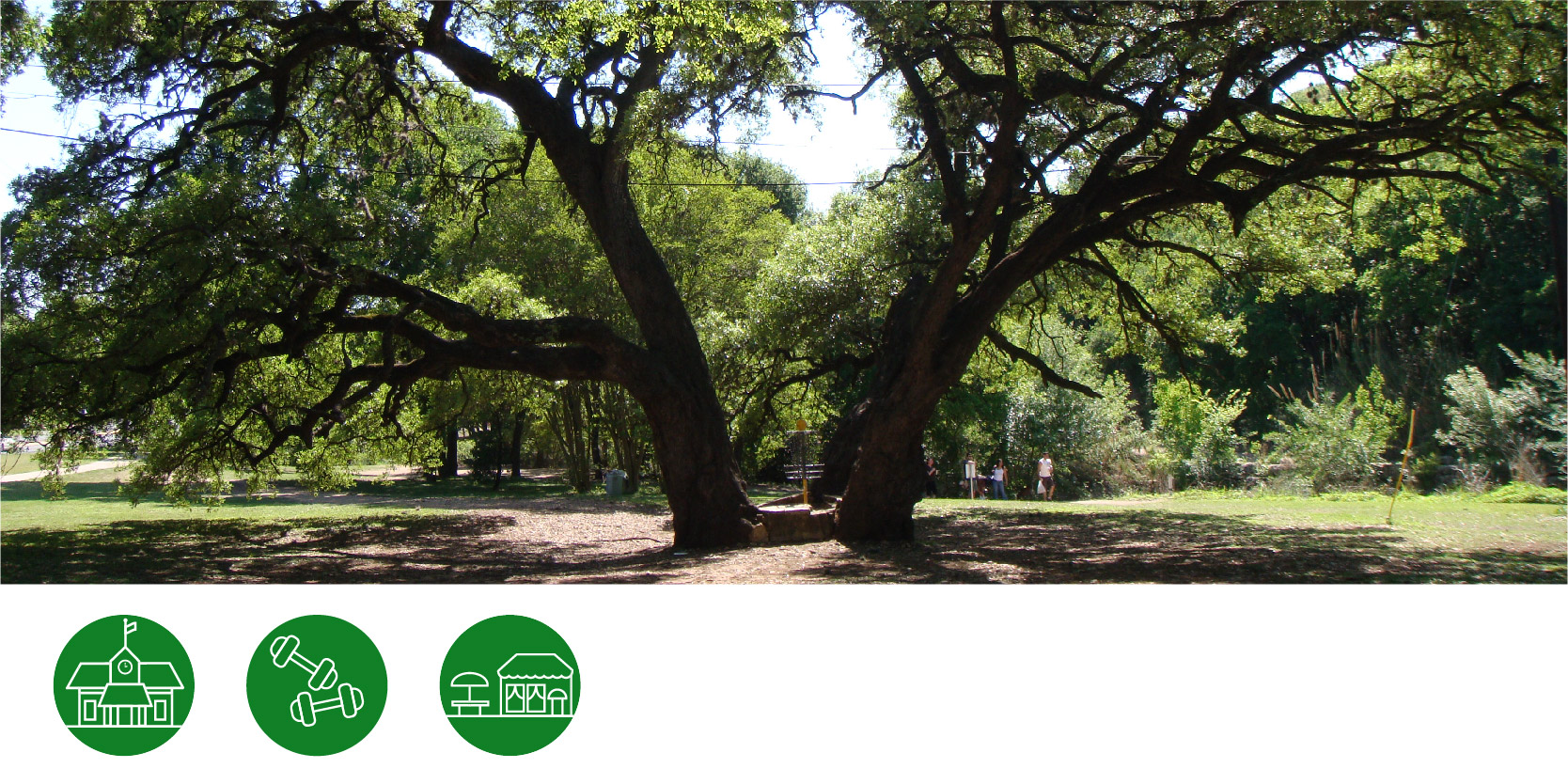 Architecture buffs flock to the picturesque Old West Austin, thanks to the region's impressive array of historic homes, from stately Victorians to midcentury American Craftsmans. Old West also earns renown for its public parks (particularly Pease District Park, which borders Shoal Creek) and is a hot commodity among homebuyers for its prime location, just north of Downtown Austin and just west of the University of Texas campus.
This idyllic enclave isn't zoned for business use, so most blocks are devoted entirely to residences. However, the neighborhood's close distance to busier Central Austin areas still provides Old West denizens with plenty of opportunities for dining and activities. Old West's walkability makes it especially popular among families and car-free residents.
Single-family homes comprise the bulk of Old West Austin's housing stock, with pricing beginning in the high $100s and topping out in the low $3 millions and a median sale value of just under $800,000.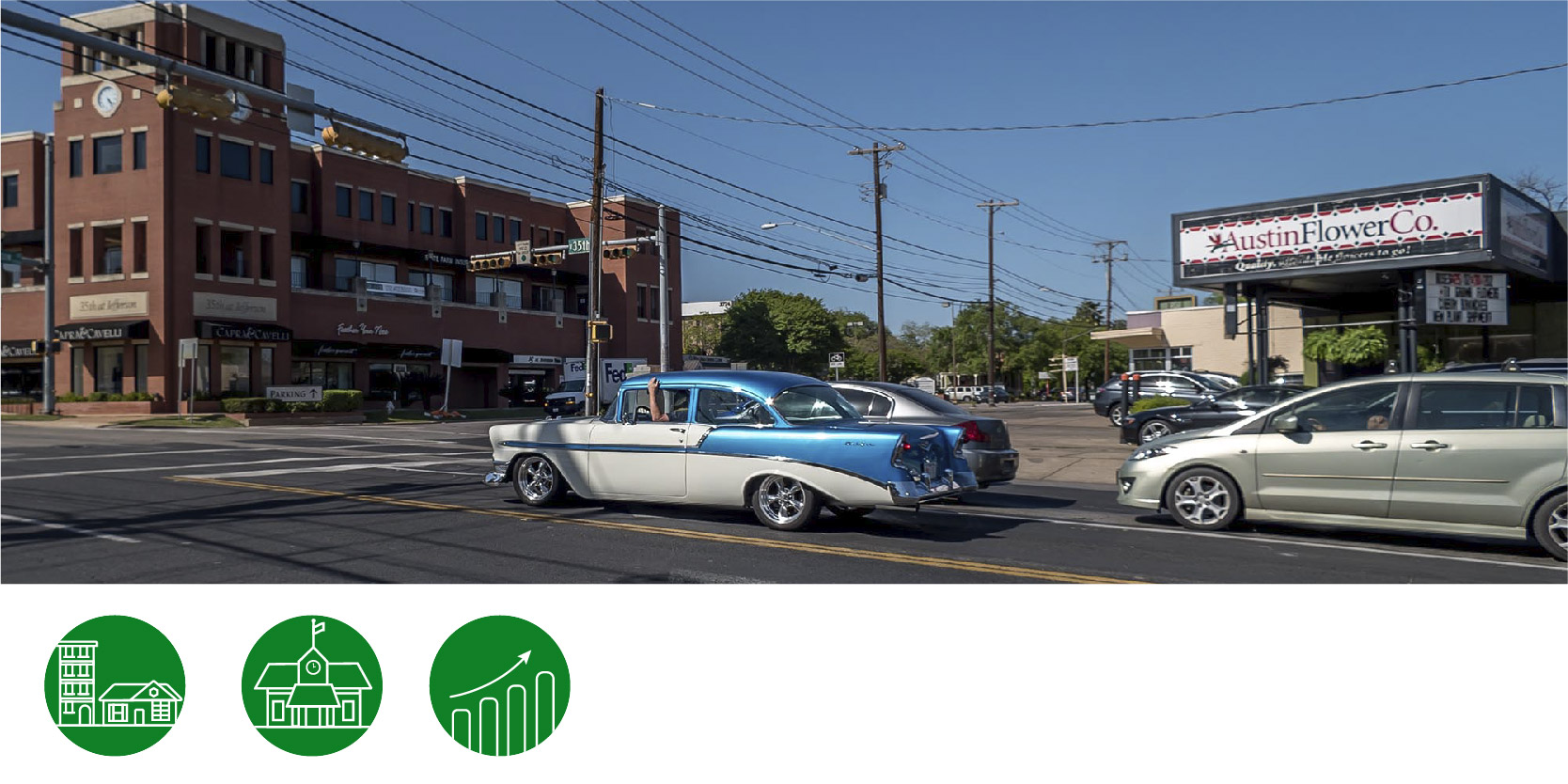 Austin's northern neighborhoods boast an enviable blend of urban convenience and suburban tranquility, both qualities readily displayed by Allandale. This charming neighborhood and its next-door neighbor, Rosedale, are especially popular choices among homebuyers with school-aged children, as the schools in these districts count among the best-rated in the metro Austin area.
Active Allandale residents make use of the neighborhood's beautiful public parks, like the Beverly S. Sheffield Northwest District Park and Brentwood Neighborhood Park, for running, picnicking, and frolicking with their pets. Rosedale's Ramsey Neighborhood Park is also a local gem, which hosts local theater troupe Rosedale Shakespeare for free public performances throughout the year.
Avid Austin restaurant-goers know that Burnet Road, which runs along Allandale's eastern border, features some of the most well-known eateries on the north side, like mega-hit Asian fusion taqueria The Peached Tortilla, creative New American bistro Barley Swine, and beloved retro burger joint Phil's Ice House.
Allandale has a booming market for single-family homebuyers, with prices falling between the mid-$100s and the mid-$1 millions and a median price in the mid-$500s.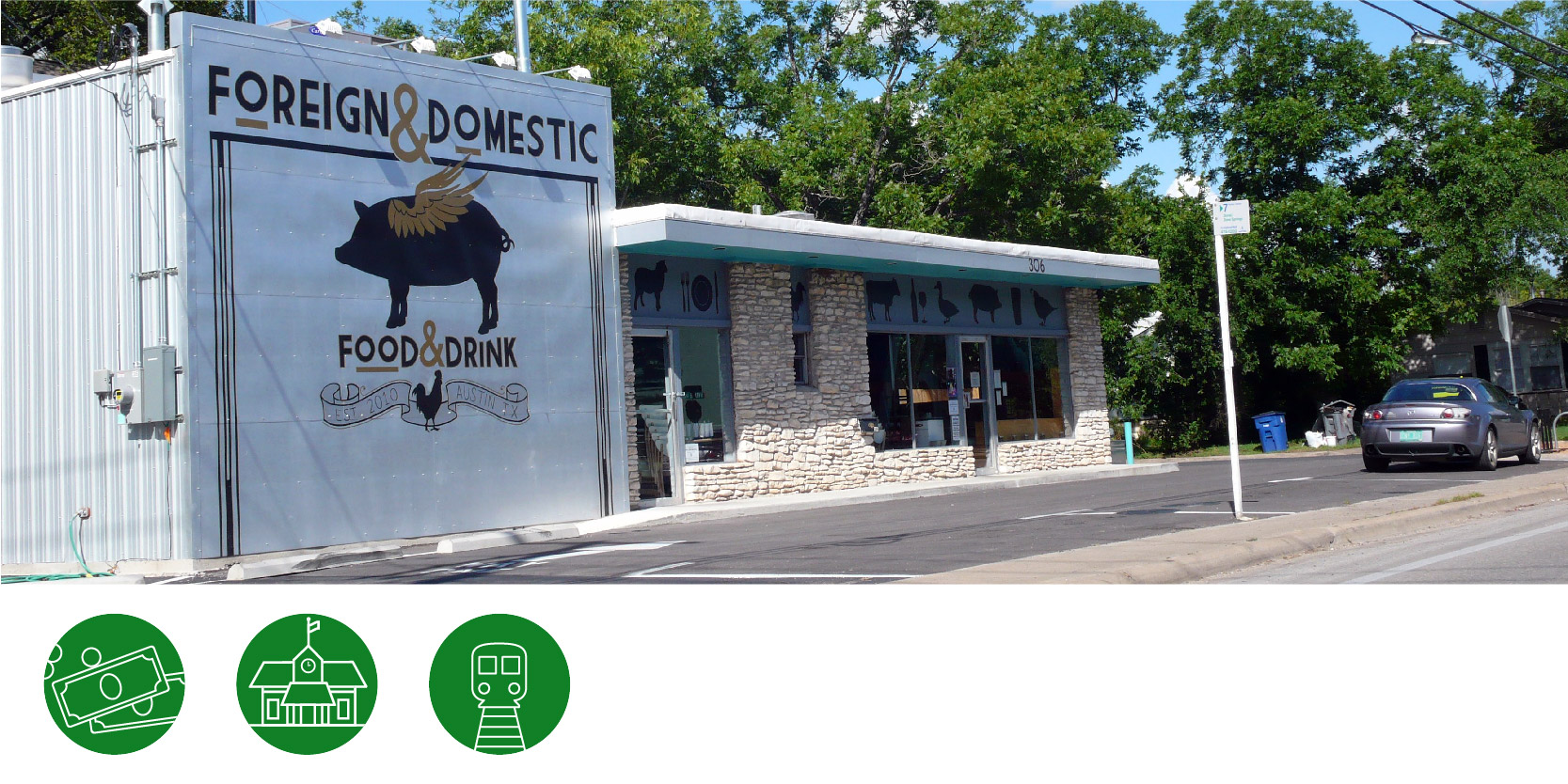 Long considered a residential Austin neighborhood, North Loop finds itself in the middle of a commercial resurgence, with coffee shops, record stores, vintage clothing boutiques, and bars flocking to the relaxed northern region. North Loop is located just north of UT's campus, and as with West Campus, the neighborhood's high percentage of students results in more auspiciously located businesses and safe, well-lit pedestrian walkways.
Commuters with cars will have only a 15-minute drive separating them from Downtown Austin, and those who prefer to get around on two wheels will be glad to know that North Loop is an especially bike-friendly neighborhood. Area highlights include the many field and athletic options at the Berry M. Whitaker Sports Complex, the globally influenced seasonal American cuisine at Foreign & Domestic, and the impressive selection of graphic novels at Austin Books & Comics.
Single-family homes are the predominant force in the North Loop real estate market, with a median sale price close to $400,000.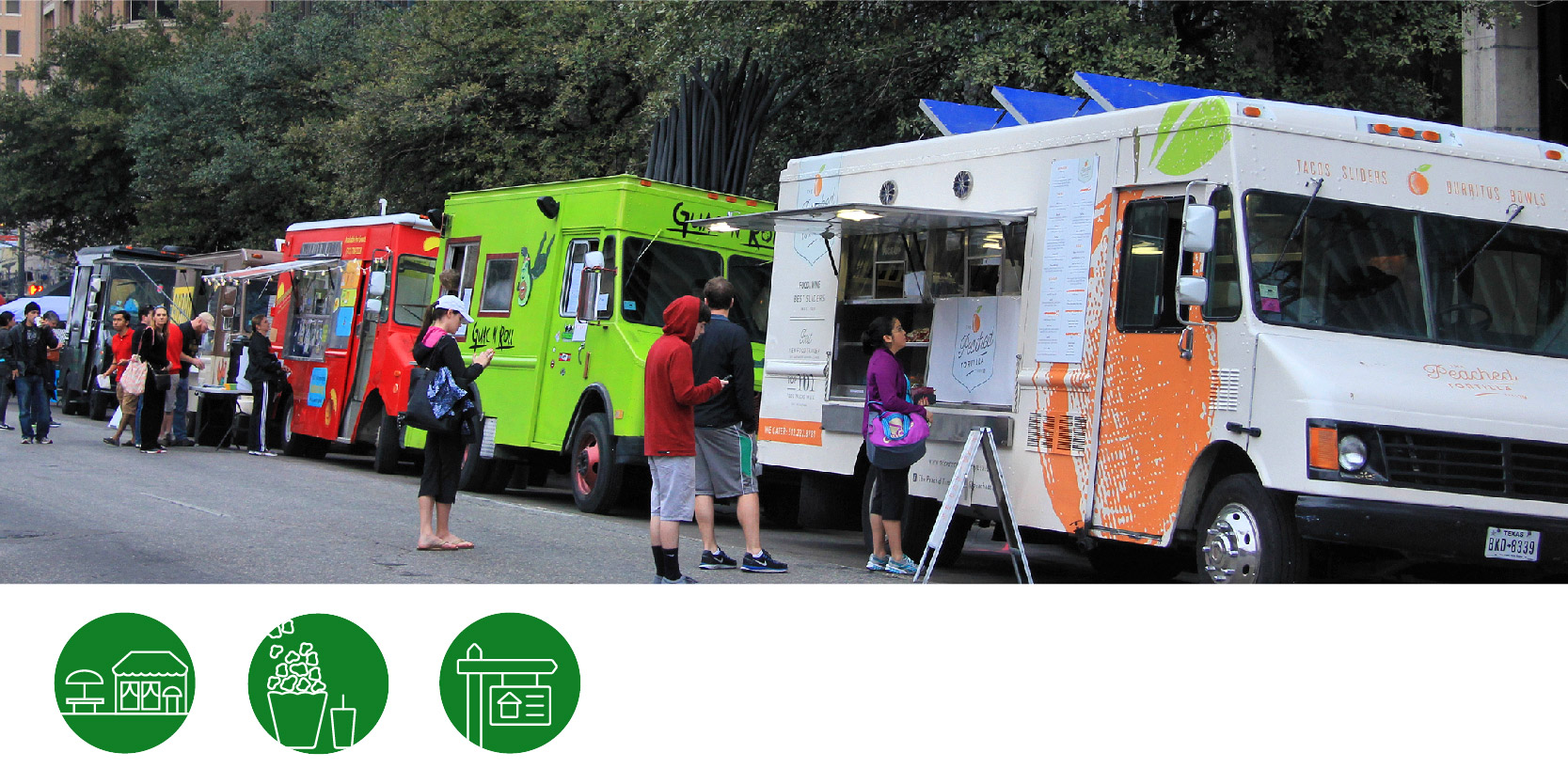 Austin's trendiest neighborhood comes in the form of East Austin, a center for hip bars and restaurants, easy transportation options, and a high-liveability quorient. East Austin can be found right across Interstate 35 from Downtown Austin, making it one of the city's most convenient neighborhoods for business commuters.
In terms of dining and entertainment, East Austin includes everything from hugely popular food trucks (like Veracruz All Natural breakfast tacos) to several of Austin's most celebrated barbecue joints (like the world-famous Franklin BBQ, the food truck Micklethwait Craft Meats, and local favorite La Barbecue) to impeccable craft breweries (like Blue Owl Brewing and Hops and Grain Brewing) to higher-end foodie haunts (like Pitchfork Pretty and Justine's).
East Austin homebuyers can typically choose from single-family houses and attached homes, as versions of both housing styles are readily available in the area. The current median sale price is just under $450,000.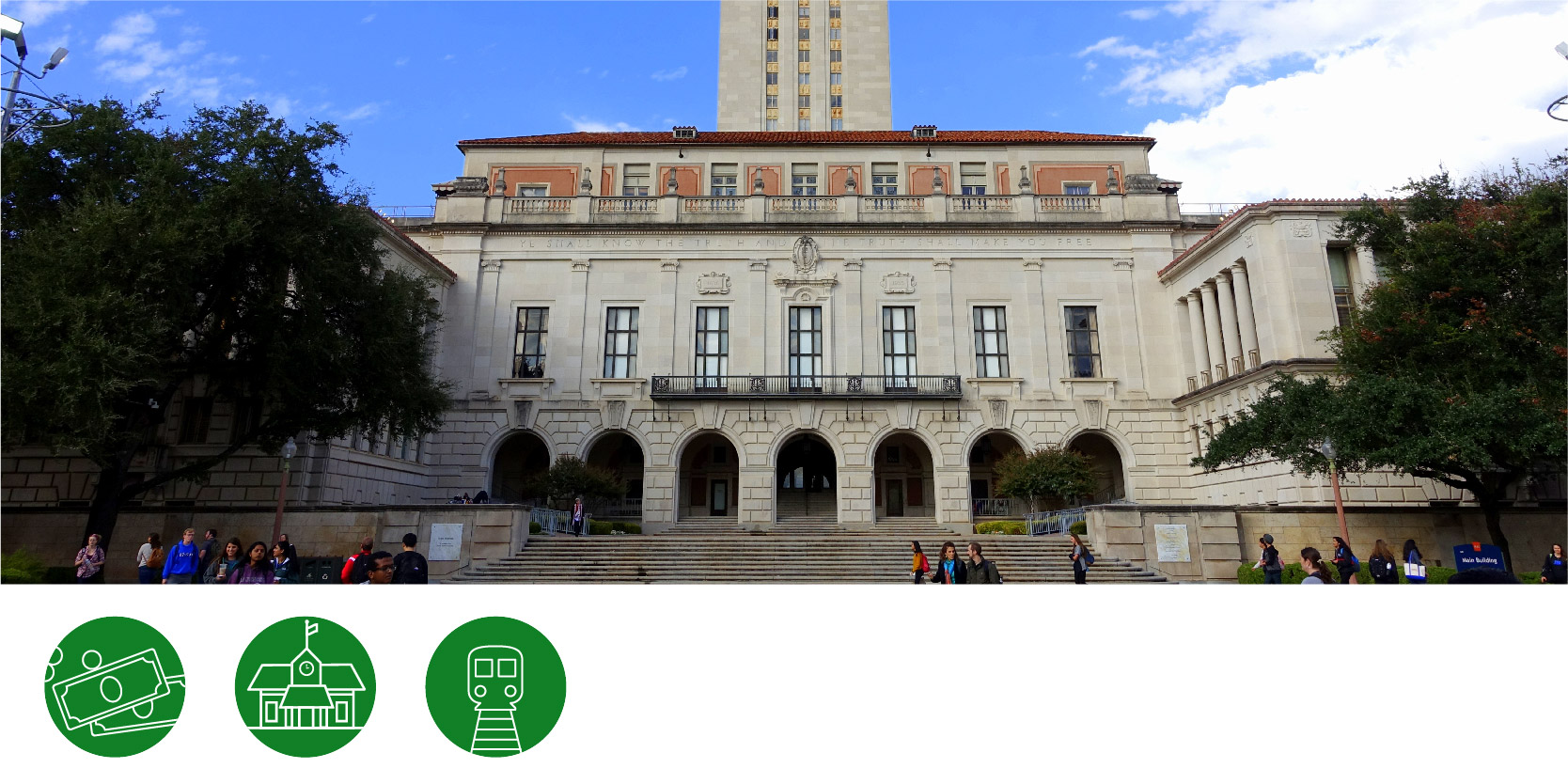 The University of Texas locates its flagship campus in Austin, and the school bears a major influence on the city's identity as a whole. While University Campus primarily caters to students and faculty in need of housing, the neighborhood's abundant food and entertainment options and easy access to downtown also hold appeal for young professionals.
Guadalupe Street serves as the neighborhood's main drag, with collegiate pubs, fast-casual eateries, and coffee shops scattered up and down the street. Residents in search of culture can find impressive exhibits at the Blanton Museum of Art, and history buffs will enjoy visiting the LBJ Presidential Library and the Bullock Texas State History Museum.
While the more central regions of University Campus are almost entirely populated by UT students and staffers, the neighborhood's western area (aptly known as "West Campus") features quieter blocks and a more residential vibe. Attached homes and rentals represent most of University Campus's inventory, and the median sale price is just under $300,000.
A peaceful section of town just east of I-35 from North Loop, Windsor Park feels pleasantly removed from the action of downtown, but also benefits from a quick, 15-minute drive to the city center.
Families gravitate to Windsor Park for its comparatively reasonable housing prices and its major public greenspace, Bartholomew District Park, which includes a public pool, splash pads, athletic fields, picnic grounds, playgrounds, and a disc golf setup. The largely residential neighborhood isn't a nightlife hotspot like Downtown or East Austin, but Windsor Park residents can enjoy locally beloved restaurants and pubs like Paco's Tacos and Carousel Lounge.
Housing options in Windsor Park are primarily single-family houses, and the median value stands at just under $400,000.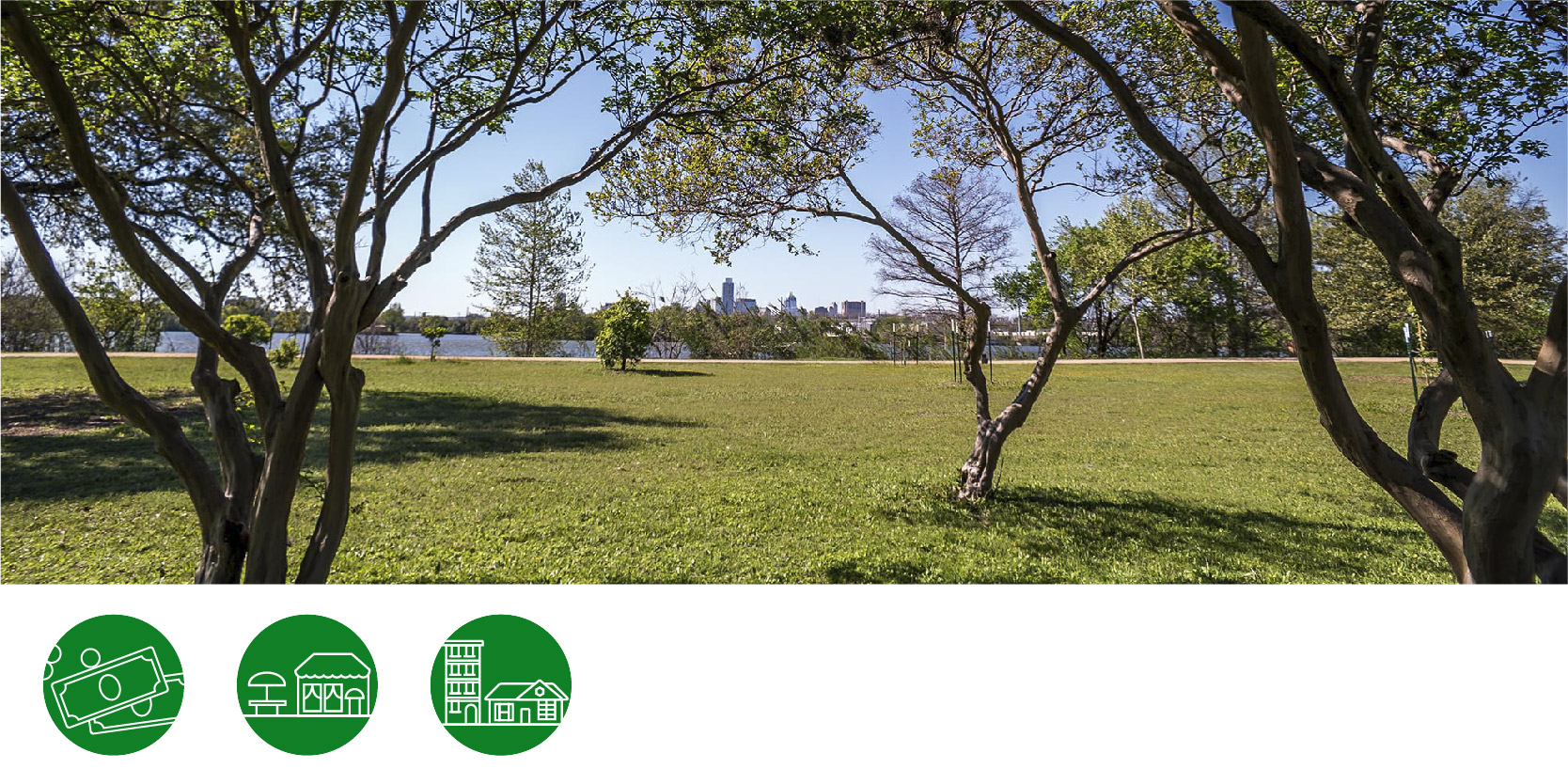 Thanks to its affordable housing prices, close proximity to downtown via the CapMetro bus or a quick car ride, and burgeoning nightlife and restaurant landscape, the rapidly evolving neighborhood of East Riverside counts among Austin's most desirable areas for homebuyers.
Previously overlooked, East Riverside now finds itself in the middle of a renaissance, with creative Austinites priced out of trendy enclaves like East Austin and South Congress now flocking to this region for more favorable home pricing and its fast-growing stable of live music venues, bars, and eateries.
East Riverside Drive and East Oltorf Street are the neighborhood's most developed thoroughfares, with new apartment buildings popping up on a regular basis. In addition to popular restaurants like Baby Acapulco, beloved coffee shop/beer gardens like The Buzz Mill, and laidback watering holes like The Jackalope, East Riverside Drive also features a H-E-B Plus, a massive supermarket/pharmacy that's the biggest of its kind in the area.
A nice mix of single-family houses and newer condos/apartments are available to homebuyers in East Riverside. The current median sale price is just under $300,000.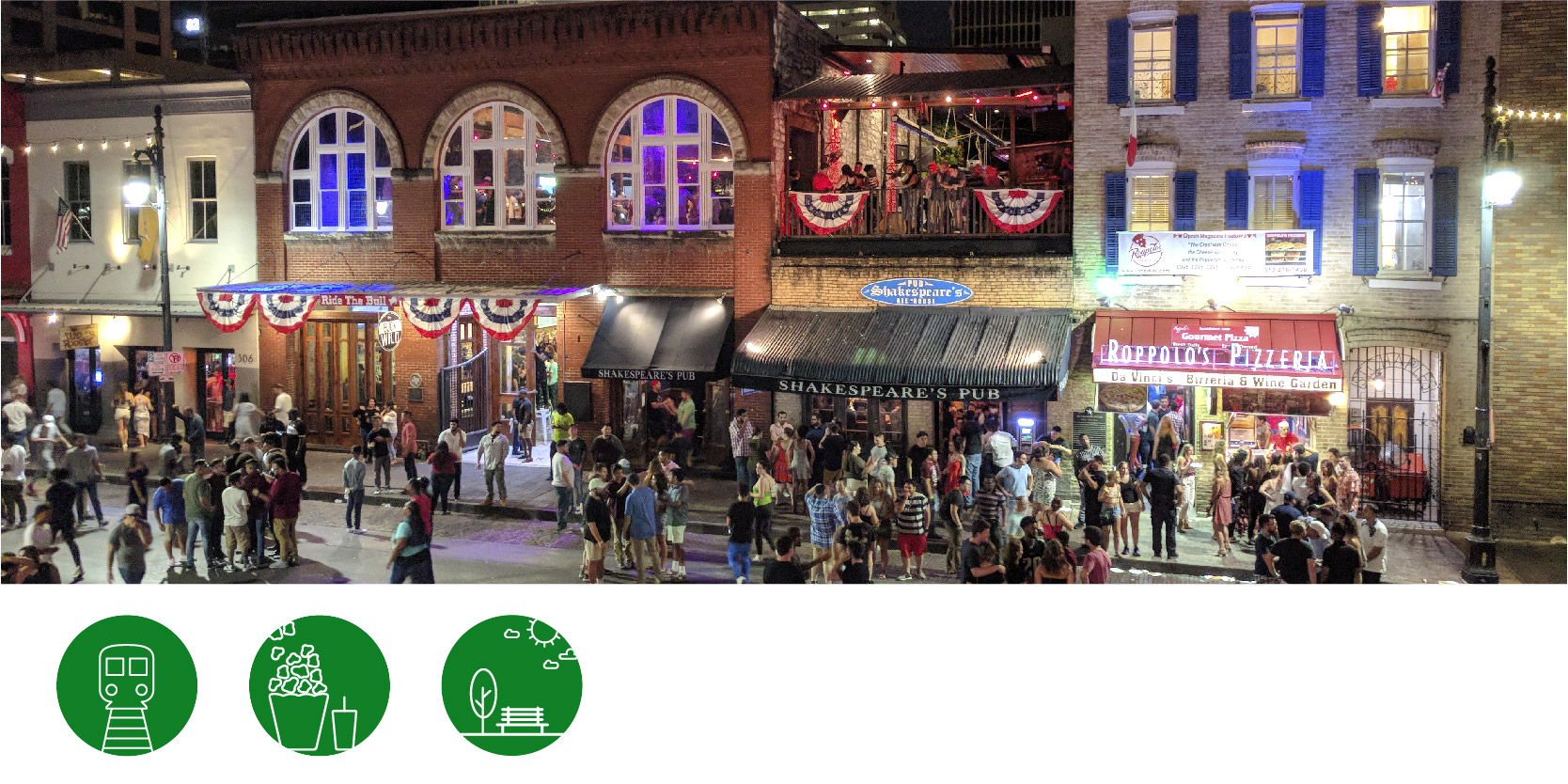 Austin's business and commerce center also happens to be its most amenity-packed and transportation-friendly. Downtown Austin lies just north of Lady Bird Lake between the MoPac Expressway and I-35, rendering it accessible to drivers from all around the metro Austin area, and most of the CapMetro system's express lines feature stops in the downtown area.
Downtown Austinites make the most of the neighborhood's location adjacent to the lake, visiting Lady Bird Lake's numerous parks, taking advantage of the Ann & Roy Butler Hike & Bike Trail, and engaging in boating and rafting excursions on the waterway.
Downtown's dining scene includes restaurant ranging from fast-casual lunch spots to high-end brasseries to gourmet food trucks, and nightlife aficionados also have plenty of options in the neighborhood, particularly along Rainey Street and Sixth Street (popularly known as "Dirty Sixth"). Among Downtown's cultural and historic highlights are the Texas Capitol, the Mexic-Arte Museum, Ballet Austin, and the Contemporary Austin-Jones Center.
Condos currently prove especially popular in the Downtown Austin housing market. The area's unparalleled convenience and activity selection elevates pricing; the median sale price is just over $500,000, among the highest in the metro Austin region.