Chicago Local Life
The Neighborhood Guide to Chicago's Literary Scene
While Chicago may be well known for its deep-dish pizza, The Bean, and Lollapalooza, the city is also an epicenter of literary brilliance.
From 20th-century writers like Gwendolyn Brooks, Richard Wright, and Sandra Cisneros to contemporary poets and novelists like Eve Ewing, Tyehimba Jess, and Rebecca Makkai, Chicago is home to some of the most prolific and pivotal writers to grace the canon.
Filled with charming independent bookstores and the location of major literary events, Chicago is the ideal place for readers, writers, and everyone in between. In turn, whether you are looking for your next read, or eager to listen to some storytelling, this article will take you through Chicago neighborhoods that feature some of the city's literary landmarks.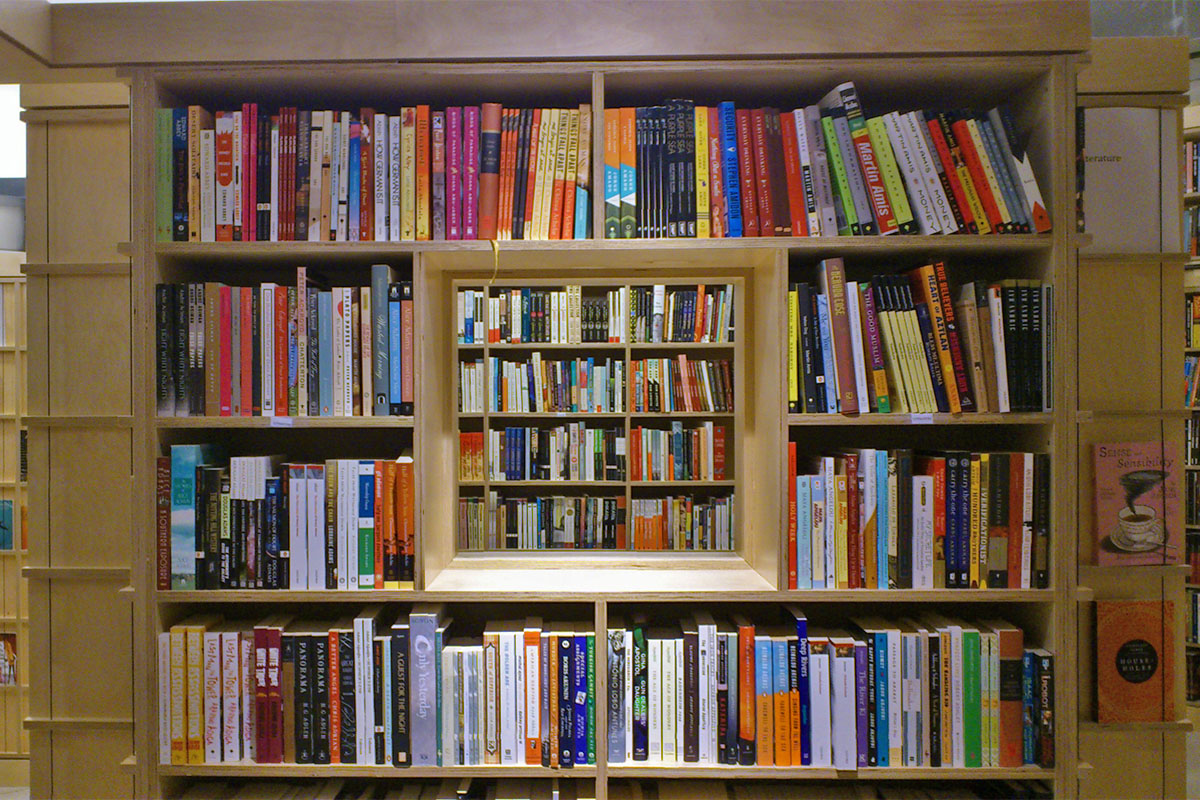 Near North Side is the epitome of Chicago's fast-paced, metropolitan setting. Nestled between the Chicago River and Lake Michigan, this neighborhood consists primarily of high-rise condominiums that offer a wide range of luxury amenities such as fitness centers and resort-style swimming pools.
Situated near surrounding areas like Gold Coast, Magnificent Mile, Navy Pier, and Streeterville, residents here enjoy a vibrant lifestyle with quick access to a long list of shopping, dining, and entertainment options. But if you want to slow things down a bit, spend some time in these literary locales.
Literary Spots to Check Out:
Established in 2003 as the Midwest's only library solely dedicated to poetry, the Poetry Foundation offers a collection of 30,000 works from poets across the world. In addition to the library, the foundation also offers events and social groups the public can enjoy. You can also join a monthly book club, attend craft talks, or spend an evening listening to the work of visiting writers.
Since its inception in 1887, The Newberry Library has provided the public with free access to a historical archive that spans over centuries. In conjunction with the library's renowned collection, visitors have access to film screenings, art exhibitions, book fairs, debates, and author talks.
Ravenswood offers homebuyers a tight-knit atmosphere, all while placing them within proximity to Chicago's big-city amenities and attractions. Comprised of attached and single-family homes, many residences in Ravenswood exude vintage architectural styles.
Ravenswood boasts a charming setting with local eateries, craft breweries, and Winnemac Park. Thanks to the Metra, Red Line, and Brown Line, residents can quickly access the Loop or other parts of the city.
Literary Spots to Check Out:
Writers in search of a community and who desire to hone their craft will feel at home at StoryStudio Chicago. The organization offers a variety of classes taught by notable poets and novelists like Rebecca Makkai, Kenyatta Rogers, Mary Ruth Clark, Hannah Gamble, Adam Morgan, and more.
Located at 4646 North Hermitage Ave., you can visit the home of 20th-century writer and two-time Pulitzer Prize Winner, Carl Sandburg. Sanburg resided here from 1912 to 1914, until he and his family moved to Maywood, Illinois.
Andersonville is a lively neighborhood located on Chicago's north side. Dating back to the 19th century as a Swedish settlement, Andersonville prides itself on having a welcoming and inclusive atmosphere, with many LGBTQ-friendly businesses.
This neighborhood is a hub of local and independent businesses, and that includes bookstores. Residents can enjoy craft beers at a nearby brewery, visit the Swedish American Museum, or hop on the CTA and take a quick ride into the Loop.
Literary Spots to Check Out:
Established in 1979, Women and Children First describes itself as one of the largest feminist bookstores in the country. This bookstore offers more than 30,000 books written by and for women, children's books, and books by and for members of the LGBTQ community. The store frequently hosts author events and book clubs, too.
Uncharted Books has provided readers with used and rare literature since 2012, first in their Logan Square location and now in Andersonville. You can look forward to personalized staff recommendations, zines, rare collections, as well as the usual bestselling novels and poetry collections. Uncharted Books also hosts monthly events like open mic nights, poetry salons, and comedy shows.
Wicker Park is one of Chicago's most popular north side neighborhoods. An inviting community to homeowners of all lifestyles, the neighborhood is comprised of various home styles like luxury attached homes and single-family dwellings.
Wicker Park is also a one-stop-shop in terms of restaurants, entertainment, recreation options and retailers—including new and used bookshops. At the heart of the neighborhood is the intersection of North Milwaukee Avenue and North Damen Avenue which are lined with cafes, bars, art galleries, and music venues.
Literary Spots to Check Out:
Volumes Bookcafe is a family-owned, independent bookstore cafe where you can indulge in great literature while enjoying coffee, a glass of wine, or a snack. Amid the shelves of literature that span from poetry collections to children's books, Volumes Bookcafe also hosts weekly and monthly events like book clubs, all-age open mic nights, trivia nights, storytimes, and author readings and signings.
Myopic Books is a lauded used bookstore situated in the heart of Wicker Park. Appealing to a wide range of interests, residents have access to a diverse reading selection from books on art and literary criticism to psychology and sci-fi texts. Myopic Books also provides a well-rounded experience with live music events and poetry readings.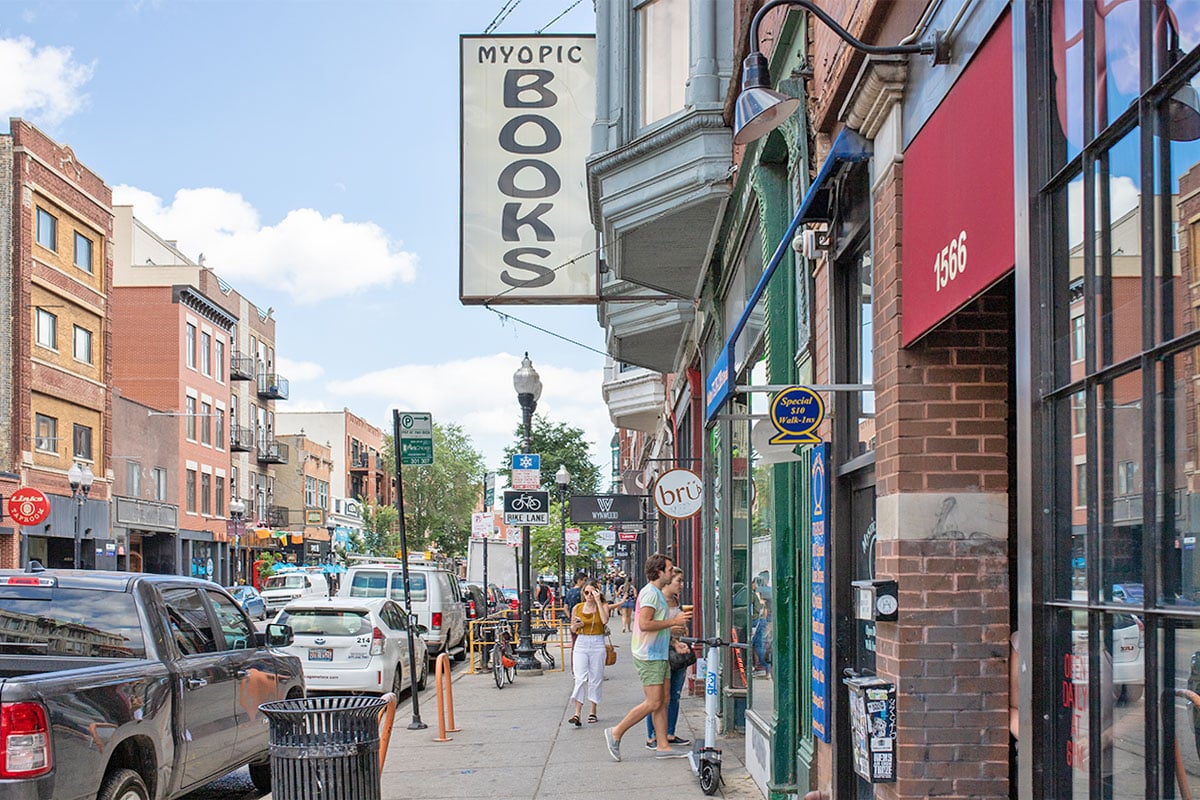 Situated at the center of downtown Chicago, the Loop is a constant hub of activity for both native Chicagoans and tourists. This neighborhood features primarily high-rise buildings that boast resort-style amenities, as well as a convenient location near a booming commercial district, the CTA, and coveted Chicago landmarks.
There is plenty to do in the Loop whether it's having a meal at one of the neighborhood's many restaurants or attending free concerts and movie nights in Millenium Park. And tucked in among the tourist haunts are some literary treasures.
Literary Spots to Check Out:
Since 1963, Barbara's Bookstore has been one of Chicago's staple independent booksellers. With additional locations in Burr Ridge, Glenview, O'Hare Airport, Vernon Hills, and Boston, not only can you purchase bestselling novels at reasonable prices, but Barbara's also hosts open mic nights and author events. Previous guests include former president Jimmy Carter, Madeleine Albright, Michael Eric Dyson, and Ariana Huffington.
Situated amid the buzz of The Loop, the American Writers Museum is where you can take a deep dive into the history of American writers. Opened in 2017, the museum carries visitors through decades of literary sagas, showcasing how writing has transformed since the creation of the English language.
You can enjoy a number of exhibits such as the "Surprise Bookshelf" that holds excerpts from various authors' work, to a "Word Waterfall" that immerses you in compelling quotes. The American Writers Museum also hosts programs to accompany the exhibits like film screenings, author talks, and storytimes for children.
Once a heavily industrial area, Fulton Market has flourished into a residential neighborhood that offers all of the perks of urban living. Maintaining that industrial feel, many buildings that were once factories and warehouses have been converted into homes, offices, and dining locations.
This neighborhood situates residents near public transportation like the Metra and CTA, so having a car is not a necessity. Fulton Market is also a hub of activity, so residents don't have to travel far to enjoy themselves, whether it's dining out on Restaurant Row or popping into one of the neighborhood's retail spots.
Literary Spots to Check Out:
Semicolon Bookstore & Gallery made history as Chicago's only black woman-owned bookstore and gallery space. Upon walking in, you are immediately greeted by murals decorating the walls, tables and cozy seating areas, as well as bookshelves filled with titles by authors ranging from Audre Lorde and Toni Morrison to Danez Smith and Colson Whitehead.
The bookstore's basement holds an art gallery that showcases work from emerging artists. You can also participate in events at Semicolon like movie nights and book clubs.
Open Books is a nonprofit organization that advocates for literacy. The Fulton Market location is conveniently located just down the street from Pink and Green Line stops, making it easily accessible for residents all over the city. Containing thousands of new and used books, guests are sure to find a title that they enjoy. Not only does Open Books receive donations, the organization also donates over 150,000 books per year, in addition to hosting literacy programs for students.
Located in Chicago's South Loop, Printers Row is a pocket neighborhood that provides a quaint atmosphere with all of the perks of city living. A time capsule of a neighborhood, after the Great Chicago Fire of 1871, Printer Row became the central location for Midwest printing—and today, it hosts the city's most well-known literary festival.
Featuring buildings designed by renowned architects such as Daniel Burnham, William Holabird, and William Labron Jenney, this neighborhood still features some of these architecturally distinct structures.
Literary Spots to Check Out:
Serving the Printers Row neighborhood since May 1982, Sandmeyer's Bookstore is a family-owned, independent business. Offering a warm and welcoming atmosphere, you can browse shelves upon shelves of a wide variety of texts, as well as enjoy the bookseller's notable customer service, always there to help you select the best book for you.
Held annually in the Printers Row neighborhood, Printers Row Lit Fest is the "largest free outdoor literary showcase in the Midwest." Taking place every June, book lovers can kick off the summer at Lit Fest where streets are lined with book vendors and various literary organizations. The festival also features a number of events that take place in Jones College Prep like book talks and performances.
Pilsen is a culturally rich neighborhood located on Chicago's West Side. Recognized by Forbes as one of "the 12 coolest neighborhoods around the world," Pilsen attracts homebuyers with a diverse housing selection from single-family homes to two-flats.
This highly sought-after neighborhood also boasts a convenient location near 18th Street where residents have access to a number of dining and entertainment options. Pilsen is also well-known for its lively arts and culture scene, and this includes the literary arts.
Literary Spots to Check Out:
Located in the industrial Pilsen Lacuna Artists Lofts, Woman's Made Gallery is where the written and spoken word, as well as physical art pieces, intersect. Since its opening in 1992, the organization has exhibited the work of over 8,250 women artists and maintains its commitment to support female artists and foster a progressive, feminist, and safe space.
Complementing the Gallery's art exhibitions, you can look forward to readings that showcase diverse writers in terms of both background and form.
Open Books Pilsen is one of the nonprofit's two locations in Chicago. Located just a quick away from restaurants, pubs, and cafes lining 18th and 19th Street, Open Books Pilsen doubles as both a bookstore and a warehouse that contains Chicago's "only collection of Spanish-language books" that are priced by buyers. Open Books Pilsen is also a welcoming location for English and Spanish speakers with bilingual storytimes.
Founded in 2016, Pilsen Community Books is set to become Chicago's only independent bookstore that's run entirely by employees. Residents have access to new and used books as well as events like book launches and readings.
Six miles away from downtown Chicago, Hyde Park has all of the charm of a residential neighborhood with all of the perks of living in a metropolitan area. Homebuyers are presented to a variety of home styles from single-family residences to condos and brownstones. Residents of Hyde Park have access to 53rs Street which is lined with basic necessities like restaurants, grocery stores, retailers, and more.
Hyde Park enjoys a convenient location near public transportation like the Metra and CTA. The neighborhood also features major tourist attractions like the Museum of Science of Industry, the Dusable Museum of African American History, and Hyde Park Art Center. And, being the neighborhood of the University of Chicago, Hyde Park has spots for literature lovers.
Literary Spots to Check Out:
Founded in 1961, the Seminary Co-op is recognized as one of the world's best collections of academic works. Filled with scholarly texts, this bookstore is highly frequented by students attending the nearby University of Chicago.
Located just a block away from the Seminary Co-op, 57th Street Books offers a wider range of literature like children's books, popular fiction and nonfiction titles, and graphic novels. Both Seminary Co-op bookstores host events like storytimes, author talks, and poetry readings.
Honorable Mentions
Mrs. Murphy & Sons Irish Bistro - North Center
Opening its doors in 2014, Mrs. Murphy & Sons Irish Bistro has been a staple for excellent Irish cuisine and drinks. On the second Tuesday of the month, you can find entertainment at "This Much Is True," Chicago's "longest-running monthly storytelling show."
Held in the bistro's upstairs lounge, guests can enjoy a cozy atmosphere while listening to an exciting lineup of guests. With previous cast members including SNL alums, comedians, musicians, and so many other professions, you can always expect something different from each show.
The Green Mill is one of Chicago's many historic bars. Since its opening in 1907, the cocktail bar/jazz club has been the hub of celebrity activity with famous guests including Al Capone and Frank Sinatra. Today, The Green Mills maintains its old-timey atmosphere with live music events and poetry slams.