Two-Flats, Bungalows, and More: Renovating Chicago's Most Common Homes
Two-Flats, Bungalows, and More: Renovating Chicago's Most Common Homes
After moving into a home, you have free rein to make that space yours. From decor to arranging the furniture, homeowners have the final word. Sometimes those changes are more involved than deciding on the perfect placement for your throw rug. Renovations can significantly update and change the character of home.
But those changes depend on, to some extent, the style of your home. If you're renovating one of the common home styles in Chicago, here are some things to keep in mind.
Bungalows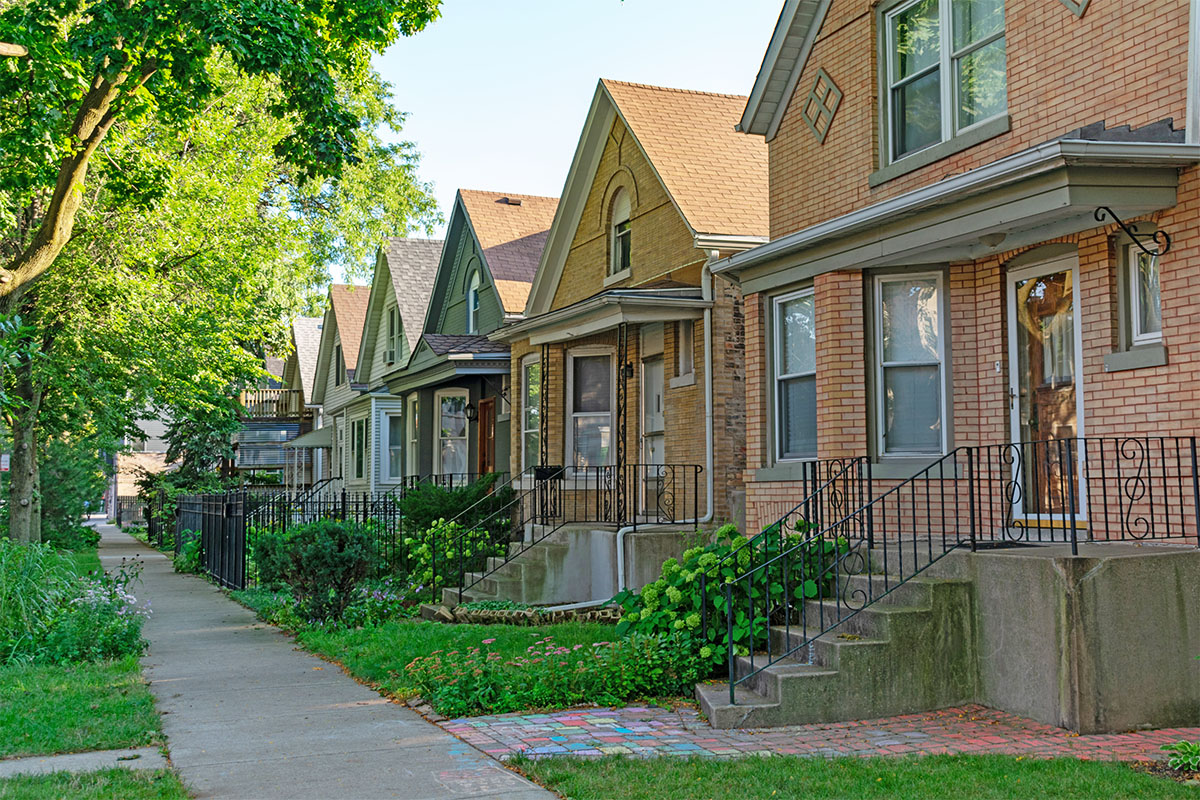 Bungalows are one of Chicago's most recognizable and enduring home types. Entire blocks of the city are lined with the one-and-a-half story brick homes.
Born and widely built in the early 1920s, these single-family homes are scattered throughout the city's neighborhoods. You'll find the largest concentration of them along the Bungalow Belt, which curves from the southwest to northwest sides of the city. It includes neighborhoods like North Mayfair, Lincoln Square, Belmont-Cragin, Marquette Park, Bridgeport, Chatham, and many more.
When renovating bungalows, the historic details are one of the main considerations. "Keeping historic elements can mean spending a bit extra to carefully restore and integrate with new finishes," says Jean Brownhill, the founder and CEO of Sweeten, a service that matches homeowners and general contractors.
Take into consideration that some bungalows are a part of historic districts, which may offer tax incentives to keep those historic details.
Read more:
Two- and Three-Flats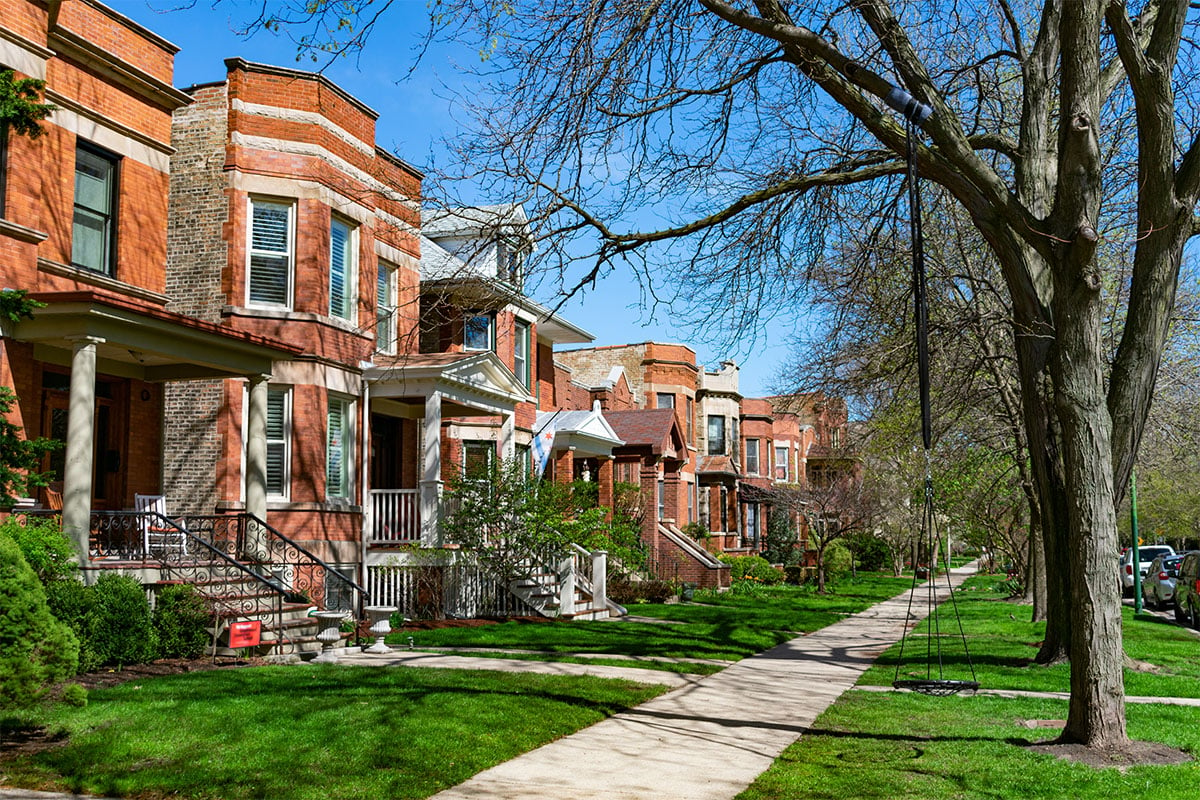 Two- and three-flats are exactly how they sound—generous floor plans stacked on top of one another either in twos or threes. Some homeowners opt to use all floors as their own, while others decided to rent out one of the floors as a separate unit.
While bungalows are characterized by their brickwork, two- and three-flats come in nearly any material and color. You can usually recognize this home style by its tall, narrow appearance and walk-up steps.
"You can find two- and three-flats in most Chicago neighborhoods, but they are heavily concentrated in Logan Square, Lakeview, Avondale, and Pilsen," Brownhill says.
For two- and three-flats, the renovation process often comes down to how the homeowner imagines using the space. Will the home be used in its entirety for the family, or will one or two of the floors be kept as separate apartment units to generate rental income? "[Knowing] this can help you determine how complex the renovation and permitting process might be," says Brownhill.
Read more:
Courtyard Units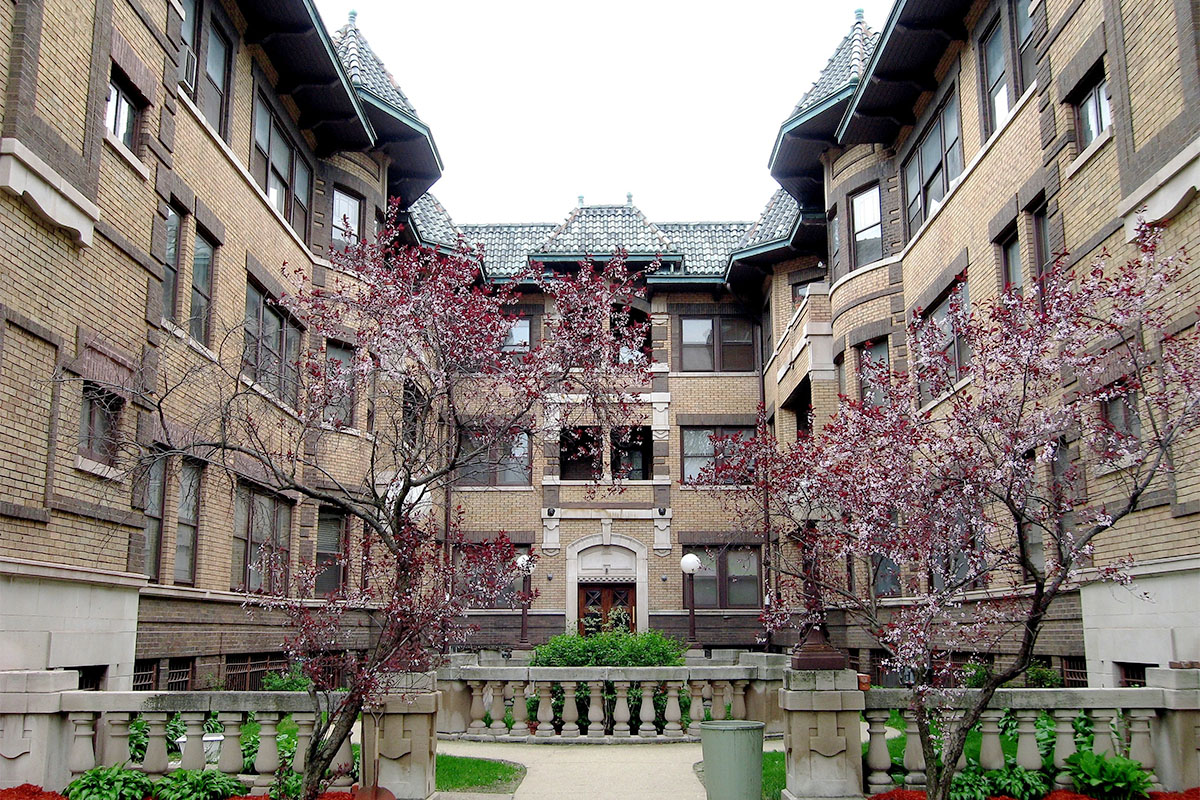 Courtyard buildings are shaped either like an L or U. Units in the building face inward on a courtyard space with paths leading to entrances of the building's different sections and typically some type of landscaping. These buildings are a popular for apartments, but you will also find condo buildings that favor the courtyard style.
Courtyard buildings vary widely in size and appearance. Some are small L-shaped buildings with just two floors. Others are multi-story buildings that take up a sizeable chunk of a residential block. Some courtyard units have balconies, other don't.
Neighborhoods like Rogers Park, Bronzeville, and Lakeview are known for this style, as well as the northern suburb of Evanston, according to Brownhill.
Courtyard-style units are attached homes, so owners will need to take into consideration building rules, as well as city code. "Ask your management company for a copy of their alteration agreement so you know what is allowed," says Brownhill.
Read more:
General Renovation Tips
Buying a home is such a big experience. After fulfilling the dream of homeownership, renovations can seem like yet another daunting prospect. But, it is possible to reshape your Chicago home into the space you envision.
"We recommend homeowners create a 'must-have' and 'nice-to-have' list for their renovation," says Brownhill. "The 'must-haves' are what is motivating the project in the first place—what will make it a success? The 'nice-to-haves' are ideal if budget and time allow, but can be sacrificed if needed."
Regardless of your home style, every renovation project is subject to Chicago's regular, if unpredictable, seasons. "Any projects involving the exterior of a home must happen in the late spring, summer, or early fall months before temperatures hit the freezing mark," says Brownhill. She recommends planning renovation projects three to six months in advance to ensure contractors are available.
Read more:
Renovation and Home Value
Some homebuyers intend to stay put for years, start a family, and watch them grow. Others may have a move in their future, whether for work or to be closer to family. The former group likely views renovations as a way to customize a home to their wants and needs, while the latter is probably thinking more about return on investment. In either case, how do renovations affect home value?
Minor interior remodels to kitchens and bathrooms tend to bring the highest return on investment, according to Brownhill. "Whether you're planning to stay in your new home for years to come or there's a chance you'll move in the near future, it's worth knowing what types of renovations will attract prospective buyers and bring top dollar for your home," she says.
Read more: