Las Vegas Real Estate
6 Things to Know About Buying a Home in Las Vegas
The median sale price of a home in Las Vegas rose from $290,000 to $300,000 in just a matter of months. This may seem pricey, but it's quite affordable considering how costly homes are in nearby cities like Los Angeles and San Francisco.
With affordable houses that are close to freeways for a convenient commute, odds are good you'll find something in your price range if you spend some time searching through a few Las Vegas neighborhoods. But before you begin your homebuying journey, here are the six things you should know about buying a home in Las Vegas.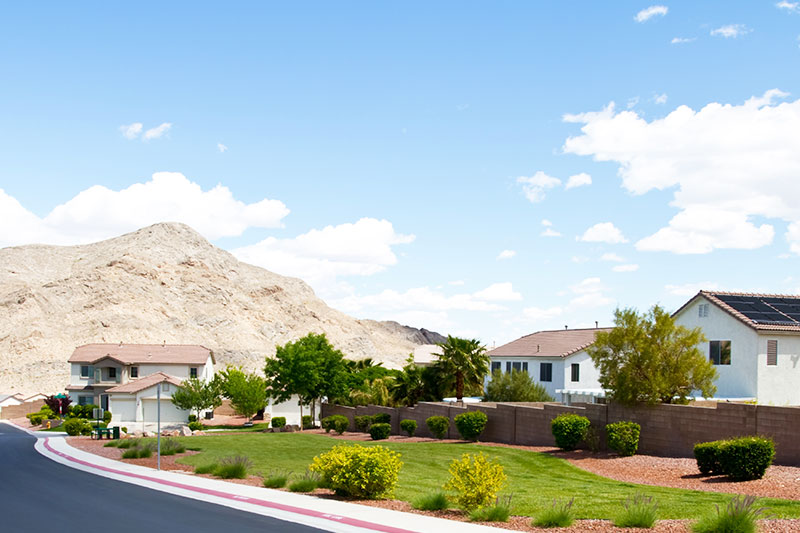 It's the Hottest Housing Market
In 2018, Las Vegas was named the hottest housing market because it had the highest year-over-year gains over any other city at 13 percent. That means construction is up since the housing supply gets tight at peak times of the year.
Las Vegas was also named the most overvalued housing market in America, although local experts largely question this ranking since historical trends show that the city's growth is exactly where it should be.
Prices May Vary
While the Valley-wide average home price hovers around $300,000, you can easily find homes above or below this price point. While in Summerlin the median sale price is currently in the high $300s (and that's usually for a large single-family home), in Downtown the median sale price is in the low $200s for a condo or townhouse that's located near local businesses and amenities. Meanwhile, in Henderson's MacDonald Highlands, multi-million dollar mansions have views of The Strip and luxurious details.
With various price points throughout the many neighborhoods in Las Vegas, it's best to research where you want to buy a home so you can determine if it meets your lifestyle and budget.
New Construction Rules
Although Las Vegas has some historical neighborhoods, the housing supply mostly consists of homes less than 20 years old. Neighborhoods like Whitney, Sunrise Manor, and North Las Vegas are known for their newly-constructed homes.
This is especially true in North Las Vegas. With a 31.2 percent gain just this year, it's one of the fastest growing and highest-appreciating zip codes in the whole Valley.
Plus, reports show that while existing home sales are decreasing, more Las Vegas homebuyers than ever before want new construction. That's why now is the time to buy a newly-constructed home in master-planned communities like Lake Las Vegas and Southern Highlands.
Master-Planned Communities Dominate
Although you can live in Las Vegas without moving into a master-planned community, you'd be hard-pressed not to find one in every corner of the Valley. New construction in Las Vegas is largely driven by major developers who want to construct communities packed with amenities.
Several of Las Vegas' most prominent master-planned communities like Summerlin, Inspirada, and Mountain's Edge are among the top 50 highest-selling new-home communities in the U.S. In communities like these, perks include trail systems, private parks, community centers, social events, farmers markets, recreational facilities, and bike share programs.
When You See a Home You Like, Act on It
Although the market at this time of year has seen some slowing, you still need to act quickly on a home. You might be able to sleep on it, but don't let another buyer swoop in on your dream home. If you love it, make an offer.
When you live in the hottest housing market, you never know when someone might come along and make a better (or higher) offer. And, of course, don't lowball the seller. If you do offer below list price, don't dock more than five percent off or you'll risk missing out on your potential "dream" home.
Las Vegas Has Green Neighborhoods
You wouldn't think so, but Las Vegas is home to more than a few green neighborhoods like Inspirada, Green Valley Ranch, and Southern Highlands. In Southern Highlands, there are six spacious parks that provide residents with walking paths, splash pads, gazebos, play areas, and open greenspace.
Plus, Las Vegas has plenty of innovative parks and nature spots that are an outdoor adventurer's dream. While you won't exactly forget you're in the middle of the desert, there are many opportunities to engage with the natural environment without traveling long distances.