Dallas vs. Houston: Where to Live
"Big D" and H-town both boast big-city populations, suburban growth, and freeways stacked sky-high with interchanges. Commonalities also include cuisine like barbecue and Tex-Mex, sports rivalries, and a reputation for big business.
Business attracts newcomers to both urban centers. Dallas, positioned in the northern part of Texas, lures transplants to the financial services sector and the growing tech industry. Houston's Gulf Coast location makes for a more laid-back vibe with an economy rooted in oil and gas, along with the largest medical center in the world.
Houston and Dallas offer neighborhoods for every personality type, from young professionals to suburban dwellers, plus various architecture styles encompassing Tudor traditionalist to modern minimalism. Take a look at how these two cities stack up to determine the best fit for your lifestyle and homebuying budget.
Read more:
Real Estate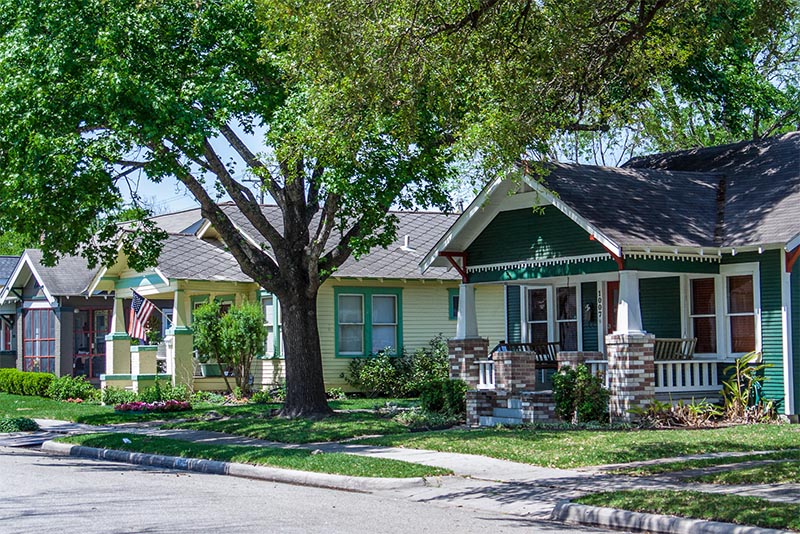 According to Sperling's Best Places, Dallas' housing costs are 13.6% more expensive the Houston. The average home price in Houston is in the high $100s, while Dallas is in the low $200s. Also, when it comes to the cost of living, Dallas is 5% higher than Houston.
The upscale Dallas neighborhood Preston Hollow offers the most inventory and sizable lots but also some of the priciest homes—and neighbors like Mark Cuban, owner of the Dallas Mavericks. For those who prefer high-rise living, Uptown and Downtown Dallas both provide condominiums with plenty of amenities. Prospective purchasers who value a local art, restaurant, and retail scene hunt for homes in Oak Cliff, and the neighborhoods of Pleasant Grove and South Dallas (site of the annual State Fair of Texas) offer affordable homes for first-time homebuyers.
The most significant distinction for a Houston neighborhood is whether it's inside or outside the loop, with the 42-mile ringed Interstate 610 circling Downtown as the boundary. Many of the city's most popular neighborhoods are centrally located, including The Heights, which has the most properties listed inside the loop. The area's inventory ranges from historic Victorian houses to modern townhomes with a median home price in the high $400s. Montrose and Midtown offer inner loopers plenty of luxury high rise options with skyline views.
Outside the loop, homebuyers will find their budgets go further with more spacious homes on large lots available. In Spring Branch, the average price per square foot is $220 compared to $279 in the Heights.
Winner: With a lower cost of living and lower housing prices, Houston living is more affordable.
Read more:
Transit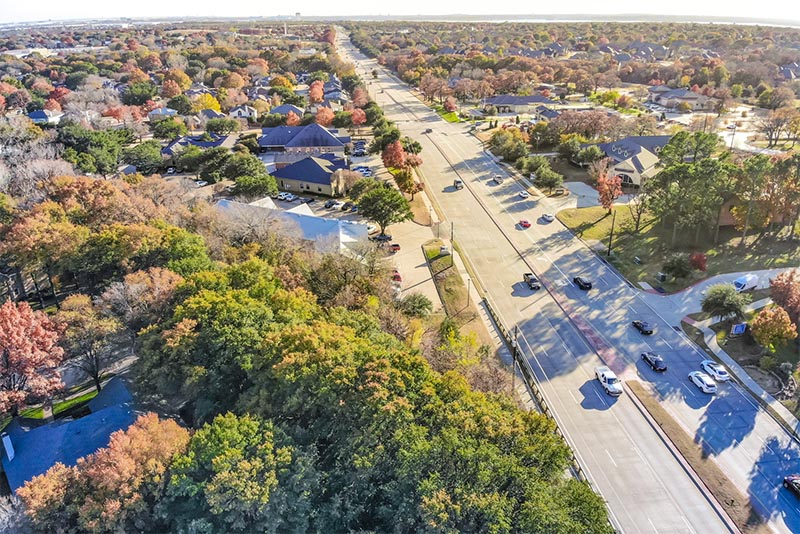 Despite the availability of public transportation, Dallasites and Houstonians prefer traveling by car with similar commute times averaging just under 28 minutes. The Dallas Area Rapid Transit (DART) provides a system of rail and buses, plus streetcars and trolleys for Downtown connections to certain neighborhoods. Houston Metro offers bus routes, suburban Park and Ride stops, and three light rail lines.
Tie: Cars rule the road in both cities.
Read more:
History
Like all true Texans, residents of Houston and Dallas take pride in their heritage. Both cities have claims to fame from Houston's Mission Control to Southfork Ranch from the "Dallas" television series.
However, Dallas bears the distinction as the scene of a national tragedy when President John F. Kennedy was assassinated as he rode in a motorcade through downtown Dallas on Nov. 22, 1963. Today, the Sixth Floor Museum at Dealey Plaza in the old Texas School Book Depository serves as a reminder of that dark day.
Frontier history comes to life at the Dallas Heritage Village in the Cedars neighborhood south of Downtown. On the grounds of the city's first park, visitors can tour pioneer and Victorian homes and commercial buildings from the 1800s, which were relocated to this 20-acre historic site.
Houston's heritage is on display at the Historic Market Square Park, which once served as a bustling open-air market for the young port city. Today, this city block, which was home to Houston's city hall from 1841 to 1939, is now a gathering spot for pop-up shops, festivals, and movie nights. Just two blocks away is "Houston's Plymouth Rock," where the Allen brothers first founded the city in 1836 along the banks of Buffalo Bayou.
Winner: Although a few years younger, Dallas bests Houston in showcasing its history.
Arts and Culture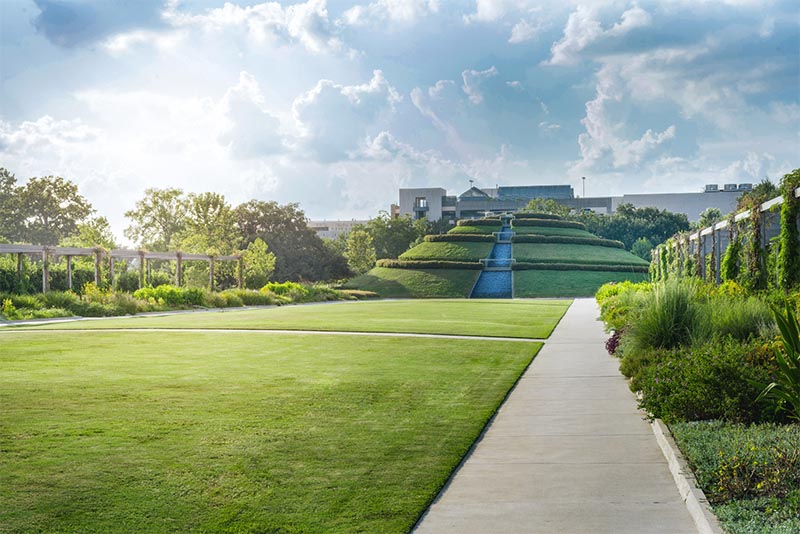 The art scene in Dallas includes major museums, street art, and commercial galleries. Near downtown, museum hop in the Dallas Arts District to the Dallas Museum of Art, the Crow Museum of Asian Art, and the Nasher Sculpture Center. Make your own mural tour in Deep Ellum featuring 42 murals by local and international artists. Head to the Bishop Arts District for local art and the Design District's gallery row on Dragon Street.
Divided into four walkable zones, the Museum District is home to 19 of Houston's museums. The Museum of Fine Arts, Houston, already the district's largest institution, will add over 100,000 square feet of exhibition space when it debuts the new Kinder Building in November. Visitors can view resident artists at work in their studios at the Houston Center for Contemporary Craft, while the Houston Center for Photography offers a wide range of classes to complement their exhibitions.
Winner: Houston's concentration of museums gives it the edge over Dallas.
Shopping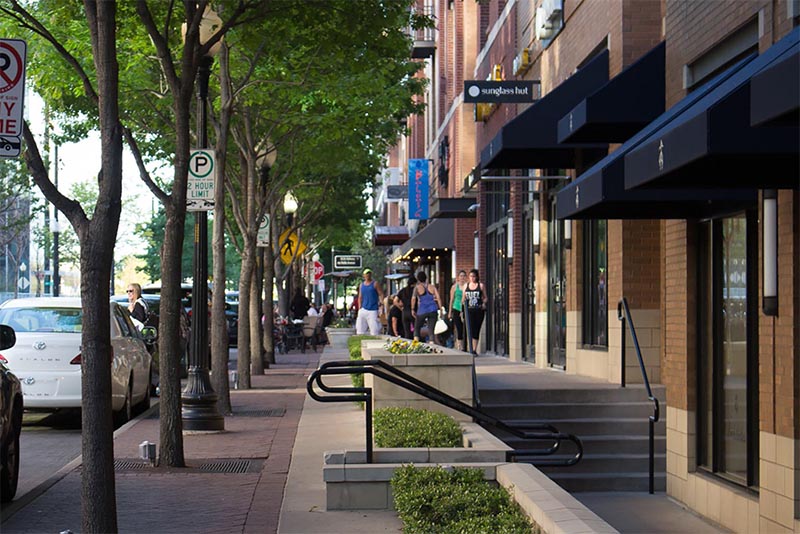 Houston's Galleria came first in 1970; the Dallas version, also featuring an indoor ice skating rink, opened in 1982. However, Dallas does have bragging rights as the birthplace of Neiman Marcus, where the original department store on Main Street is still open with a historical marker noting its founding in 1907.
Mom and pop shops mingle with big-name brands in several of Houston's shopping centers with Main Street vibes. Stroll down 19th Street in The Heights with stops at Big Blue Whale for toys for all ages and Casa Ramirez for Mexican folk art. Along Westheimer, Space Montrose carries cards and t-shirts made by local artists, while vintage treasures await shoppers at Pavement and Lo-Fi.
Winner: Dallas' shopping legacy is hard to beat.
The Bottom Line
These two Texas metropolises are more alike than their residents might want to admit. But for prospective buyers, Houston's affordability, however slight, tips the scales towards Space City.