Houston Local Life
Houston Neighborhood Guide
Houston is a vast metropolis containing a whopping 88 neighborhoods within its 627 square miles. The oft-underrated city has a booming economy and global appeal, attracting job seekers from all over the world, and Houston's multicultural population has earned it the distinction of the most diverse city in the country.
Houston boasts upwards of 20 Fortune 500 companies, over 60 health care institutions, 19 museums, a 17-block theater district, and 12 institutions of higher learning, making it a hub of business, medicine, culture, and education.
Though Hurricane Harvey rocked residents in 2017, the city has swiftly recovered. Moreover, the real estate market is stronger than ever. Homebuyers looking to plant roots in the Bayou City have a lot to consider. Use this guide to navigate Houston's most essential neighborhoods.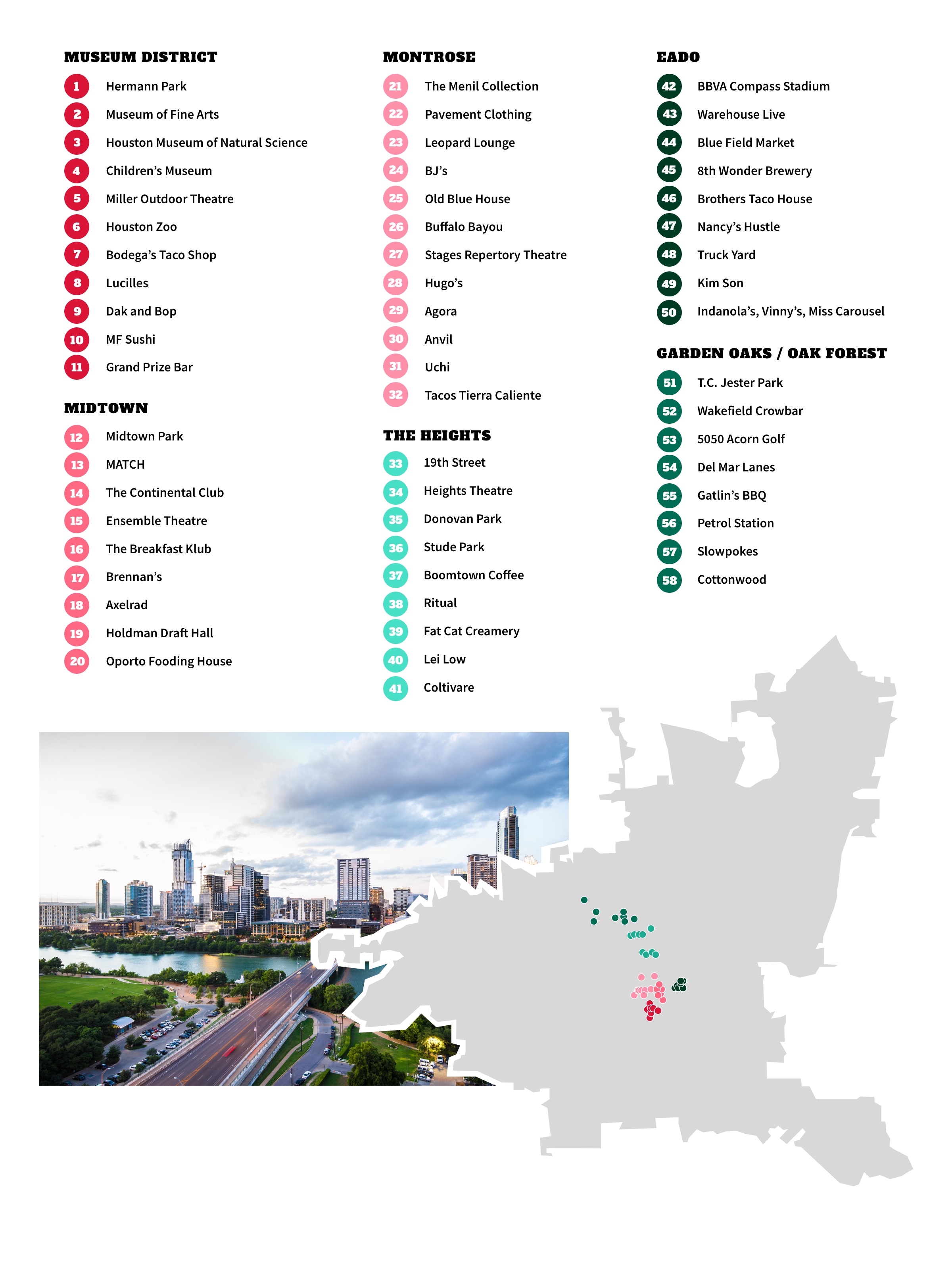 Houston at a Glance
Major interstates encircle Houston creating a series of loops. Locals use these loops as both geographic designations and points of pride. I-610 wraps around the city center creating an urban enclave known as the inner loop. Beltway 8 makes up the outer loop. And, the burbs lie outside of Beltway 8.
Though Houston has public transportation options via local buses and the Metrorail, residents primarily rely on car travel. Going carless is possible in highly walkable neighborhoods and bike commuting is becoming more viable with the Bayou Greenways Initiative, but driving is still the easiest way to conquer Houston's sprawl.
Houston used to be divided into six wards instead of 88 neighborhoods. The ward system was abolished a century ago, but a few neighborhoods still use their former ward designation. These neighborhoods (Third Ward and Second Ward most notably) have become cultural epicenters intent on preserving the city's history.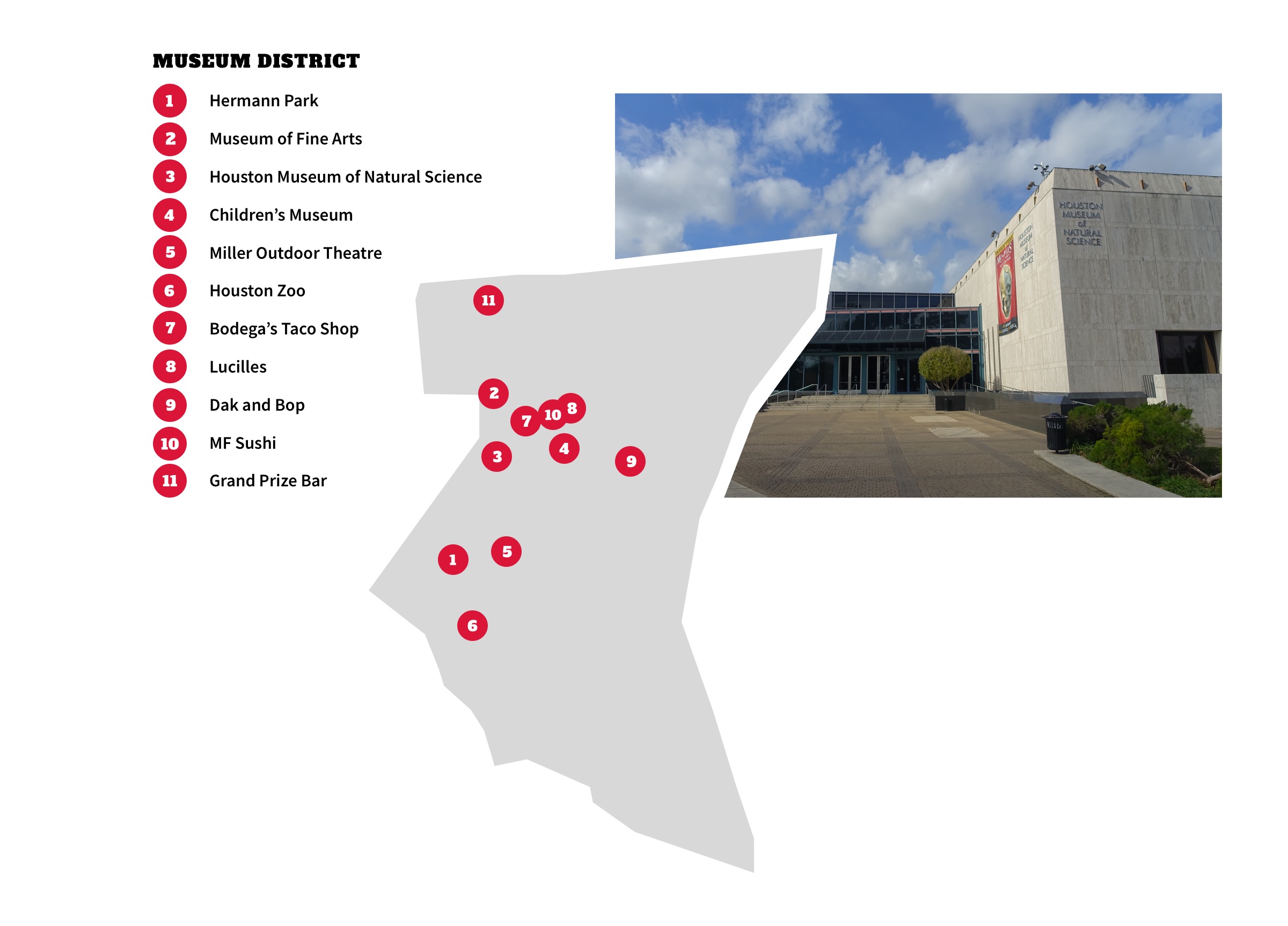 The Museum District, while considered a cultural playground for Houstonians, is surprisingly residential. And despite infinite amenities, it's one of the most affordable neighborhoods in the inner loop. The location is ideal for professionals and those who value arts, parks, culture, and scenery.
What to Do
This massive greenspace encompasses multiple gardens, trails, a zoo, a golf course, a railroad, and a pedal boat lake. This scenic park offers endless opportunities for urban exploration, and it's beloved by both locals and visitors.
2. - 4. Check Out the Museums
Fourteen museums are located in the neighborhood and five others are nearby. Residents can enjoy them all, but the Museum of Fine Arts, the Houston Museum of Natural Science (especially the dinosaur exhibit), and the interactive Children's Museum are solid places to start.
Located in Hermann Park, but substantial enough in its own right, this outdoor theater is a community convening spot for movies under the stars, concerts, and live theater performances. Lie a blanket on top of the hill and enjoy the show.
Expect to spend the whole day wandering this zoo and interacting with its inhabitants; the Houston Zoo houses over 6,000 animals.
Where to Eat and Drink
Popular with the happy hour crowd, this casual Tex-Mex haunt is known for build-you-own tacos and can't-miss margaritas.
Lucille's is a homey Southern cooking establishment with a chili biscuit recipe passed down for generations. It's also open for brunch.
While the restaurant emphasizes Korean fried chicken, the menu sports a fusion of Aisan and Mexican flavors. Pair their Korean double-fried chicken tossed in a variety of sauces with a side of loaded kimchi fries.
According to the Houston Press, this spot has the best sushi in the entire city. At MF Sushi, skilled chefs make sleek sushi rolls to order in front of diners.
Housed in a converted two-story house, this lively dive bar has a rooftop patio, eclectic decor, and a pool table.
Why Locals Live Here
The Museum District is highly walkable and located along the Metrorail route, giving residents easy access to Downtown and the Medical Center. The museum block is urban and touristy and tends to have heavy traffic, but the residential areas are tucked away, quiet and undisturbed.
Townhomes and condos are the primary housing style, but single-family mansions near the prestigious Rice University are available as well. Schools in the area like Poe and Roberts Elementary are highly ranked, and the neighborhood has unlimited activities for children and adults alike.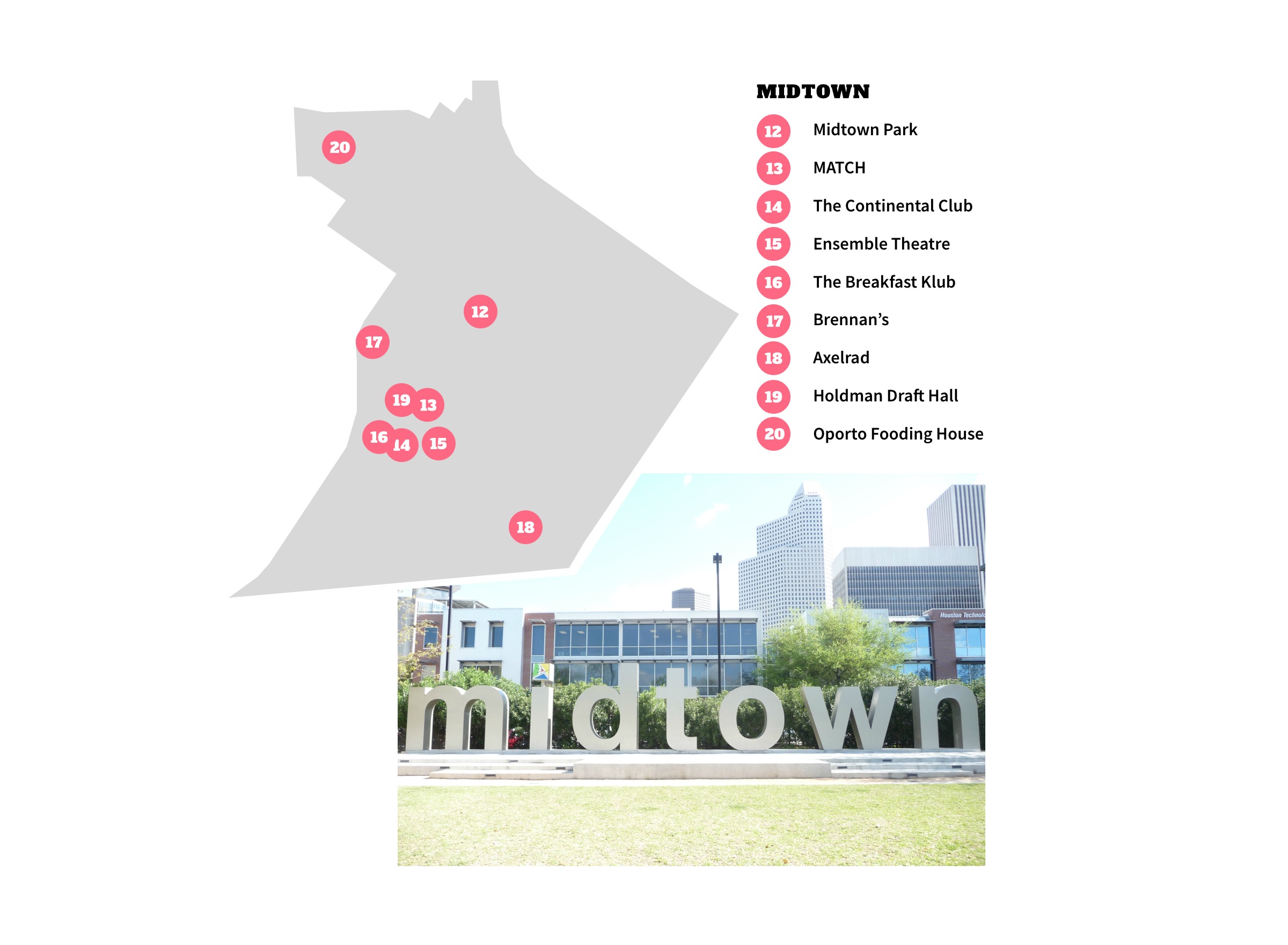 Midtown, long known as a party neighborhood for area college students, is starting to grow up. Nightlife is still plentiful, but the area is becoming a base for new businesses and subsequently luring professionals. New parks, restaurants, and residential developments are reinvigorating the neighborhood, and the diverse dining scene is swiftly catching up to Montrose.
What to Do
This modern urban greenspace has art installations, a dog park, and a reflecting pool, creating a slice of serenity amid the neighborhood hubbub.
The Midtown Arts and Theater Center Houston, or MATCH, is a place for artists to commune and collaborate. With multiple stages, studios, and gallery space, this community-based venue brings art to life.
The Continental Club is a popular live music venue with an enclosed patio. Shoeshine Charley's Big Top Lounge, the adjoining dive bar, is decked out with circus memorabilia, vintage toys, and Christmas lights.
A long standing theater showcasing work by African-American playwrights and performers, this historic venue was founded in 1976.
Where to Eat and Drink
This buzzy brunch spot is revered by Beyonce and locals alike for its succulent chicken and waffles. Also, don't forget to check out the frequently updated Obama mural on the side of the building.
Head to this upscale New Orleans import for Creole dishes with a Texas twist. Visit on weekdays during lunch for 25 cent martinis.
Intended as a gathering place for Houstonians to relax and unwind, Awelrad is a laid-back beer garden with hammock seating, outdoor movie nights, and a neon-lit tree.
An airy industrial hangout with wooden swings, velvet couches, and 100 beer taps, Holman Draft Hall stands out from the crowd. Come for the beer, but stay for the delicious menu items, including fresh baked bread and house-made sausages.
Portuguese tapas create a social experience at this refined foodie paradise. Open daily for brunch, lunch, and dinner, Oporto specializes in fresh seafood that pairs excellently with a glass of wine from their extensive wine list.
Why Locals Live Here
Wedged between Downtown and the Museum District, Midtown is really at the center of everything. Residents enjoy the kinetic pace of urban living, the endless nighttime activities, and the neighborhood's art and cultural institutions. High-rise condos and townhomes make up the bulk of available home options, though blocks of single-family houses exist in the southeastern section. Midtown is a balanced blend of residential, commercial, and retail space where the best amenities in the city converge.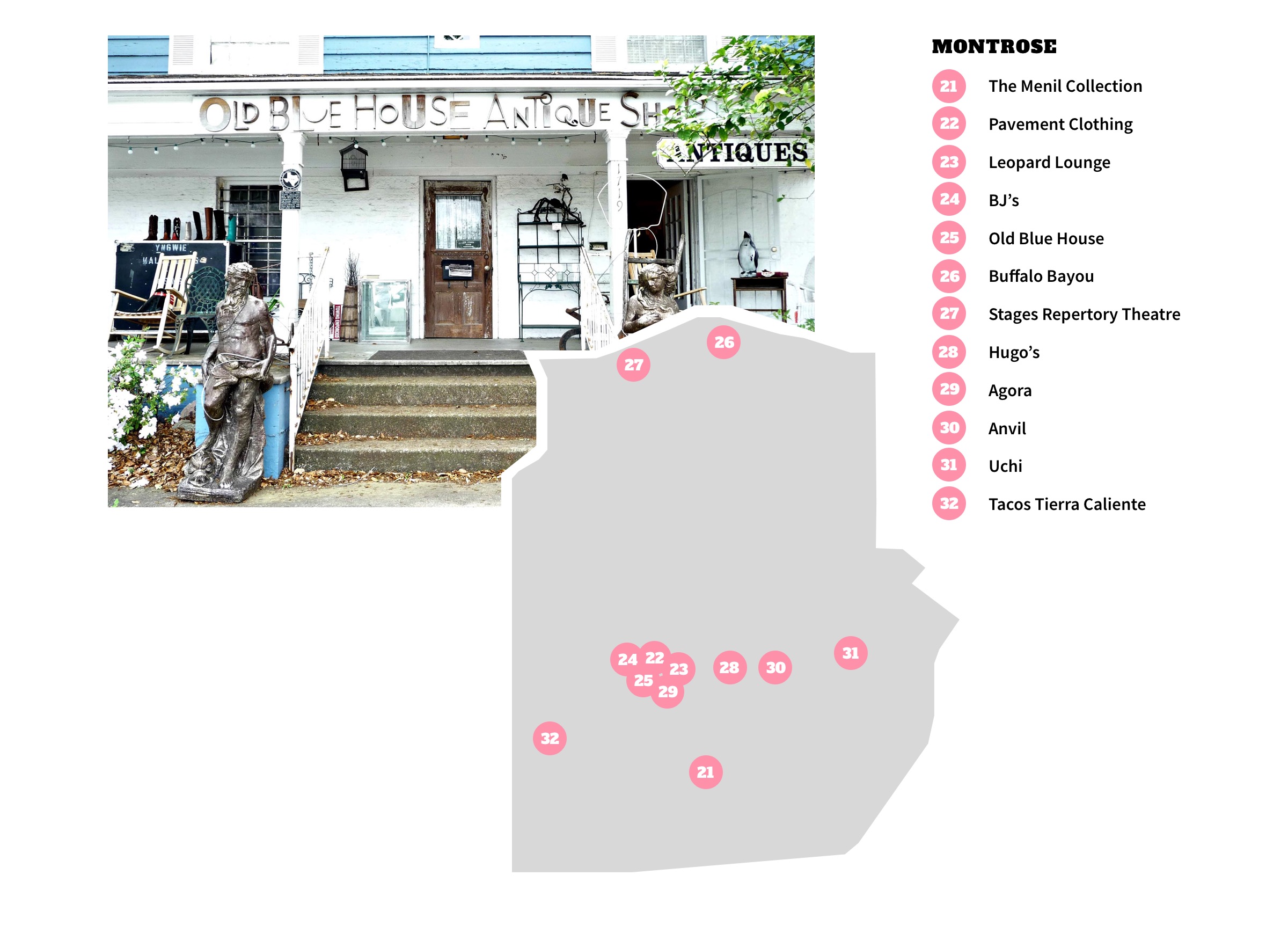 Montrose is a microcosm of Houston: It's multicultural, rapidly changing, and committed to preserving its past. The neighborhood also has a rich history as a hotbed for political activism. Montrose was once a sanctuary for those pushed to the margins of society like hippies, transients, and the LGBTQ community. Now, it's among the most desirable areas in Houston.
Montrose has maintained its one-of-a-kind character and remains a haven for artists, musicians, and hip urbanites. Contemporary additions like glass-sided homes and trendy cocktail bars stand alongside 100-year-old cottages and low-key dive bars.
What to Do
This free museum houses a permanent collection of Byzantine, European, and Surrealist work as well as rotating exhibits. Along with the main building, four other art galleries make up the Menil Campus. Locals also frequently picnic on The Menil's grassy grounds.
22. - 25. Thrift and Antique Shop Along Westheimer
Snag fashionable, one-of-a-kind finds at Pavement Clothing and sister vintage store Leopard Lounge, then walk down to BJ's and Old Blue House to browse antiques and furniture.
This 160-acre park runs along the winding Buffalo Bayou. You can bike, jog, or kayak; enjoy brunch at The Dunlavy Kitchen; watch thousands of bats emerge at dusk; visit the city's largest dog park; and more—all with views of the Downtown skyline.
A neighborhood mainstay for over 40 years, this nonprofit arts organization produces more shows than any other venue outside of the Theatre District.
Where to Eat and Drink
One of the most esteemed restaurants in the city, James Beard Award winning chef Hugo Ortega showcases Oaxacan cuisine.
The bi-level Greek coffeehouse is open daily until 2 am. It's the coziest place in the neighborhood to study, work, or meet up.
Houston's first craft cocktail bar features a list of 100 classic cocktails made by master mixologists in Prohibition-inspired digs. Opened in 2009, this neighborhood hotspot doesn't take reservations, encouraging patrons to casually walk in and order a drink.
Established in 2012, this upscale sushi spot offers contemporary Japanese dining and seasonal menu items created by head chef Chris Davies. Focusing on sustainability, Uchi uses only the finest products, so whether you're ordering maki or sashimi, it's guaranteed fresh.
Pick up some of the city's highest rated street tacos from this cash-only truck and enjoy them next door at West Alabama Ice House, Montrose's community patio bar.
Why Locals Live Here
Montrose, despite its large concentration of bars, restaurants, and coffee shops, is a residential neighborhood. The community is highly walkable and contains multiple grocery chains, including H.E.B., Kroger, and Whole Foods. A large concentration of single-family homes with backyards and highly rated schools make it very family-friendly, while art museums and nightlife appeal to millennials and other hip urbanites.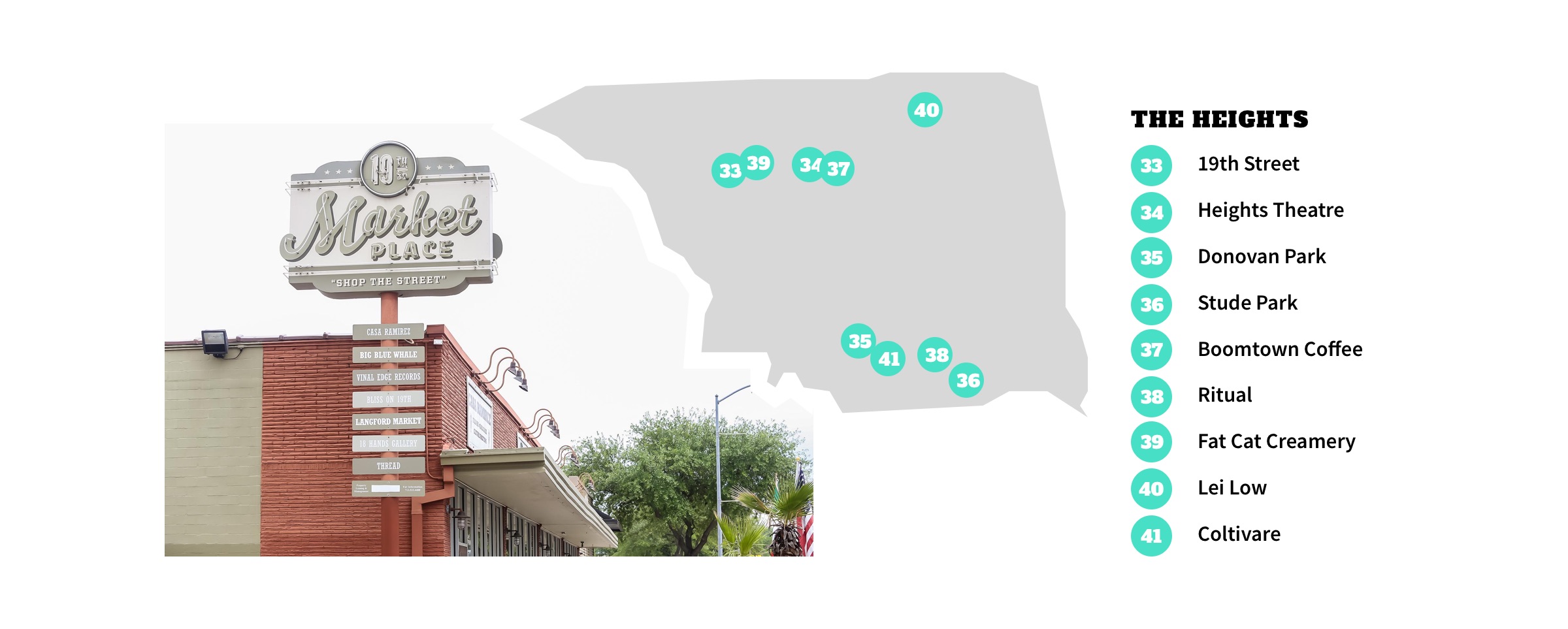 The Greater Heights, aka "The Heights," is an inner loop neighborhood with a small-town vibe. New Orleans-inspired Victorian homes and renovated bungalows lining quiet streets draw homebuyers looking for more spacious city living.
Historically, the Heights was a planned, streetcar community and that suburban sense of tranquility remained long after the city annexed the neighborhood in 1919. With multiple bike trails cutting through the center of the neighborhood and lining the perimeter along the White Oak Bayou, the Heights is one of the most bikeable neighborhoods in the city.
What to Do
Stroll down the historic strip of local storefronts to find thrift, antique, and record shops; eateries with rooftop overlooks; and a Saturday arts market.
This Art Deco theater built in 1929 and located along 19th Street was shuttered for many years, but it reopened as a music venue in 2017. Pose for a picture under the iconic red sign, a well-known Heights landmark.
This park, composed of wooden towers and train cars, was constructed by the community and continues to serve as the Heights' neighborhood playground.
This city park and community center is located along the bayou with oak-shaded trails, sports fields, a pool, a playground, and an indoor gym.
Where to Eat and Drink
Heights residents work, hang out, and caffeinate with house-roasted brews at this bustling coffee shop on 19th street.
This hotspot for southern cuisine and brunch features communal tables and an on-site butcher shop.
Here, you can get small-batch ice cream made with locally inspired flavors scooped into handmade waffle cones.
Pro tip: Wear a Hawaiian shirt for happy-hour-priced Mai Tais at this tiki bar with bamboo walls, a small patio, and tropical drinks evocative of exotic locales.
Coltivare is an Italian restaurant with rustic, wood-fired pizza and a picturesque garden patio.
Why Locals Live Here
The Heights is a community-centric neighborhood. Annual events like Lights in the Heights and White Linen Night bring neighbors together. The Heights offers everything a suburb has—ample space, tranquility, family appeal—but its proximity to Downtown and other job centers give it an edge. Grocery shopping is plentiful and includes a multi-level H.E.B with an Instagrammable "Heights" sign.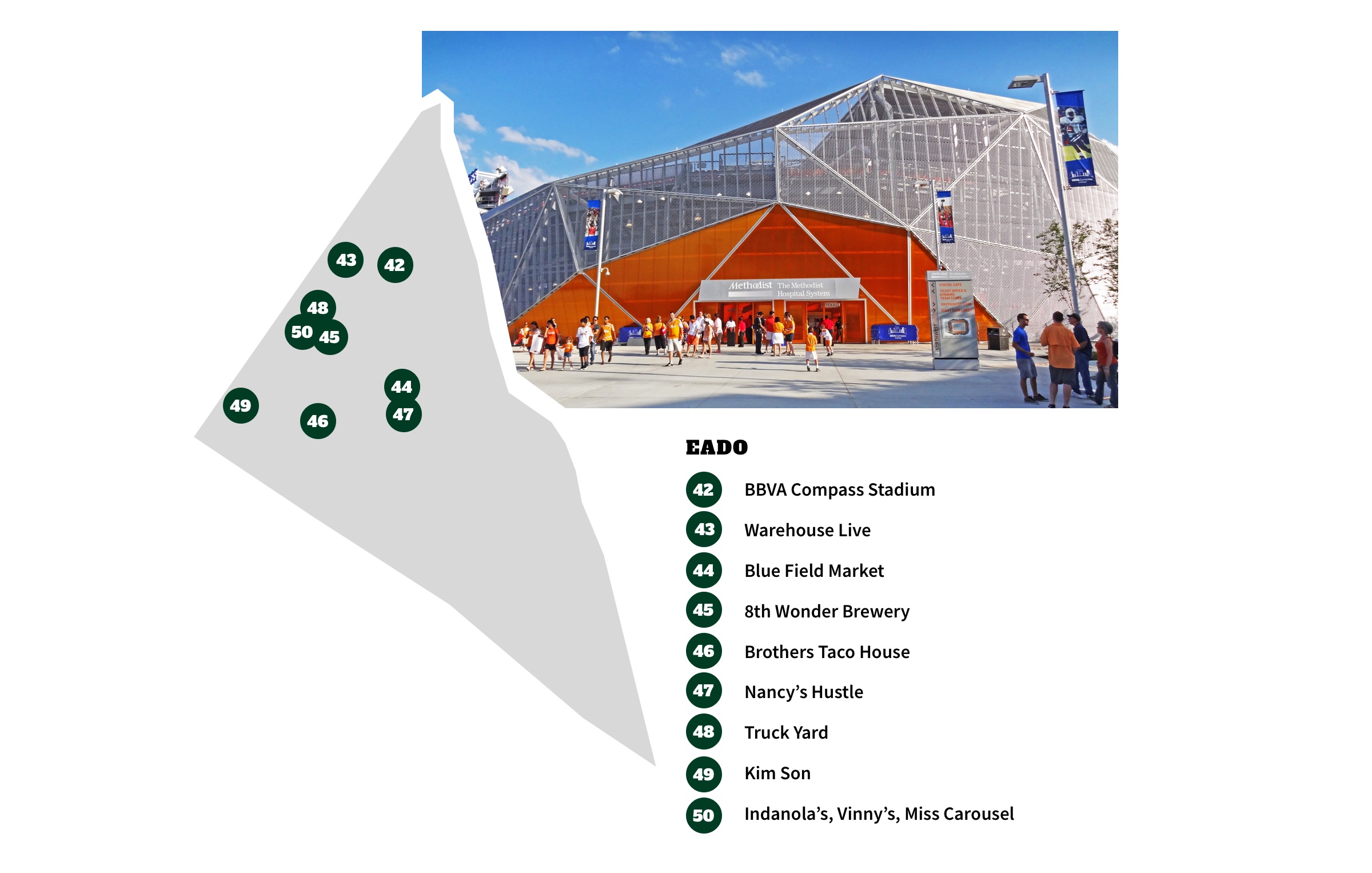 East Downtown is a lot like its amalgamated moniker EaDo; it's a trendy neighborhood rebranded to appeal to millennials and other urban dwellers. In order to revitalize the area, the neighborhood association transformed abandoned warehouses that once littered the landscape into modern lofts, storefronts, and office spaces filled with industrial charm. Music and art is vital to the neighborhood, and there are countless underground and mainstream venues for both.
What to Do
Watch Houston's Major League soccer team, the Houston Dynamo, and its National Women's soccer team, the Houston Dash, play at this multi-purpose sports arena. After the game, head to Pitch 25, a soccer-themed beer park with countless screens and an indoor soccer field.
This modest concert and comedy venue jump-started Drake's career.
This Saturday artisan and farmers market has live music, crafts, volleyball, yard games, and yoga.
A craft brewery and distillery modeled after the Astrodome, 8th Wonder Brewery is one of EaDo's many spots for beer lovers. Snap pics in front of the emblematic I heart Houston sign and the towering statues of The Beatles.
Where to Eat and Drink
This unassuming family-owned joint serves a variety of freshly prepared breakfast tacos. There's usually a line out the door, but it moves quickly.
A relative newcomer to the neighborhood that quickly gained popularity, the homey bistro is known for its savory Nancy Cakes, a corn-based patty served with pearly smoked trout roe.
This carnival junkyard-themed patio bar has truck beds repurposed as tables and a light-up Ferris wheel offering breathtaking views of the skyline. It's the perfect place to hang out on a warm day, listen to live music, and grab grub from food trucks.
A vestige of the neighborhood's former life as Houston's original Chinatown, Kim Son serves traditional Vietnamese and Chinese cuisine.
The three-restaurant concept from local group Agricole Hospitality includes a counter-service pizza place, an intimate craft cocktail bar, and a New American eatery serving lunch, brunch, and dinner.
Why Locals Live Here
EaDo, as the name suggests, is adjacent to Downtown, making the neighborhood highly urban. Housing here primarily consists of townhomes, condos, and lofts, with some single-family homes available. One of the many perks of living in EaDo is the accessibility of public transit. The Metrorail runs along Harrisburg Boulevard and connects to Downtown, the Museum District, the Medical District, and to NRG stadium, where you can see concerts, Texans games, and the Houston Rodeo.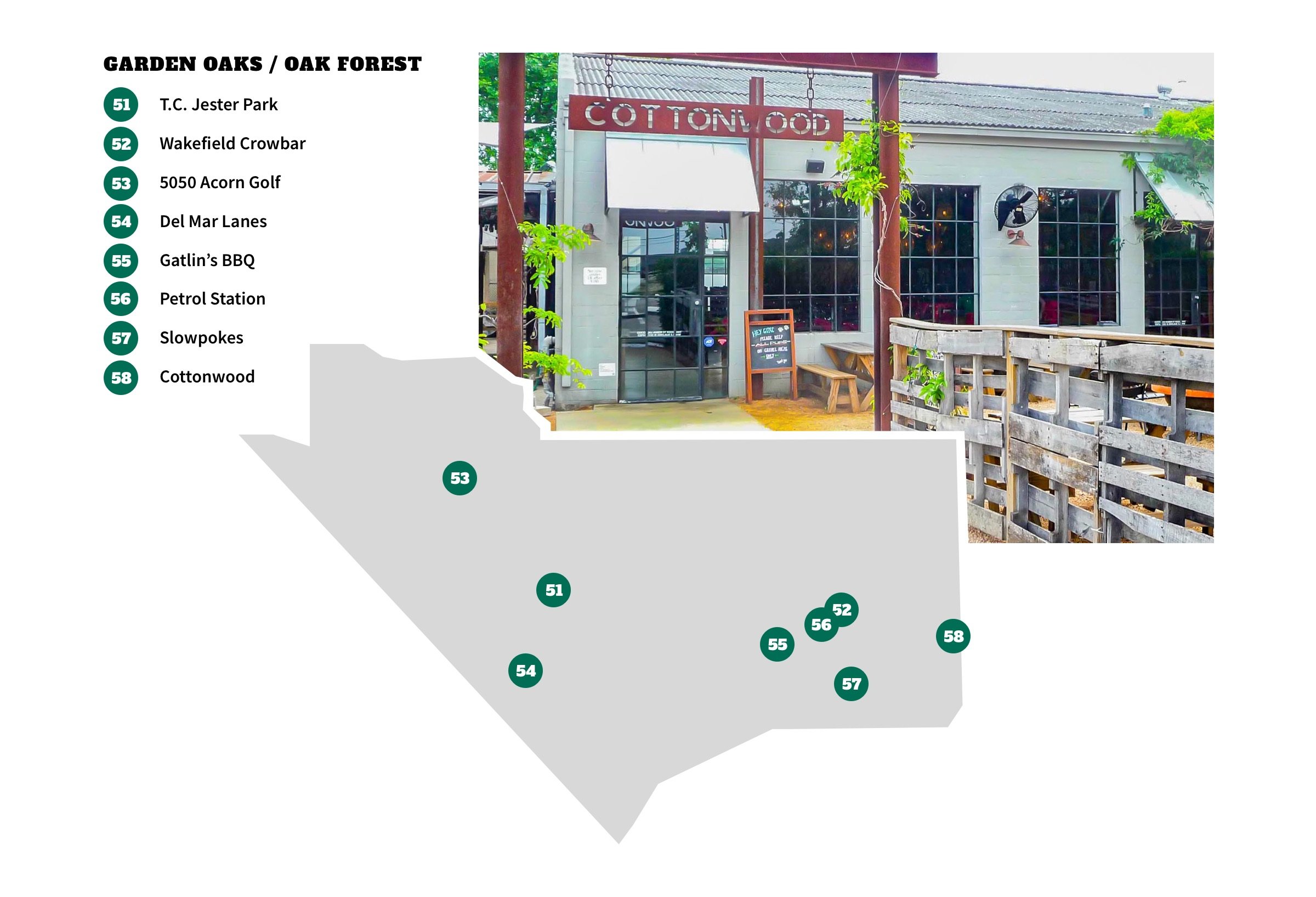 Under the radar until the mid-2000s, Garden Oaks and Oak Forest are quickly gaining popularity. Artists and young homebuyers priced out of inner loop neighborhoods are retreating to these suburban-esque, family-friendly neighborhoods in droves.
Though lumped together and lovingly dubbed "The GOOF," Garden Oaks and Oak Forest are slightly different. Garden Oaks is considered more upscale, offering larger lots with stately homes, while Oak Forest contains older, ranch-style residences at more affordable prices. As more people move in, businesses and restaurants follow, shaping both neighborhoods into one self-contained community.
What to Do
The lush park features a 21-hole disc golf course, a splash pad, a playground, a pool, a dog park, and trails. Picnic in a field of Texas bluebonnets during spring.
A kid- and dog-friendly sports bar and restaurant with live music and three sand volleyball courts, Wakefield Crowbar has 39 beers on tap and a full menu of game day favorites.
This driving range has entertainment for the whole family including a playground, a dog park, and an ice house.
This no-frills bowling alley has an old school air. Brass Monkey, the onsite bar and grill, frequently hosts live music.
Where to Eat and Drink
Winner of many local awards, this family-run barbecue joint has a warm and welcoming atmosphere.
This former filling station is now a hole-in-the-wall neighborhood pub with a sizable patio and mouth-watering burgers.
This easy-going coffee shop also serves beer, wine, and a full menu of seasonal eats. It's a good place to study or casually work on a project.
The GOOF's quintessential neighborhood hangout has an enormous dog- and kid-friendly patio with deck games, live shows, and crawfish boils.
Why Locals Live Here
The GOOF is a largely residential subdivision with a variety of home styles ranging from late 20th century ranches to brand-new, multilevel builds. Located on the edge of the 610 loop, GOOF residents have convenient commute times with the added benefit of affordable real estate and suburban peacefulness. Market 365, a more affordable offshoot of Whole Foods, recently opened in adjacent Independence Heights.