Houston Local Life
Houston Coffee Shops That Anchor Their Neighborhood
A decade ago, coffee shops were a rarity in Houston. Now, cafes ranging from indie to industrial and European are all over the city. Popular neighborhoods like Montrose and the Heights are cafe centers with busy blocks brimming with places to caffeinate, but don't miss the surrounding areas which harbor some of the city's most beloved coffee shops.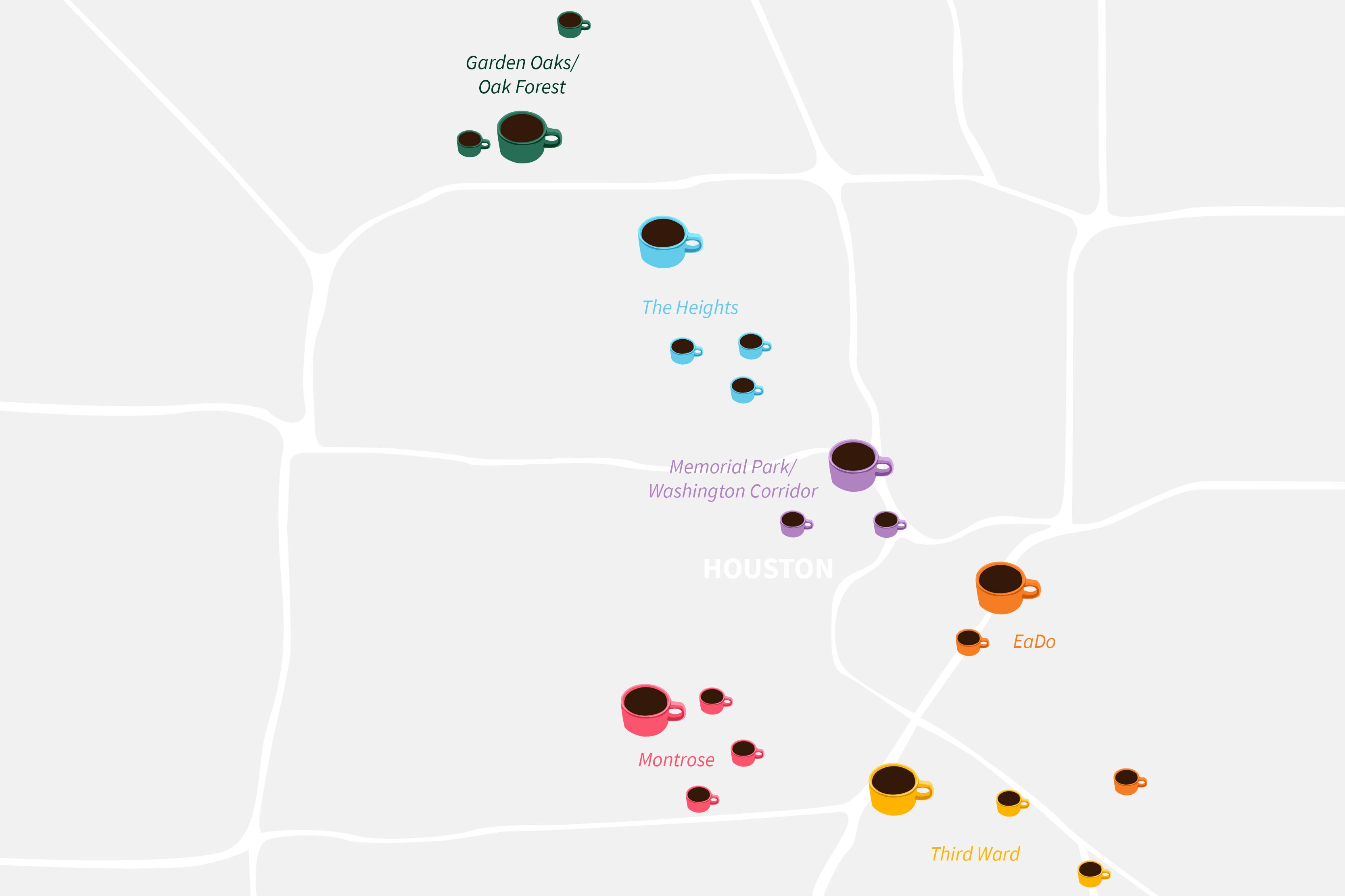 Third Ward is one of Houston's six historic geographic districts. The neighborhood is home to both long-time residents and transient students attending the University of Houston or Texas Southern University. Many arts, culture, and outreach organizations are based in Third Ward. The Doshi House, which calls itself a "social enterprise" and works with nonprofits to revitalize its underserved neighborhood, encapsulates Third Ward's strong sense of community service.
The Doshi House
The Doshi House serves locally roasted Greenway Coffee, full leaf teas, and fruit smoothies. Food options include a menu of vegetarian and vegan dishes showcasing Creole and Indian cuisine. The availability of fresh, health-focused food is especially necessary in Third Ward, one of the city's food deserts.
Also Check Out: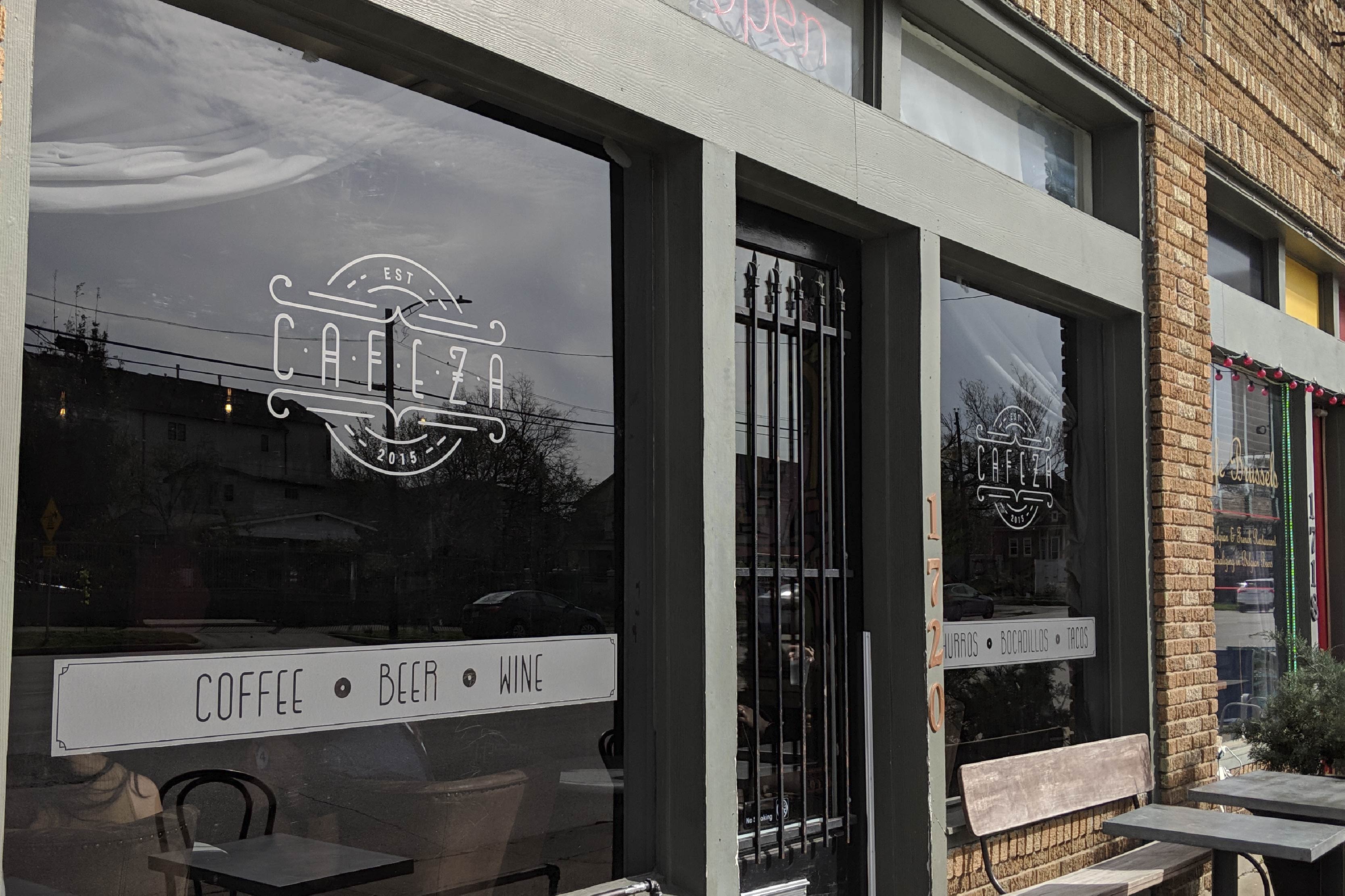 Directly above Buffalo Bayou, Memorial Park/Washington Corridor is an expansive area, encompassing the post-industrial Sixth Ward. Abandoned warehouses and silos converted into art galleries and studios draw millennials and urban professionals to the neighborhood. Thanks to a notable nightlife and highly anticipated developments, the community is rapidly growing.
Cafeza
Anchoring the neighborhood, Cafeza marries European and South American influences. Along with espresso, enjoy churros, tapas, street tacos, and European wine cocktails. Vintage dark wood furniture and walls dressed with community art contribute to the rustic ambience. The coffeehouse complements the neighborhood by providing a place for professionals to work during the day, residents to gather for live entertainment at night, and local artists to showcase their work.
Also Check Out: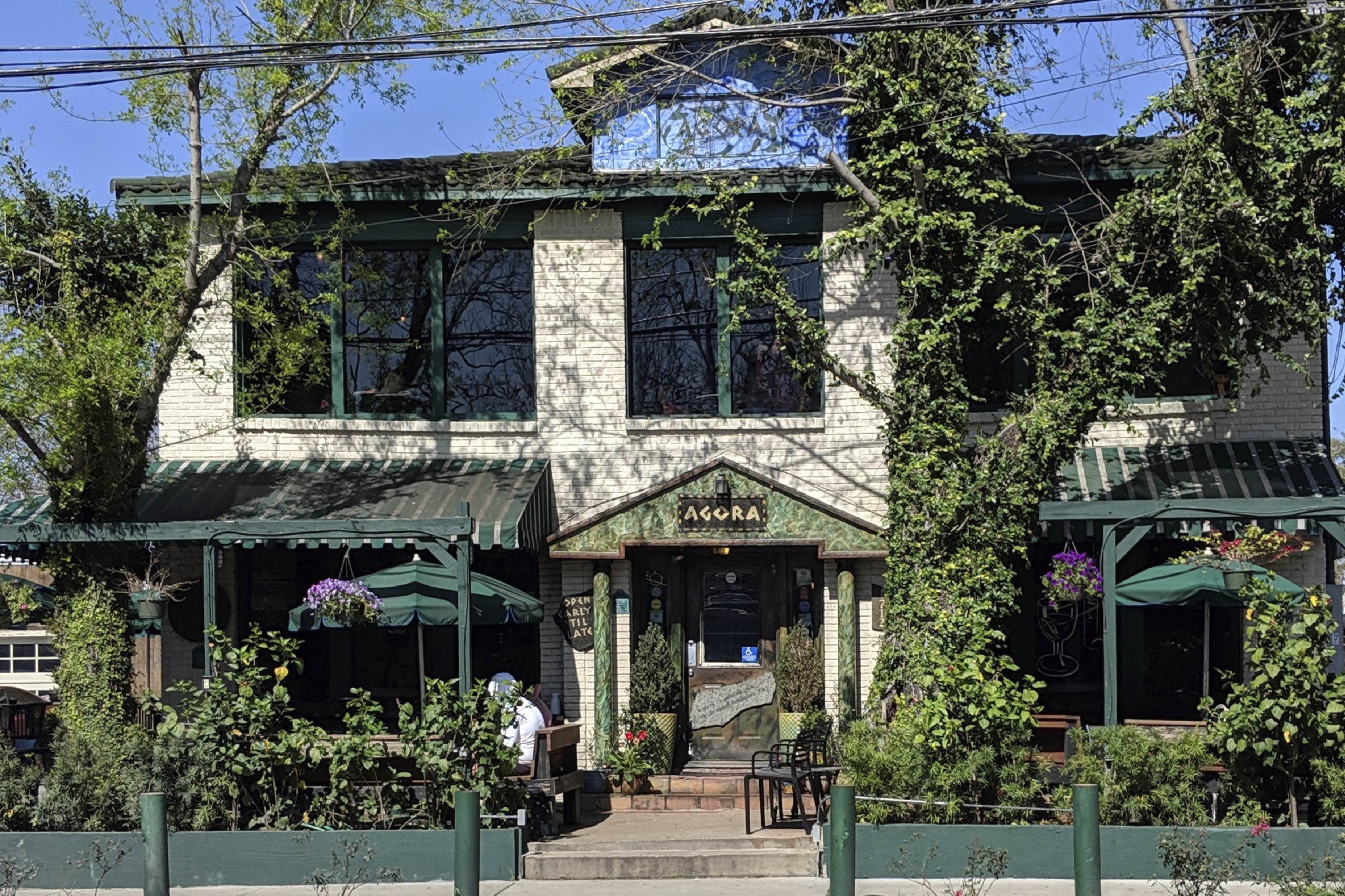 Montrose is an eclectic, artsy enclave regarded as one of the most desirable neighborhoods in Houston due to historic, Craftsman-style architecture blending alongside modern establishments. Since the area is centrally located with an abundance of dining options and things to do like thrifting and perusing museums, it's no surprise Montrose has the highest concentration of coffee shops in the city.
Agora Cafe
Agora, a cozy Greek coffeehouse spilling over with students, professionals, and other residents, is a Montrose mainstay. Seating is plentiful in the bi-level building which has a wraparound balcony upstairs and a shaded patio out front. The walls are adorned with Greek art creating an old world, European air and capturing the neighborhood's appreciation of antiquity. Play chess, read from a selection of contemporary publications, queue up classics on the jukebox, or catch a belly dancing show. Best of all, the cafe is open daily until 2 a.m.
Also Check Out: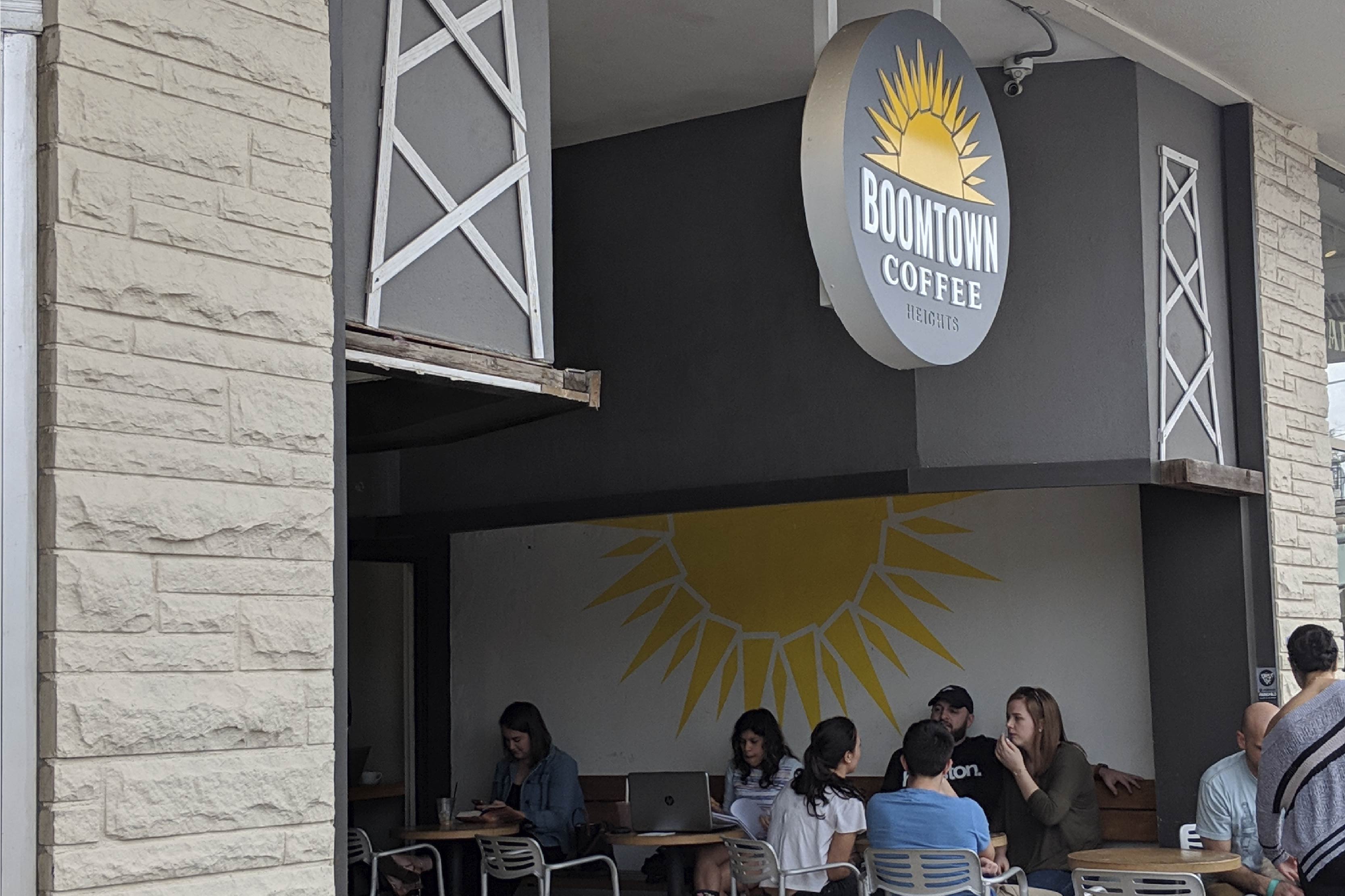 The Greater Heights, aka The Heights, is a charming Houston neighborhood lined with Victorian houses, mom and pop shops, and bike trails. The area is located in the inner loop, meaning its bounds are within the 610 loop and near the city's center, however the Heights has a uniquely suburban quality that makes it appealing for families. It's also a caffeine haven.
Boomtown Coffee
Sitting along 19th street among a cluster of local businesses, Boomtown Coffee is bright and modern with sleek white chairs and wood tables. Boomtown is a small-batch coffee maker and wholesaler that roasts brews in house and supplies coffee to many area restaurants. Though there are two locations in the city, including a recently opened shop Downtown, the Heights location is a neighborhood stalwart. The Heights is like a small town in a big city, and Boomtown, which staffs friendly baristas who greet residents by name, adds to that.
Also Check Out:
East Downtown is an industrial neighborhood experiencing a resurgence. Shuttered manufacturing warehouses are being repurposed into new businesses, lofts, and art/music venues. The burgeoning area is unpretentious and welcoming to urbanites of all types.
Tout Suite
Tout Suite is an airy, industrial building illuminated with Edison bulbs characteristic of EaDo's architectural style. Since EaDo sits on the edge of Downtown, a major job center, many professionals living in the neighborhood work at Tout Suite. While working or studying, fuel up with Greenway coffee, sugar laced treats like vibrant macarons, or hearty fare from the full food menu.
Also Check Out: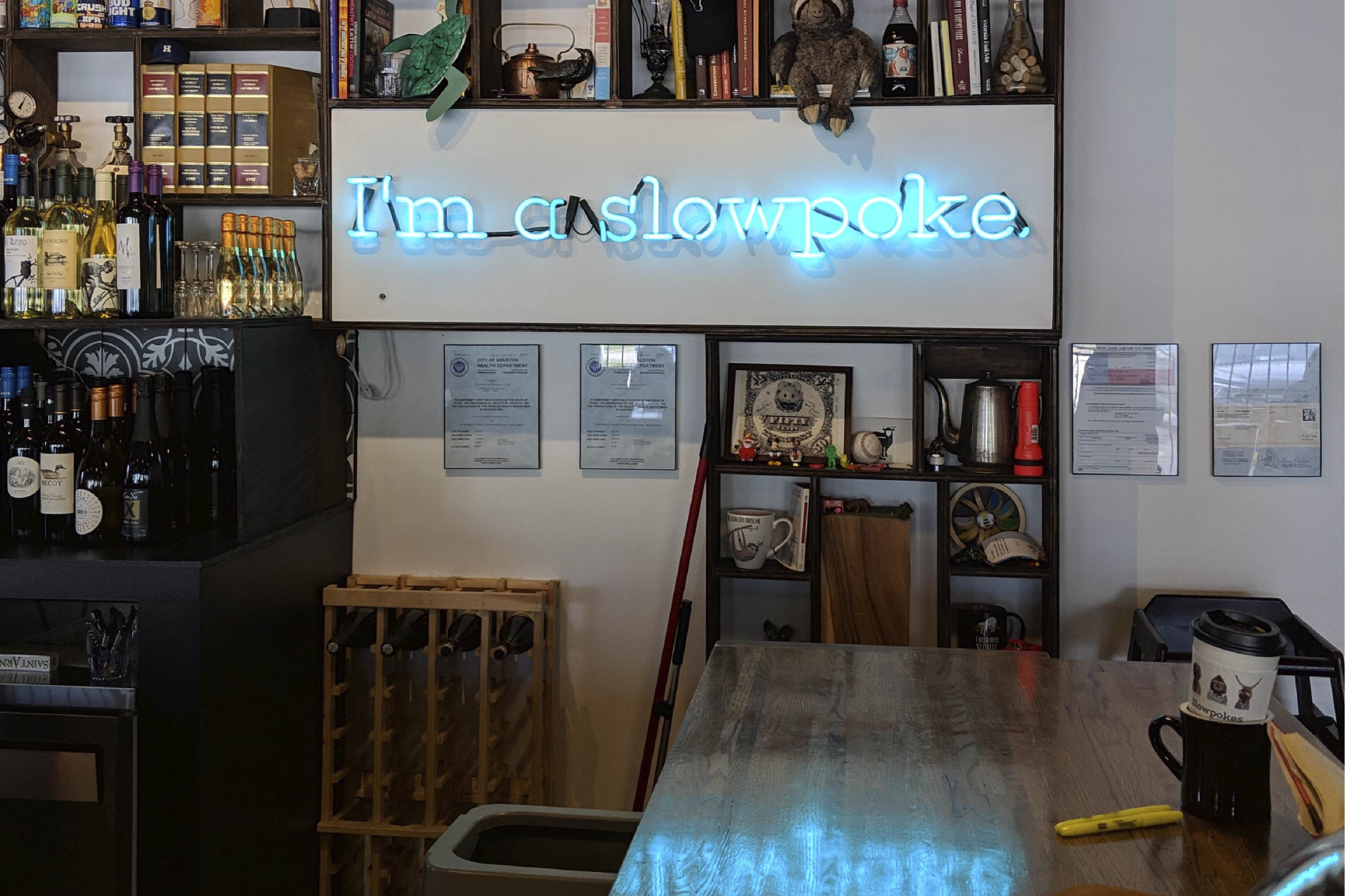 Garden Oaks/Oak Forest (The GOOF) is a family-friendly neighborhood just north of the 610 loop. The residential burb is quickly expanding and gaining popularity; Houstonia Magazine named it among Houston's hottest neighborhoods in 2018.
SlowPokes
SlowPokes is an open cafe with exposed beams, ample natural light, and quirky animal artwork, with an exterior reminiscent of a Western saloon. Pours include coffee, tea, beer, and wine. There's also an all-day menu featuring breakfast staples, sandwiches, and flatbreads. Though Slowpoke perches on the edge of a fast-paced city, its moniker and three mascots (a turtle, a sloth, and a snail) epitomize the Goof's sleepy, easygoing sense of suburbia.
Also Check Out: