Houston New Development Drilldown February 2019
Houston New Development Drilldown February 2019
Houston is rapidly expanding. As the population skyrockets so do new commercial and real estate developments.
The city's future landscape will include a community park in an ever-popular neighborhood, three mixed-use developments bringing new jobs and residents to booming communities, and a suburban master-planned community for first-time homebuyers.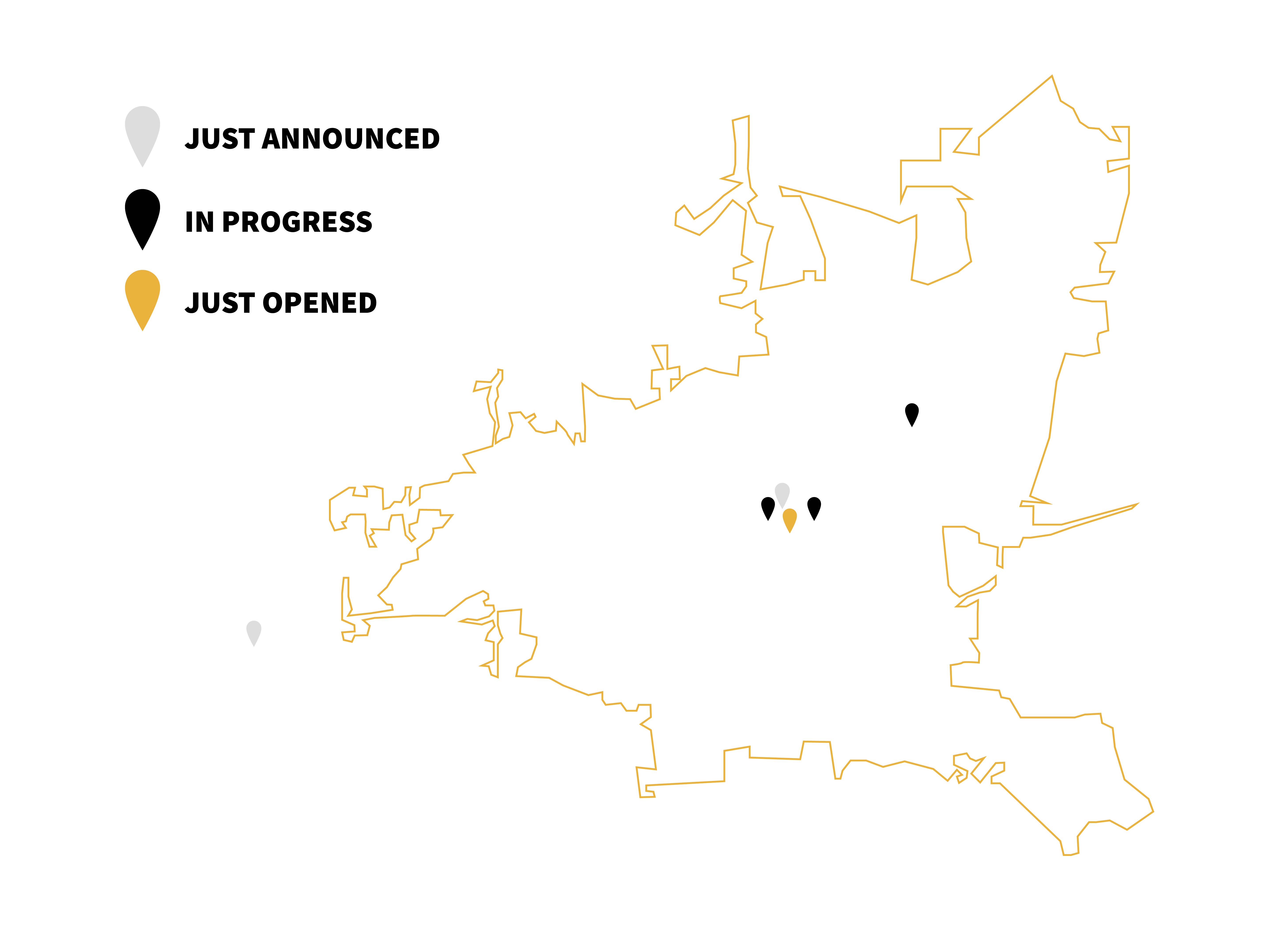 Just Announced
A Park That Salutes Montrose's History
Plans for a neighborhood park in Montrose have been in the works since 2014, and those plans are finally taking shape.
As reported by the Houston Business Journal, the once vacant lot at 424 Westheimer is poised to become Avondale Promenade Park, a lush community greenscape with a nod to the neighborhood's cultural history. Beautification and construction is scheduled to begin in August 2019 with a tentative opening date of 2020.
A rendering of the park features a dog run, play area, a Crepe Myrtle grove, and a 12-foot-wide brick promenade. Structures will be modeled after vintage Craftsman-style architecture, mirroring homes in the surrounding neighborhood.
Avondale Promenade will include a permanent memorial garden dedicated to LGBTQ victims of violence. The Montrose Remembrance Garden will be stationed on Westheimer near the city's former Gay Pride parade route. The Pride celebration, a Montrose stalwart since 1979, moved Downtown in 2015 to accommodate the growing number of attendees.
The park's chosen location is no coincidence and will preserve Montrose's legacy as an LGBTQ epicenter while also serving as a neighborhood gathering place for future residents.
An Affordable Master-Planned Community in Fulshear
A new master-planned community that seeks to draw first-time homebuyers with affordable homes is coming to Fulshear. The rural suburb located roughly 35 miles west of Houston is steadily growing and experienced a 759 percent growth rate between 2010 and 2017. In 2016, the city was ranked the fastest growing city in Texas by Population and Survey Analysts (PASA).
Homes in Polo Ranch will start in the mid $100s and feature floorplans between 1,200 and 3,400 square feet. The number comes in under Houston's median sale price of $290,000. Amenities include a swimming pool, parks, and playgrounds.
Fulshear is seeing a massive influx of residents and the new master-planned community should help meet population demands. Though only recently announced, Polo Ranch's grand opening is scheduled for June 2019, another indication that homebuilders are racing to keep up with buyers.
In Progress
EaDo Continues Its Rise
EaDo is on the rise and the neighborhood's transformation is just getting started.
Last year saw the opening of a sprawling three-restaurant concept featuring a casual pizzaria, cozy cocktail bar, and modern American restaurant. Development in EaDo shows no signs of slowing down in 2019.
A new mixed-use project dubbed "The Block" is currently underway in the neighborhood. According to Bisnow, Ancorian—the company behind other EaDo endeavors Truck Yard, Chapman & Kirby, and Seaside Poke—is planning to turn shuttered warehouses at 2339 Commerce St. into coworking, retail, and restaurant space complete with a 200 spot parking lot. Renderings of the proposed development show the project preserving EaDo's signature industrial aesthetic. The project should wrap up in 2019, though no official date has been announced.
EaDo is a relatively young neighborhood, and a rebranding in 2008 attracted millennials, artists, and urban professionals. Ancorian's new project aims to continue that momentum without sacrificing EaDo's character. Abandoned warehouses, once a blight on the community and a reminder of harder economic times, now signify neighborhood prosperity.
Washington Corridor Getting Coworking Space and Mixed-Use Development
Similarly to EaDo, Washington Corridor is experiencing a post-industrial renaissance. Due to its proximity to Downtown's oil and gas corporations, the neighborhood is home to those working in the energy sector as well as other professionals and artists.
Washington Corridor is a growing hub for urban professional and the neighborhood's first coworking space is forthcoming. Though originally scheduled to open in late 2018, the date has been pushed back to February. Washington Office Co. will be located above cocktail bar Julep and the Washington Gym, allowing active residents to hit the gym before heading to the office and unwind with a drink after work.
Buffalo Heights is another highly anticipated venture in the neighborhood. The development at the intersection of Washington Avenue and South Heights Boulevard will be anchored by a multi-level HEB (Texas' favorite grocery store) and will also include St. Andrie, a 232-home luxury apartment complex, retail shops, and office space.
Both projects in Washington Corridor will attract newcomers to the dynamic neighborhood and accommodate the professionals and residents already living there.
Generation Park Creating a Business and Retail Hub in Northeast Houston
Generation Park, another mixed-use development in northeast Houston, is set to bring industry and entertainment to an exploding community. The 4,000 acre project will include commercial, retail, dining, residential, and industrial space sure to benefit surrounding areas like Balmoral, which was recently named one of top-selling master-planned communities in the country.
The Fortune 500 oil and gas company TechnipFMC, Apache Industrial Services, San Jacinto College, and Lone Star College all have campuses in Generation Park, which will bring thousands of jobs to the area. Redemption Square, Generation Park's retail and dining center, will provide ample amenities to residents.
Multiple hotels, apartments, office space, and a fitness center are planned in Redemption Square along with shops and restaurants. Last April, Bibo's Bistro and Bar, a Vietnamese fusion restaurant, became the first retail tenant in Redemption Square. And Swedish home goods powerhouse Ikea closed on land in Generation Park in November.
Now Open
Food Hall Mania Continues
Houston's food hall takeover, which we noted in our previous Development Drilldown, is slowly but surely progressing. Finn Hall, the first of four new food halls set to shake up Downtown's dining scene in 2019, is now open.
Finn Hall comprises 10 dining establishments and two full bars in an airy Art Deco building. Most restaurants like Mr. Nice Pie, Dish Society, and Goode Co. Taqueria are outposts of well-known Houston restaurants while others are brick and mortar iterations of local food trucks or new concepts from esteemed area chefs. Finn Hall's food court concept allows residents and visitors to convene in a single location and sample the city's best eats.