Nashville Local Life
Nashville Neighborhood Guide
There's no two ways about it—Nashville is a city on the rise. You could say our new state bird is the construction crane.
As residents stream in from across the country and put down roots, Nashville neighborhoods have seen a surge of culture and commerce like never before. Each part of town offers something distinct from east to west and everywhere in between. The sleepy parts of town have gotten even cozier and the urban areas have more shimmer and hustle than ever before.
Luckily, the city has stayed true to itself, and most neighborhoods are becoming the best possible versions of themselves. Consider this an (almost) comprehensive introduction to all four corners of Music City.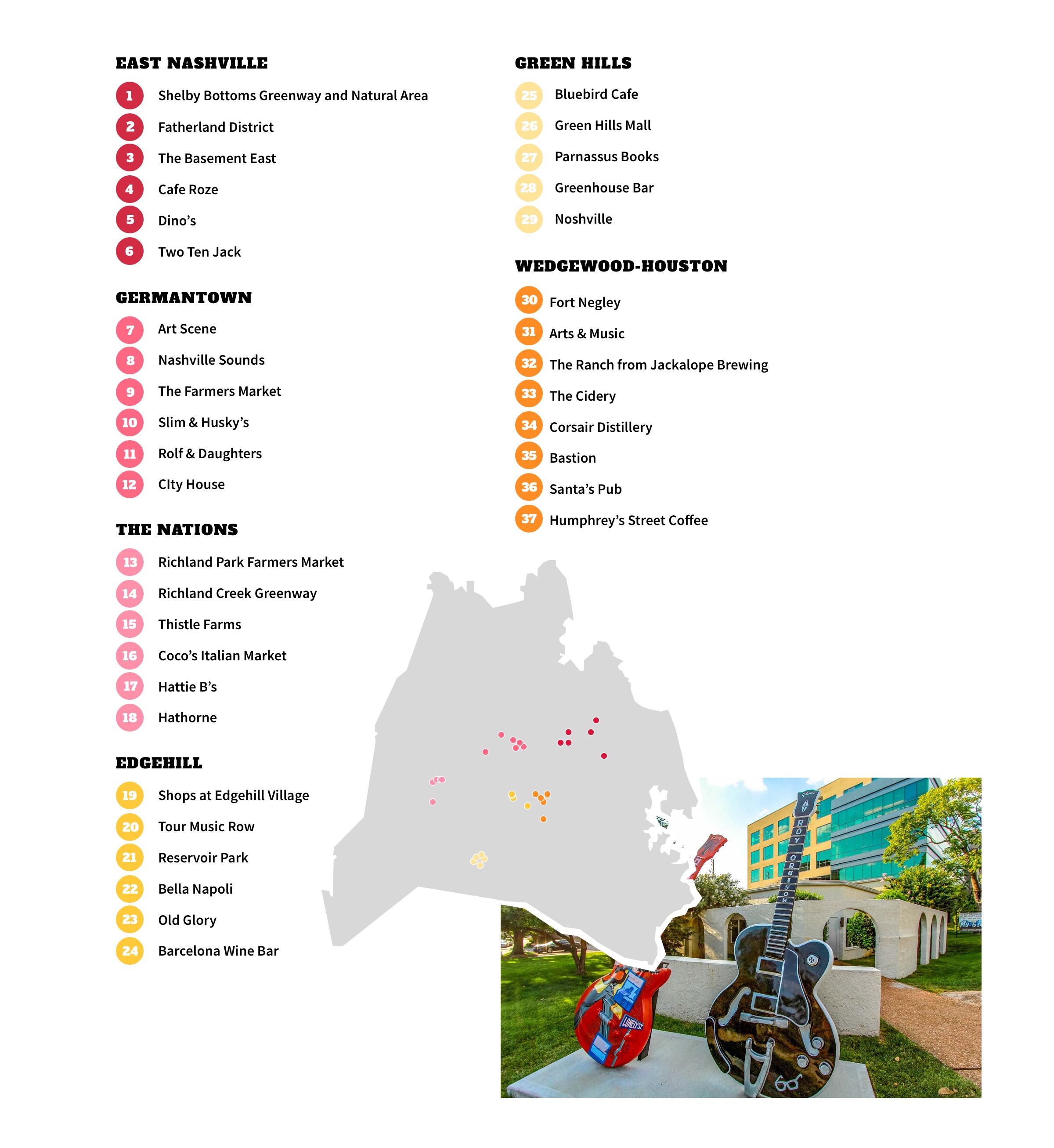 Nashville at a Glance
Maybe Catch a Lyft: Nashville is known for many things but a vast public transportation network is not one of them. The city recently voted down a measure to expand the bus system and construct a light rail, so newcomers might do well to hop in a rideshare. However, there are some walkable neighborhoods, and the city is becoming more bike-friendly.
You're Not East Until You Cross the River: East Nashville is a very large part of town, with distinct sub-neighborhoods. That said, anything on the Downtown side of the Cumberland River ain't East.
There's More to Life than Broadway: Nashvillians are proud of our rich musical history, and we love to honky tonk or catch a singer-songwriter showcase every now and then, but if you visited Nashville and only saw the touristy thoroughfare Broadway, you didn't see Nashville.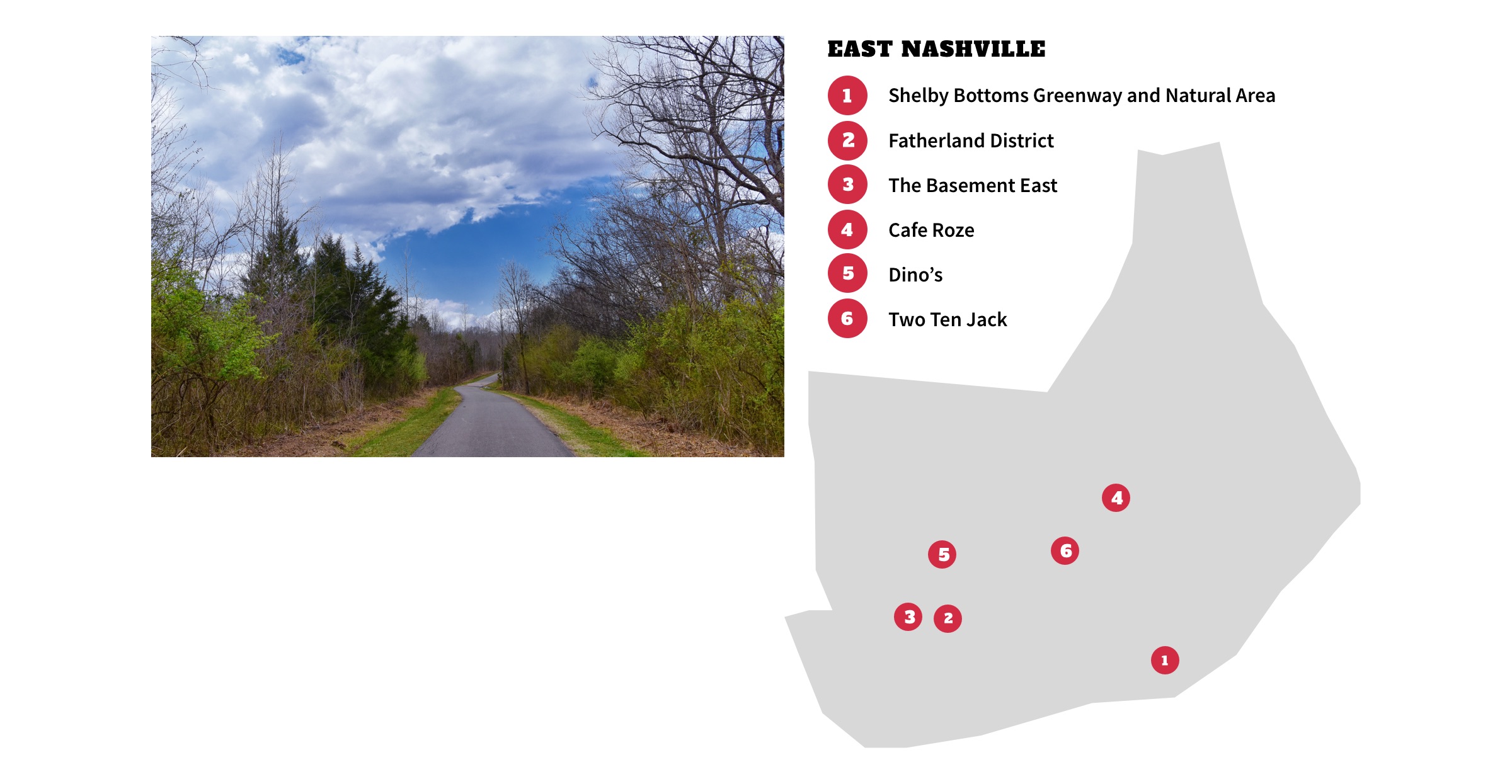 Anyone who has heard about Nashville in the last five years has probably heard about East. Often considered Nashville's coolest neighborhood, this sprawling metropolis plays host to beautiful parks, new local businesses, and excellent restaurants, all within minutes of the city center.
What to Do
In the heart of Nashville's most popular neighborhood, you can find nearly 1,000 acres of greenspace. East Nashville residents love Shelby Bottoms for its ADA accessible paths, rugged nature trails, and miles of riverfront views.
Just around the corner from East Nashville's Five Points neighborhood, The Shoppes on Fatherland is the center of the area's retail culture. With an eclectic curation of knick-knacks, crafts, and paper goods, Gift Horse is the perfect place to pick up something special for any occasion. To pay homage to the 615, Wheat & Co. is a rich purveyor of upscale Nashville fashion, selling hats and T-shirts emblazoned with Tennessee pride.
The heartbeat of Nashville's indie scene, this relatively new venue is the place to be for upcoming and established acts alike. Local favorites like Liz Cooper and the Stampede, Bermuda Triangle, and Ruston Kelly have all graced the stage.
Where to Eat and Drink
Acclaimed New York chef Julia Jaksic, formerly of Jack's Wife Freda, is the mastermind behind the east side's most Instagrammed spot. Cafe Roze's striking aesthetic and minimalist design make it an inspiring place to meet for coffee or their famous take on the Bourbon classic, the "roze fashioned."
The dive bar to end all dive bars, this iconic Nashville hole in the wall is beloved by locals. It's also been known to be the post-show hangout for some of music's brightest stars like Justin Bieber and Leon Bridges.
This Japanese inspired neighborhood pub is beloved for its kodawari ramen, yakitori, and sushi offerings. The ambience feels like no other place in town, and the friendly staff make it a haven for neighborhood regulars.
Why Locals Live Here
Between its size and proximity to Downtown, East Nashville has begun to blur the line between urban and suburban. Neighborhood residents and business owners tend to be transplants from larger cities, imbuing the area with an aesthetic that feels more Portland or Austin than the country-western style of Nashville.
Residents love the small-business shopping, dive bars, and dining that make the neighborhood so distinct, but the lot sizes and proliferation of schools make it a much desired place to put down roots. With homes dating as far back as 1870 as well as ongoing developments underway every day, East Nashville has options for many interested homebuyers.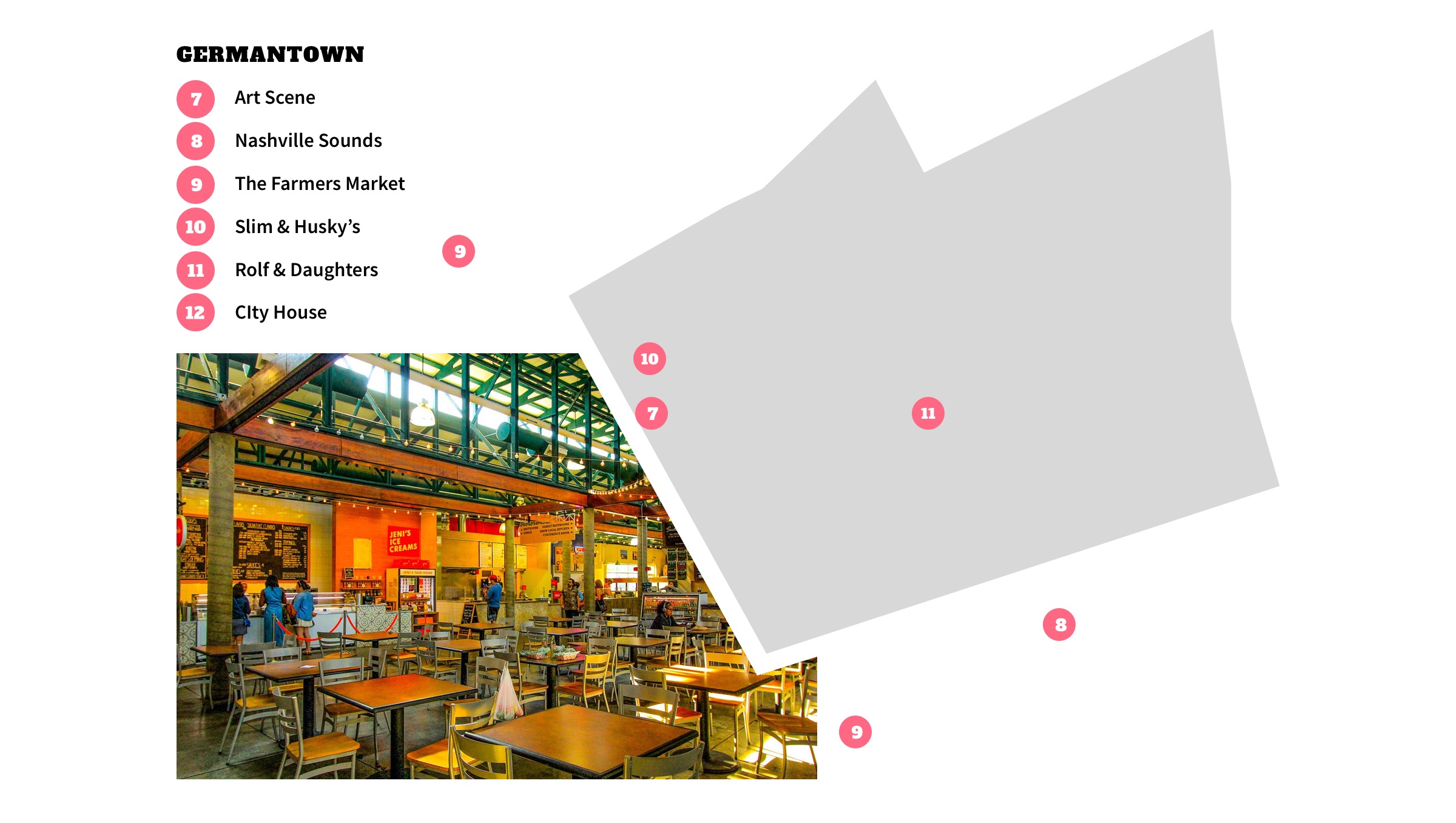 For those who want big-city aesthetics mixed with the down-home charm of Nashville, Germantown is the perfect match. It offers the walkability of an urban neighborhood mixed with the historic charm and lush streets of more residential spots. It's situated right below capitol hill and looks up to the Nashville skyline while busy thoroughfares crisscross the area. Over the years, it's become the locus of Nashville's creative restaurant and coffee shop scene.
What to Do
While murals are becoming increasingly popular, branded tourist traps all over town, North Nashville is home to a burgeoning underground artist culture. Take in the history and promising future of Germantown with our Neighborhoods Mural Guide.
Nashville has never been the biggest sports town. Sure, we have some good years with the Titans and the Preds, but the whole scene ebbs and flows. That's the appeal of our minor league baseball team, the Sounds: It doesn't matter if you win or lose. The city's new baseball stadium, First Tennessee Park, is a state-of-the-art facility designed to host hardcore enthusiasts and fair-weather fans alike. Let's just put it this way—the bar is the busiest spot in the whole place on game day.
Long before Germantown was the mecca of coolness that it is now, The Nashville Farmers Market came to town and built a massive structure on Rosa Parks Boulevard to house the bounty of fruits and vegetables that make their way into the city from area farms. A haven for farmers, foodies, and artisans, this sprawling complex is open 362 days out of the year.
Where to Eat and Drink
Just outside of Germantown in North Nashville, the self-described "fast casual, artisan pizza shop with a love for hip-hop and R&B culture" became a fast favorite of the neighborhood when they opened to great acclaim in 2015. Even on the hottest summer days, there's a line out the door as locals await a cold beer, good beats, and their trademark build-your-own flatbread pizza.
In a neighborhood known for food, this restaurant is the crown jewel. R&D was the original farm-to-table establishment in Nashville and has since remained on the cutting edge of cuisine in the city. From artisanal cocktails to their curated seasonal menu, enjoy the best dining Nashville has to offer and don't forget to check out the Shantell Martin mural on the side of the building.
A long time favorite of Nashville foodies, City House offers rustic Italian cuisine in an unassuming and intimate setting. The establishment has major credibility, and their Nashville native chef/owner Tandy Wilson won a James Beard Award in 2016 after being a finalist four years in a row.
Why Locals Live Here
Residents enjoy all the benefits and proximity that urban life has to offer. The heart of the neighborhood is less than a 15-minute walk away from Downtown, and major highways intersect at the perimeter of the neighborhood, making it an easily accessible area from any part of town. The housing stock here mostly consists of recently built loft-like condos in industrial buildings alongside some historic single-family homes.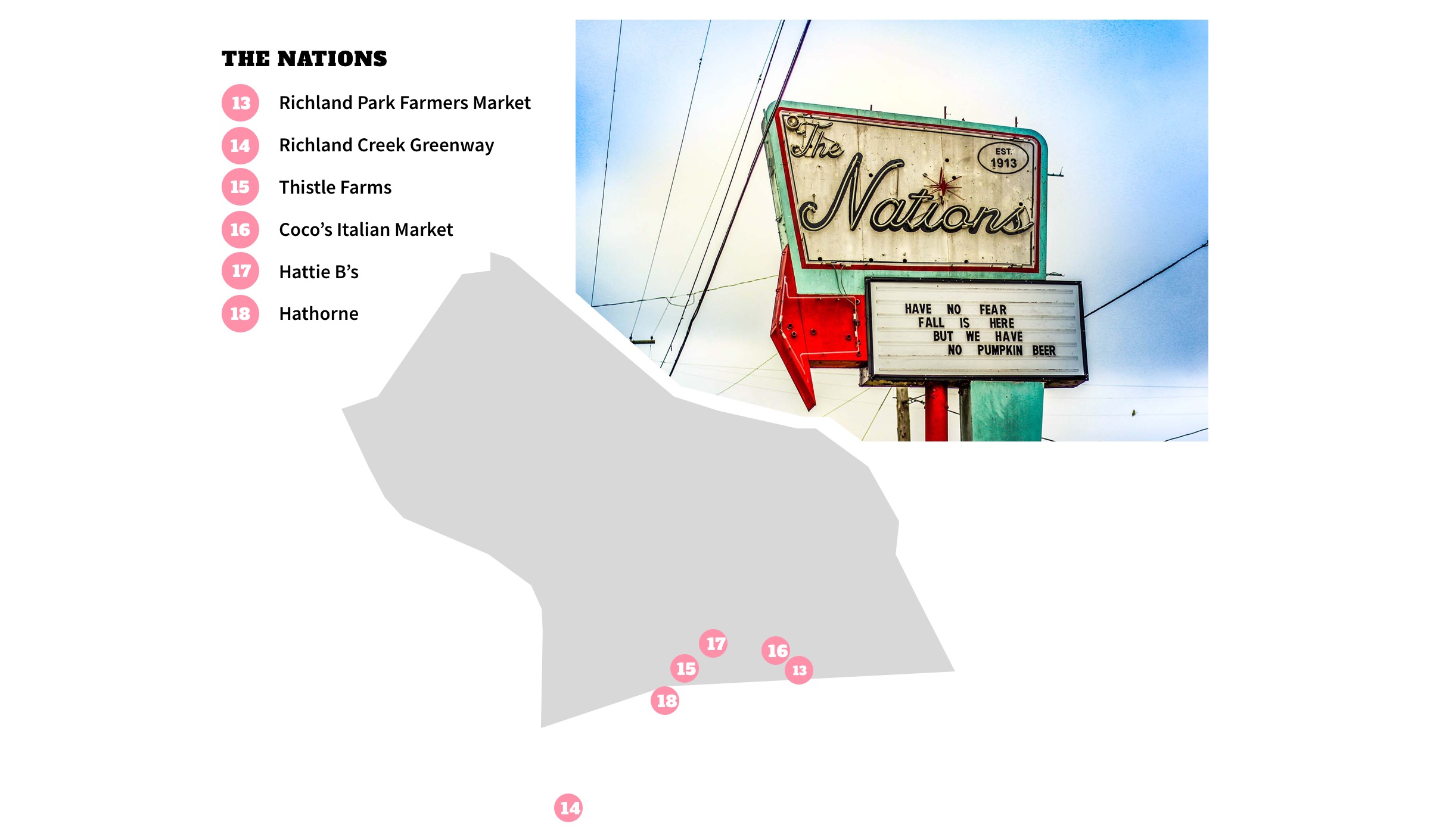 The Nations is an emerging West Nashville neighborhood known for its laid-back pace and outdoorsy vibe, all practically in Downtown's backyard. With its off-beat feel and eclectic aesthetic, let's just say it's a bit more hippie than hipster compared to other parts of the city.
What to Do
Every day feels like autumn at the Richland Park Farmers Market. Located outside a historic school building, the market feels authentic and local—because it is. All the offerings from the market are grown within 150 miles of town, so customers know they're getting the freshest possible produce.
The Nations residents love the vast greenway with five miles of running and walking trails stretching through the Sylvan Park area. The greenway is ADA accessible, so residents of every ability can enjoy all that mother nature has to offer along the tree-lined paths and rolling lawns.
For residents looking to spend their dollars on socially conscious ventures, The Shop at Thistle Farms is a must. Founded by Becca Stevens, the Small Business Council of America's Humanitarian of the Year, Thistle Farms is an organization that seeks to serve female survivors of trafficking and addiction. Women are given housing, counseling, education, and a meaningful job helping to produce Thistle Farms bath and home products which are distributed across the country.
Where to Eat and Drink
The Italian Market isn't trying to impress anybody, and that's what makes it so great. An unassuming structure painted in the colors of Italy's red, white, and green flag, this is a center for food, friends, and family. The bocce ball court outside the front door is a signal that you've come to the right place. If it's fresh pasta and ambiance you want, there's nowhere better.
A quintessential staple of new Nashville, hot chicken is not itself a new cultural phenomenon, but its ubiquity and heavily branded identity is. Hattie B's is perhaps not the most authentic spot for southern cuisine, but it's a great mainstream introduction.
Characteristically southern and upscale, Hathorne is among the newest culinary establishments making waves on the west side. With chic design features and elevated cuisine, Hathorne has won over the hearts of many new residents, and its cocktail hours make it a great alternative to the area's vast network of sports bars.
Why Locals Live Here
The recent resurgence of this long overlooked neighborhood makes it accessible for first-time homebuyers in the same way that East Nashville was five years ago. The streets are almost all named after states and the tree-covered bungalows make it look like something out of a postcard. Residents love the main street feel of Charlotte Avenue, and with walkable dining and a nearby farmers market, The Nations feels simultaneously hip and homey.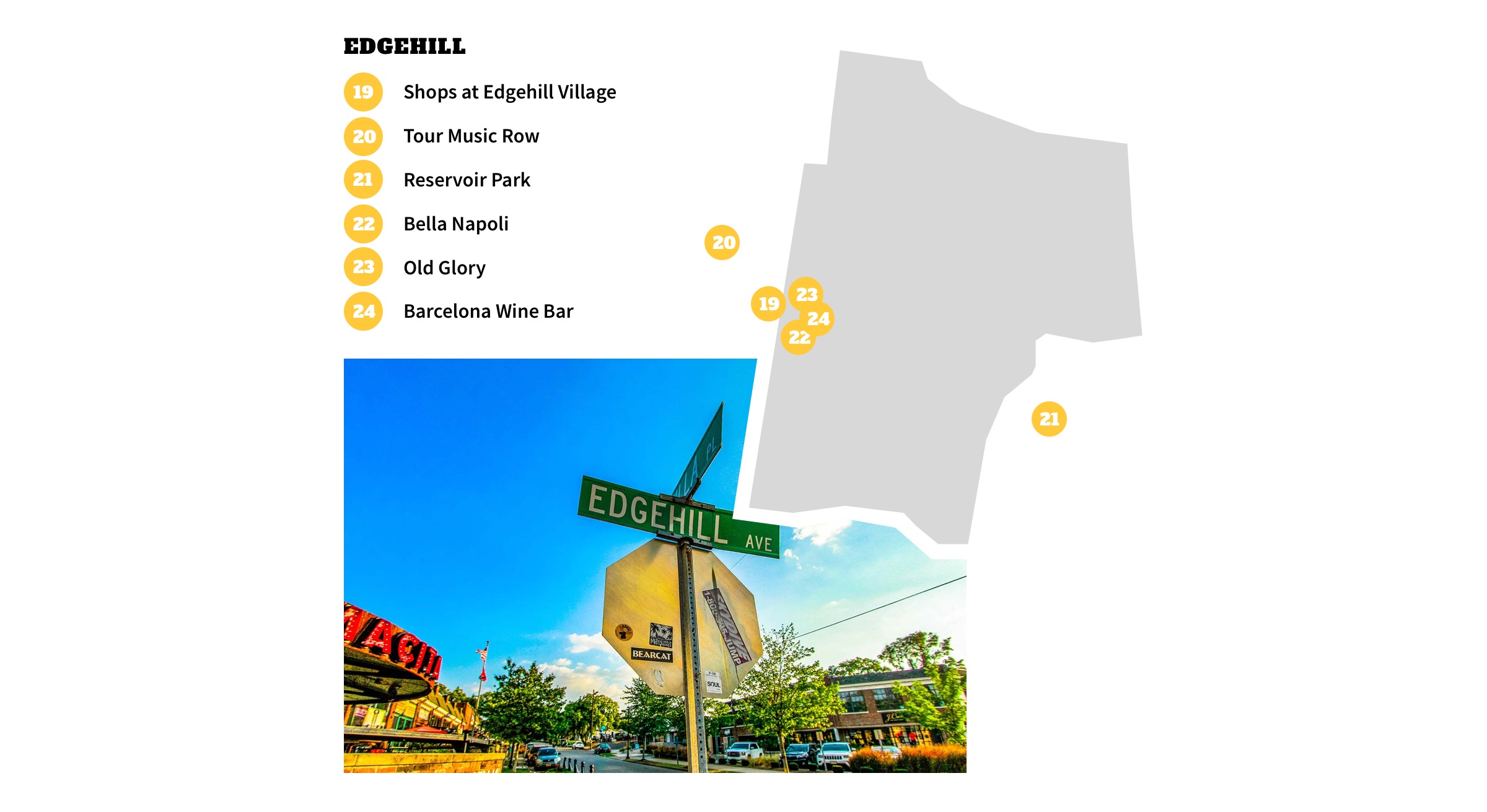 Edgehill is a small neighborhood whose name suggests that it's on the margins of some larger, more popular neighborhoods—and it's true. Edgehill is edgy, thin, and parking isn't easy, but it's worth it. Although it gets some spillover crowds from nearby Belmont and Vanderbilt Universities, the neighborhood is a mostly quiet enclave in the city.
What to Do
Years before Nashville experienced its recent economic and cultural uptick, the shops at Edgehill Village gave Belmont University students a place to grab bubble tea and distressed denim. Now there's a J.Crew and Warby Parker—we're moving on up.
Just next door to Edgehill is Music Row, the epicenter of Nashville's music scene. Historic studios, record labels, and offices line 16th and 17th Avenues, and it's all a mere block away. Sure, you might have to dodge a trolley full of tourists along the way, but if you want to see stars and professional musicians, this is the place.
For the Edgehill resident eager to get out and move, Reservoir Park offers everything one could hope for in an urban greenspace. Basketball and tennis courts are situated near rolling Tennessee hills and sprawling lawns where visitors can walk, run, or play with their dogs.
Where to Eat and Drink
Bella Napoli offers some of, if not the best Neapolitan pizza in the city. A family-owned restaurant that has been consistently popular for nearly a decade, Bella must be on any list of essential Nashville dining. You know it's authentic when the chefs yell at each other in Italian during peak hours.
One thing is true of Nashville (as it surely is in other cities around the country): A speakeasy never gets old. While it's not the first nor the most exclusive, Old Glory is possibly the best. Situated in an old factory boiler room, this local bar booms with music on the weekends and has only a painted triangle around the door in place of an official sign.
A popular wine bar among local professionals and visitors alike, Barcelona has all the ambiance and quality food that one requires from a night out. The low key vibe and outdoor seating make it feel like a slightly dressed down version of City House or Rolf & Daughters. Their signature Spanish influence makes them a unique offering in a city full of amazing cuisine.
Why Locals Live Here
Residents love the easy access to Downtown and neighborhoods like 12 South, Hillsboro Village, and Music Row. The walkability of Edgehill makes it unique among other Nashville neighborhoods, and one wouldn't necessarily need a car to get to essential goods and services. The footprint is small, so housing is at a premium, but considering the fact that it's a stone's throw away from Downtown, that's to be expected.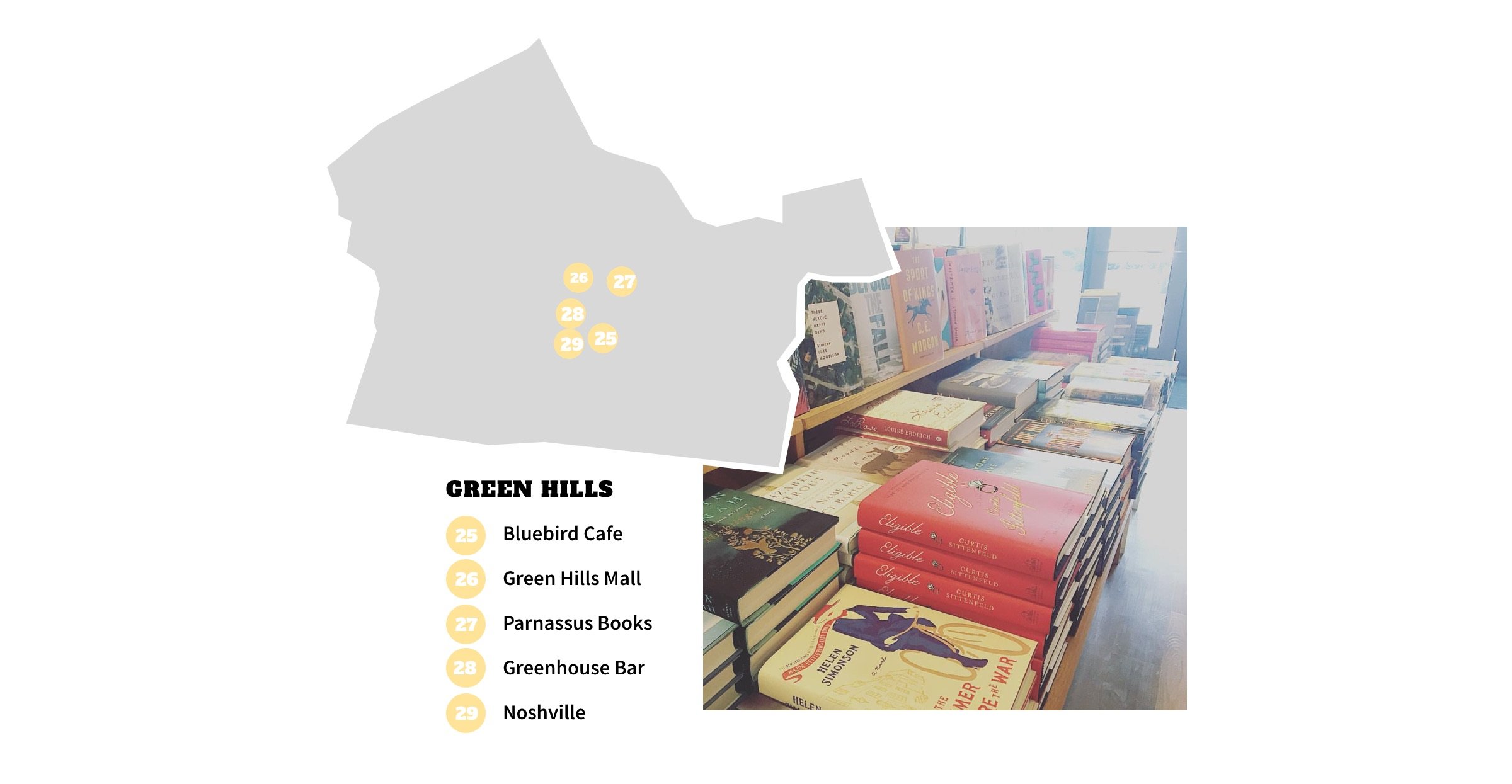 Green Hills is a well-established, affluent Nashville neighborhood that has a firm identity (it's slow to go with the trends of the rest of the city). As the name suggests, residents love the rolling green hills that make this tiny district such a pleasant place to call home.
What to Do
Long before the hit ABC series "Nashville" popularized this historic venue, locals knew it as the premier place to hear singer-songwriters hone their craft. Taylor Swift famously started out on this stage, and veterans like Garth Brooks, Faith Hill, and Vince Gill have bared their souls beneath the glow of its stage lights over the club's more than 30-year history.
The center of Nashville's retail universe is, and has arguably always been, The Green Hills Mall. This classic complex of over 100 stores and restaurants features popular retailers like J. Crew, Apple, Burberry, and Madewell to name a few.
New York Times Bestselling author Ann Patchett wasn't content with the narrative that independent bookstores were dying, so she wrote a new story. Parnassus is Nashville's "independent bookstore for independent people" located in the heart of Green Hills. The establishment has quickly become the hub of Nashville's literary scene, and it's the keystone stop for authors on book tour.
Where to Eat and Drink
Tucked away in a small corner of Green Hills, this neighborhood treasure is a favorite watering hole and literal greenhouse. This no-frills hideaway has a gravel floor and lush vegetation with ample seating for large parties. Green Hills has never been known for its nightlife, so Greenhouse picks up the slack and offers residents a place to go after all the local shops close up.
Far from the sights and sounds of a New York City street, there's one Nashville restaurant that brings the flavors of the northeast down south. Noshville is the best place in town for authentic deli food. From the menu to the 1950s decor, this spot is a haven for Nashville transplants missing their former east coast home.
Why Locals Live Here
Just far enough from Downtown to miss the tourist traffic, Green Hills has been able to forge a lasting community spirit in the face of the city's rapidly changing landscape. With numerous public and private elementary, middle, and high schools within walking distance, this area has a family-friendly energy that makes it a wonderful place to settle down. However, the suburban atmosphere and high curb appeal comes at a premium, with many homes selling in the millions.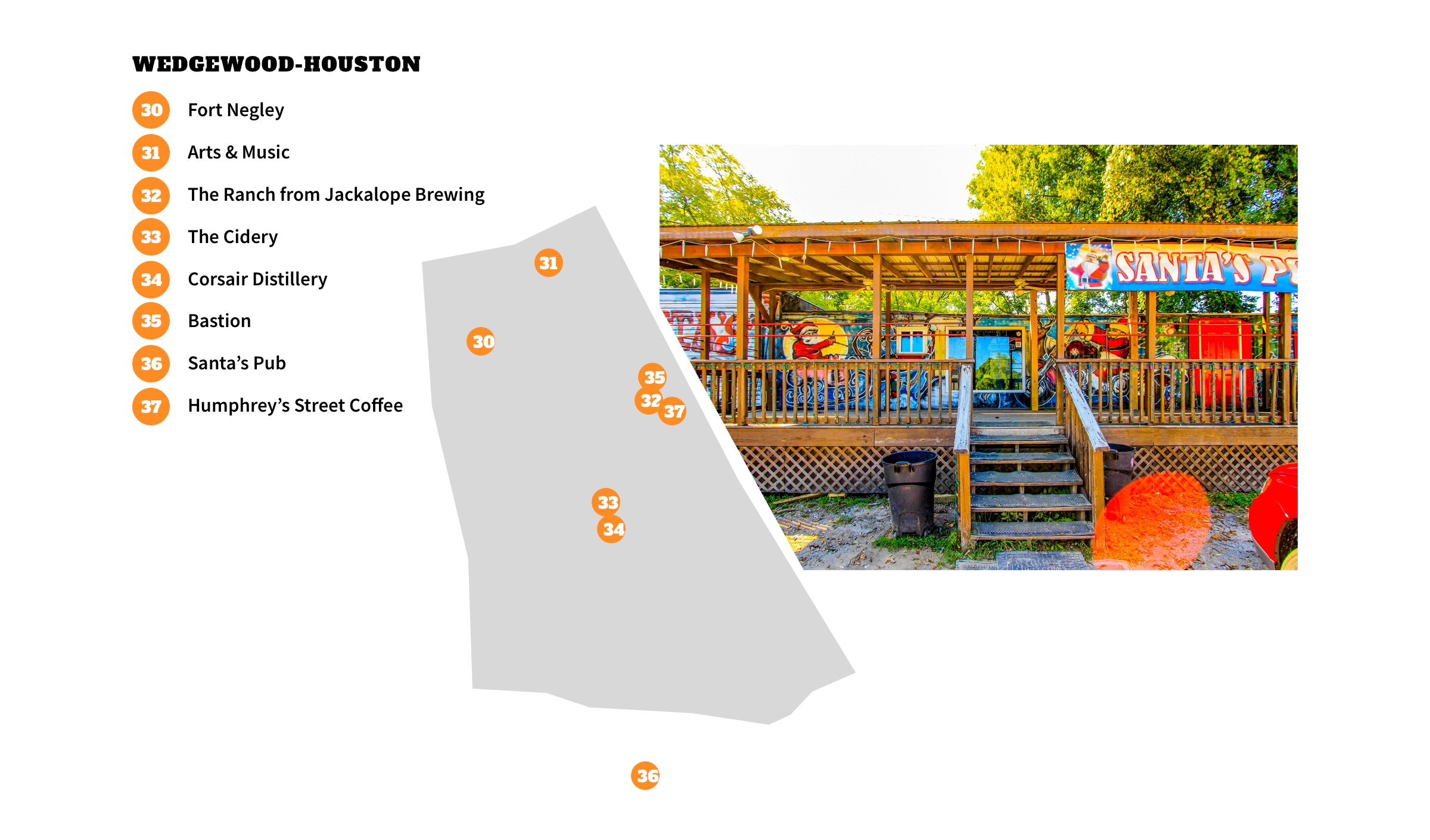 Wedgewood-Houston (aka WeHo) is the hub of Nashville's art culture. With established galleries and emerging studios all calling this neighborhood home, it's a mecca for the free-spirited freelancer. While East Nashville is widely regarded as the hippest part of town, it has a serious competitor to the south.
What to Do
This historic Civil War site has been transformed into a living monument of Nashville's history. Situated atop a bluff overlooking Downtown Nashville, the fort was once a Union stronghold during the Battle of Nashville in 1864 and now stands as an educational site. The grounds surrounding the fort have been transformed into a metro park where visitors can walk, picnic, and even bring their dogs.
On the first Saturday of every month residents and visitors pour into the many art galleries and creative spaces in the WeHo neighborhood. Originally an extension of the popular Downtown Art Crawl, Arts & Music Wedgewood Houston has become its own unique blend of DIY music festival and upscale art gallery opening—every single month.
32. - 34. Celebrate Happy Hour at Every Hour
As the neighborhood's reputation as a place for makers and creatives has grown, an emerging beer, cider, and spirit culture has also emerged. After all, something has to fuel all this creativity. Residents can do a pub crawl of their own, from taprooms like The Ranch from Jackalope Brewing Company and The Cidery from Diskin Cider to the harder stuff like spirits at the Corsair Distillery.
Where to Eat and Drink
This popular Nashville hideaway has been widely acclaimed for the large bar at the center of the establishment, but there's more than meets the eye. Tucked out of sight from the loud, busy bar, there's a hyper-intimate, 24-seat restaurant and tiny bar. Those who have dined there testify to memorable dishes the likes of which are rarely seen in Music City. It's hard to say for sure what one can expect from a Bastion dinner, but the mystique is all part of the allure.
This Nashville legend leaves guests with more questions than answers. Is the bar actually a trailer? Yes. Is it owned and operated by Santa himself? Yes—sort of. How is smoking allowed inside of a converted trailer turned karaoke bar—in 2019?! Here's the thing: Santa's has to be seen to be believed, but once you see the real-life Santa pour a Miller Lite into a cup of ice and drink it with a straw, you can't unsee it.
Every Nashvillian's new favorite social enterprise, Humphrey's Street serves more than just coffee. In addition to the striking aesthetic of their cafe—a renovated church building complete with a steeple and pews—the coffee shop offers job training to local youth and high school students.
Why Locals Live Here
Wedgewood-Houston embraces a do-it-yourself worldview, and this is reflected in the many factory buildings and old manufacturing structures that dot the neighborhood. With housing inventory including many newly built industrial lofts (as well as modern single-family homes), many see this neighborhood as a launchpad for the most productive years of a career.