Chicago Local Life
Chicago Neighborhood Guide
Chicago is the starring city of the Midwest. The Second City is known for its iconic skyline, Lake Michigan, fiercely loyal (if sometimes divided) sports fans, hot dogs with no ketchup, and deep dish pizza.
The name "Chicago" can be traced back to a word in Native American Miami-Illinois language that translates to "striped skunk" and also refers to a wild onion. Malodorous origins of the name aside, the city has undeniably blossomed since forming in the early 1800s. Following the Great Chicago Fire of 1871, the city rebuilt and stands today as one of the largest urban centers in the country.
Though a sprawling metropolis, Chicago is known for its thousands of acres of park space and miles of lakefront, making this city more than your typical concrete jungle. Whether you're a foodie and a sports fan or a music lover and an outdoors enthusiast, Chicago has a neighborhood that will make you feel right at home.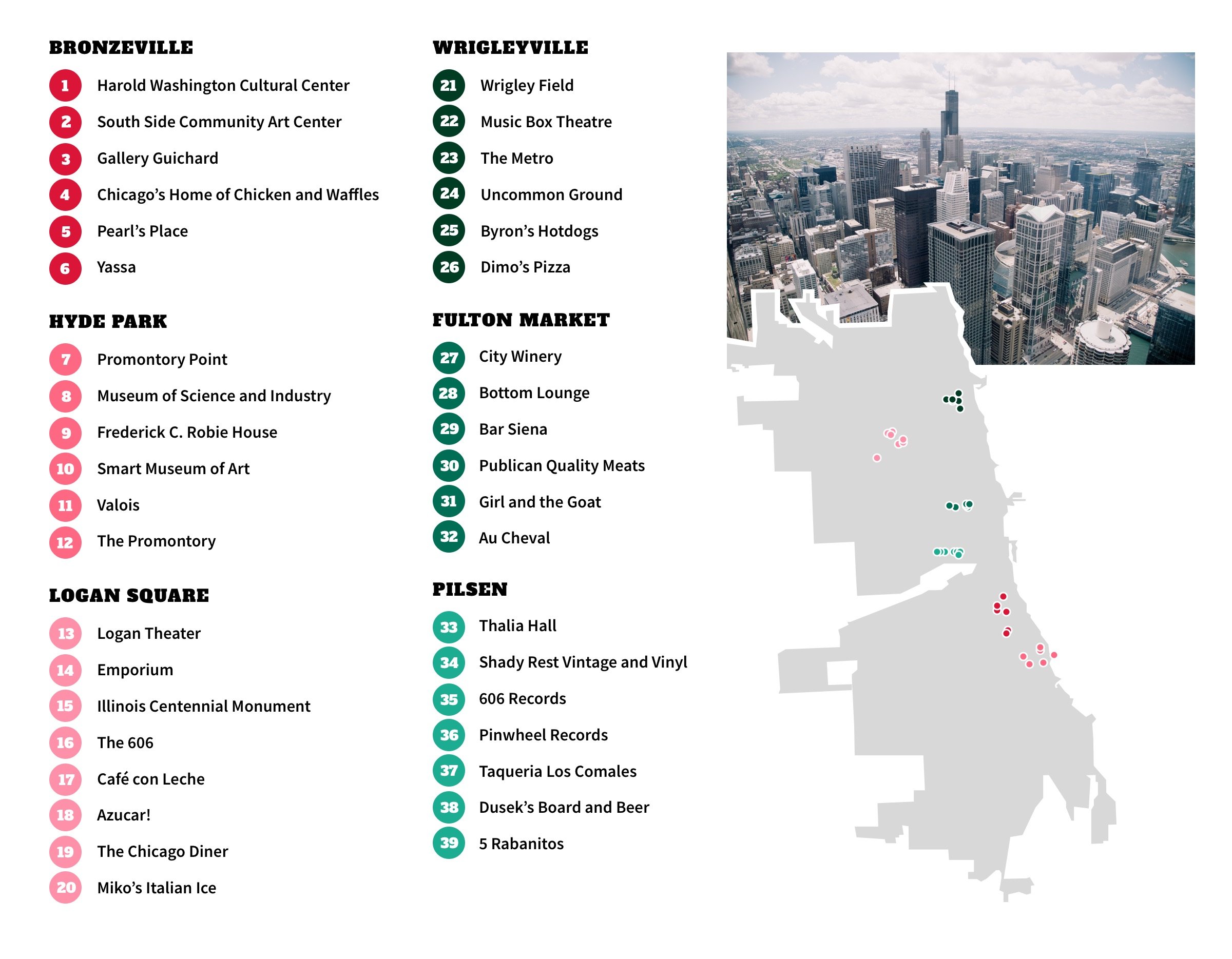 Chicago at a Glance
Chicago has hundreds of neighborhoods, some officially recognized and others small pocket communities with fiercely debated names. The city's neighborhoods are grouped into nine different districts that all residents readily recognize:
North Side
South Side
West Side
Far North Side
Northwest Side
Southwest Side
Far Southwest Side
Far Southeast Side
Central
Each side of the city, and the neighborhoods they contain, comes with a great deal of resident pride. That pride, often fueled by dedicated sports fandom, sparks rivalry among residents. Even if you're new to Chicago, you've probably heard the North Side vs. South Side debate.
While denizens of the Windy City may grow roots on one side of the city, the CTA makes it easy to traverse Chicago as a whole. The famous 'L' system, named for its elevated train lines, crisscrosses the city with eight different colored routes. The CTA also has more than a hundred bus routes that ferry passengers home, to work, and nearly anywhere else they need to go.
It's impossible to discover all there is to know about Chicago even after living here for years, but here are a handful of the city's must-visit neighborhoods.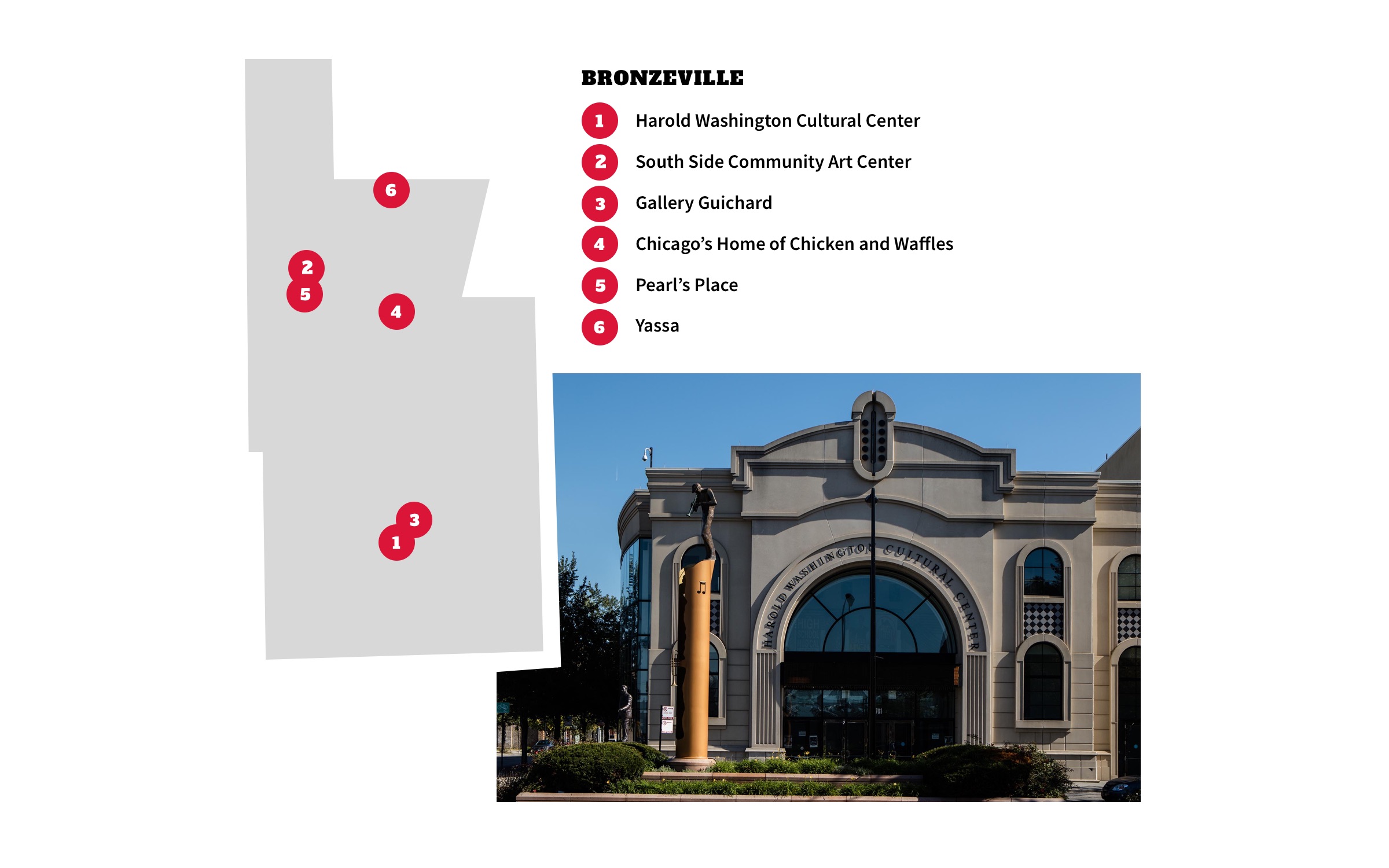 Bronzeville, located on the South Side, was once the epicenter of Chicago's jazz scene. Greats like Nat King Cole and Louis Armstrong played in clubs owned by gangster Al Capone. Today, the neighborhood still strikes an undeniable note of coolness with modern-day jazz clubs and delicious local food.
What to Do
A striking building of white stone and glass, the Harold Washington Cultural Center is a nonprofit focused on the performing arts. People can come catch a live show at the 1,000-seat theater (the center also goes by Broadway in Bronzeville) or get involved in the space as a local artist.
First opened in the 1940s, the South Side Community Art Center still stands on Michigan Avenue. This historic landmark displays African American art and helps support young artists.
The South Side Community Art Center isn't the only spot contributing to Bronzeville's thriving art scene. Opened in 2005, Gallery Guichard's rotating exhibits focus on work from the African Diaspora.
Where to Eat and Drink
This decadent diner is a quintessential Bronzeville eatery. Take your pick of multiple versions of the classic chicken and waffles dish or eat your way through the menu's soul food offerings.
Pearl's Place is all about southern cooking. Order whatever dishes speak to you, or opt for the savior of indecisive diners everywhere—the buffet.
Diners looking for something different will be pleased by Yassa, one of the only Senegalese restaurants in the city. Yassa, located on the neighborhood's stretch of King Drive, is owned by Madieye and Awa Gueye of Senegal.
Why Locals Live Here
Aside from the art and good food, Bronzeville residents enjoy both proximity to downtown Chicago and a unique neighborhood vibe characterized by a blend of the city's past and present. The neighborhood has plenty of historic rowhouses and modern condo buildings. Also, walk just a couple of blocks to the east and you'll find the shores of Lake Michigan.
For all that its prime location has to offer, Bronzeville is quite affordable. Home prices climb quickly in nearby neighborhoods like Pilsen and Bridgeport.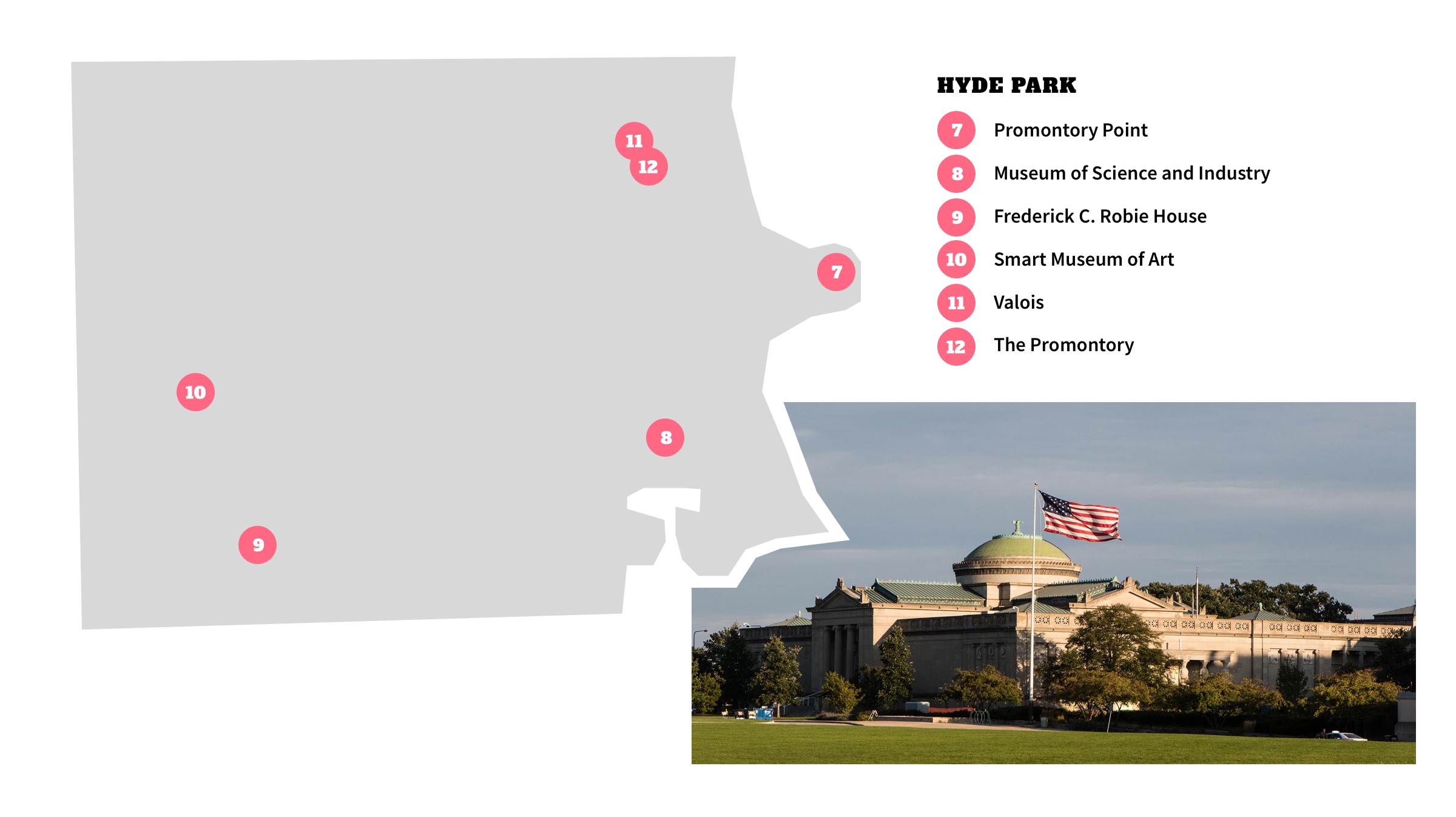 Hyde Park is one of the city's most picturesque neighborhoods. It has a slice of lakeshore, the University of Chicago campus, and a big chunk of Jackson Park. This Chicago community has caught some famous eyes including the Obamas (they have a family home in the neighborhood) and Bill Gates (he and Melinda Gates may have bought a Hyde Park mansion).
What to Do
Hyde Park residents have ready access to one of the best views in the entire city. Promontory Point, a part of Burnham Park, juts out onto Lake Michigan and offers a panoramic view of the water and the city skyline.
The South Loop may have Museum Campus, but Hyde Park has the Museum of Science and Industry. The interactive nature of the museum makes it one of the best cultural institutions in the city—and Chicago has no shortage of those.
Frank Lloyd Wright's signature style is all over Chicago and its suburbs, but one of his most famous houses is right in Hyde Park. Robie House catches the eye of passersby on South Woodlawn Avenue.
The University of Chicago makes Hyde Park an intellectual and cultural powerhouse. The Smart Museum is one of the university's many contributions to the neighborhood. The museum, always free to enter, is home to thousands of artworks.
Where to Eat and Drink
Valois is a cafeteria-style restaurant and Hyde Park staple. Locals love it, and Obama made sure to stop by before giving his farewell speech as president.
Designed around the concept of a warm, inviting hearth, The Promontory is a modern eatery with brunch, lunch, dinner, and late-night menus. Upstairs, you'll find a music venue that hosts live shows.
Why Locals Live Here
While the University of Chicago makes Hyde Park a popular spot for students, the neighborhood has a lot to offer to young professionals, families, and empty nesters. Home styles vary across the neighborhood. Attached homes are more common, but buyers can still snag single-family abodes.
While only a few miles south of downtown, the neighborhood has a more relaxed, open atmosphere. Bordered by the lake to the east, the Midway Plaisance to the south, and Washington Park to the west, Hyde Park is one of Chicago's major green oases.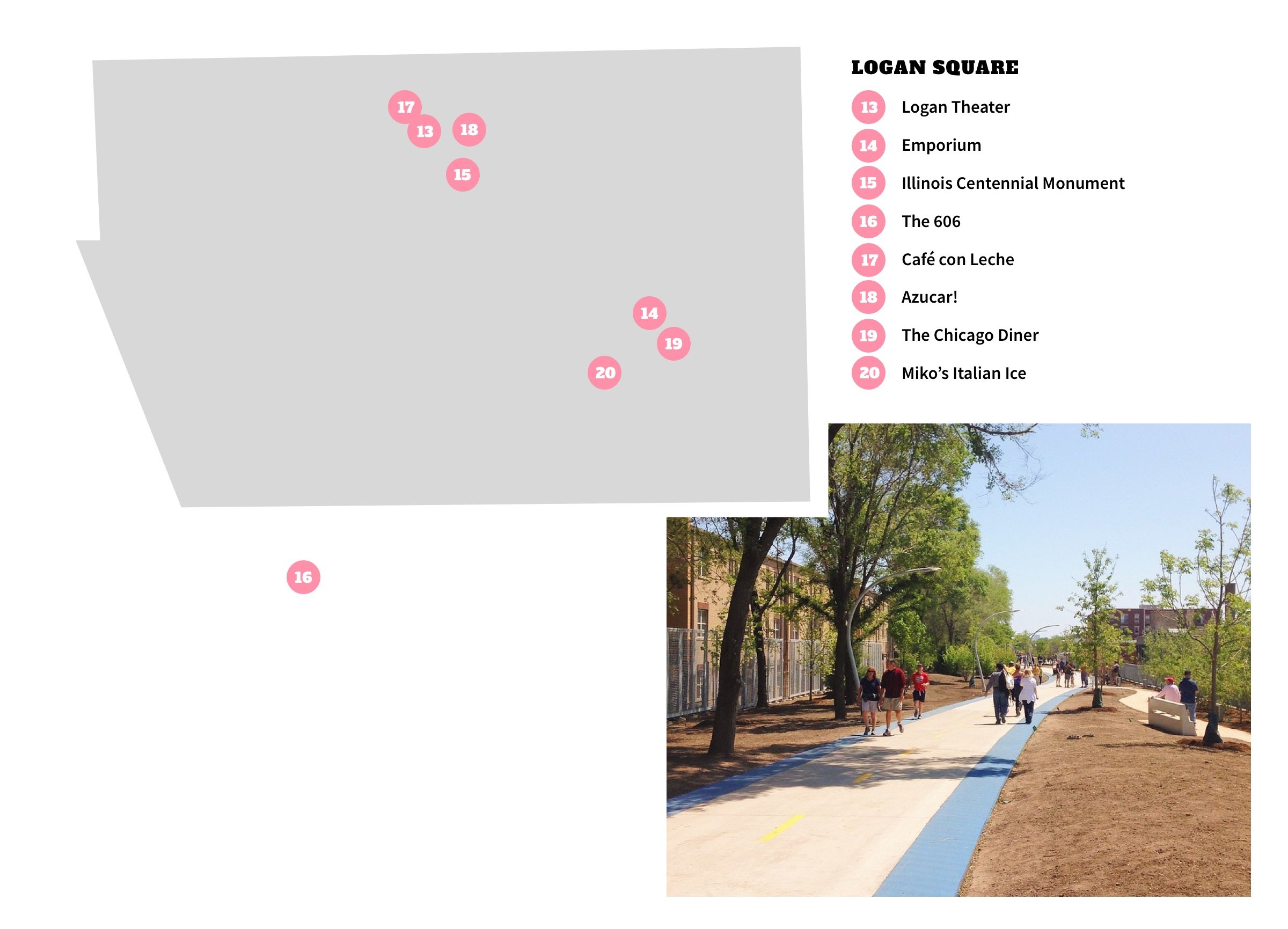 New development is driving change in Logan Square, but this North Side neighborhood retains much of its original charm. While new, taller condo buildings pop up on major corners and down smaller side streets, the stately, historic homes of Logan Boulevard abide. Amid all the new, you can still find the quirky, offbeat spots (like Cafe Mustache) that have given the neighborhood a reputation for attracting a younger, artsy crowd.
What to Do
The Logan Theatre feels like the grand movie houses of old, complete with vintage movie posters and an Art Deco flair. The theater shows all of the latest flicks, as well as classics during its monthly late-night series.
Logan Square has more than a touch of the trendy, as evidenced by watering holes like Emporium. Not content with serving drinks without a twist, this bar is also an old-style arcade.
When you exit the Logan Square Blue Line station, the first thing you see will probably be a thin column topped by an eagle with its wings spread. During the warmer months, you'll find residents sprawled on the grass and lounging on benches at the foot of the monument while drinking coffee from a local shop, reading a book, or even catching a nap in the sun.
The 606 connects four neighborhoods, including Logan Square. Walkers, bikers, and dog owners climb the steps to this scenic path for a unique vantage point on their neighborhoods.
Where to Eat and Drink
With an active nightlife, Logan Square residents are spoiled for choice when it comes to eating out. Located just down the street from the Logan Theatre, Café Con Leche is a neighborhood favorite. Come for dinner or brunch after yet another late night.
Located beneath an unassuming brown awning, Azucar! is a delectable tapas restaurant that knows its way around the Chicago small plate scene. Sample Spanish cheeses and other classic tapas dishes while you peruse the impressive cocktail and wine list.
A favorite among those following plant-based diets, Chicago Diner is a completely vegetarian restaurant with solid options for anyone eating vegan or gluten free. Even if you happen to be omnivorous, this Logan Square spot is worth checking out, if only for their truly delicious milkshakes.
Miko's Italian Ice is a summer favorite in Logan Square. This seasonal stand serves fresh Italian ice with a rotating list of delicious fruit flavors. Waiting in line during a sultry evening for a cold cup of Italian ice is about as Chicago as it gets.
Why Locals Live Here
Logan Square locals love their neighborhood for an abundance of reasons. Some people love the bright lights and entertainment that never seems to die down on Milwaukee Avenue. Others love the beautiful old two-flats and the quiet tree-lined streets. And, nearly everyone can agree that the neighborhood's collection of coffee shops is a major check in the plus column.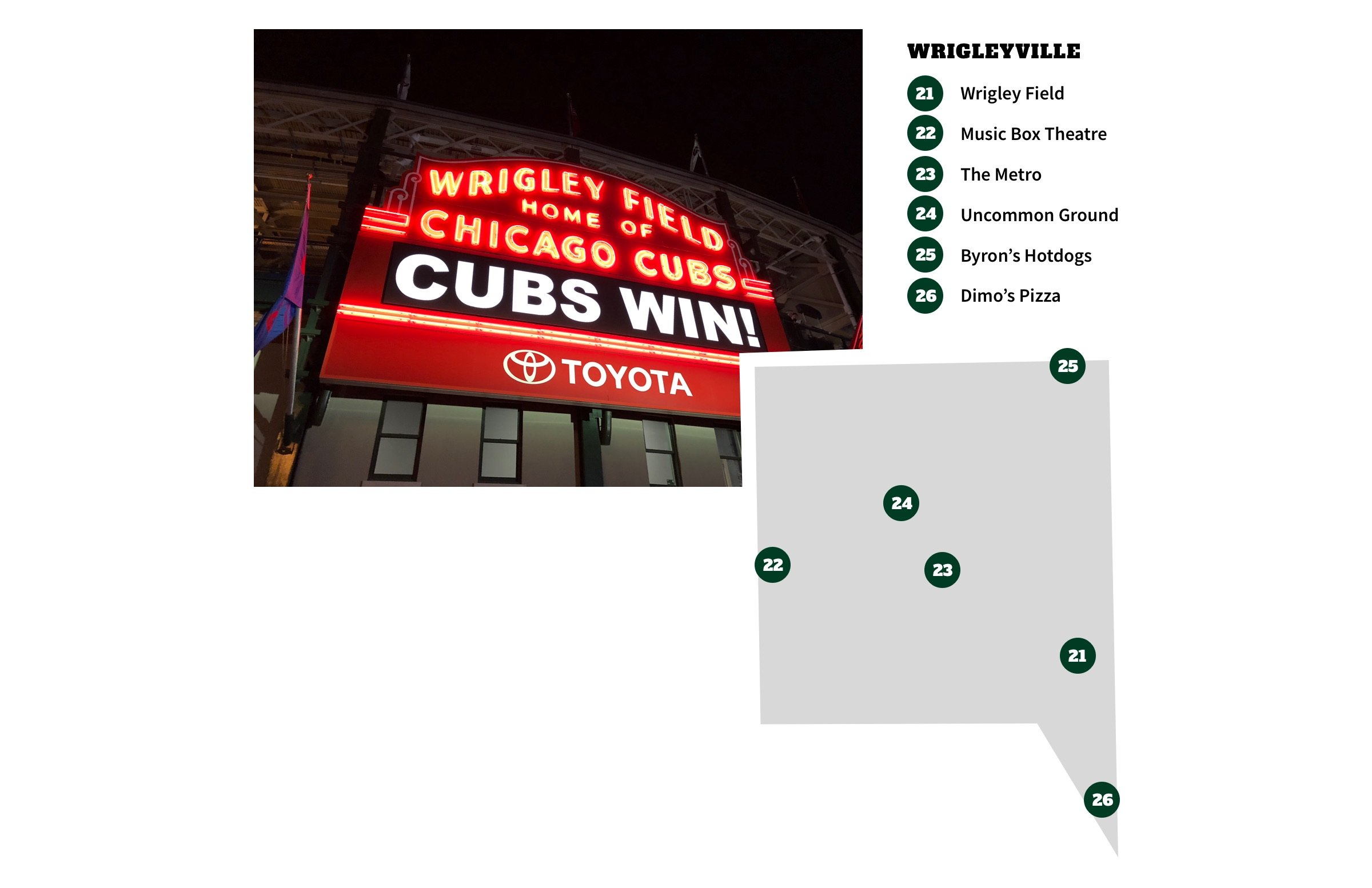 Wrigleyville is Cubs country. Home to the ivy-covered walls of Wrigley Stadium and the city's beloved, formerly cursed (knock on wood) baseball team, this North Side neighborhood is largely known for America's favorite pastime. While baseball season means Wrigleyville is flooded by people from all over the city, the neighborhood has more to it than sports fever. Wrigleyville also has plenty of places for a night out and a variety of eateries to keep you fueled as you explore.
What to Do
Wrigley Field, naturally, lands on the top of any list of what to do in this neighborhood. Catch a crosstown classic showdown between the Cubs and White Sox, or cheer on your team against an out-of-town challenger. Wrigley Field also hosts big concerts, like Billy Joel and AC/DC.
If baseball isn't your style, the Music Box Theatre might be more up your alley. This theater specializes in foreign and independent films as well as cult classics. You can still get all of the classic movie trimmings (popcorn and candy) whatever show you decide to catch.
If you prefer smaller concert venues to the big stadium shows of Wrigley Field, the Metro is a must. Hosting a mix of genres, this live music spot almost always packs in an enthusiastic crowd ready to dance.
Where to Eat and Drink
Anyone who has an appreciation for Chicago's ever-expanding love for breweries and craft beer will want to add Uncommon Ground to their tasting tour bucket list. Uncommon Ground is the first certified organic brewery in Illinois.
Hot dogs and ball games go hand in hand. Of course, you can get a dog at the ball field, but this classic stand on the northern edge of the neighborhood is known for some of the best dogs in town.
Home to plenty of 2 a.m. and 4 a.m. bars, Wrigleyville is no stranger to masses of hungry people looking for somewhere to eat in the wee hours of the night (or morning). Dimo's Pizza, always open late, serves piping hot slices ranging from the classic (cheese, pepperoni, or sausage) to the heavily topped (i.e., macaroni and cheese, chicken and waffles, pulled pork).
Why Locals Live Here
Wrigleyville takes a leaf from the New York City playbook as a neighborhood that never sleeps. The people who live in Wrigley tend to be the life of the party, soaking up the lively atmosphere of Clark Street. When residents aren't out late, they come home to spacious condos and single-family homes, many of which come with garages or assigned parking. As you might expect, such a popular neighborhood and those kinds of amenities come with a price tag to match.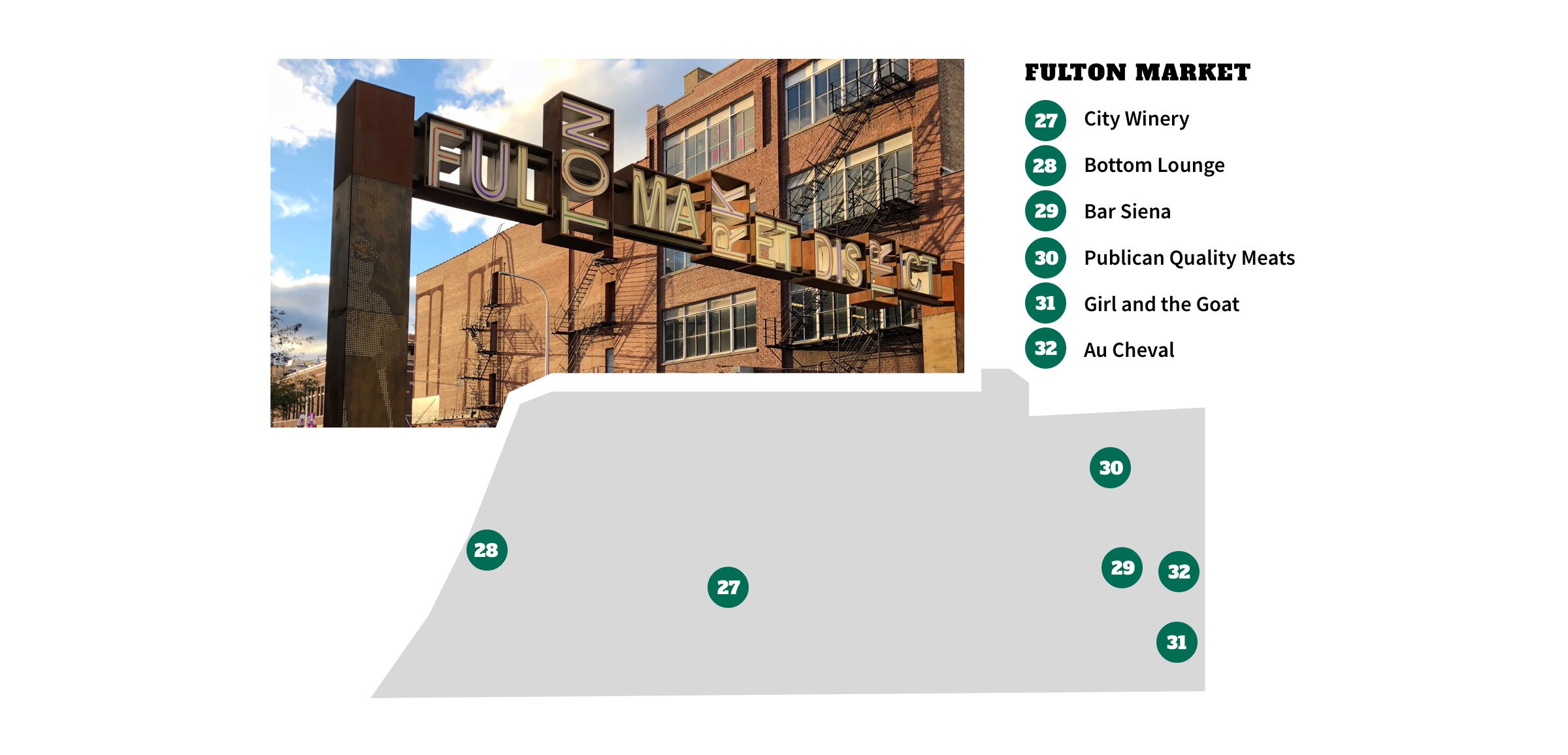 Food is a big part of Chicago's reputation. Foodies revel in everything from the quest to find the perfect burger to Michelin-starred restaurants. Pretty much any neighborhood has a solid stable of delicious restaurants, but if you had to find the epicenter of eating out in Chicago, Fulton Market is the frontrunner.
This West Side neighborhood, technically a pocket community within the larger West Loop, has a proliferation of restaurants especially on Randolph Street's Restaurant Row.
What to Do
City Winery is all about dinner and a show. Forget about mosh pits and craning to see over a crowd. Instead, see live music and eat dinner in an intimate setting from the comfort of your own table.
Just down the street from City Winery and under the "L" tracks on Lake Street, Bottom Lounge has a slightly underground feel to it. This music venue does food, drinks, and dancing.
Where to Eat and Drink
Bar Siena plays homage to Fulton Market's industrial roots with exposed brick walls and steel beams, but the twinkling branches that bisect this two-story restaurant from floor to ceiling add a playful note. Order from the lunch, brunch, dinner, late-night, or gluten-free menus. During the summer, you sit out on the patio with your pup—Bar Siena has treats for dogs too.
For anyone craving meat, Publican is the answer to your carnivorous prayers. This butcher shop sells fresh meats daily, both meat-centric and vegetarian sandwiches, as well as other items from its lunch and bakery menus. Across the street, its big brother The Publican offers a hearty farmhouse-inspired menu in rustic fine-dining digs.
If you want to get a table at Girl and the Goat, you'll want to plan ahead. This ever-popular spot serves family-style meals crafted by executive chef Stephanie Izard. If you want a taste of the restaurant's style, you can also try its sister diner Little Goat, also in Fulton Market.
Like Girl and the Goat, it's hard to get a table at Au Cheval—this small spot doesn't take reservations, so prepare to wait in line for a bit. This Fulton Market restaurant styles itself as a diner, but this isn't just any old greasy spoon. The deep leather booths and rave reviews for its burger make Au Cheval a perennial hotspot that's worth the wait.
Why Locals Live Here
Fulton Market is not for those looking for peace and quiet in the city. The people who live here come for the nightlife offered by the booming restaurant scene and for the luxury living that continues to thrive in the form of new condos. Plus, the neighborhood's location is undeniably convenient. Young professionals who work in the Loop can often step outside and walk to their offices.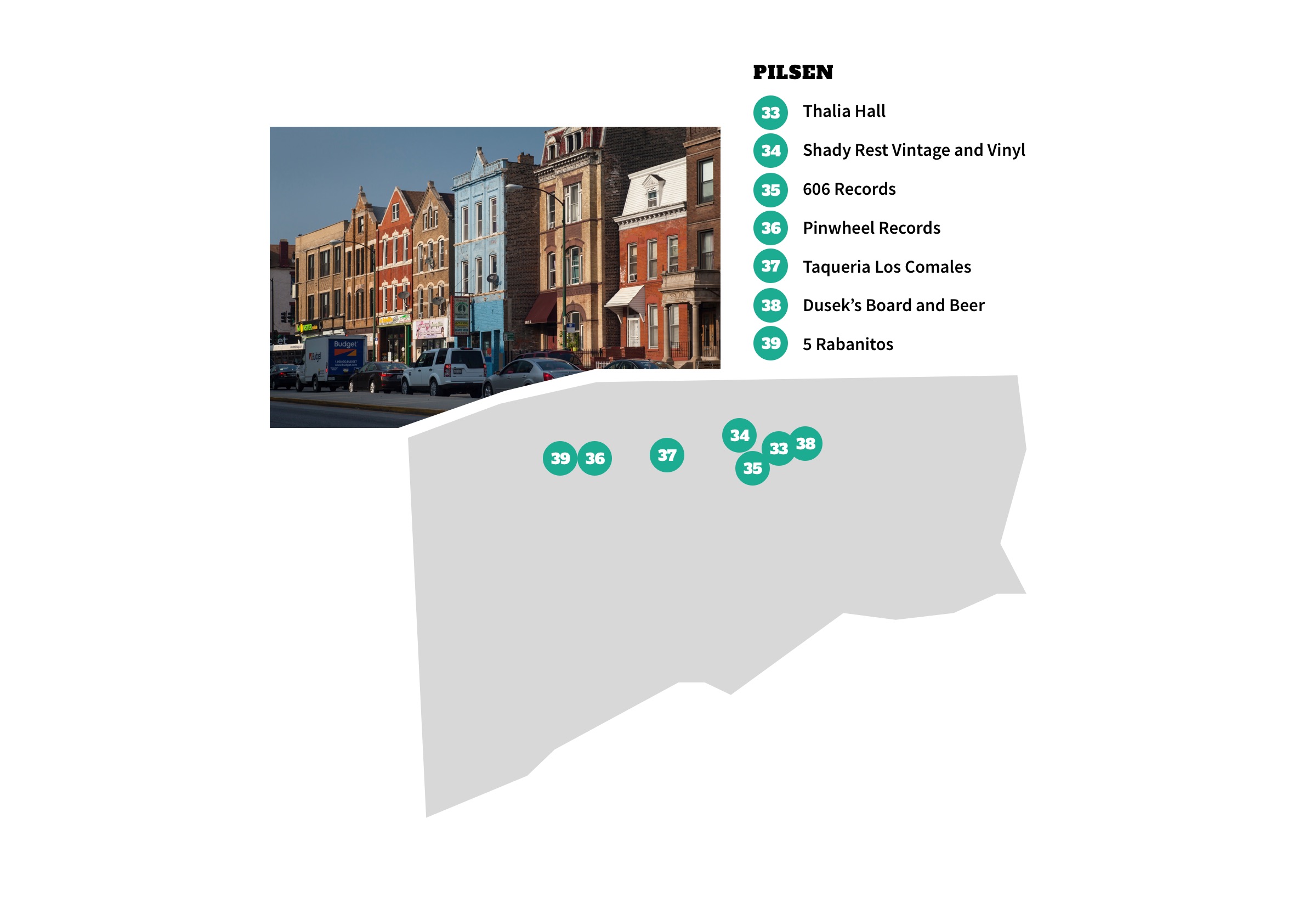 Pilsen, and the Lower West Side as a whole, is gaining more attention from homebuyers. Home prices are rising as more people discover the treasure trove of things to do in this neighborhood. With the National Museum of Mexican Art and vibrant street murals, Pilsen is visually arresting. And, when it comes to going out, there's always something to eat and drink on 18th Street.
What to Do
Thalia Hall is Pilsen's beloved music venue. Dating back to the 1800s, this historic building now hosts live shows and events, like screenings of classic movies.
Pilsen has three record shops within walking distance of one another, creating an informal row frequented by casual and dedicated vinyl shoppers alike. Shady Rest Vintage & Vinyl and 606 Records are right near Thalia Hall, while a walk down 18th Street will take you to Pinwheel Records.
Where to Eat and Drink
Chicagoans love to argue about food, and one of the favorite debates in Pilsen centers around tacos. While the ultimate best is a matter of personal taste, you might want to start your quest for the tastiest taco in the neighborhood at Los Comales. This classic spot has been serving tacos in Chicago since the 1970s.
Nestled right next to Thalia Hall, Dusek's does brunch, lunch, dinner, and late-night food. Diners can order small plates (think foie gras and cheese) or larger entrees (try the sausage sandwich or Juicy Lucy burger). Dusek's is also known for its selection of oysters.
5 Rabanitos is right near the National Museum of Mexican Art, perfect for anyone who wants to pair art and food. The restaurant serves wide range of dishes including tacos, tortas, meat dishes, ceviche, and caldos.
Why Locals Live Here
While Pilsen is becoming more popular, it remains a relatively affordable neighborhood with home prices tending to be lower than neighboring Bridgeport. Affordable prices are attractive, but that's only part of why people love Pilsen. The food, the music, and its colorful murals help create a lively vibe for people looking for a regular neighborhood restaurant and something beautiful to see right outside their front door. With many low-rise buildings, single-family homes, and two-flats, Pilsen has more of a neighborhood feel than some of Chicago's high-rise heavy communities.